A flower that doesn't wilt and has longevity that makes every other blossoming beauty jealous. Black flower tattoos are a trend amongst florists. These fragrant-free black blooms represent the passion for your craft. Let it be purely decorative or for a symbolic reason, that differs per person and per design.
Black Flowers Tattoos
Besides showing off the love of your profession as a florist, every other flower lover can obviously decide to go for a floral tattoo. Plain flower love does the trick, but have you ever thought of the best solution when you are allergic to pollen? This inked black beauty stops you from sneezing for sure. It's also definitely a solution when you desire more flower love. Gift yourself an eternal rose bouquet and your partner is off the hook for Valentine's Day. As like in a vase or floral design, the type of flower (tattoo) needs to be considered carefully before placing it on the body. Stem length and flower type might differ per body part and need to be in sync with yourself.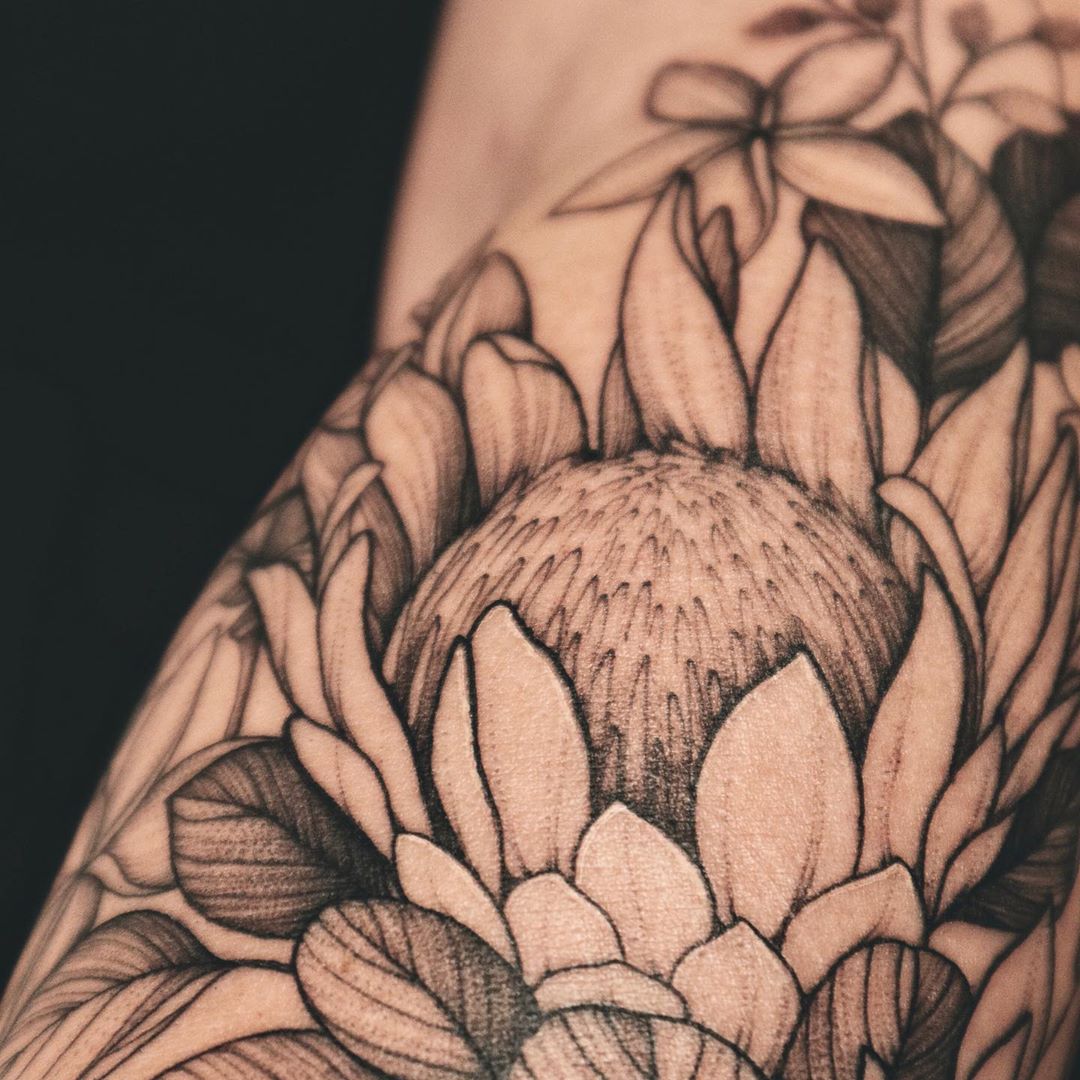 Just like when a floral designer creates a masterpiece, tattoo artists do the same trick. It's a collaboration between the designer and the client, in these examples, using just one color, black. In this article, you find a list of inspiring tattoo artists from around the globe. Have a gaze through the beautiful pictures of flower tattoos. Another possibility is to represent your love for flowers, black flowers that are.
A Few of the Best Black Flower Tattoos
A design of black flowers in ink, tattooed on your body for a lifetime. Where do you go for such a special occasion? A list of tattoo shops worldwide.
Vlada.22studio (Kiev, Ukraine)
#Armbandtattoos Vlada is the CEO of 22Kyiv tattoo studio and the founder of #armbandtattoos, a floral band tattoo. In their designs, you recognize roses, gerberas foliage, peonies, proteas and poppies.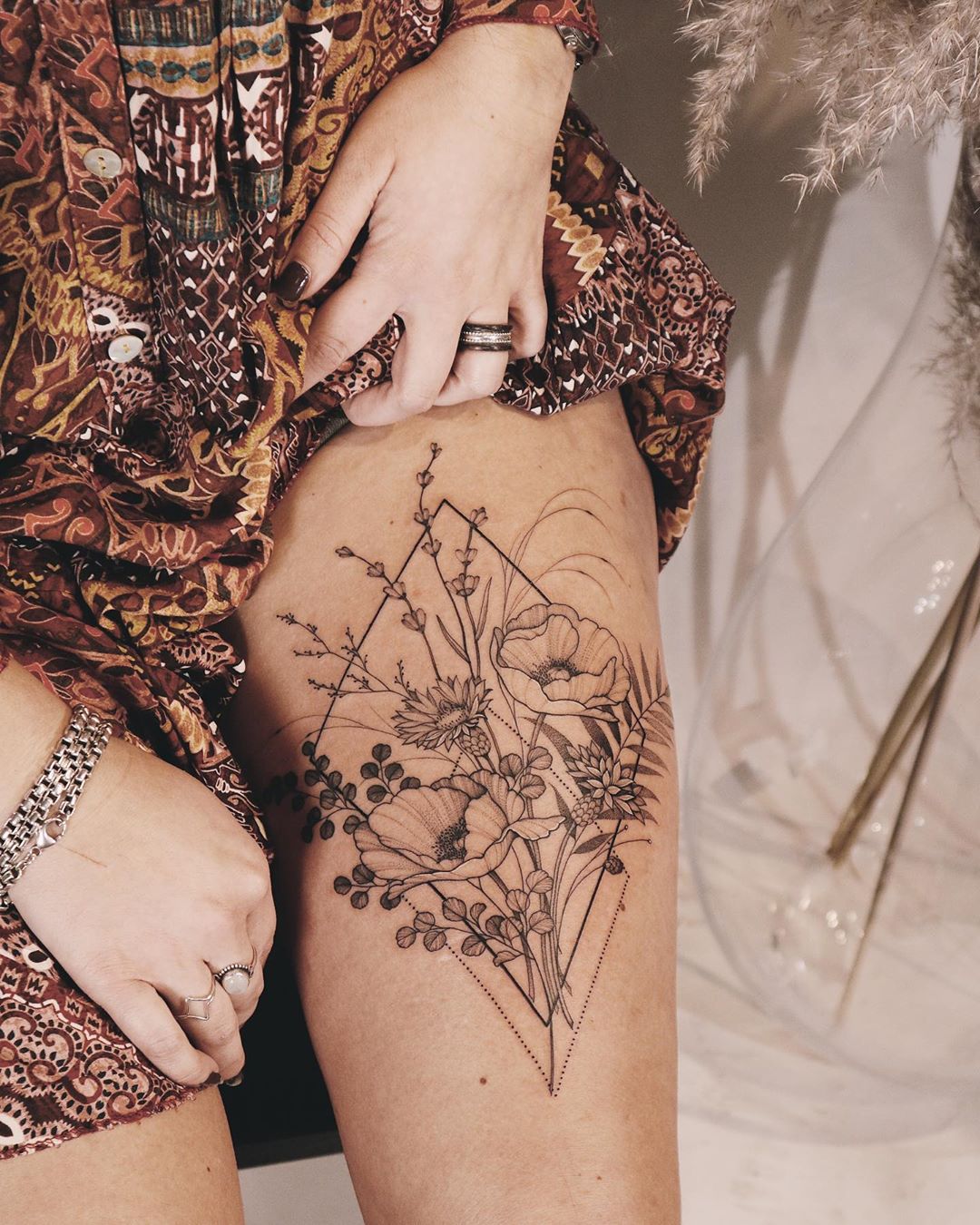 Tattoos by Vanessa (Vancouver, Canada)
Peony Perfection Vancouver based tattoo artist Vanessa offers a wide range of options. She also inks what appears to be one of the most popular body parts amongst florists, the underarm. Looking for a more temporary design? Vanessa is also offering tattoo stickers for the one that chooses for a less eternal option.
Ksenya (Bali, Indonesia)
Delicate Foliage In Ksenya her tattoo designs, created in her studio on Bali, Indonesia, you see besides the more elaborate bouquets of flowers combined with mandalas, also the more delicate leaves and subtle designs.
Hannah Nova Dudley, Auckland, New Zealand
Florals Forever The back of the human body is the perfect location for a larger flower design. Hannah Nova Dudbley shows how delicate leaves and flowers can be combined in these covering shoulder- or back pieces.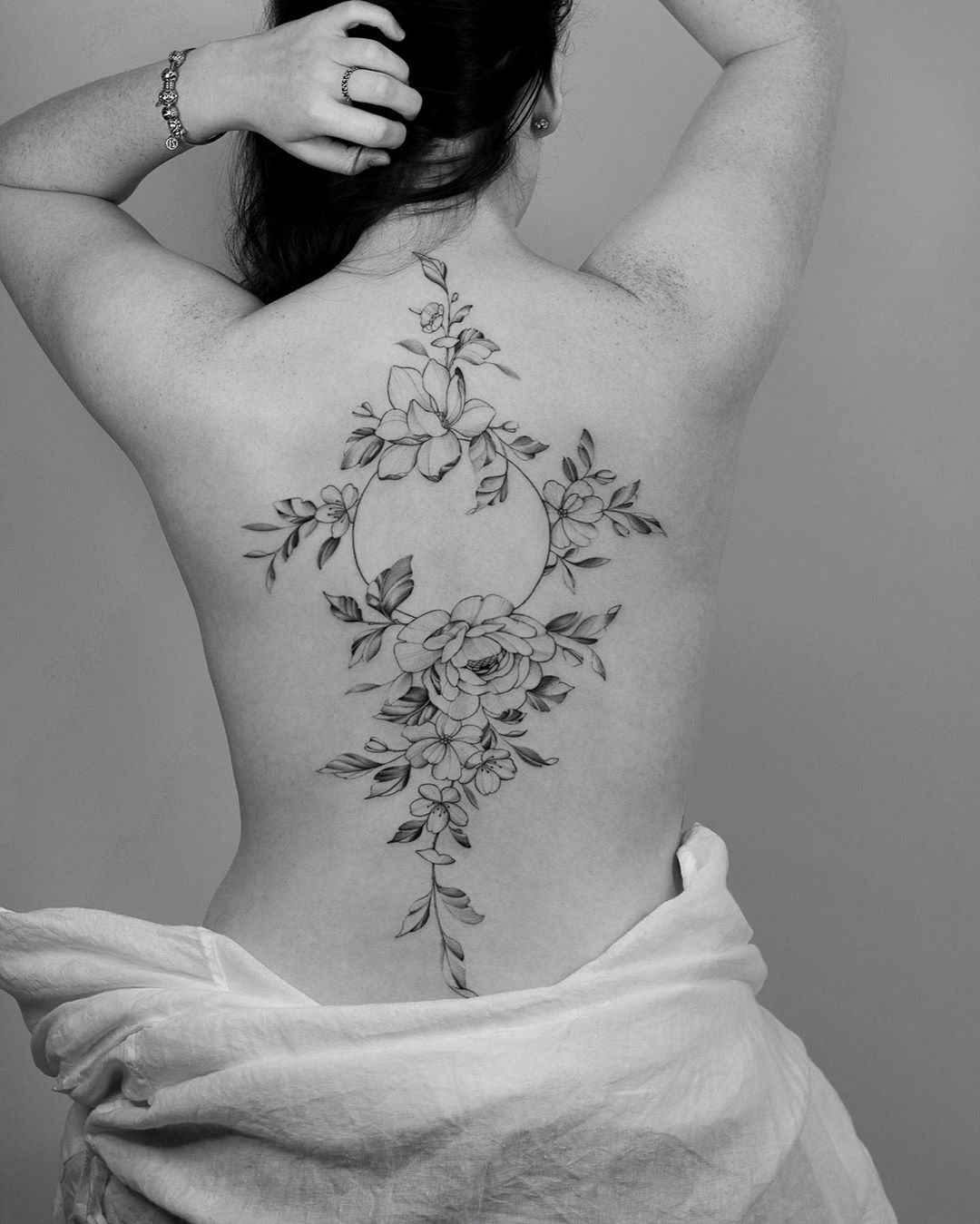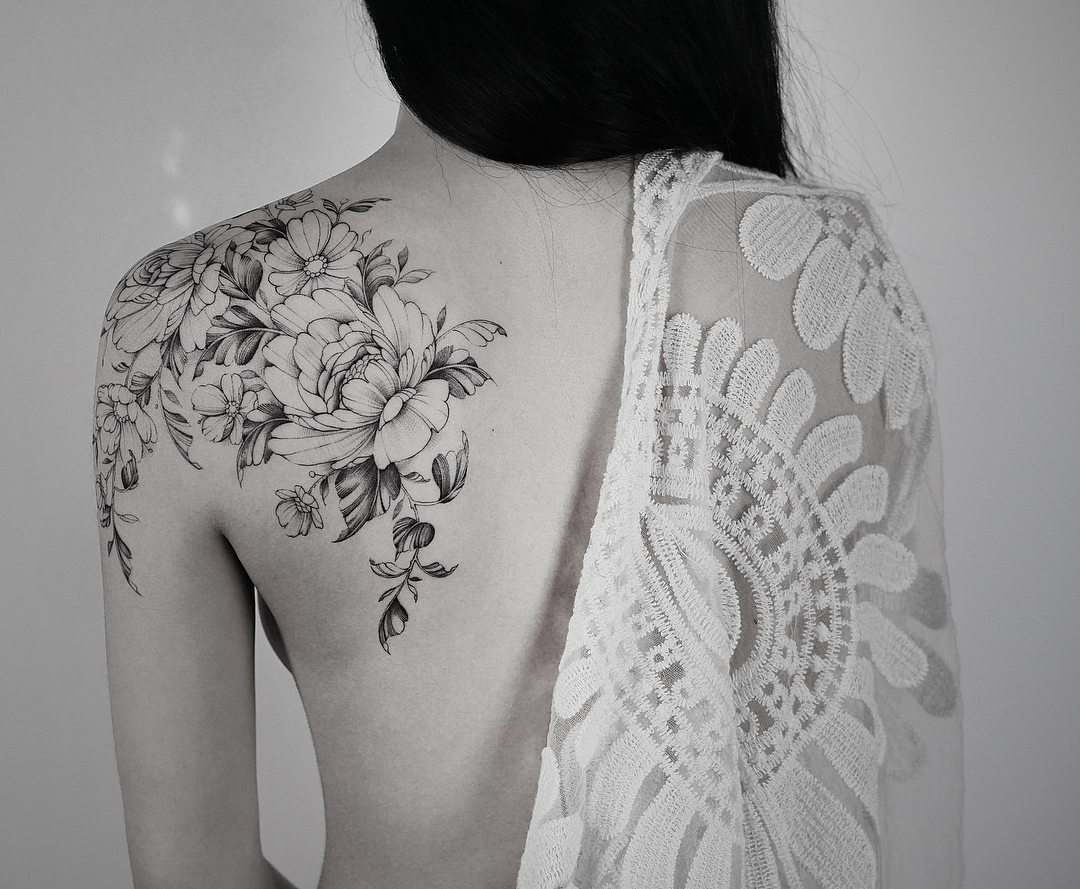 Tritoan_7th (Auckland, New Zealand)
Flowers and Animals Another well-known floral tattoo artist from New Zealand is the creative Tritoan Ly. Both Hannah and he are working at the 7th Day Studio in Auckland. Tritoan Ly happily combines florals with animals and therefore his possibilities reach from hibiscus and peonies to snakes and birds. Natures best in one eternal print.
Sasha Tattooing (LA, USA)
A Wide Flower Range In L.A., Sasha Masiuk widens the tattooed flower range with chrysanthemums and lotus flowers. Her inspirational designs are true eye-catchers as well!
Carin Silver (Paris, France)
A Flower Field To conclude, the French Carin Silver moreover works with the stems of flowers in her tattoo designs. Where you see other artists focus on the flower heads, she includes the entire stem and leaves of a flower. Beautiful!
Black Flower Tattoo to Choose Wisely
Flowers are one of mother nature's most beautiful gifts, so it only makes sense that people want to enhance their beautiful selves with black flower tattoos. Black Flower tattoos are so gorgeous and they really provide us with the opportunity to express ourselves visually. But before you go and get your own flower tattoo, make sure the tattoo artist helps you to guide you in choosing the perfect piece of ink. Which tattoo style to get, as well as where to get tattooed on your body.