Keukenhof is a park where more than 7 million flower bulbs are planted every year. Gardens and four pavilions show a fantastic collection of tulips, hyacinths, daffodils, orchids, roses, carnations, irises, lilies, and many other flowers. You will be overwhelmed by a spectacle of colors and perfumes. For the weekend Keukenhof is in Test Mode. 5000 people per day are allowed.
Keukenhof
7 Million Flower Bulbs
Tulips from Holland are world-famous. If you want to see the Dutch tulip fields in bloom, you should visit Holland in April and May. This is the same period in which the biggest flower park in the world, Keukenhof, opens its doors.
Keukenhof in Test Mode
Keukenhof has been allowed to open to the public on Friday 9, Saturday 10, and Sunday 11 April 2021 as part of the pilot program instituted by the Dutch government with a view to gradually opening the country back up. Only a limited number of tickets will be available. Keukenhof will be permitted to receive 5,000 visitors per day. Visitors must have been tested 40 hours before their visit, at the latest. This is free and the tests will be conducted at a number of designated testing locations around the country. All Covid-19 measures will remain in force. If you would like to take this opportunity to visit Keukenhof you need to quickly book a ticket to Keukenhof for 9, 10, or 11 April 2021 and make an appointment for a test.
Keukenhof Is in Full Bloom
At Keukenhof, you'd think you were adrift on a sea of flowers. Divided across various gardens and pavilions, the tulips and other flowers number in the millions. Keukenhof has a different theme each year, meaning that it is never the same. Unique in the world, this park attracts over a million visitors every year. Note that the tulips bloom only from mid-March to mid-May, meaning that the park in normal years is only open during this period.
Virtual Tour at Keukenhof
For the second year, Keukenhof opened virtually. Last year 22 million people visited the garden virtually. Bart Siemerink
"We bring the tulips to your home! Unfortunately, visitors are not yet allowed to come to the park themselves. And because you as a visitor are not allowed to come to Keukenhof, we bring Keukenhof to you."
The most beautiful spring park in the world is only open for 8 weeks each spring. It looks different every week and Keukenhof likes to show that to flower lovers. Keukenhof shows all the beauty in the park to the whole world via videos that are posted twice a week on online media. Many beautiful images are also broadcast on television. Paulien Albertz
"Our purpose is to be the window of floriculture. And every year Keukenhof is special and different. We have our gardeners that give you a peek behind the scenes. We learned from last year that people also enjoy a virtual tour if they are not able to visit in person. So every week we publish a new video. And even when the garden opens again, we will still have this possibility."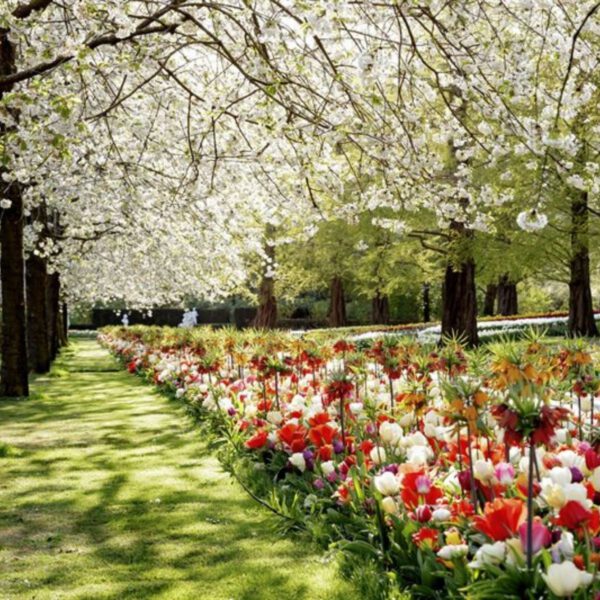 Keukenhof in Real Life
Bart Siemerink
"We want to make everyone happy with beautiful, colorful images of our park.  But of course it's more beautiful in real. This year Keukenhof is really a walking park, where a limited number of visitors are safe and controlled, so we are happy that this weekend Keukenhof can open."
People who want to see what Keukenhof looks like at the moment can see this via @keukenhof on
Facebook
and
Instagram
, and take virtual tours on
YouTube
. For more information, visit
www.keukenhof.nl