Lilac bushes can be found in all gardens around the world. The shrubs can grow up to four meters high and spread a wonderful scent during flowering. The journey from the bush to the field is quite a process. This 2-year crop is really just a crazy crop!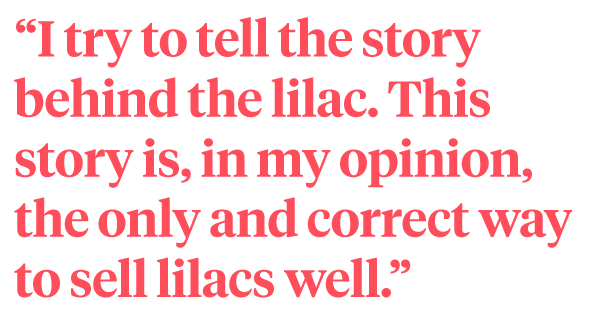 Typical Aalsmeer
We would like to pay some extra attention to a typical product of Aalsmeer, Netherlands; the lilacs, or in botanical terms 'syringa'. There are local growers all over the world who grow lilacs, but not many people know that the fields around Aalsmeer are THE place to be for lilacs.
A Local Product
It's such a typical local product, it seems. Growers harvest the branches from the shrubs when they naturally bloom in spring and trade these at a local market. These branches are only available for a very short period, so perhaps that is why they hardly travel very far from home.
Peat Field Islands
So, traditionally lilacs are just grown in the Netherlands, and specifically in Aalsmeer. Lilacs are linked to the Aalsmeer uplands, the peat field islands lying in the Westeinderplas. This soil is so rich in minerals and organic matter that the lilacs can grow optimally there. The soil, that is supplemented every few years with fresh dredge from this Westeinderplas, is essential to obtain a good, fine-meshed root structure. These roots form the basis of a successful flower spike on a lilac bush as a root ball.
Transport by Boat
Most of the fields in Aalsmeer are surrounded by water and the growers who have their lilac bushes here transport these by boat to and from the nursery. Growing lilacs is still really traditional and many actions are required before you have a flower in your hands.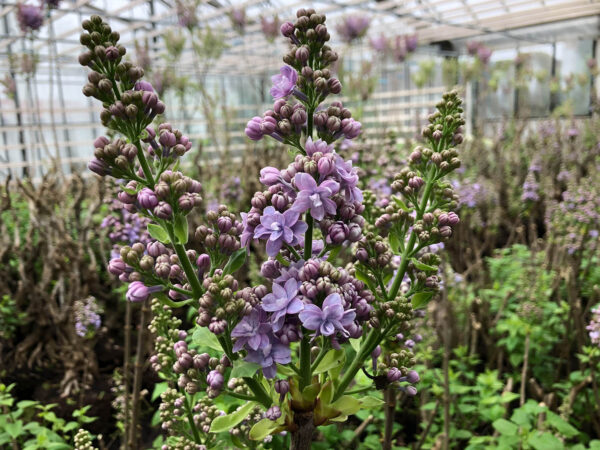 Visiting Nursery De Seringen Specialist
We visited the nursery De Seringen Specialist (The Lilac Specialist'), better known at the auction as seringen.nl. Jan ten Hoeve, the owner of the company, has specialized in the cultivation of different types of lilacs. These 'pearls' that Jan likes to talk about are an old traditional Dutch flower product!
A Piece of History
When Jan became infected with the lilac-growing virus at the age of 17, there were perhaps sixty growers in total who were growing lilacs. Today there are no more than twenty, and it is expected that there will be even fewer growers within ten years. This has everything to do with the yield of recent years. The lilac growers had a big problem with the expensive and labor-intensive cultivation, where the outside climate determines growth and therefore production. They could not and cannot control the outside climate with a computer or lighting. As a result, lilac branches were sold below cost.
Nature
One of the underexposed points is mainly the aspect of the cat-and-mouse game with the capricious facets of nature. Without a climate computer with all your knowledge from the past, you have to make the right decisions. Wind and hail are the biggest enemies in the spring. A good storm or hailstorm can blow away or hail the entire production for the coming season within one day or even just one minute. If it is a wet summer, the shrubs are soaking, and some varieties do not produce any or fewer flower buds. This means less good quality and therefore loss of yield. Autumns that are too hot cause the shrubs to become stressed. The shrubs want to go into winter dormancy, while they have the feeling that it is spring. Finally, there is the winter when all ditches freeze. You can then no longer sail to fill the greenhouses and you have to go over the ice in carts.
The Lilac as a Craft
The nursery used to be called Klaas Joren Gzn. Jan and Klaas owned the company since 1996, but Klaas stopped working as an entrepreneur on 1 January 2018. This change also included a new name, so the company became De Seringen Specialist. This name says everything about the feeling that Jan wants to convey and how he sees himself in "Lilac Land". Jan explains: "As an entrepreneur, I have been working for more than twenty years to make lilac cultivation visible to all people in the flower world. I have a website where I share the story behind the lilac. With this, I try to tell the story behind the lilac. This story is, in my opinion, the only and correct way to sell lilacs well. I am aware that we, as lilac growers, have a 'pearl' in our hands in the global overproduction. I just want to give the 'pearl' even more shine by propagating the craft and the emotional experience."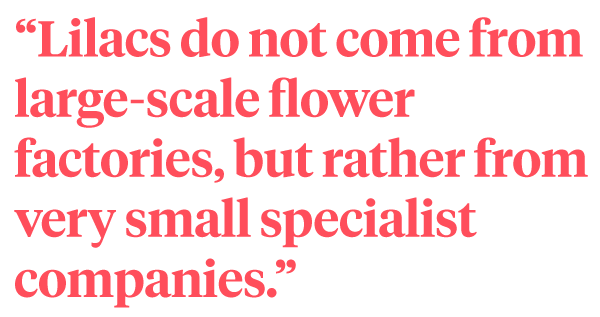 No Large-scale Factories
"Lilacs do not come from large-scale flower factories, but rather from very small specialist companies, which you can actually house with passionate one-man businesses," Jan tells us about his profession. In order to convey that craft to the general public, he is very active with social media, magazines, and TV programs to tell his story.
Live for More than 100 Years
You need a lot of patience to grow lilacs. It takes at least six years before a young plant can make the journey to the warm lilac greenhouse for the first time, where it is then forced into bloom. A 15-year-old shrub is only profitable if you consider the work done and the yield that this shrub generates.
The advantage of a lilac bush, on the other hand, is that it can live for more than 100 years. This allows the shrubs to be passed on from generation to generation. Jan has many special types of lilacs on a small scale. Special because of the inflorescence, double-flowered, or special color, or a particularly large flower nail (that's what the single flower of the flower cluster is called), or special because of the strong scent.
Syringa Vulgaris Michel Buchner
We set our sights on the Syringa Vulgaris Michel Buchner, a double-flowered milka-colored flower with a good shelf life. You have different varieties of Buchner, but this variety really stood out with its color! The variety is grown from the beginning of February to the beginning of April. The kind is lavender purple with a blue complexion in it. The Buchner is not easy to grow at all, but Jan likes a bit of a challenge. He, therefore, tries to look for varieties that are difficult to cultivate but have good quality. This way you remain distinctive as a specialist!

Today's Breeding
Today no new types of lilacs are being bred. This is because the process takes too long. Only after six or seven years do you have a flowering species, and it must then enter the entire testing phase. That is why De Seringen Specialist is constantly looking for existing rings that can broaden the range. There are more than 700 different types of lilac, but not all of them are suitable for harvesting long branches with many flower clusters. And that is the standard that De Seringen Specialist adheres to. In addition, the rootstocks of most cultivar species are not suitable and must be grafted onto wild Vulgaris species. The varieties that can now be found in Jan's range come from the range of garden plants. If nice varieties can be found there, they are tried out before cutting. Then the question again is how it will grow! In this way, the entire cultivation continues to develop.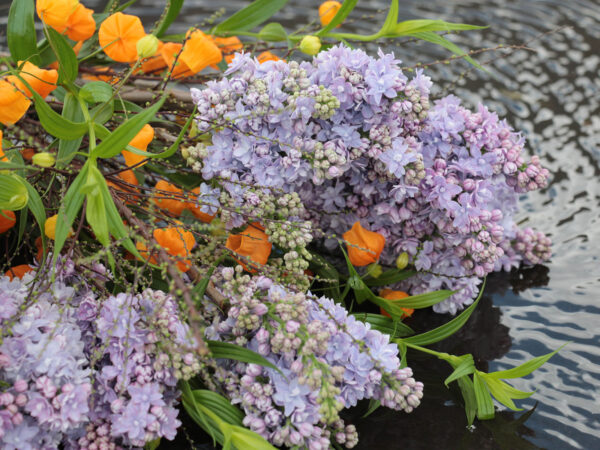 Grooming Lilacs
A lilac branch can flower in a vase for up to two weeks, provided they are properly watered. Always use cut flower food in the correct proportion. Without cut flower food, a lilac will droop after one or two days. Too much food in the water causes the flowers to burn and therefore to droop as well! Also, top up the water in the vase with water and food in time. This way you limit the growth of bacteria and the vessels in the branch remain open to be able to transport water to the flower! Lilacs need to drink a lot of clean water to fully bloom in the vase! Here's some help from the De Seringen Specialist YouTube channel: