Artist Mary Mattingly has designed a sphere filled with native plants that filter water in a gravity-fed system to mimic New York City's water system. Named Watershed Core, the installation in Prospect Park, Brooklyn, was designed to draw attention to issues around the quality, access, and privatization of water in the city.
Watershed Core Filled With Native Plants
Mattingly's sculpture mimics the workings of New York City's drainage basin, which includes aqueducts, reservoirs, and tunnels. It is part of her multiform project Public Water which includes a digital campaign and education initiatives alongside Watershed Core.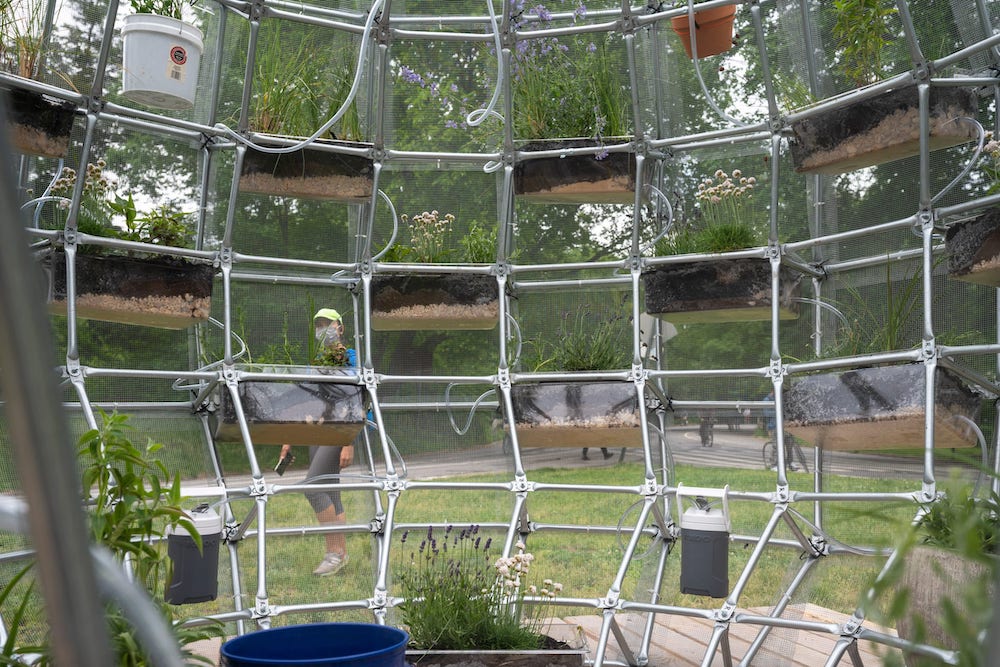 The sculpture is a 10ft tall (3 meters) geodesic dome designed as a structural ecosystem covered in native plants that filter water in a gravity-fed system that mimics the geologic features of the watershed. "Watershed Core is an active sculpture that follows A Year of Public Water, a timeline recounting the building of New York City's drinking watershed," said Mary Mattingly. "The sculpture draws from the minerals and geologic features of the watershed to filter water. PUBLIC WATER brings attention to New York City's drinking water system in order to build more reciprocal exchanges between people who live in New York City's drinking watershed and its drinking-water users in the city, to promote care and commons.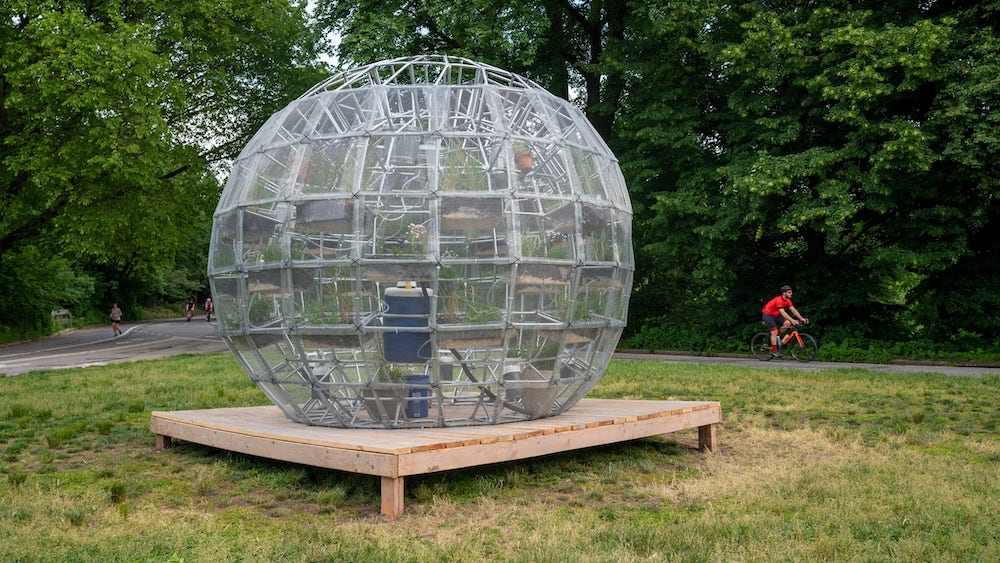 The installation is an open-air spherical sculpture made from metal supporting restaurant trays filled with native plants. Rainwater is collected by the sculpture, where it is cleaned by the filtration elements of plants, soil, sand, rock, and a layer of carbon through a process called phytoremediation. "Watershed Core is a sculpture that describes the geology of parts of New York City's drinking watershed through carbon, soils, rocks, and plants," Mattingly said.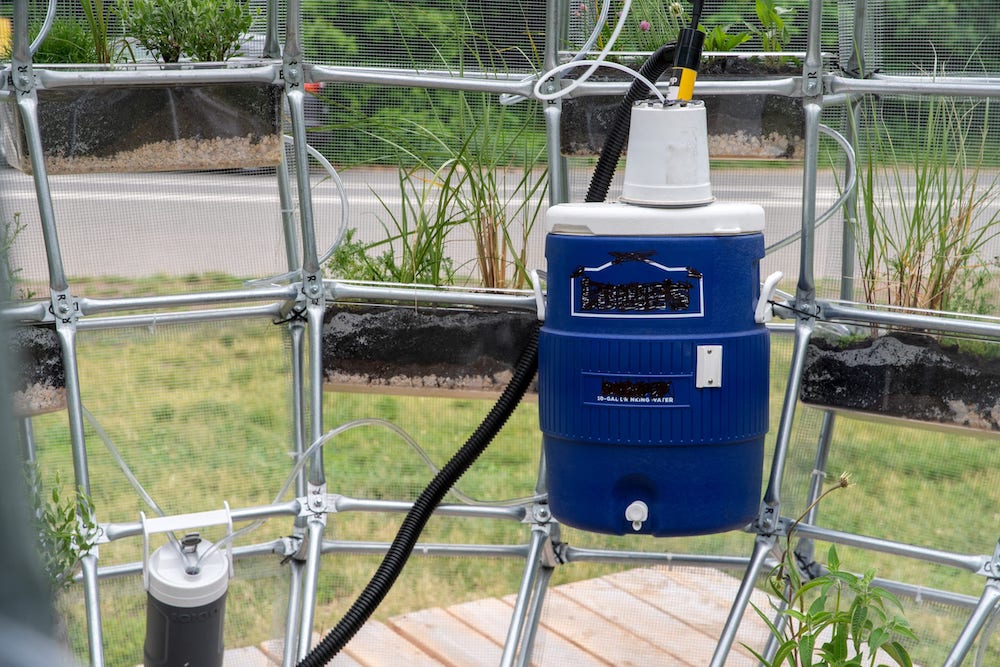 "The installation filters rainwater for drinking," she continued. "Water moves through the trays and into the water bottles at the bottom of the sculpture. There is a backup system inside the sculpture where water from Prospect Park can be added in case of a prolonged period without rain. This system uses a hand pump and several buckets."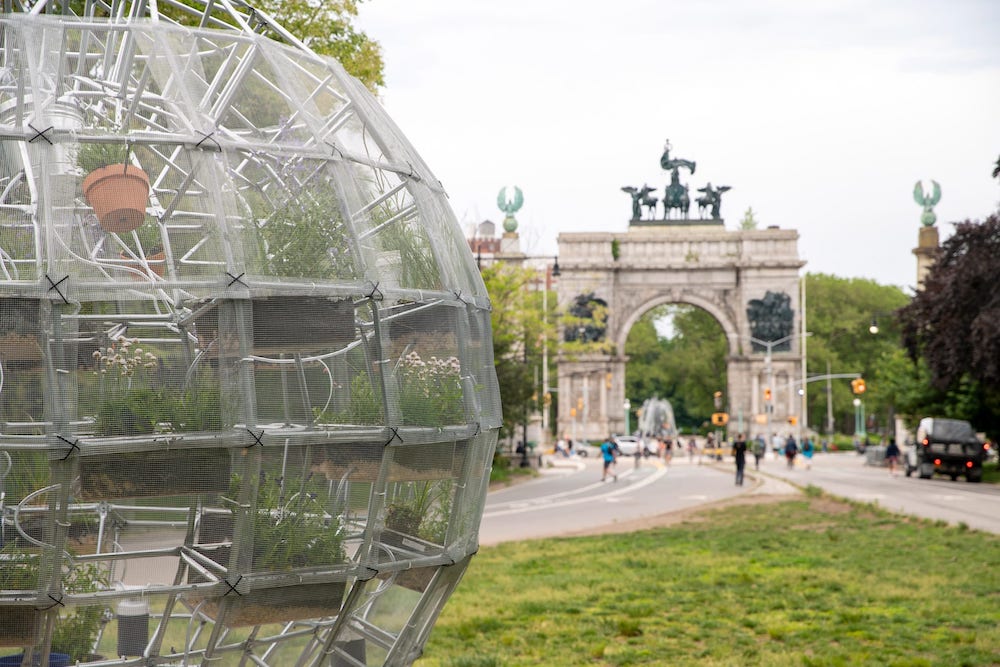 Where Clean Water Comes From
Mattingly completed the project with More Art, a New York-based nonprofit art organization that focuses on socially-driven public art projects. Watershed Core aims to raise awareness of how we can all become better water stewards in our understanding of where clean water comes from, and how it is governed.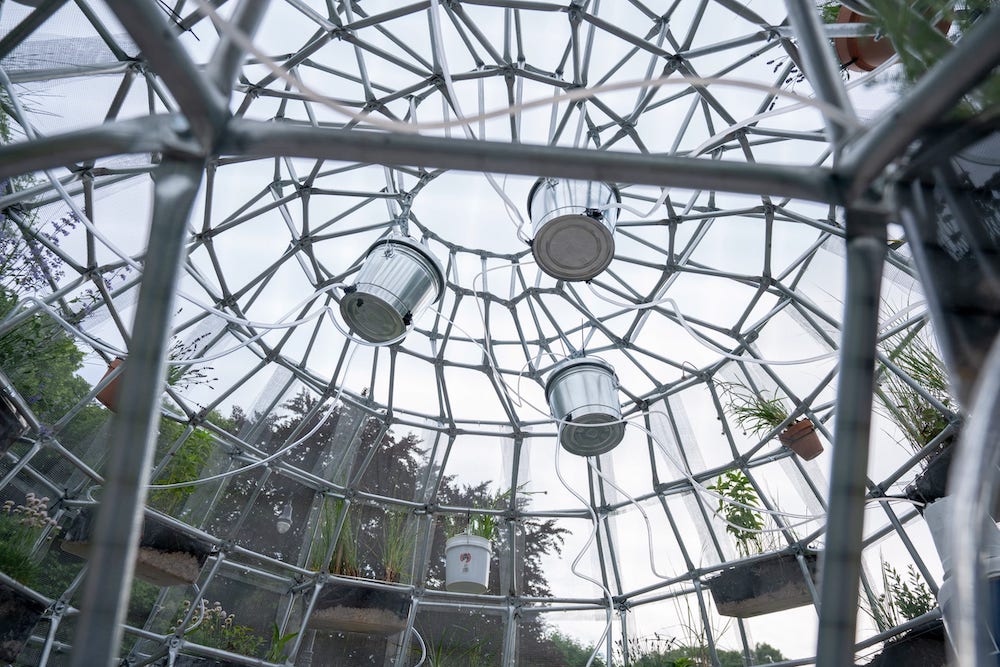 Growing up in an agricultural town outside of New York City, Mattingly noticed how the already pesticide-polluted well that provided water to her town began to accrue more contaminates over time when it was privatized. This experience led the artist to investigate water and its politics in America, where the country's freshwater supplies are at risk of running low due to decreasing precipitation and increasing populations. "I've been tracking water privatization around the US and I began working with More Art on this research in 2018. We focused on New York City's public drinking water system" said Mattingly. "Working together, we began focusing on highlighting public water systems that we thought were working well. They were more equitable, environmental and regenerative than the private systems, or both public and private systems."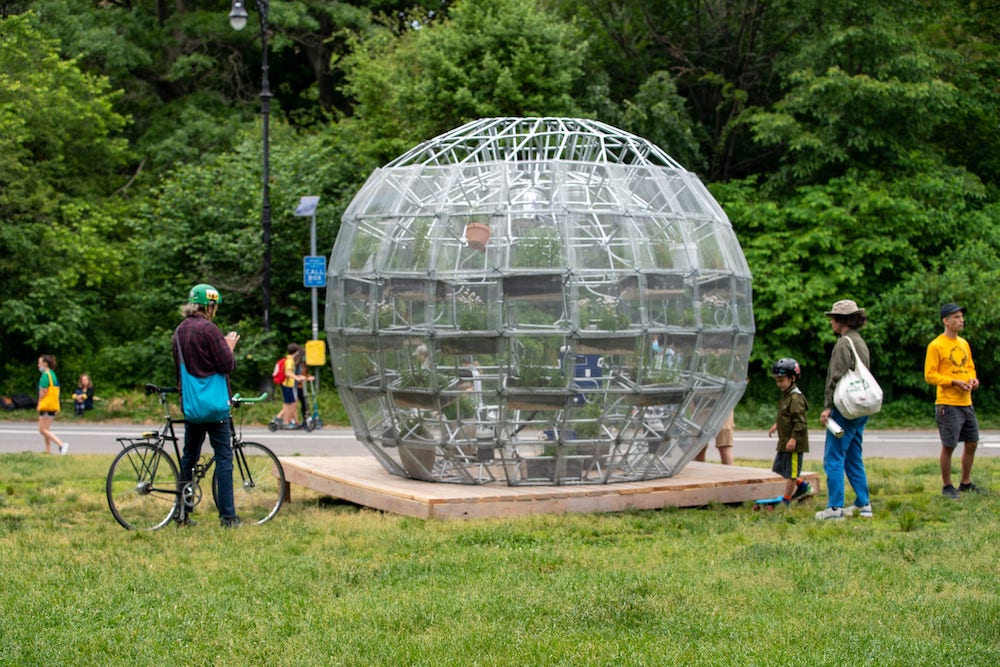 The Strengths of New York's Water System
Through Watershed Core and its various other programs, Public Water intends to share the strengths of New York's water system that over eight million people depend on daily. "We're eager to share what steps have been taken to begin for the system to be more equitable, and look at how we can help in stewarding these watershed areas," explained Mattingly.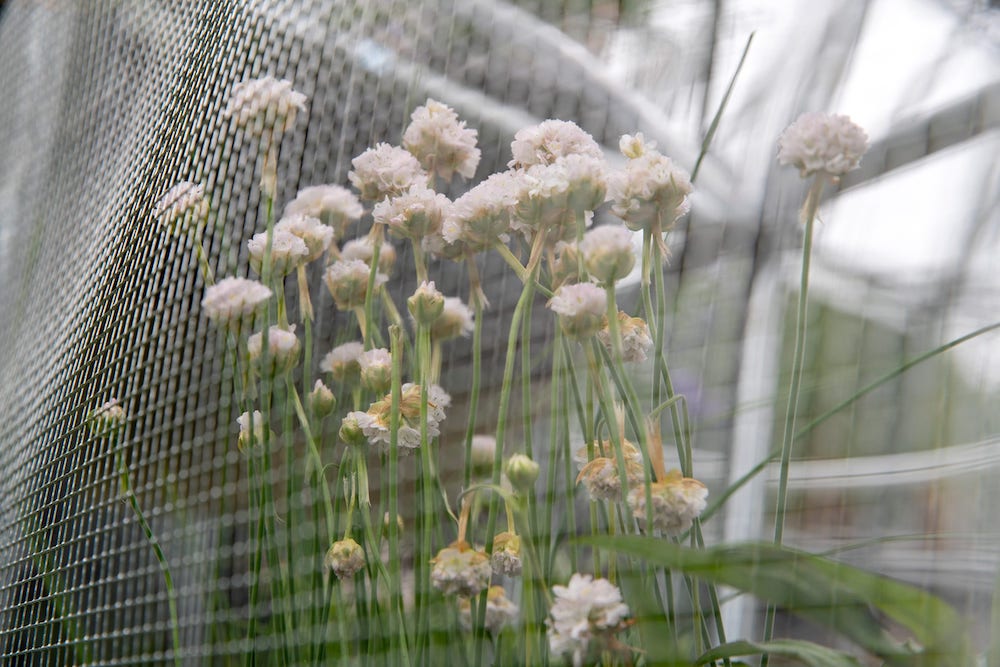 Invisible Ecosystems
In conjunction with the sculpture, More Art and Mattingly have produced Invisible Ecosystems, a self-guided walking tour and wayfaring installation that conceptually and geographically connects the water-filtering sculpture with the ecoWEIR, a natural filtration pilot project for the Park's manmade watercourse. Ten signs placed at strategic locations within the park will direct readers to an audio guide accessible via QR codes and a mobile device app.
The tour will address filtration, natural systems of water remediation, New York City water systems, reservoirs, and the New York City watershed, and explore how human-made water management systems clean water in a way that mimics the earth's natural ecosystems. In addition, the audio tour will provide a sensory accompaniment to the walk, providing meditative direction through the space, pointing the listener's attention to sounds, how the body moves throughout the space, and other sensory cues or landmarks.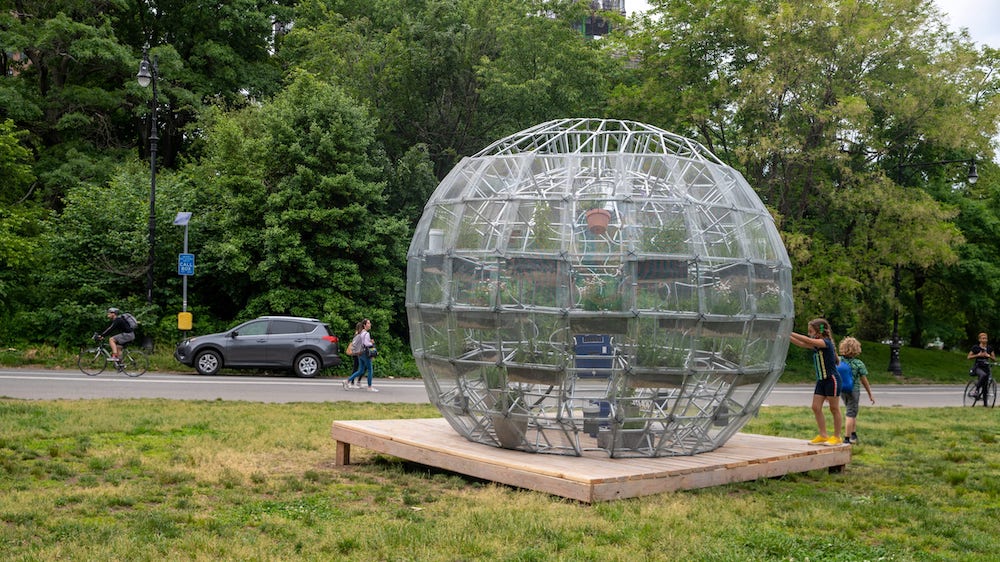 About Mary Mattingly
Mary Mattingly is a visual artist focused on questions of ecology and sustainability and the Katowitz Radin Artist-in-Residence at the Brooklyn Public Library for 2020. She founded Swale, an edible landscape on a barge in New York City. Docked at public piers but following waterways common laws, Swale circumnavigates New York's public land laws, allowing anyone to pick free fresh food. Swale instigated and co-created the "foodway" in Concrete Plant Park, the Bronx in 2017. The "foodway" is the first time New York City Parks is allowing people to publicly forage in over 100 years.
More info on www.marymattingly.com. Photography is by Manuel Molina Martagon, courtesy of More Art. Info via Public Water.