We can always draw positive energy from flowers. Sunflowers can stimulate a fulfilling vibrancy, they are a symbol of loyalty and adoration. A sunflower is a happy flower, this is why several authors have penned motivational sunflower quotes in praise of this beautiful flower. Whether you're looking to inspire and paint a smile on your loved ones' faces or elevate your mood and zeal during gloomy days; the following thought-provoking and uplifting Sunflower quotes will do.
Always refer to the below 20 most-used sunflower quotes to spur positivity.
Sunflower Quotes
Sunflower origin can be traced to North America in 1000 BC. The initial use of sunflower was as a food source but gradually added as a healthy oil source. Eventually, with the growth of flower culture across Europe, sunflowers gained massive use and appreciation in flower bouquets. Sunflower is a happy flower, with a positive energy and character to it; making it a perfect flower to brighten your loved one's mood. Learn more about the meaning of sunflowers quotes here.
For this reason, sunflowers have always attracted the attention of several flower enthusiasts around the world. Over the years, a lot of sunflower quotes have been written to reinforce the sunflower's meaning, positivity, and joy it exudes. Below are the most-used 20 sunflower quotes; for self-affirmation, navigating difficult moments, and incredibly relatable sunflower quotes to celebrate your friendship.
Uplifting Sunflower Quotes for Self-Affirmations
The following first 5 most-used sunflower quotes are ideal for self-affirmations and self-motivation. Propagate positive energy within you by always referring to the following quotes.
Quote #1
"Be a sunflower in a field of roses; stand tall, radiate positivity and embrace your uniqueness".
This quote tells us there is power in being yourself, celebrating and embracing yourself is true power, just like the sunflower proudly blooms even when in a mixed sunflower bouquet, embrace who you are, and ignore the chaos and the noise; that's how you shine.
Quote #2
"Like a sunflower, always follow the light within you and bloom boldly."
Meaning you have to trust the light within you, and your capabilities and work towards your success; you do not need any affirmations from without, you have everything you need to succeed already!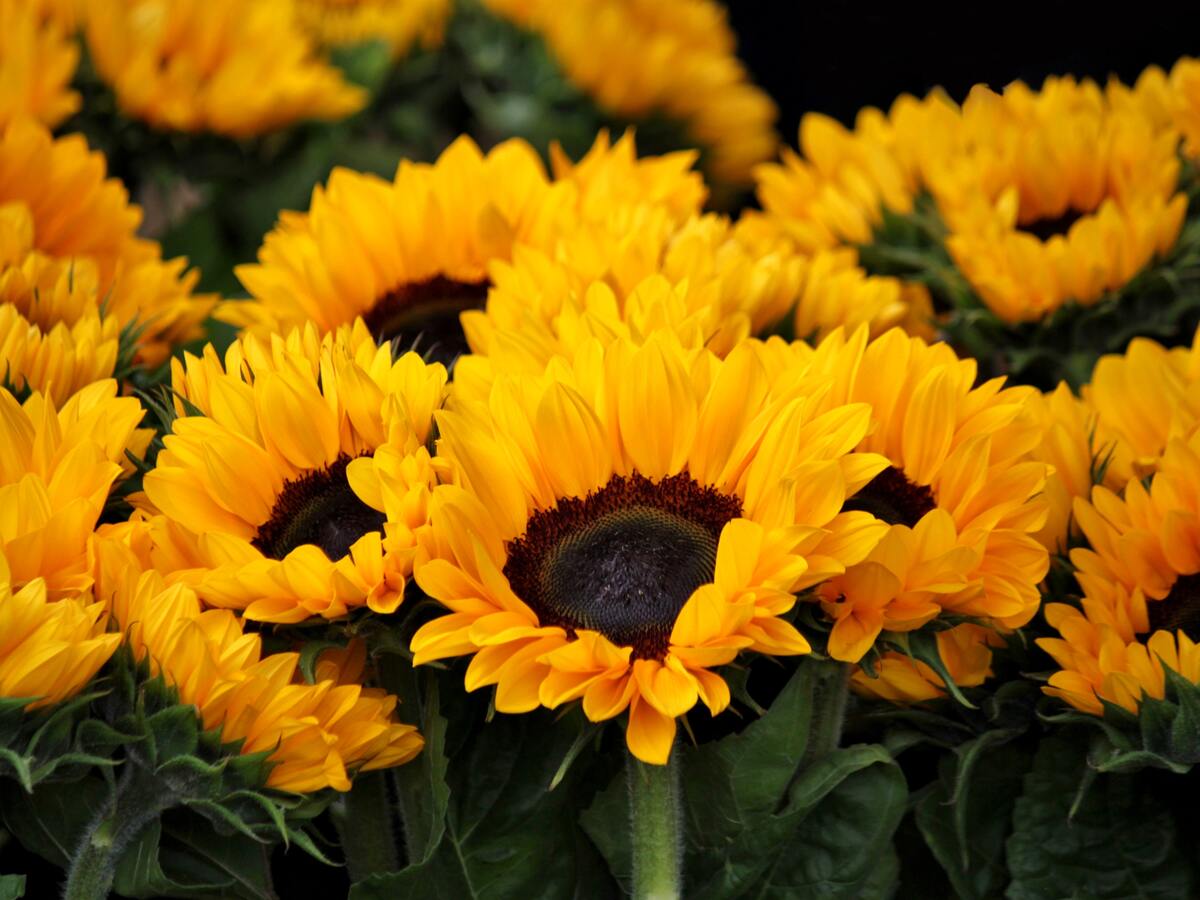 Quote #3
" A sunflower does not compete with other flowers; it just blooms."
This is a reminder that you are special and you do not have to compete or envy others because self-acceptance is the epitome of personal growth and blooms just like the sunflower.
Quote #4
"Sunflower is a true example of beauty reaching for the sun."
This sunflower quotes emphasizes that we ought to constantly pursue beauty and personal development by drawing into the positive energy and the magic within.
Quote #5
" A sunflower field is like a sky with a thousand suns."
This quote is by Corina Abdulahmnegura. Corina reiterates that; Sunflowers exist to remind us that when you focus on your true being, you become extremely powerful and limitless.
Sunflower Quotes to Navigate Tough Times
Tough times are inevitable but with a positive mindset and energy from the following Sunflower quotes you can boldly navigate them.
Quote #6
"Keep your face to the sunshine and you cannot see the shadows. It's what sunflowers do."
This quote is by Helen Keller. It suggests that by focusing on the positives, one can emerge from difficult situations by avoiding or distracting their focus from the negatives.
Quote #7
"Sunflowers end up facing the sun, but they go through a lot of dirt to find their way there."
-J.R Rim.
J.R. Rim's quote is a testament that if we push a little harder, regardless of how hard and excruciating our circumstances may be, we will eventually get to see the light.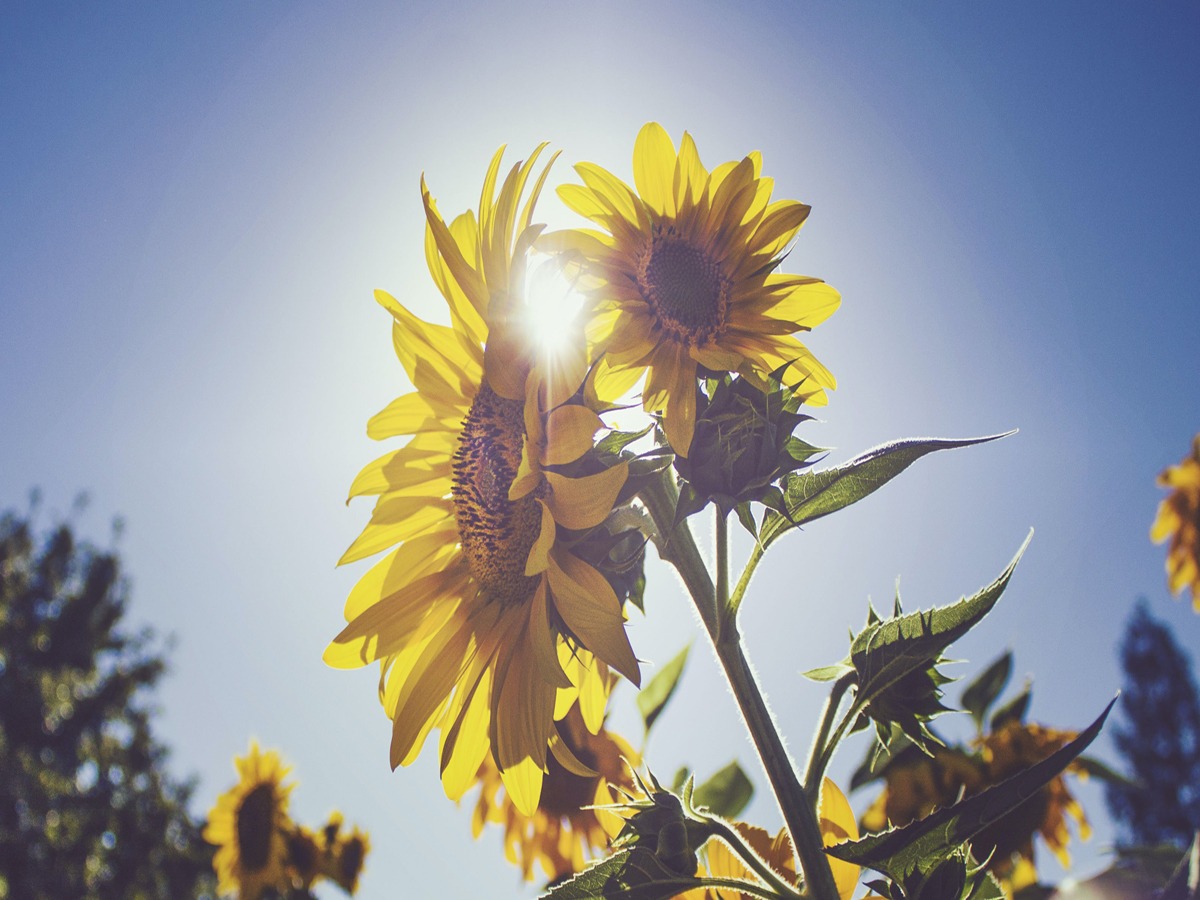 Quote #8
"The sunflower is a favourite emblem of constancy."
By Thomas Bulfinch. This quotes reinforces that when you focus on positivity, you become optimistic and disregard the negative aspects of life.
Quote #9
"Every flower must grow dirt."
This sunflower quote is by Laurie Jean Sennot. Laurie Jean believes that every success story came to be because one overcame a difficult situation sunflowers are a reminder that you can grow in dirt and through frustrating moments but blossom in the end.
Quote #10
"And the yellow sunflower by the brook in autumn beauty stood."
By William Cullen Bryant.
William Cullen's quote means that when you embrace your light and let it shine, just like the sunflowers do, then your beauty and aura are evident.
Quote #11
" When life throws you a rainy day, play in the puddles."
By Pooh Bear.
This quote teaches us that when you encounter trying moments, embrace them because the sun will come up eventually because this is the sunflower's mindset.
Quote #12
"Just like sunflowers keep your face towards the light, and shadows will always fall behind you."
Focus on the positive side in every situation; this is the most reliable remedy to any lingering shadows and stumbling blocks along the way.
Quote #13
" Even in the midst of darkness, sunflowers find the light."
Even in the midst of darkness, there is always a light at the end of the tunnel, sunflowers always look forward to the sun.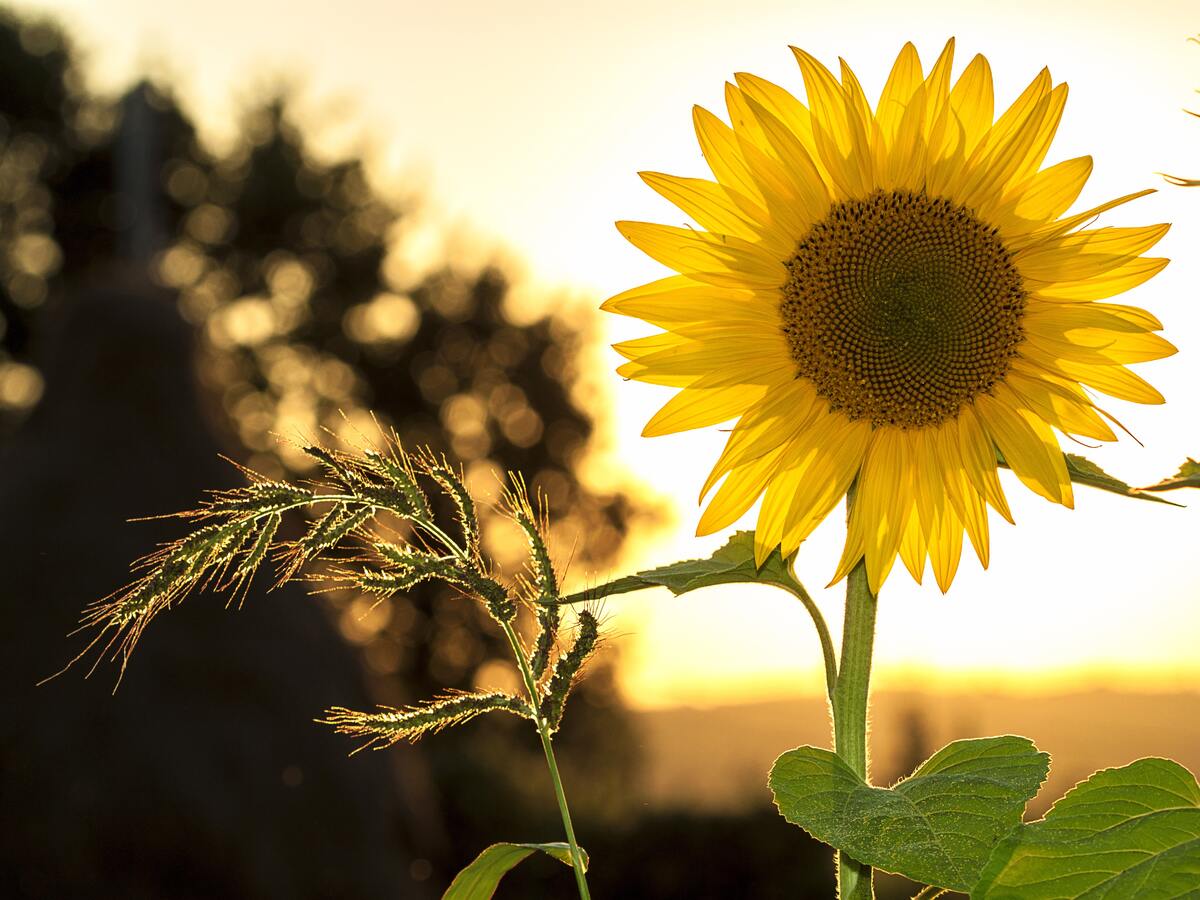 Quote #14
" Sunflowers teach us the value of patience and persistence."
This quotes focuses on the process and the period sunflowers go through from the seeds stage, to the germination part and eventual bloom. It serves as a reminder that all good things takes time to achieve, if you are patient and persistent enough, in due time you will realise your goals.
Quote #15
"Sunflowers always seek the light, no matter the storm."
Regardless of how tough your situation is, always seek the positive, embrace the light, and neglect the dark side of your story.
Unique and Helpful Sunflower Quotes
Once you embrace your true being, the glow becomes vivid, you exude confidence and you command attention just like a sunflower. The following quotes are unique, though some may not mention the word "sunflower" directly; their true essence connects to the immense light and motivation evident with sunflowers.
Quote #16
" A sunflower looks straight at the sun and blooms brightly."
You do not need permission to be you, to shine bright, or to glow in any environment; sunflowers unapologetically bloom.
Quote #17
"Happiness held is a seed, happiness shared is a flower."
By John Harrigan
Through sharing or gifting sunflowers to our loved ones, we share the happiness emanating from them and their beneficial energy.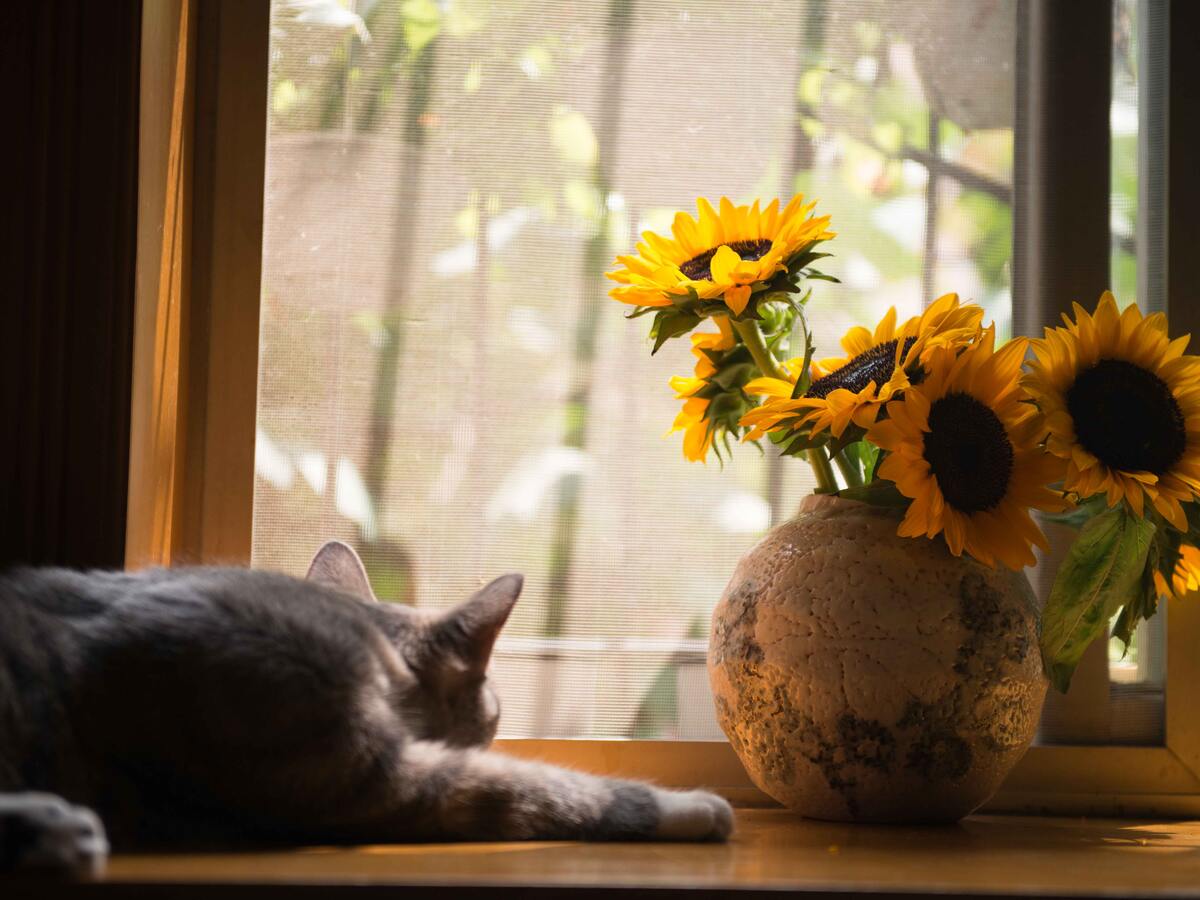 Quote #18
"She is just like a sunflower...strong, bright and true."
By Marie Williams Johnstone
Marie Williams mentions that you need to find someone who is strong, filled with joy and positive energy and also stays true to their ideals; that is the spirit of a sunflower.
Positive Sunflower Quotes About Friends
Quote #19
"Sunflowers are like friends; they bring color to your world."
Quality friends should fill your life with lots of joy, and radiate positivity when you are around them, just like sunflowers do.
Quote #20
"True friends are like bright sunflowers that never fade away even over distance and time."
By Marie Williams Johnstone
Authentic friendship should not fade off, regardless of the distance; the bond grows stronger daily.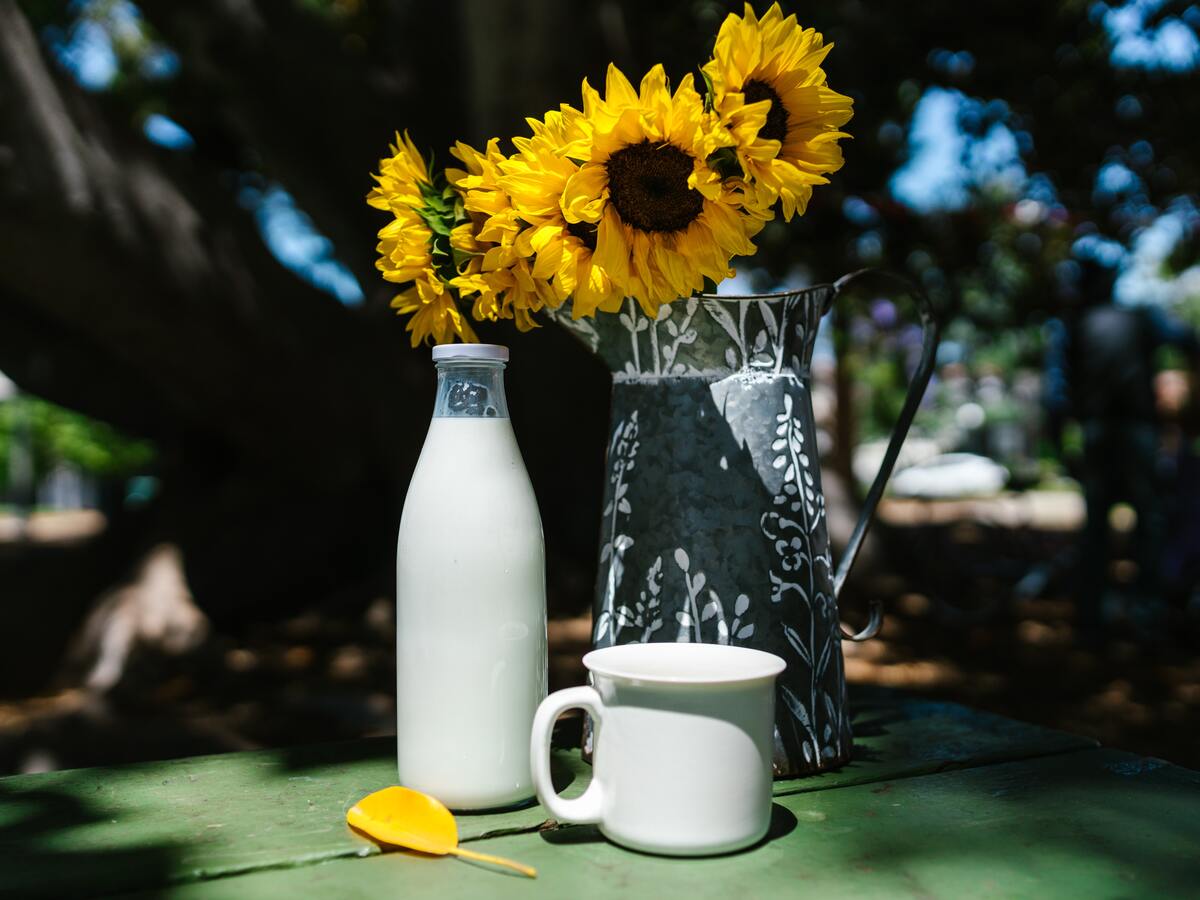 We can emulate the uplifting aura of sunflower through the above-highlighted sunflower quotes to spur positivity in everything we do, even when confronted with extremely difficult circumstances. This is what is referred to as; sunflower joy. Spread the sunflower joy by gifting your friends and loved ones a sunflower bouquet today and a card filled with a quote from the above 20 most-used sunflower quotes.