Mulyana is an Indonesian artist known for his colorful crocheted coral worlds of fun characters inspired by the television shows of his youth. His artwork has become a proliferating entity, continually growing and evolving into an interconnected world of beings.
Knit Installations Draw Attention to Ocean Life
He is driven by his love of crocheted handiwork, combined with the meticulous requirements of crochet pattern design. He uses his work to explore religion, to achieve happiness through creativity, and as a way to connect with the community.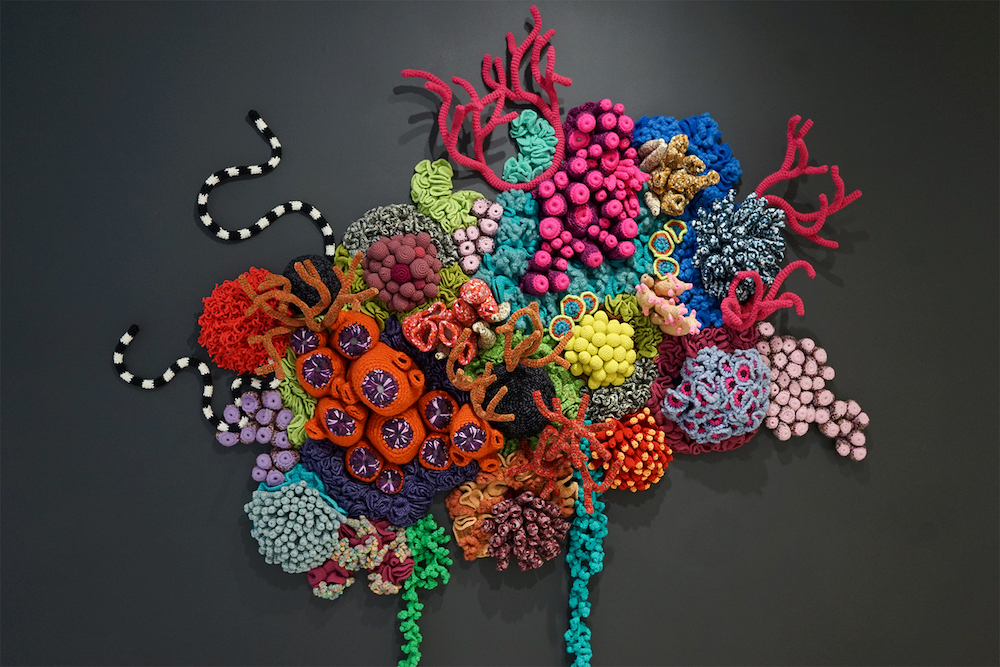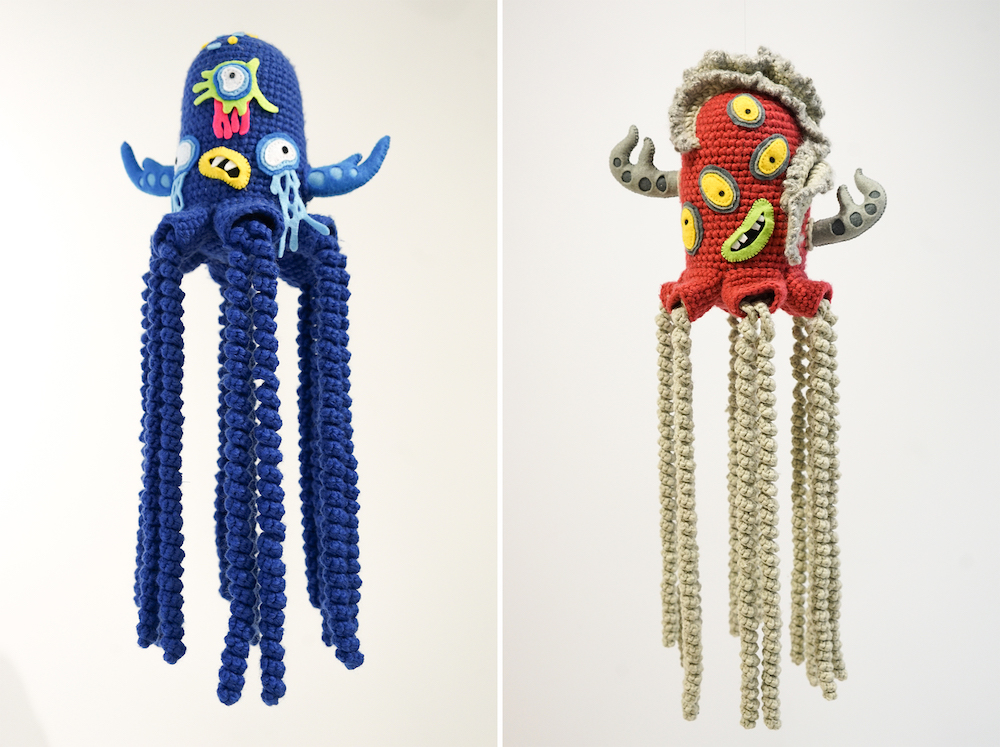 About Mulyana's Work
After completing his graduate degree in art education at the University Pendidikan Indonesia in Bandung (2011),
Mulyana
moved to Yogyakarta in 2014 to investigate the possibility of community-based projects as an extension of his studio practice. One of the first groups of collaborators he encountered was a community of transgender women in Sorogenen village, in the Yogyakarta region. Together with this community, Mulyana produced multiple soft sculptures in his signature style, pathing the way towards the world stage where his works were finally presented to a global audience.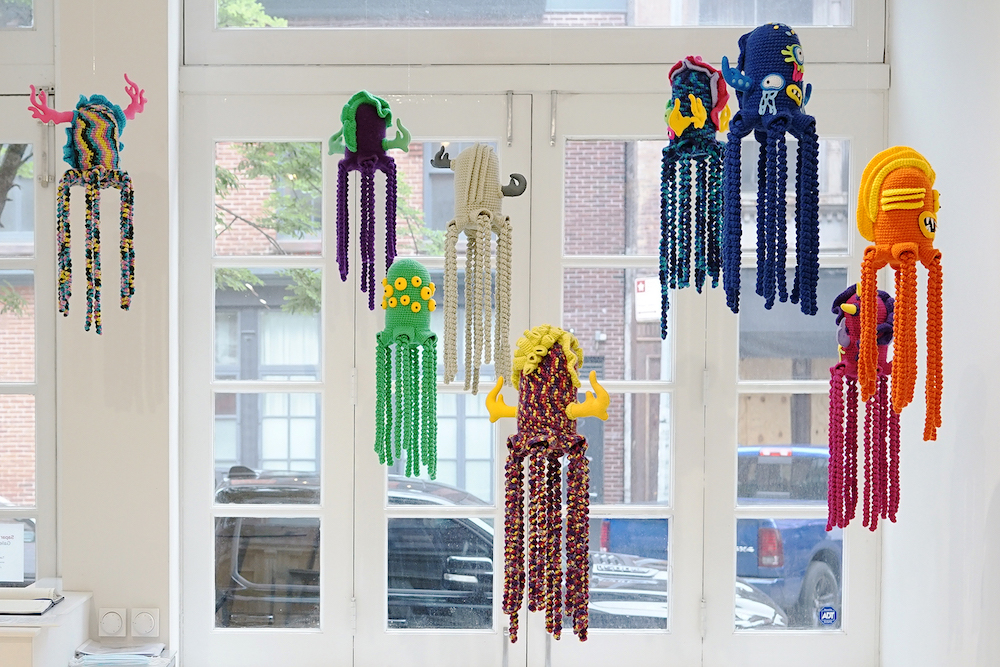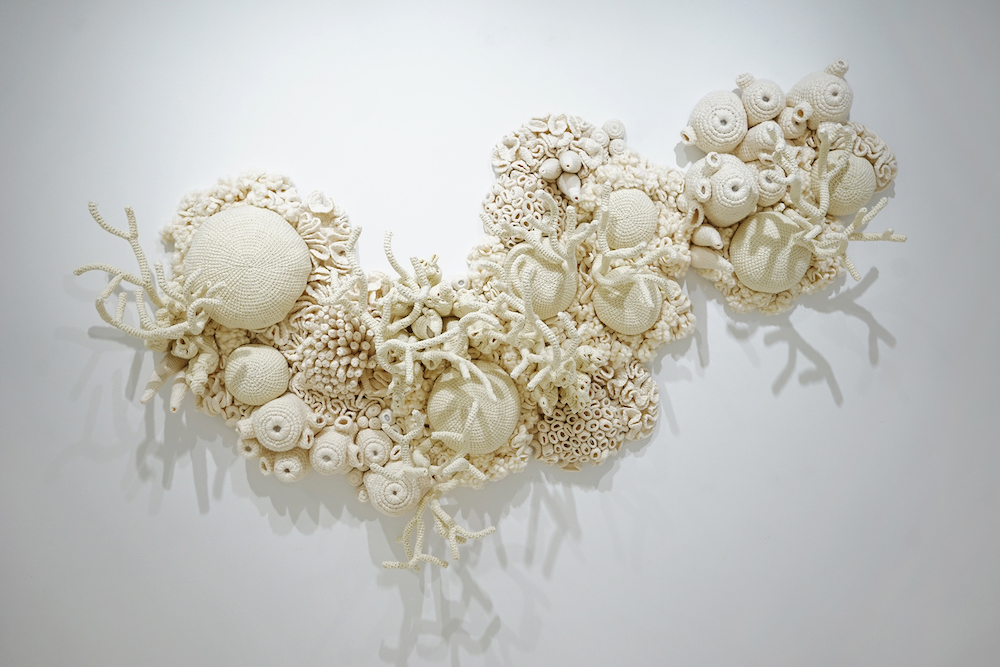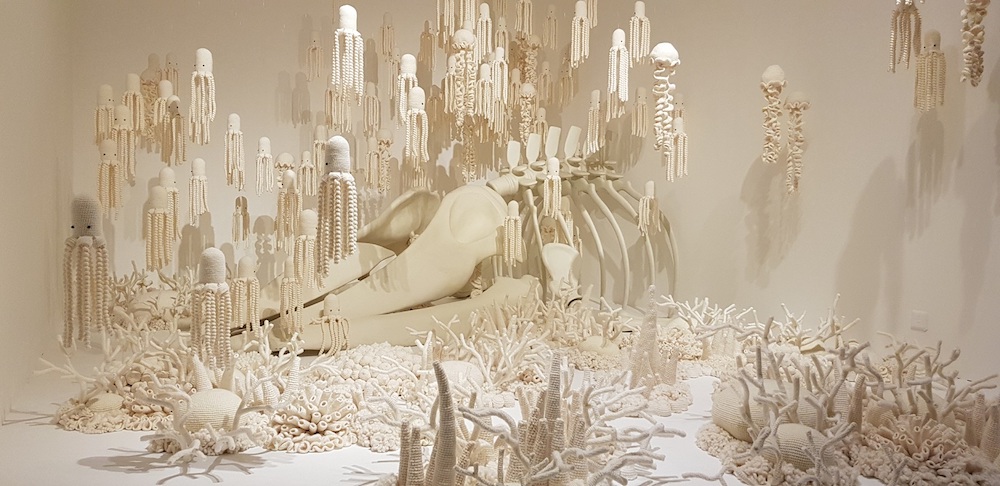 Weaving Values and Concerns Into Playful Objects
Mulyana discovered he could crochet, knit, and weave together his values and concerns into playful objects. He has a very spiritual relationship to Islam, as Indonesian theology differs slightly from the Wahhabi orientation of Western Asia and North Africa. To be in a community is to support the community; caring for the poor and disenfranchised is a serious practice. Committed to that responsibility, he cultivates relationships with disparate groups. One of his first sets of collaborators were a group of transgender women whom he trained to become independent artisans. At any time, he has 25 people working with him to produce his vast underwater worlds. Mulyana:
"The challenge is to capture a story in an object. I find that my imagination triggers unconsciously when I work with my hands, crocheting while chatting, watching films, or reading online news. I choose to create artwork installations as a story-telling medium, to give the public a different perspective."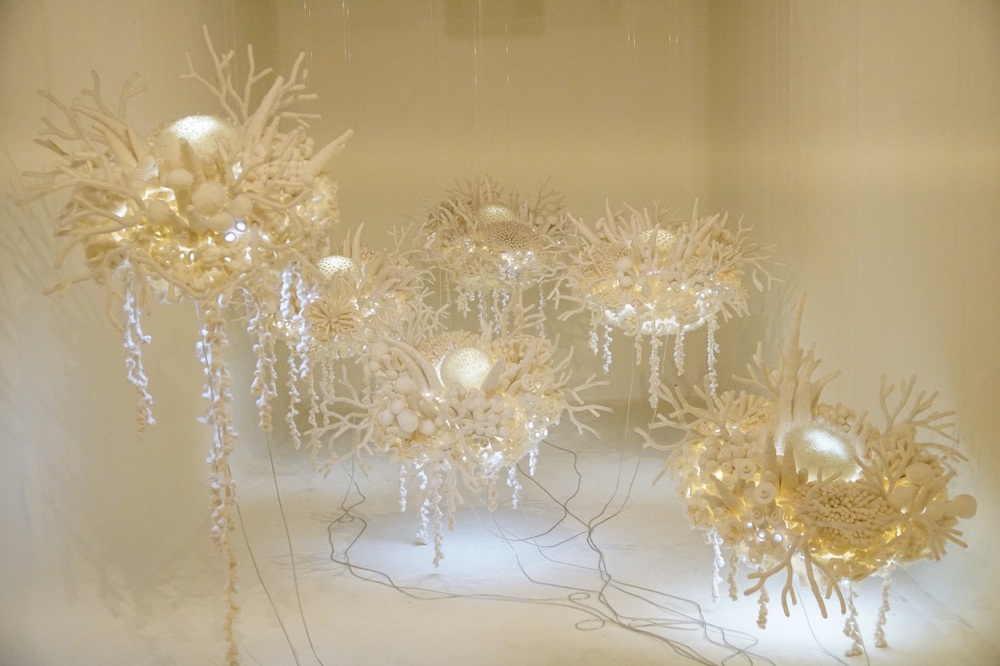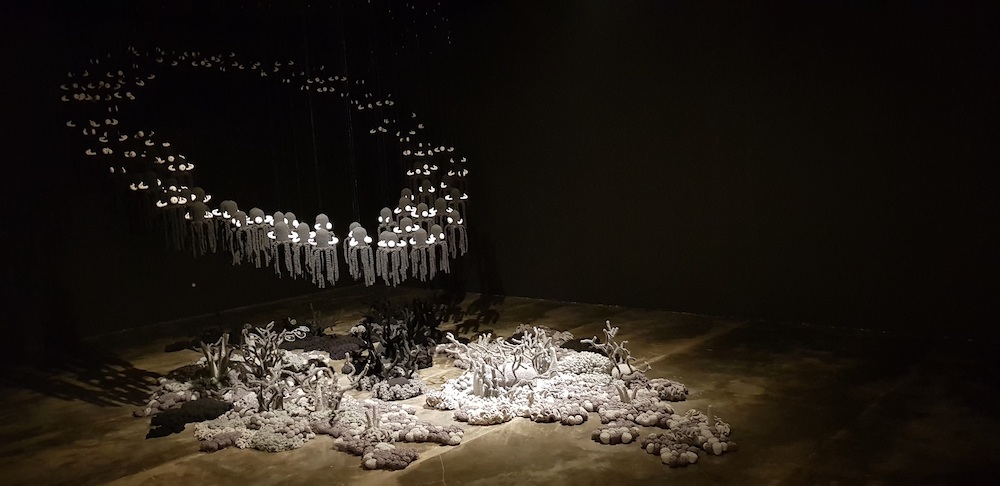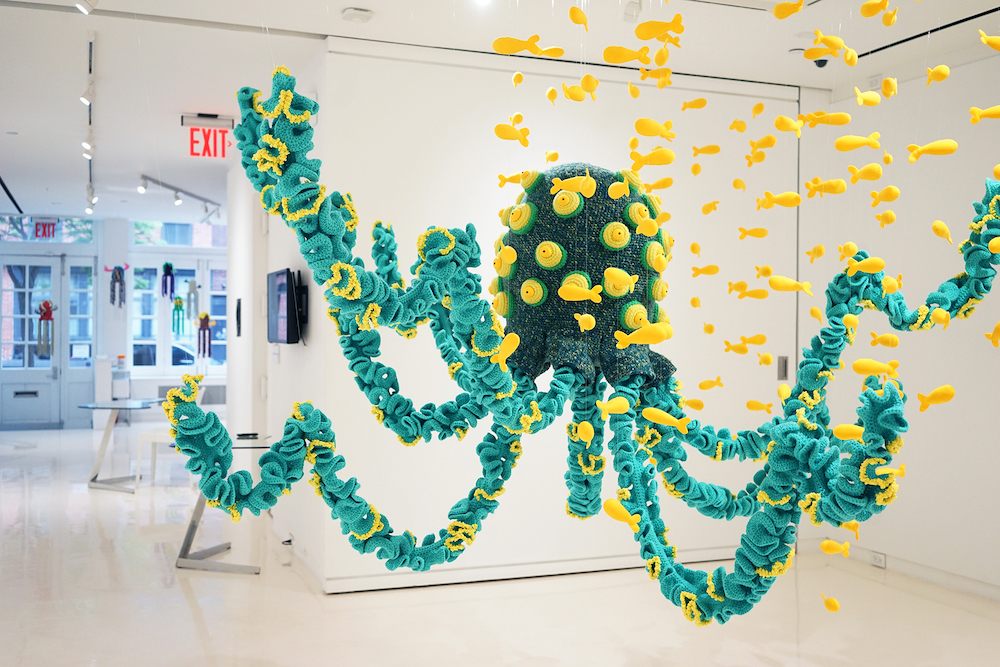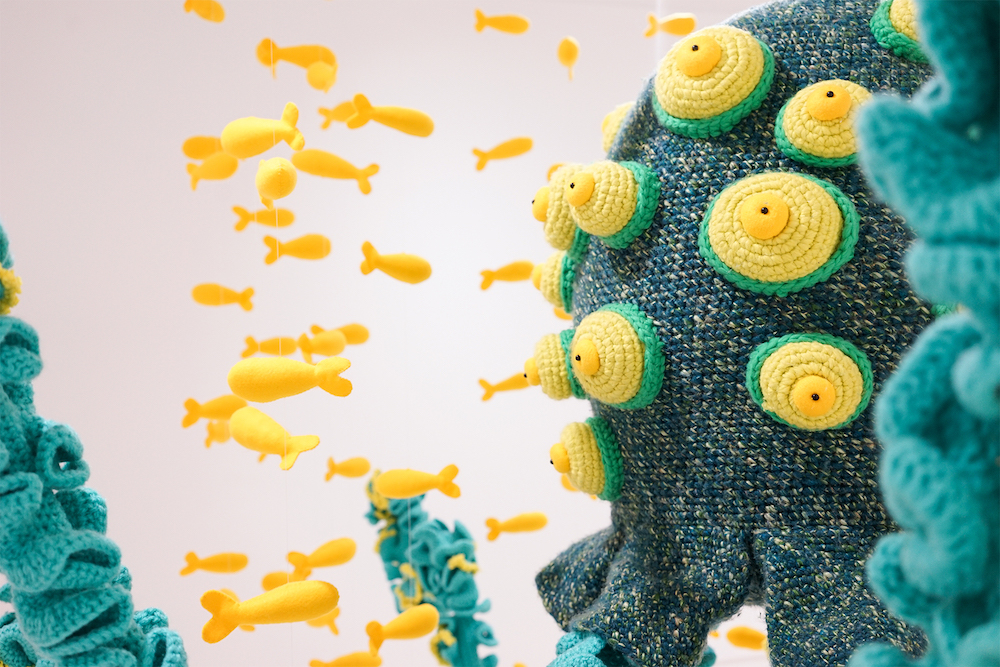 Homage to the Death of Coral Reefs
In the artist's gallery, a large, multicolored coral reef,
Harmony 14 
(2019), reveals the carefully wrought stitching and extraordinary workmanship that is core to Mulyana's studio. In the back area, a white coral island 
Bety 1
 (2020) is intricate and delicate, a profound homage to the death of coral reefs bleached by warming waters; the series is named for his mother who died days after his birth. Coral reefs are produced by invertebrates that excrete an exoskeleton, which creates the ecosystem for incredible biodiversity, home to an estimated 25% of marine species.
Commitments to Sustainability and Community
While many of Mulyana's formations are brightly colored, the pieces in his Bety series are crafted entirely in white to draw attention to coral bleaching caused by pollution. To maintain his own commitments to sustainability and community, Mulyana re-purposes the yarn that forms his textured corals and ocean life. For more information about Mulyana's work, visit his
website
.