Here she is, Odilia. A new brand that is exclusively available via the webshop and direct sales of wholesale importer Coloríginz presenting the world's most extraordinary flowers, handpicked for you.
A Penchant for the Extraordinary
Odilia has a penchant for the extraordinary. But extraordinary flowers are complex to cultivate. They require dedication, skill, and patience. That's why Odilia is joining forces with the world's best master growers to find the most amazing varieties, and be able to share their enthusiasm with their customers.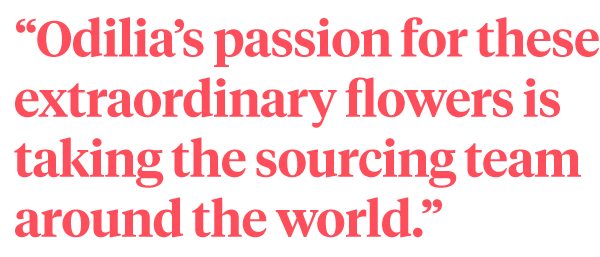 Exclusively for Everybody
Together with their growers, Odilia creates an unprecedented collection of fantastic flowers, rare species, exclusive varieties, extraordinary beauty. Not just for the lucky few, but available for everyone in year-round steady supplies.
Extraordinary Journey
Odilia's passion for these extraordinary flowers is taking the sourcing team around the world to discover new varieties, explore cool places, and meet great people. They'd love to invite you to come with us and experience the nature of extraordinary flowers for yourself. Starting with just a few examples of flowers from the World of Odilia...
Cape Greens
Extraordinary doesn't always mean all out. Sometimes it's alright to keep it all in. Cape Green is the minimal, but the soulful queen of modern elegance.
Cool collective
Cape Green is the collective name for different plant species native to the cape of Africa. There are a dazzling number of them, each with its own qualities.
Top choice
Odilia prides itself in finding the finest varieties each harvest. Pictured below is one of their top choices: striking, ball-shaped flowers in ocean tones, offset by dark green stems. Simple, subtle, very special.
Protea
Larger than life, older than time, shockingly beautiful. Everybody remembers their first encounter with a protea in bloom; the distinctive cone shape, the white mass of stamens surrounded by colorful leaves.
Varieties
There are hundreds of species, each different in style and size, some reaching up to 35 cm in size. From the star-shaped King protea to the playful protea Carnival, there are near-infinite possibilities.
True story
Protea's story is a long one. The Proteaceae family dates back millions of years, and there's no sign of stopping. She's forever the symbol of change, hope, diversity, and courage
Leucadendron
This is leucadendron, a.k.a. cone bush. A single flower can be enough to light up a room: vibrant colors, weaving shapes, fantastic styles.
Family matters
Part of the Proteaceae family, leucadendron has similar qualities. Voluminous foliage, stems, and cones, spectacular flowers in various shapes, and an ever-growing color palette thanks to new hybrids.
Cultivation
Leucadendron requires a specific habitat, and today is mostly found in the South African
fynbos
and Australia. In the wild, the plants may reach 9 meters in height. The Odilia master growers prefer specimens a bit smaller – and fitter – in order to get spectacular blooms
Nutans
This pincushion protea is all sorts of different, and a genuine shot of sunlight at that.
Cultivation
Nutans, also known as leucospermum, is notoriously finicky, with most varieties having a limited ecological range and requiring specific conditions to grow. Thankfully, the Odilia master growers think she's worth all the extra trouble.
Remix
Odilia highly recommends the luxurious look of nutans. Tall stems, voluminous foliage, distinct flowers in tones of orange, ochre, lemon, and shades of coral. It's a classic beauty, remixed for today.
Banksia
Just take a look at the large, cone-shaped flower heads. Smell the sweet honey scent. Be bedazzled by the strikingly serrated foliage.
Cultivation
Indigenous to Australia, banksia is now cultivated on farms in Europe and Africa. Plants may take several years to fully establish themselves, requiring skill and patience from the grower.
Varieties
There are hundreds of varieties of banksia. They come in various colors and styles, ranging from a fresh yellow to a soothing pink. Each harvest Odilia handpicks the best for their collection.