Utrecht is a city recognized for its innovative and forward-thinking approach toward sustainability, and its upcoming project nicknamed Oopen is no exception. The tower whose construction begins in 2025, is set to become the Netherlands' first zero-emissions mixed-use high-rise building.
UK's Heatherwick Studio, partnering with the Netherlands' Barcode Architects and sustainable real estate developer, Edge unveiled the designs for this culture, work, and leisure hub that incorporates elements of sustainability in its construction. The stacked cylindrical timber and steel building in the city's central Jaarbeursplein square will have a public hall for cultural events and exhibitions, incubator offices for start-ups, pop-up cafes, and a rooftop restaurant among other amenities.
Oopen's Design Puts Emphasis on Sustainability
Oopen will be made up of a series of stacked cylindrical forms with faceted glass facades. The cylindrical shape is not only aesthetically pleasing but also quite efficient. The tower's unique design, which makes it stand out against the backdrop of the other angular buildings around it, allows for maximum use of space while providing natural light and ventilation to each floor.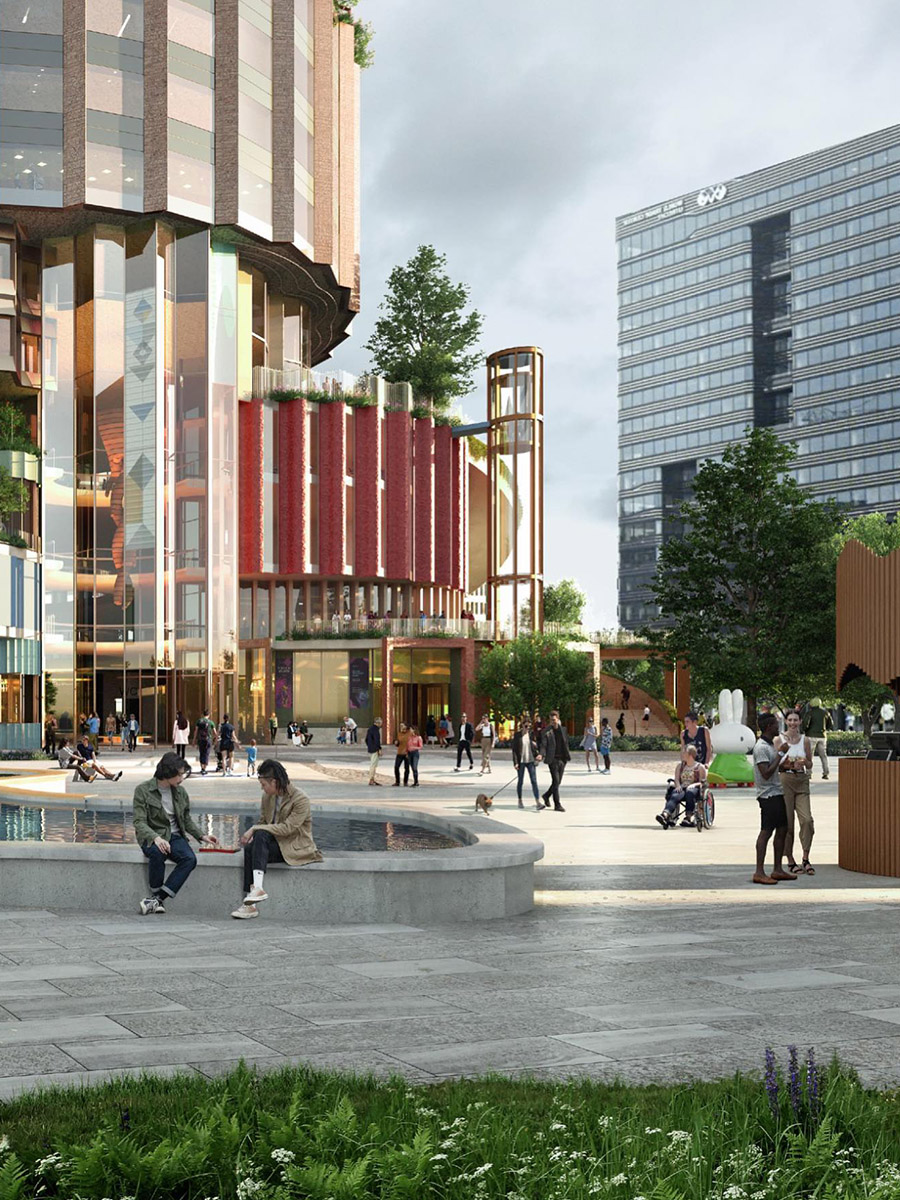 Barcode Architects' Caro van de Venne says:
"The design is as a system of different parts and programs, cogs working intrinsically together, whose outcome is unpredictable but always more than the sum of its parts."
This efficient use of space also means that the building has a smaller environmental impact when it comes to materials used and energy consumption. Oopen is, furthermore, expected to be self-sufficient in terms of energy, and also provide plenty of green spaces to promote biodiversity and reduce heat island effects.
Utrecht Is a Vibrant City With a Rich Cultural Diversity
Utrecht is a vibrant and dynamic city, known for its cultural diversity and commitment to sustainability. Oopen is, therefore, a reflection of this quality of the city. The upcoming high-rise building offers a space for residents to live, work, and play in a socially conscious and environmentally friendly environment.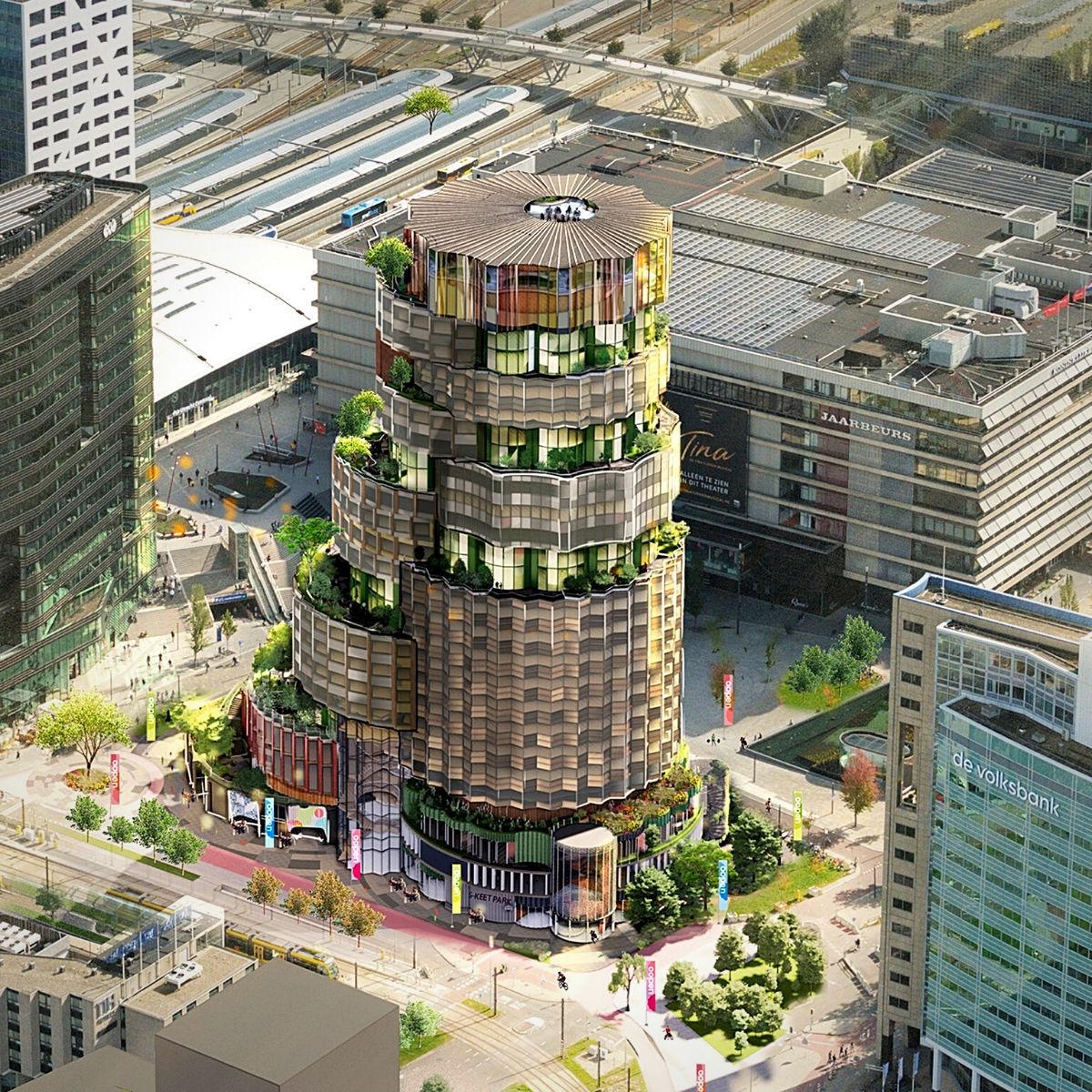 The site where Oopen will be built is located in the heart of Utrecht's Leidsche Rijn neighborhood, with the building's location encouraging residents to use alternative modes of transportation, such as biking or walking. The tower also features ample bicycle parking and charging stations for electric vehicles, all in an effort to reduce its reliance on fossil fuels.
The Building's Sleek Look Makes It a Landmark
The use of sustainable materials is also a key feature of Oopen. The tower's interior will be fitted with eco-friendly finishes and furnishings further reducing the building's environmental impact. It is a design that says sustainable architecture doesn't have to be boring or unattractive as the tower's sleek and modern look is sure to become an interesting landmark in the city when complete.
Its Design Incorporates Community and Social Spaces
Oopen is not just a building, but a community. Its design allows residents to see and interact with each other on a regular basis, with the tower's communal spaces designed to encourage social interaction and community building.
Amenities such as a rooftop garden, an indoor sports center, a fitness center, a panorama bar, a climbing wall, an indoor skate park, and a nightclub that will also function as a dance training center, allow residents to interact whenever.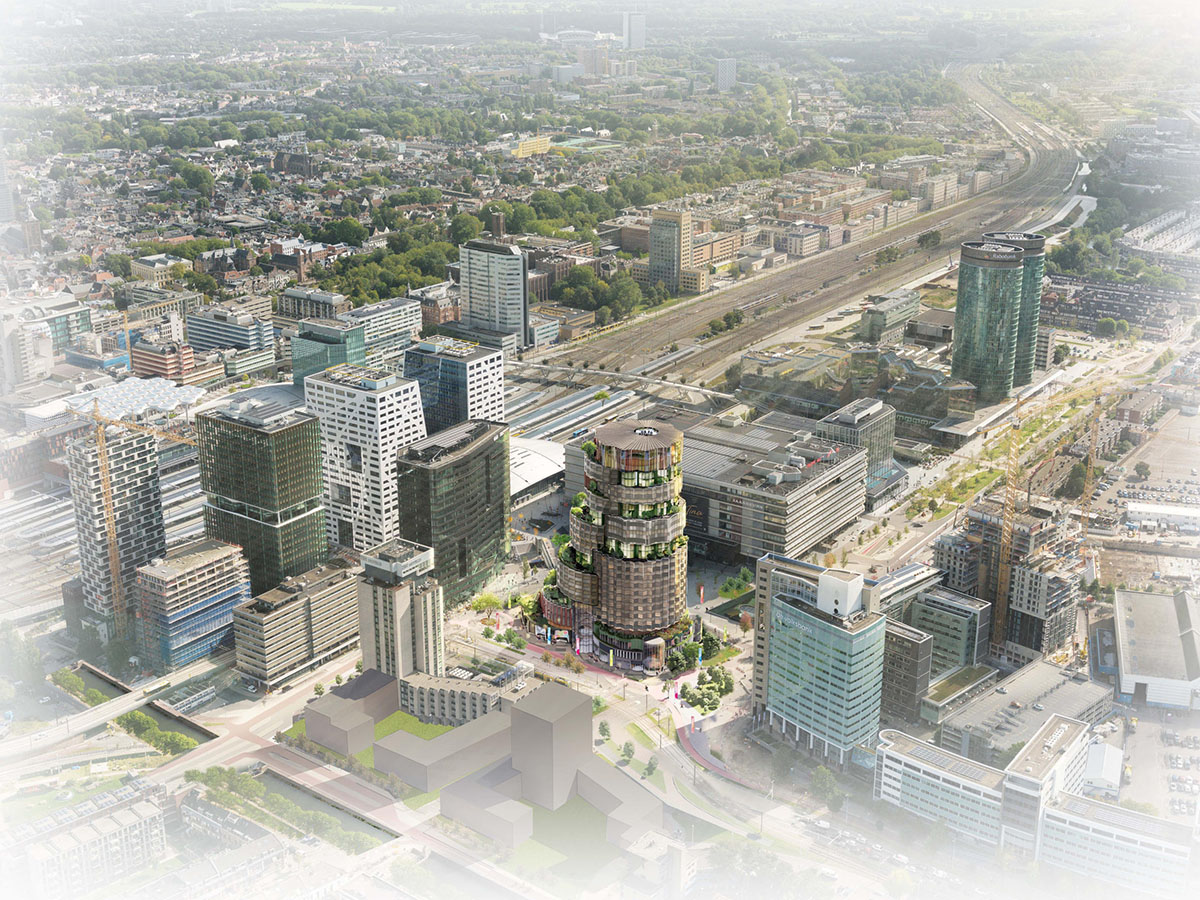 Its indoor and outdoor spaces will also flow into one another to provide public spaces where people can meet and connect.
Coen van Oostrom, Edge's founder says:
Our collaboration will be a building that fosters healthy work environments. Aligned with Utrecht's vision of healthy urban living, the building will contribute to the growth of the region.
The rooftop garden is a unique feature of Oopen. It offers stunning views of the city and a space for residents to come together and relax. The building's garden will feature a variety of plants and herbs, some of which can be used in the kitchen.
A Design That Heralds the Future of Sustainable Architecture
Oopen's design is a bold and innovative building idea that pushes the boundaries of sustainable architecture. Its commitment to zero-emissions living sheds light on Utrecht's commitment to sustainability and to creating a better future for all.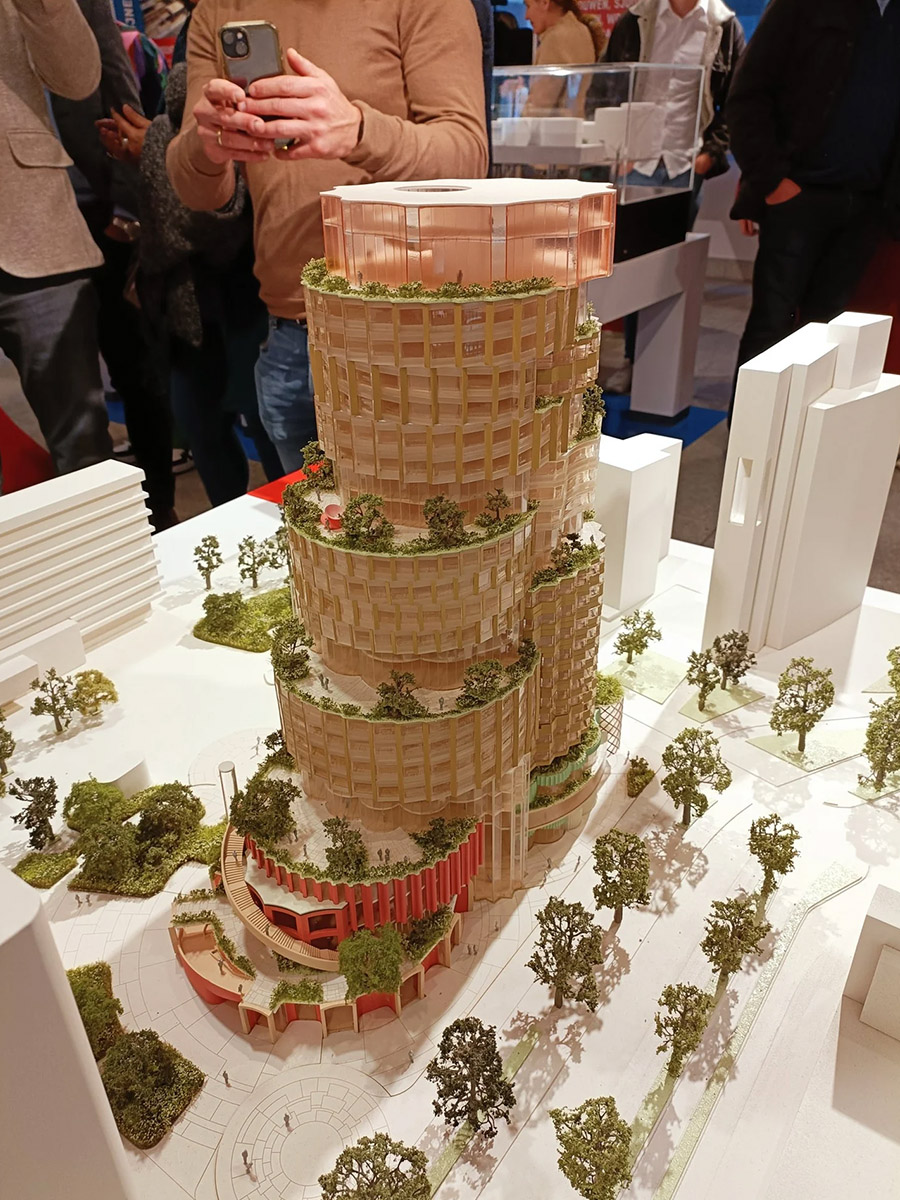 Thomas Heatherwick, founder and design director at Heatherwick Studio says
"The leadership team challenged us to create a special place that reflects the urgent need for healthier cities that bring people back together again. The result isn't just a design for another office building, but a thrilling opportunity to activate the square and create a surprising, new public place for this historic city."
The tower also sets a new standard for mixed-use high-rise buildings, combining energy efficiency, sustainability, healthy urban living, and community building in one innovative package. Its success will, therefore, surely inspire other cities and developers to follow suit.
Sustainable Architecture Is Becoming Much More Important
As the world continues to grapple with the impacts of climate change, sustainable architecture is becoming more important than ever. Buildings are responsible for a significant portion of greenhouse gas emissions, and reducing their carbon footprint is a crucial step in fighting the effects of climate change.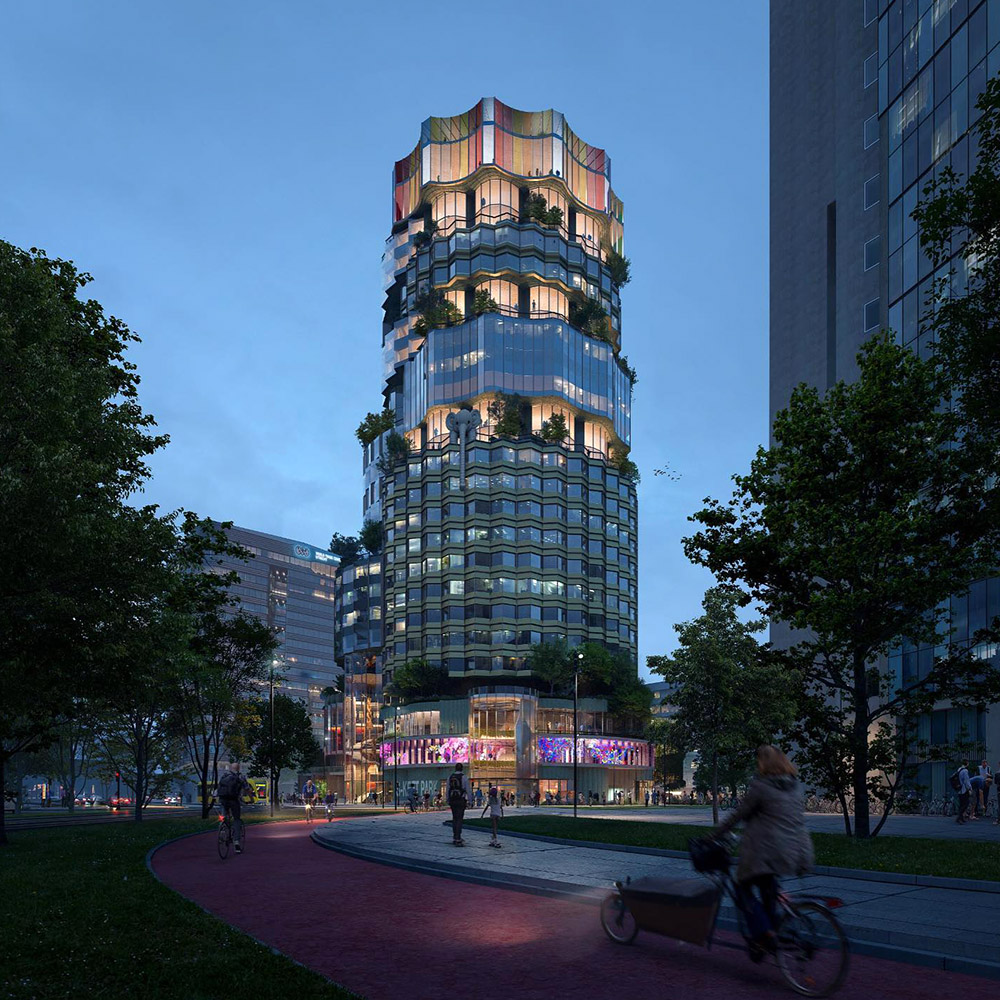 In addition to reducing carbon emissions, sustainable buildings come with a number of other benefits. They often use less water and energy than traditional buildings, which leads to significant cost savings over time. Sustainable buildings also tend to be healthier and more comfortable to live and work in thanks to features such as plant cover, trees, improved ventilation and fresh air, and natural lighting.
Putting Sustainability and Community at the Forefront of Architectural Design
Oopen is an example of what is possible when sustainability and community are put at the forefront of architectural design. The building's mixed-use design and communal spaces promote social interaction and community building, creating a space where residents can live, work, and play in an environmentally conscious and socially responsible way.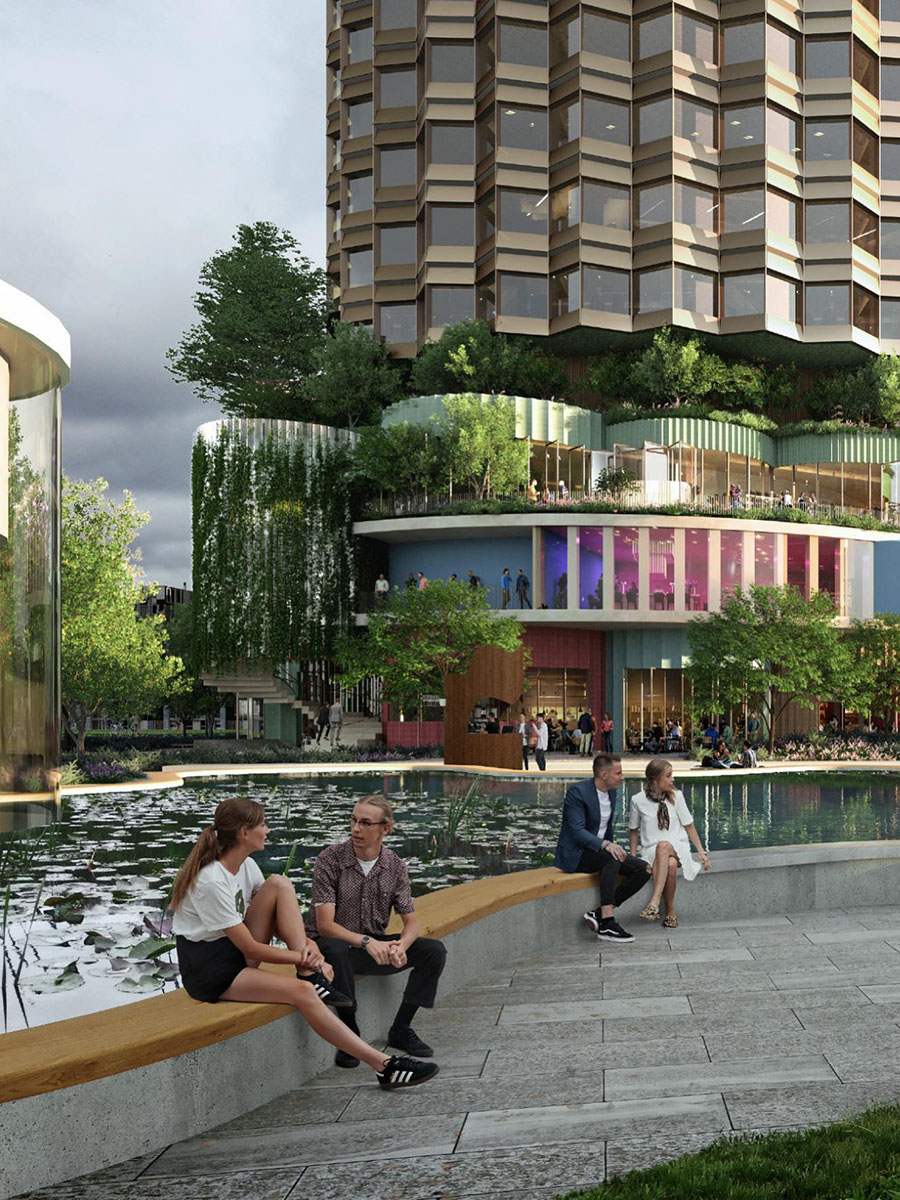 As cities across the world contend with the impacts of climate change, sustainable architecture is becoming increasingly important. Because buildings are responsible for a significant portion of greenhouse gas emissions, reducing their carbon footprint is essential for creating a more sustainable future.
With its unique design and commitment to sustainability, Oopen promises to be a beacon of hope for a greener sustainable future.
Photos by Edge.