Powerful isn't it? This is the cover of "Per Ongeluk", (translated: "By Accident'), the long-awaited debut album of Pommelien Thijs. It's an honest exploration of contradictions, experiences, and ambitions. A record that breathes freely and unabashedly celebrates the euphoria of youth. Pommelien's album is a huge success in Belgium and the Netherlands. With one of the songs, she was the number one in a summer-long radio program: "Zomerhit" (Summer Hit)
'Per Ongeluk' by Pommelien Thijs
"Every free moment I had, I wanted to spend on music and acting," says Pommelien. "I came up with the title based on the same feeling I had when I stumbled upon this album. Everything I unconsciously did in the past few years clearly pointed to this album, but it still feels accidental. I could only admit that to myself after making a whole album about it. When I started to envision my music physically, I realized how much joy I derived from it."
With the song "Erop of Eronder" Pommelien Thijs won the radio program "Zomerhit" in Belgium (the best summer song). She gave the trophy to her 101-year-old grandmother as a token of appreciation.
Hence, the title "Per Ongeluk" ( translated as "By Accident" ) aptly captures the essence: It has become an album filled with joy and enthusiasm, brimming with clever wordplay and stylistic nuances. However, without friction, there is no shine! In her album, Pommelien doesn't shy away from addressing challenging life dilemmas.
Pommelien:
"The most important aspect of my music is that it incorporates a great deal of self-mockery. That doesn't take away that I wanted to sing about topics that I truly care about and struggle with. 'Honest' is a fitting word to describe Per Ongeluk."
Per Ongeluk was released June 23rd, 2023, by Sony Music Belgium. On the same date, Pommelien Thijs presented the album at a sold-out show at De Roma, a venue in Borgerhout, Belgium.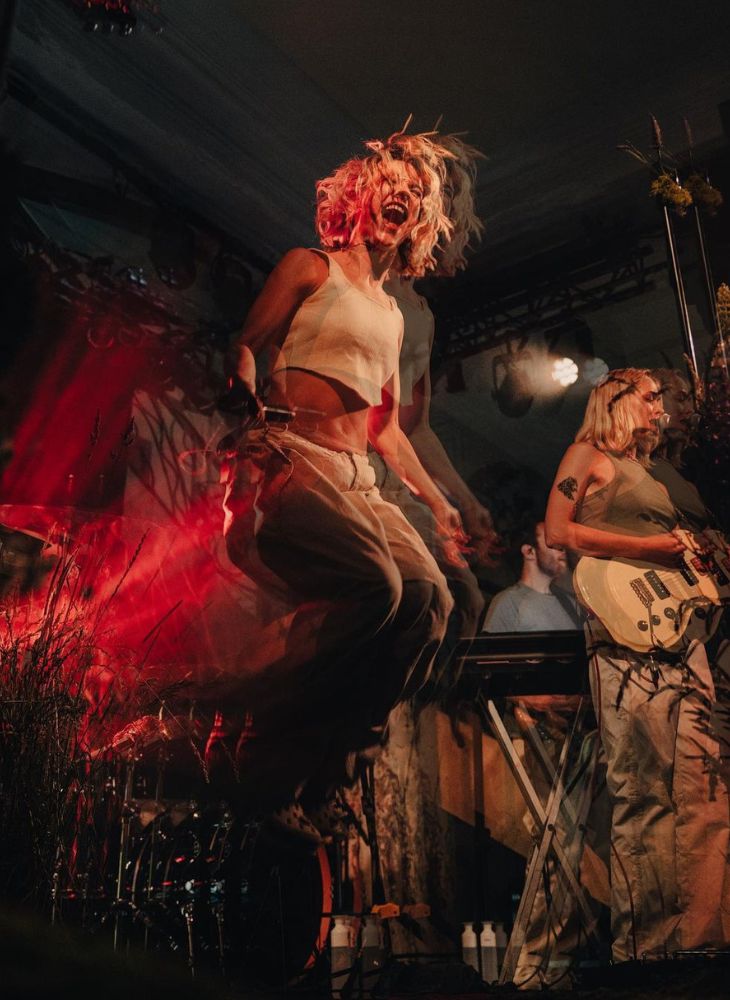 Artwork on the Cover
The unabashed profusion of impressions on Per Ongeluk is also expressed visually: on the album cover (photographed by Sanja Marusic), Pommelien Thijs is running on a pile of waste, wearing an outfit made of sunflowers. It is a powerful image that seeks lightness, optimism, and hope amidst all the decay.
(How her vest of sunflowers is designed by Stefan van Berlo, you can read in our article 'Floral Fashion on the Cover of Pommelien Thijs' Album'.)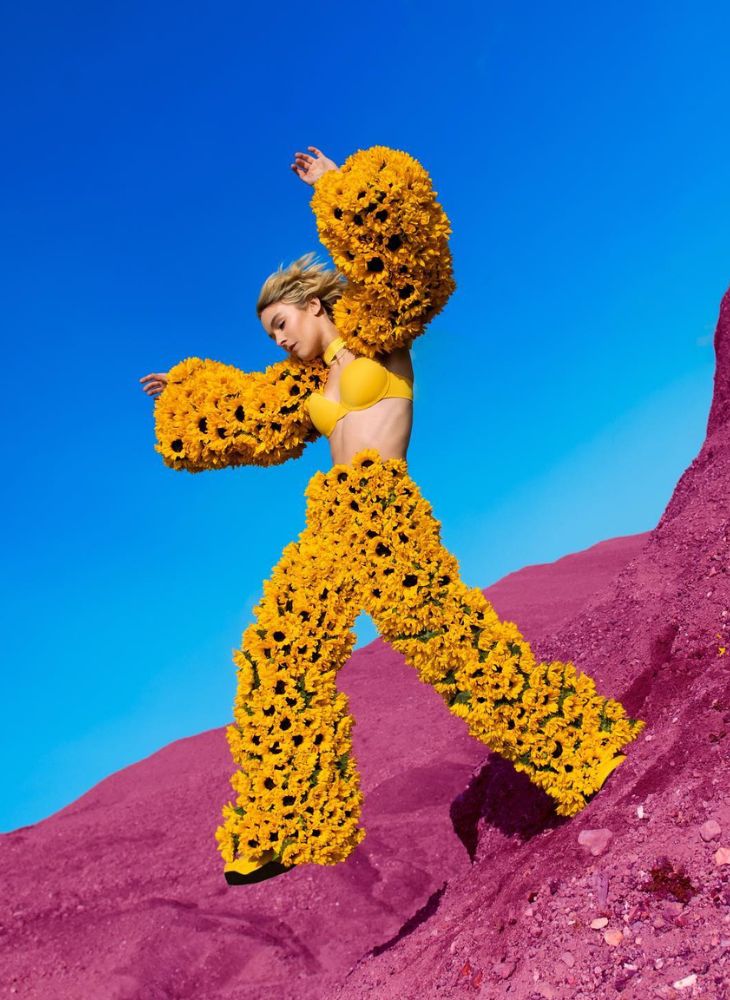 Pommelien explains:
"I often use clothing as a medium to convey messages. I make a lot of stage costumes myself, always second-hand, with the intention of giving old things a new life. Now, that is coming together with my music, which I find incredibly cool.

On the album cover, I really wanted to show something about 'growth versus decay,' so I made pants out of 400 sunflowers. I deliberately sought contrast with the residual waste. I write songs about things that I don't know how to solve or even grasp, but with a cautious hope that the best is yet to come. To visually depict a silver lining, for example, I made a dress out of moss for the song 'Zilver,' in contrast to plastic bodies for the dancers."

Who Is Pommelien Thijs?
Pommelien Thijs (21) is a Flemish singer, musician, designer, and actress. Her singles 'Meisjes van Honing', 'Ongewoon', 'Wat Een Idee!?', and 'Zilver' have achieved high positions in the charts. In January 2023, she received five MIA award nominations and won three (Solo Woman, Hit of the Year with 'Ongewoon,' and 'Breakthrough'). She received the most awards, along with Stromae. On March 30, 2023, Thijs announced her first solo album, titled Per Ongeluk. Subsequently, she performed three shows at De Roma in Belgium. In 2023, Thijs plays the lead role in the fictional series Knokke Off. This series can be seen on VRT MAX and Netflix.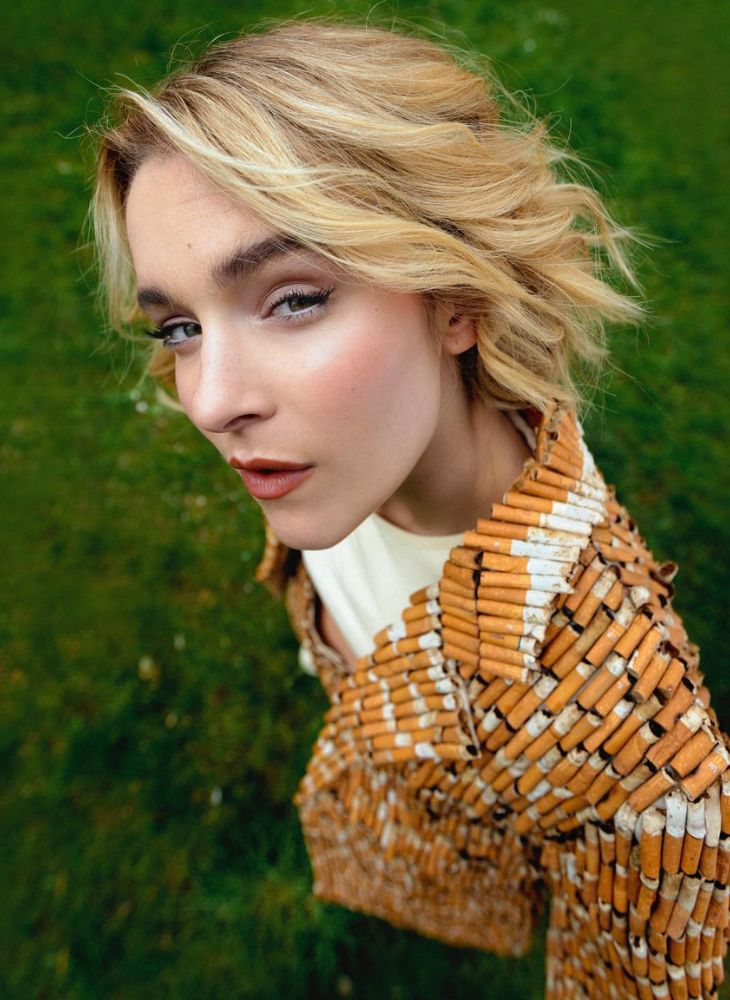 Pommelien Thijs gained popularity with the general public in the lead role of Caro in the TV series #LikeMe, loosely based on the American series Glee. In 2019, she made a brilliant debut on stage with two live performances of #LikeMe at the Lotto Arena, alongside the rest of the cast. In 2020, she scored a number-one hit in Belgium and the Netherlands with "Nu Wij Niet Meer Praten," a duet with Dutch artist Jaap Reesema.