Sleek and yet playful. The calla in a pot is a surprisingly versatile summer bloomer that quickly gives your terrace or balcony a special look. There is no excuse to not have one or more of those wonderful calla pot plants in your outdoor space.

Summer Pot Calla as Outdoor Eyecatcher

It is amazing how a flowery plant can grow into this amazingly simple yet luscious shape. The calla, a.k.a. zantedeschia, is a marvelous sight with its stylized flowers: modern, sleek, and playful at the same time. In short, not an everyday bulb in a pot, but a real eye-catcher on your terrace or balcony.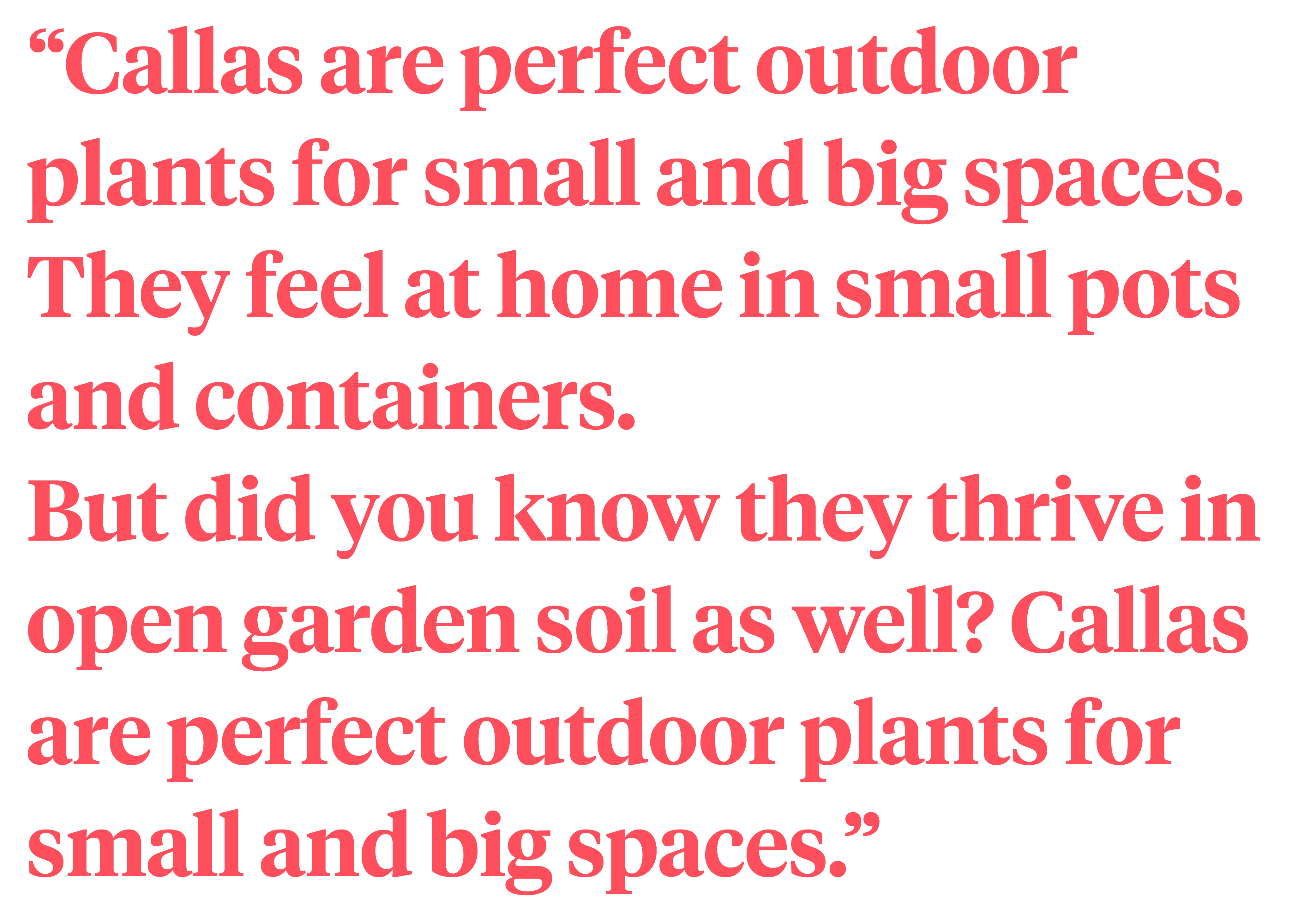 Powerful and Contemporary
Calla is more versatile than you might think when you look at its quite simple appearance. With its stylized flower shape, the calla pot plant is beautiful on a modern (roof) terrace or balcony. Choose a few varieties in one or two bold colors for a powerful, contemporary effect. Perhaps add some summerly ornamental grasses to the design, nothing else. Let the callas do what they're good at and shine on your terrace or balcony.

Color Palette by Simply Calla
The calla promotion platform Simply Calla emphasizes that, like the cut flowers, also zantedeschia plants come in a multitude of colors. Calla's palette ranges from pure white to deep dark purple which tends to be black. In between are the colors of a blistering summer - from bright yellow to all the colors of a dazzling sunset. Think deep orange, dark red, and even candy cane pink!
How beautiful is it when two of these sunny colors come together in a flower? That is really possible. For example, yellow with a hint of orange. It's crazy summery!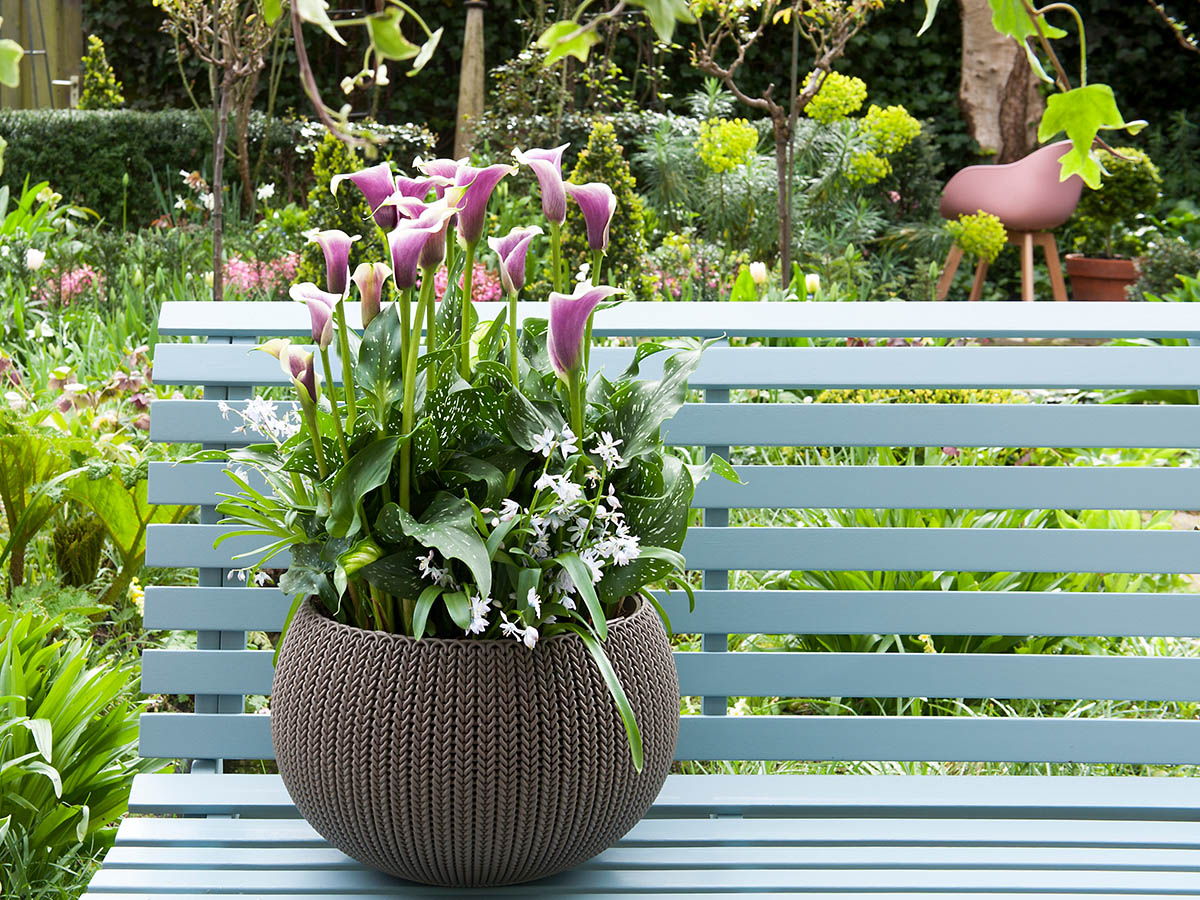 Don't Forget the Leaves. How About Those Speckles?
The flowers of the calla attract so much attention that you almost overlook the leaves. That would be a shame because some callas have particularly speckled leaves. As if someone casually splashed over it with a white paintbrush.
Container of Garden Plant
Callas are perfect outdoor plants for small and big spaces. They feel at home in small pots and containers for a cozy balcony, patio, or terrace setting. Here opt for pots with a hole in the bottom to easily drains excess rain and irrigation water. Water your calla regularly and add some plant food every two weeks for a rich bloom.
But did you know zantedeschias thrive in open garden soil as well? these plants originate from South Africa; here they grow in places where they experience both wet and dry periods. That explains why the calla is such a strong plant. Treat them just like pot plants. You will get the most flowers in a spot with partial shade. If you would like to pick a flower for a vase, do not cut the stem, but carefully pull the flower stem out of the plant.
Have a simply wonderful calla nice summer!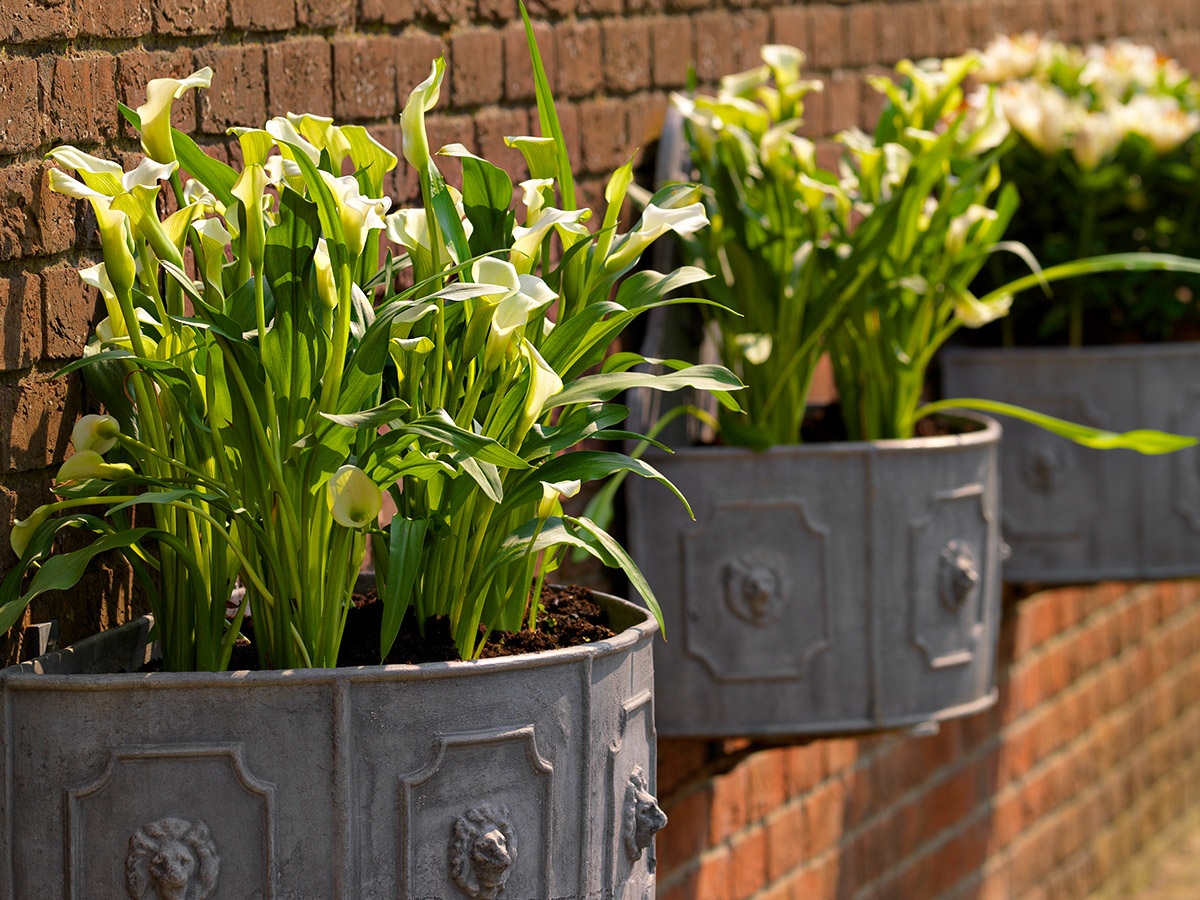 All images courtesy of iBulb.