We just can't help falling in love every time we see the pictures of beautiful wedding ceremonies. Peonies are the perfect guests at an over-the-top, romantic wedding. Spoiler alert: she will say yes!
The Perfect Wedding Flower
To be a bride-to-be... That means a long to-do list! One of the nicest items on this list is choosing out the right flowers. Should they be elegant, feminine, cool, and a bit romantic? Then a great choice is a peony - the perfect wedding flower! Peonies come in the most diverse shapes and colors: from creamy white to powdery pink, from sunny yellow to deeply dark red.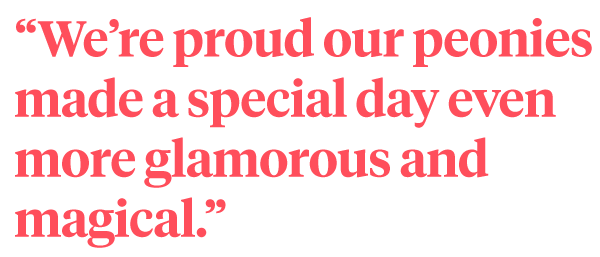 Casual Look
A casual bouquet that looks like you just picked it yourself in the morning; the picking bouquet is the trend in wedding flowers. Peonies are beautiful in such a picking bouquet. Imagine the most romantic peonies of the field in a casually suitable arrangement with, for example, anemones, ranunculus, and elegant grasses...
Less Is More
Are you more the type of less is more? Then choose one large exclusive peony, possibly surrounded by fine greenery - but you don't even have to. A bundle of just peonies looks very minimalist. Scented peonies add a subtle touch of romance.
Peonies everywhere!
Peonies in your bridal bouquet? Let them come back in the decoration of the locations where the ceremony and party take place. Think of small vases with peonies on the table, large vases at the entrance, and a flowery backdrop for the ceremony. There are many more options. Let your flower stylist advise you.
Mind-blowing Inspiration
To give you further inspiration we bring you this mind-blowing wedding featured thousands of peonies. Russian wedding planner
Ksenia Afanasyev
and florist
Julia Shakirova
were the ones who designed this wedding. The outdoor ceremony took place in a peony-themed amphitheater. Rose pink peonies decorated the place. Thousands of peonies filled the pool inside a repurposed greenhouse. That was where the wedding guests dined underneath living trees with crystal leaves.
Magical peonies
We supplied the varieties Salmon Chiffon,
Coral Sunset
, and
Sarah Bernhardt
. In total, over twelve thousand superb quality peonies in shades of sensual pink and passionate red perfected the design. We're proud our peonies made a special day even more glamorous and magical. And we're sure bride Victoria and groom Vyacheslav are peony fans for life!
My Peony Society
supplied the highest quality peonies to this wedding in cooperation with trading partners
7Flowers
in Russia and
OZ Export
in the Netherlands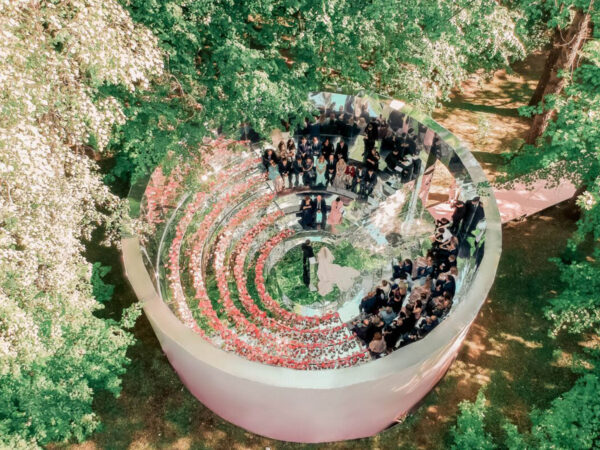 Dream of a Romance
Do you also dream of a romantic outdoor wedding in the summer? Or maybe even in the spring? Then the peony is the perfect wedding flower! Peonies exude the outdoor atmosphere of the flower field. Utterly romantic! We have selected three more beautiful peonies for your spring or summer wedding to inspire you.
Peony Sweet Sixteen: Soft Pink
A scented peony with a blush effect thanks to the soft pink petals with a single white petal in between. That's Sweet Sixteen, truly eye-catching. The flowers are so big that you only need a few in your wedding bouquet. Incorporate Sweet Sixteen into the flower styling to create a sumptuous and romantic atmosphere. And your guests will also enjoy the wonderful summer floral scent!
Peony Bridal Shower: Radiant White
Do you like opulent, white flowers? Then peony Bridal Shower is a must for you. Each flower consists of countless white petals romantically circled around the center. With Bridal Shower in your wedding bouquet, you will also enjoy a wonderful floral scent. All-day long!
Peony Claire de Lune: Sunny Yellow
The soft yellow flowers of Claire de Lune are slightly different. The yellow color yellow is something special, but the shape of the single-flowered peony also catches the eye. The flowers are modest in size and have a gorgeous wildflower appearance. Beautiful in a casual field bouquet!