Scabiosa is one of those trendy flowers you see more and more often these days. Its popularity is the modern colors, amongst which black. This is the scabiosa Blackberry Scoop®. As a florist, you might know scabiosa with its common name 'pincushion flower', not to be mistaken by the other pincushion flower called nutans (botanical: leucospermum). Gardeners will also recognize this flower as a popular perennial plant, blooming from July to way into the autumn season.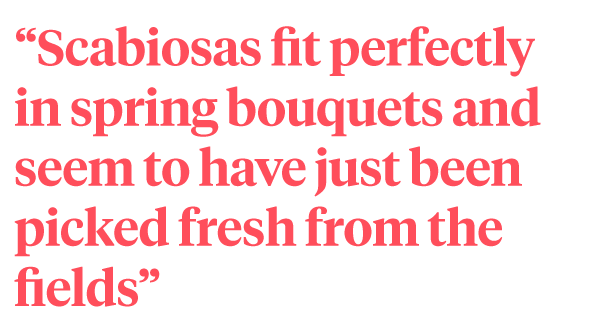 Scabiosa Blackberry Scoop® is part of the Scoop®-series, invented by breeders of Danziger. The flowers grow on the Marginpar Livewire farm, at 2,150 meters altitude on the edge of Rift Valley in Kenya. This location has the perfect climate for the scabiosa. The days here are long and dry, with lots of light, so the flowers can grow at their own pace. This allows them to develop their signature large flower heads and long sturdy stems
How to Use?
The Scabiosa Scoop® varieties are brightly colored, cushion-shaped flowers, belonging to the Dipsacaceae family. They fit perfectly in spring bouquets and seem to have just been picked fresh from the fields. The vase life is excellent and the flowers gradually open to their full size. The flowers have strong stems, high productivity, and more than eight colors, including two-tone varieties. The flower is very versatile and can be used open, closed, and even after the petals have fallen out. As a result, the Scoop® is now embraced by florists worldwide. All Scabiosa varieties work great in wedding bouquets too! If the dress fits, then consider the scabiosa Blackberry Scoop® for the extravagant and lush touch to the bridal bouquet. The Blackberry Scoop® has a significant dark purple to black color. They are year-round available in sizes from 50-60cms.