When the flowers in your hands look so good you want to set your teeth in it to have a taste, you know you have something special within reach. The Scabiosa Scoop® varieties from Danziger are brightly colored, cushion-shaped flowers - all with their own unique characteristics - and give you the feel of buying a box of petit fours from a fancy pastry shop in Paris.
Danziger Introduces 17 Scabiosa Scoop Varieties
With names like Blackberry Scoop, Lavender Scoop, Red Velvet Scoop, and Cotton Candy Scoop, this special line of scabiosa flowers sounds as appetizing as it looks. Over the last few years, breeder Danziger has done a complete makeover of this product, introducing varieties to the market that are larger, fuller, more ball-shaped, and fit into a much wider range of color palettes.
Scabiosa Red Velvet Scoop via @mudurbanflowers & Scabiosa Milky Scoop via @inesandmarieevents
But other important characteristics such as stem length, strength, and vase life have been improved too, so with the varieties from the Scabiosa Scoop collection, you do not only get the best-looking flowers but also the highest possible quality.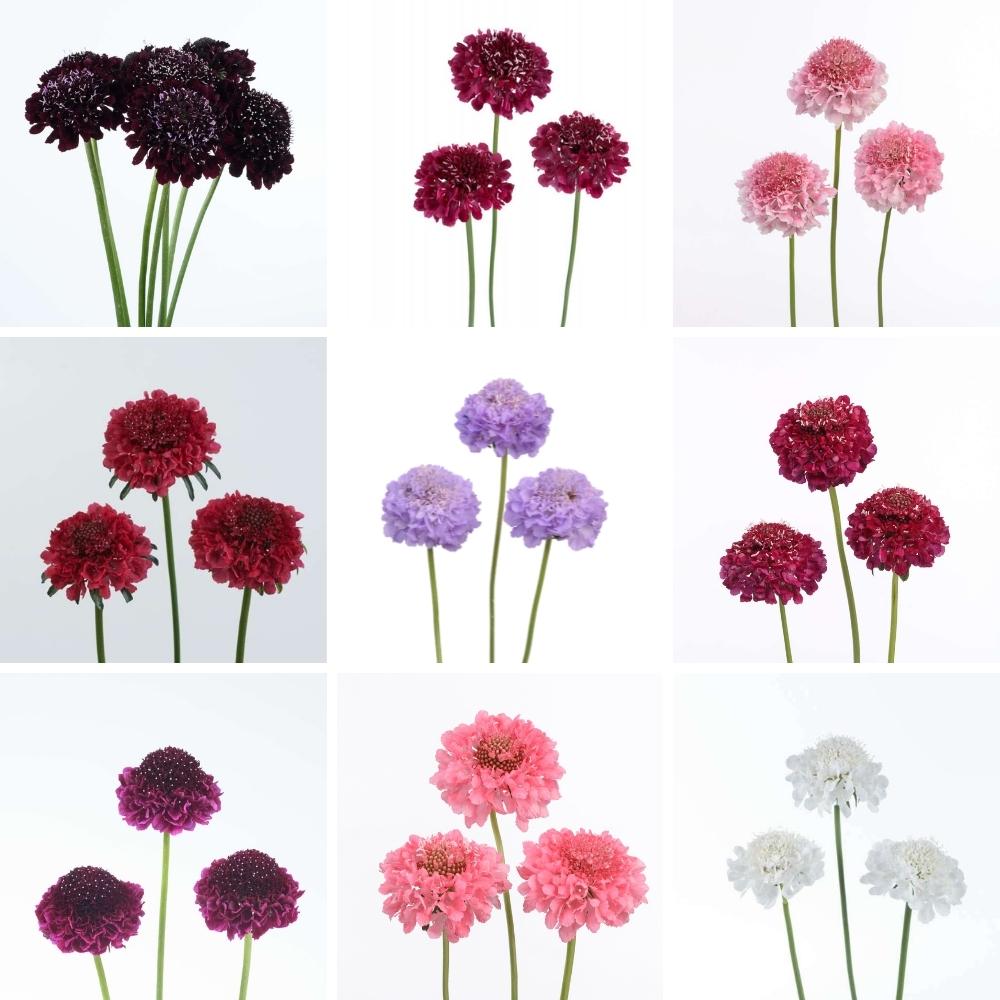 Scabiosa Blackberry Scoop, Tutti Frutti Scoop, Cotton Candy Scoop, Dark Cherry Scoop, Lavender Scoop, Raspberry Soop, Red Velvet Scoop, Candy Scoop, and Milky Scoop.
Outstanding Quality of Scabiosa Cut Flowers
Danziger is the leading company in breeding and producing a wide variety of extraordinary scabiosa cut flowers. They apply the most advanced innovative cultivation techniques to deliver outstanding quality scabiosa flowers. Their global operation ensures you receive elite quality vegetative materials in optimal condition. Danziger leads the way in cut flowers that customers love and growers trust.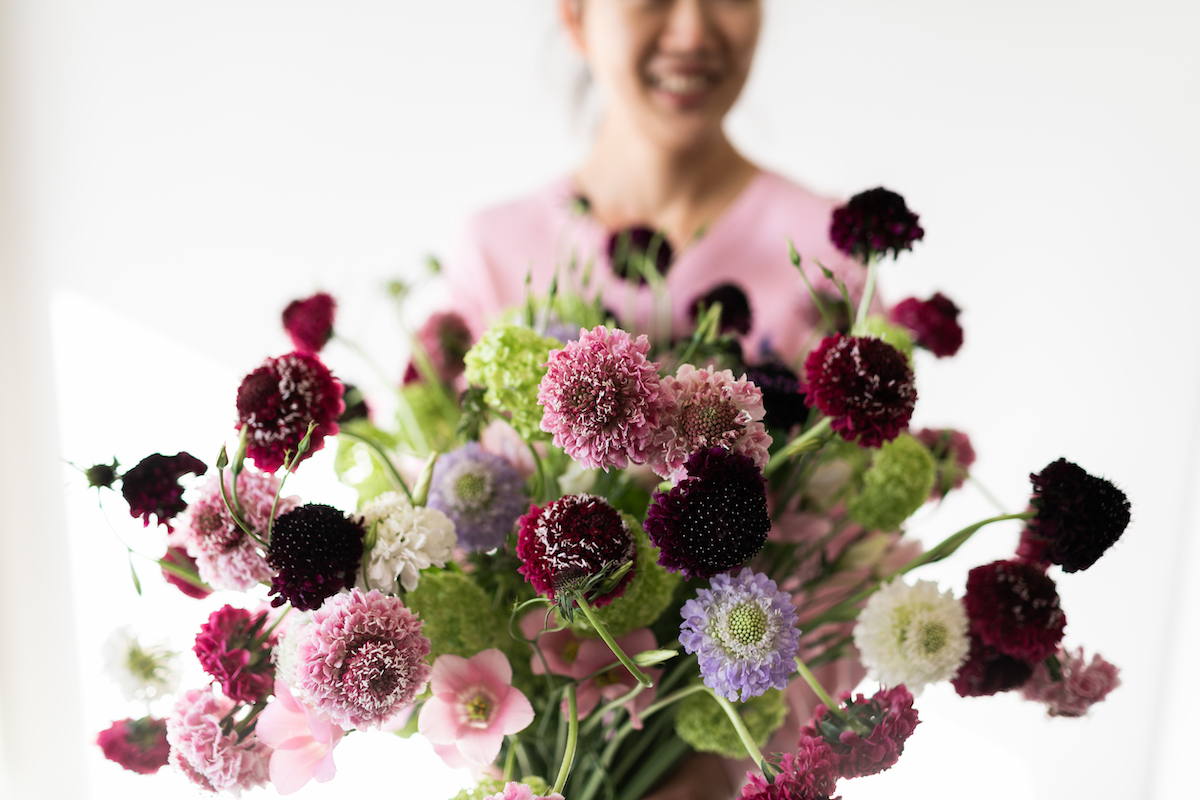 Danziger continuously works on improving quality, breeding new colors and textures, and creating innovative and improved series. Just look at the Focal Scoop™ series, characterized by a wide range of colors, flowers in sizes between 8 cm and 10 cm, long and strong pedicel, and long vase life of over 12 days. Or try out the new, very attractive, full and ball-shaped flowers from the Bon Bon Scoop™ series full of beauties like the Bon Bon Scoop French Vanilla, Bon Bon Scoop Merlot, or Bon Bon Scoop Pink Peppermint.
A Trending Flower
The Scabiosa Scoop flowers belong to the Dipsacaceae family and are often referred to as 'pincushion' flowers. The flowers are borne on inflorescences in the form of heads; each head contains many small florets, cupped in a saucer-shaped bract. The calyx has five sepals that are almost as long as the petals. After the flowers have dropped, the calyces together with the bracts form a spiky ball that sometimes looks eerily similar to a pincushion, hence its common nickname.
With the introduction of the Scabiosa Scoop collection, the flowers have grown enormously in popularity in recent years. A versatile flower that gets appreciated because of the cheerful touch it adds to floral arrangements and spring bouquets. And the great thing about scabiosa is that they look beautiful with their petals wide open but can also be used raw. Due to its lovely, soft appearance, it's great to use in bridal work but it's also a fantastic flower for everyday field bouquets.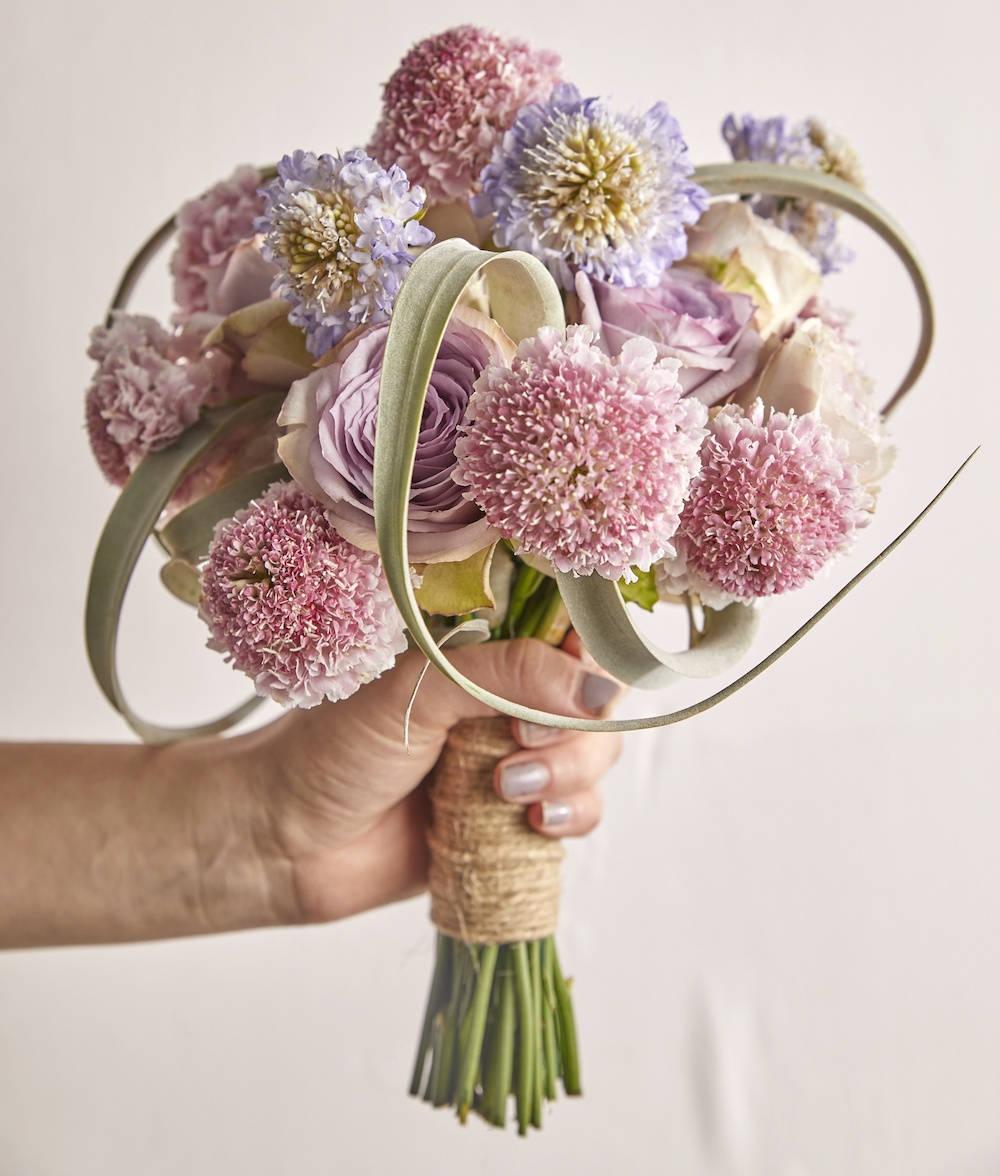 So Many Different Scabiosa Scoop to Choose From
The Scabiosa Scoop series is cut quite raw to ensure the best vase life possible. And then, once you put them in a vase, they start unfolding petal by petal and the spectacle begins. The flower's extra fluffy, rich texture is a great addition to a flower arrangement or a bouquet. Featuring strong stems, a vastly-improved vase life, a wide range of colors (there are even two-toned flowers available!) in different sizes and shapes, there's a Scoop scabiosa to enjoy for everyone.