The playful green branches, which seem to be perfectly balanced, show once again how well mother nature is skilled in her creations. With the loving help of our breeder, she has once again created something exceptionally beautiful. The scutellaria 'Tinkerbell' looks almost machine-made due to its beautiful design, layout, and shape.
Scutellaria Tinkerbell - An Easy Flower to Work With
The sturdy green branches are full of striking seed pods in different shades of green. The combination of dark and light shades combine beautifully with other flowers in bouquets and the absence of leaves at the bottom makes it an easy flower to work with. Scutellaria is very strong, giving it a vase life of at least 14 days.
A Bee Magnet
Scutellaria Tinkerbell grows long and beautifully in the flower fields of Tanzania, at our partner farm Michiru - where our
Clematis
and
Gloriosa
, among others, are also grown. The scutellaria is allowed to stand for a long time in the field until the flowers have finished flowering and the seed pods have formed. Much to the delight of the bees, which visit the field in large numbers.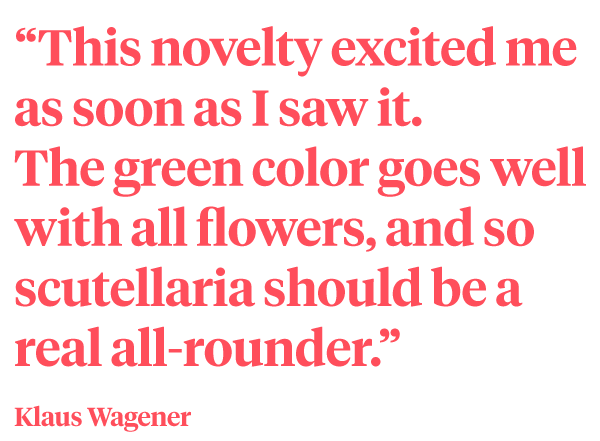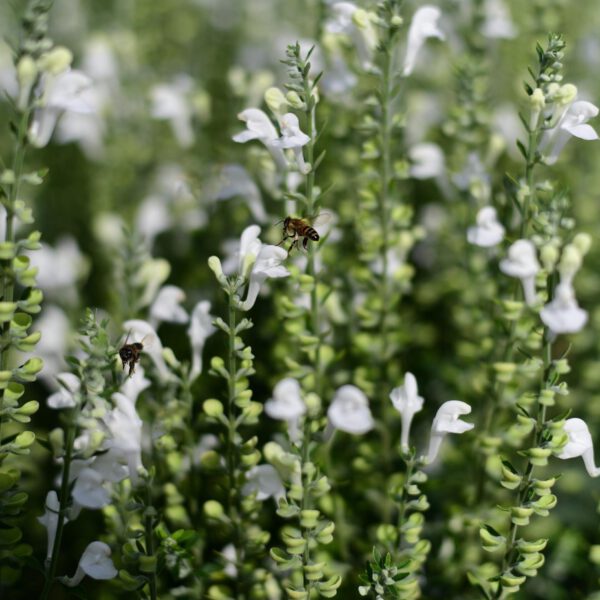 Proud of Scutellaria Tinkerbell
Farm manager Leon de Vries, who stood at the cradle of this new species from
Marginpar
, sometimes even calls the scutellaria field a 'flying minefield' but - despite the careful maneuver around our flying friends - a beautiful sight. Leon speaks with pride about this new introduction which, like every new species, did not occur overnight. We are therefore very pleased to finally be able to introduce the scutellaria Tinkerbell to the market.
Availability
Starting June 7th, scutellaria 'Tinkerbell' will be available three times a week at Royal FloraHolland Aalsmeer (Monday, Wednesday, and Friday). [video width="640" height="800" mp4="https://www.thursd.com/wp-content/uploads/2021/06/scutellaria-tinkerbell-mother-nature-at-her-finest.mp4"][/video]
Designer Feedback on the Scutellaria Tinkerbell
We send scutellaria to several designers to test her out. We asked them their expert opinion and a photograph. Here are a few first reactions:
Dmitry Turcan: "You have to touch it to see it's real."
Dmitry Turcan
, a designer from Russia, send us these pictures accompanied by the text "Incredibly beautiful". Well, so is what you made with them, Dmitry! Thank you! Dmitry further states that the scutellaria looks so perfectly balanced you almost have to touch it to know it's a real flower.
Klaus Wagener: "Perfectly on-trend."
Klaus Wagener, CEO
BLOOM's
& trend scout said: "This novelty excited me as soon as I saw it. The name is scutellaria 'Tinkerbell' and it's a seedpod that can be kept for good two weeks in a design and certainly can dry up well. The green color goes well with all flowers, and so scutellaria should be a real all-rounder. The novelty also fits wonderfully with the current nature and botanical and ikebana trends. I will certainly use it often, because of the melodic name, I have already remembered well. Sounds Italian to me and I enjoy pronouncing it. Try it also once: S C U T E L L A R I A :) I greet you warmly and look forward to your ideas with this new fascinating cut flower."