Where a typical breeder would control the entire first stage of the breeding process before sharing their choices to growers, the next link in the chain, Floritec works distinctively differently. Their growers are more seen as partners that are already highly engaged during the selecting process. This synergy of the first important phase before a market introduction and the monitoring afterward is paying off for both the breeder and the growers as you will read in this interview with Juliska van der Breggen-Hofman of santini grower LS Santini.
Santini Pioneers
LS Santini started out in 1985 as nursery De Landscheiding, and grow santinis since 1985. Although many people still call this grower by its original name, LS Santini does sound more international in this global industry, doesn't it? Wilco Hofman, the father of our conversation partner Juliska, is a real santini pioneer. He and his wife Martina were one of the first that saw the huge potential of this tiny chrysanthemum species. So they started modestly on half a hectare with first 2 then 3 varieties. Nowadays, the varieties count is 28 different santinis on 4.7 hectares.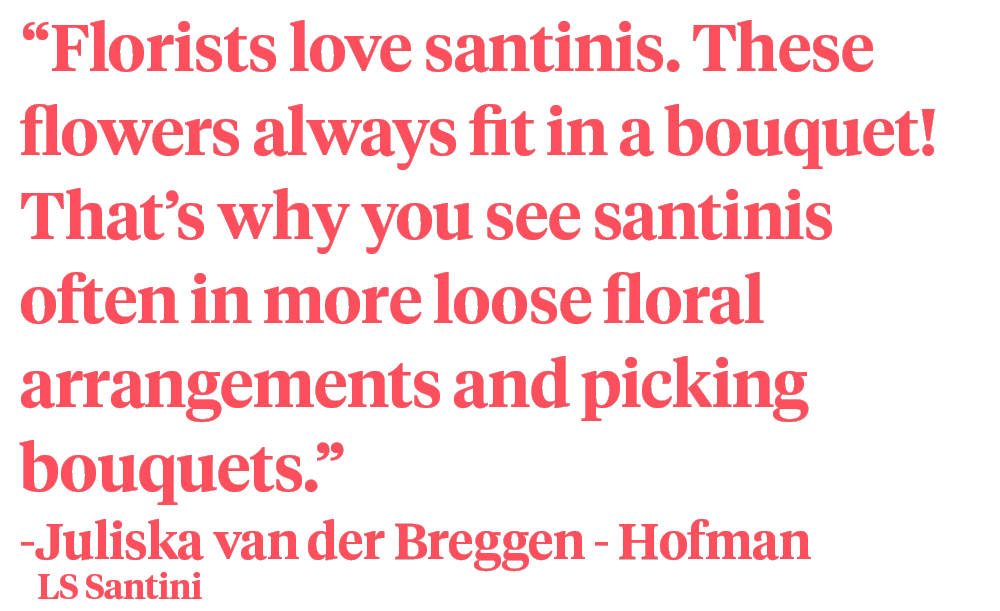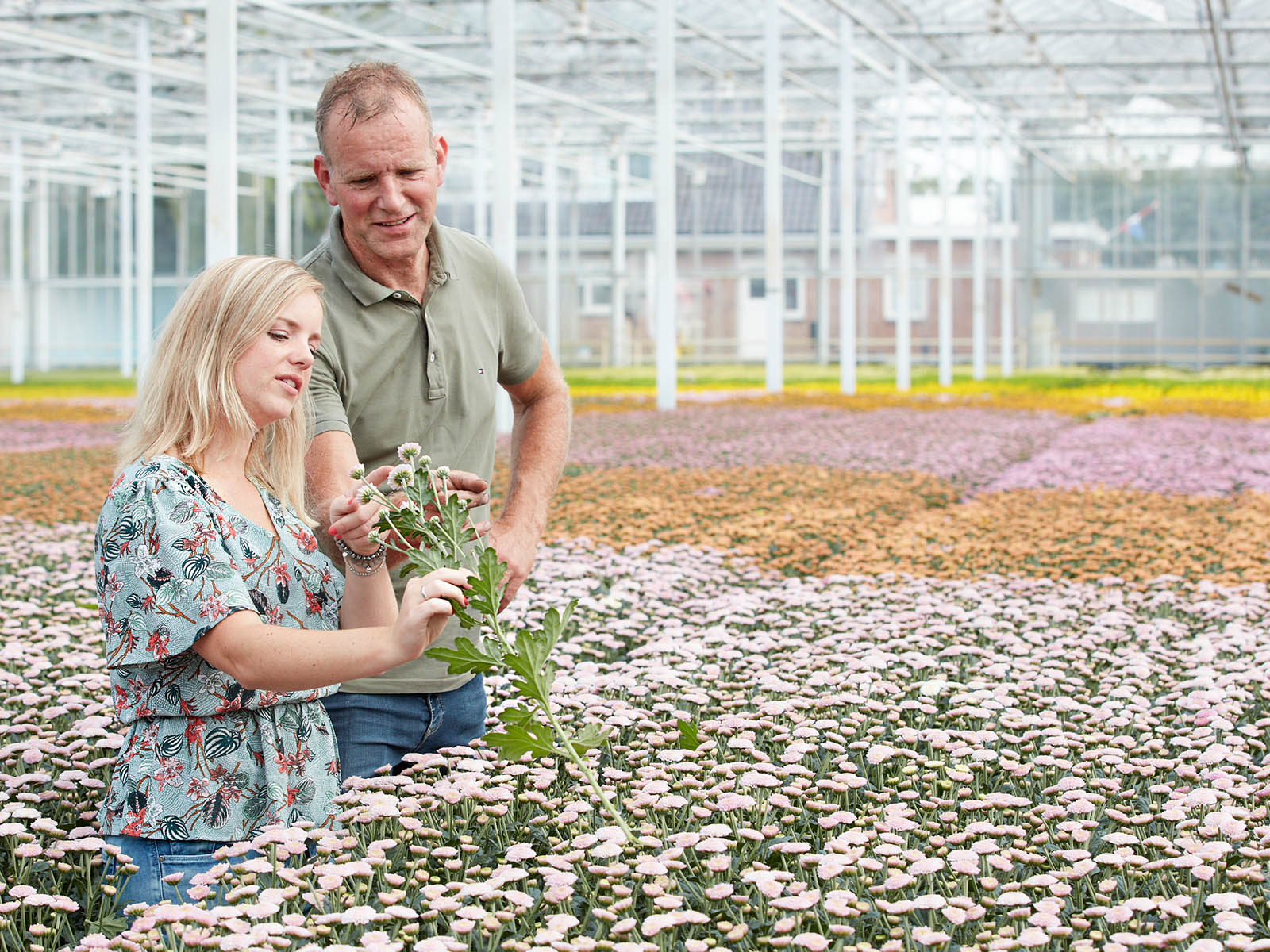 Juliska:
"We have expanded a few times over the years and we could expand even further because the santini's popularity is still growing. Unfortunately, it's not so easy these days to find space for new greenhouses in the Netherlands."
Hand-picking Selection
Juliska:
"But we have more goals than just expansion. We are working hard to guarantee uniformity of product. By hand-picking our santinis and a sophisticated selection process we are able to offer 100% usable flowers of top quality. Next to that, we are very proud of making great strides in organic horticulture using natural fertilizers."
From the left: Checking the young plants by Wilco Hofman, hand-picking Santini Ellison Salmon
The Always Smiling Face of LS Santini
Juliska is the always-smiling face of LS Santini. She set out on a path as a teacher, obtaining a degree in pedagogy. But in 2012 the call of the santini turned out to be too strong and she has been working with her father in the family business ever since. Besides handling the financial aspects of the nursery she uses her interhuman skills to represent LS Santini everywhere; at trade fairs, in marketing efforts, and through direct sales contacts with flower exporters.

Juliska:
"In our company my father still has the role of the grower and the product expert. I enjoy mostly having contact with our customers. When I started working for LS Santini 100% of the flowers went to the clocks of Royal FloraHolland. Today more and more sales go directly to the flower exporters, around 50% already. So, there is more direct contact; not only with exporters but also further up in the floral chain with wholesalers and cash & carries to create awareness and demand for our products. So, I think I have a wonderful job."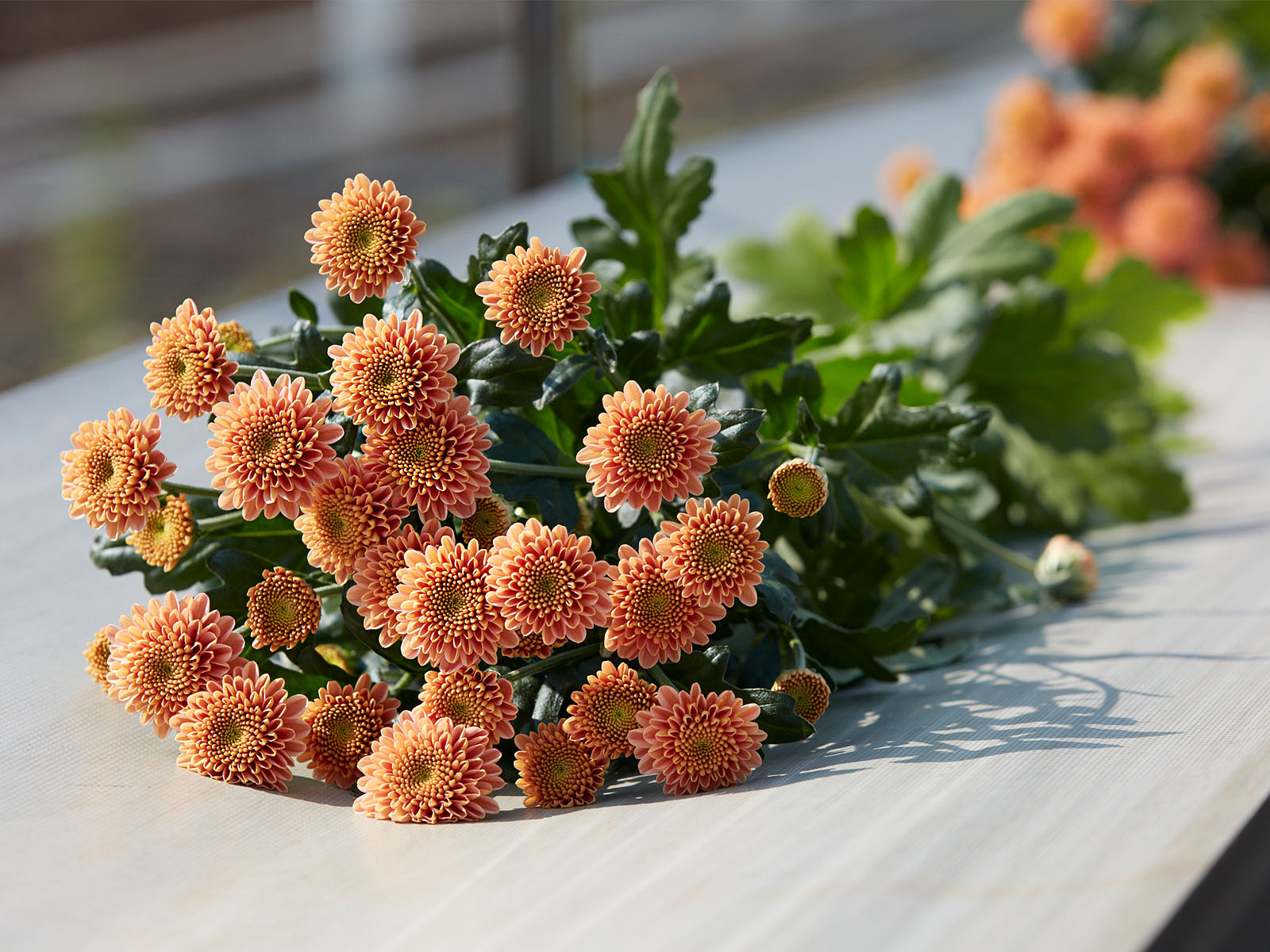 The Growing Popularity of Chrysanthemums
The santini is a bit of an odd product, being a niche type of chrysanthemum. In an online article on FloraNews on 20 January 2022, it was stated that the chrysanthemum has increased in popularity in recent years. In the Netherlands, 68 percent think the chrysanthemum is an appealing flower, in other countries that percentage is even higher. Does that also count for santinis?

Juliska:
"There is not a sudden upward trend in the interest for santinis. These types of flowers have always been popular, ever since my parents started growing them back in 1995. That enabled us to grow continuously. Our products are, unlike most spray chrysanthemums, not destined for retail. Our santinis are mainly bought by florists."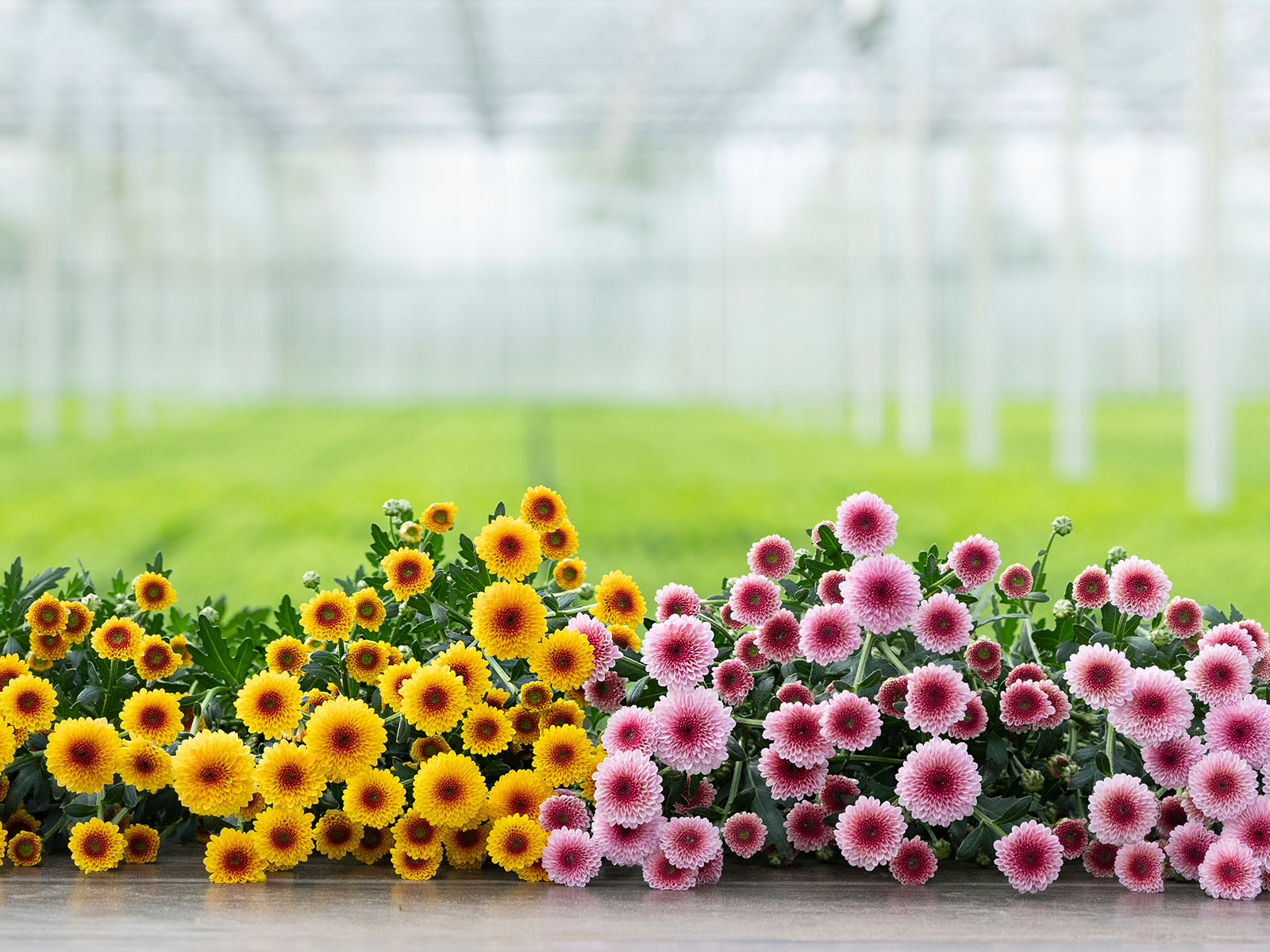 Why Do Florists Love Santinis?
Juliska:
"Florists love santinis for their large array of colors and the numerous and attractive flower shapes. A santini always fits in a bouquet! That's why you see santinis often in more loose floral arrangements and picking bouquets."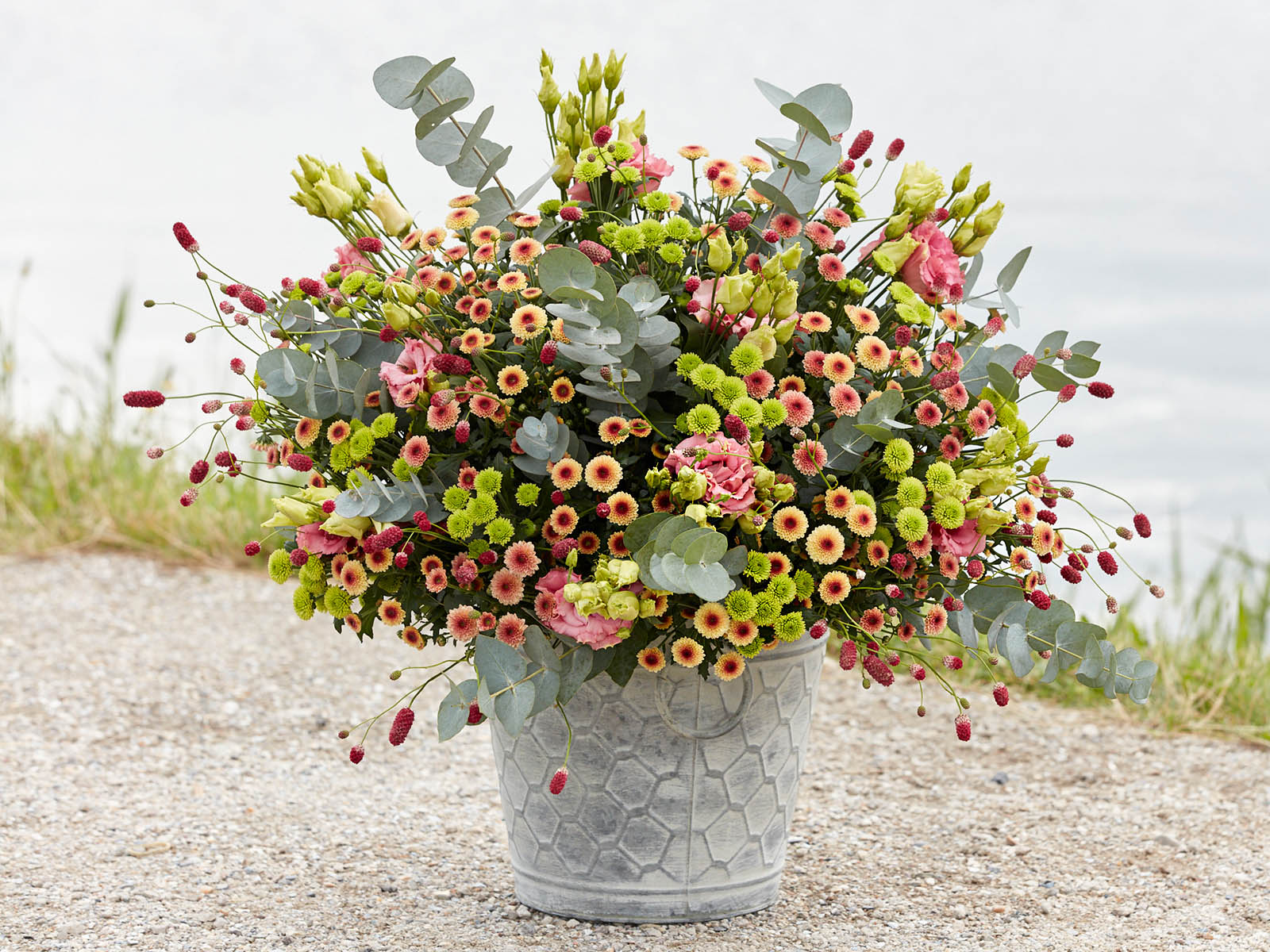 Close Collaboration With Breeder Floritec
It cannot be missed. A great deal of the varieties grown by LS Santini originates from breeder Floritec. You have a range of six Santini Ellison varieties, nine Santini Rossi Varieties, and even ten Santini Calimero varieties. Why is that?

Juliska:
"We have always had a close collaboration with Floritec. When this breeder started in 2007 we were already growing santinis. My father Wilco has always had friendly contact with the people behind Floritec, so he made space available in his greenhouse for Floritec to start their breeding. One big advantage is that we get a look in the kitchen of a breeder.

The collaboration works like this: we have a field available for their testings. We are the first to see and assess a novelty, and that is another big advantage. My father Wilco shares his opinion about the growth, the product qualities, and the expected yield with Floritec, who also regularly come to inspect the progress. And we have our market research, through which we know what florists want and what a santini should look like. This exchange of information is beneficial for us both.

So, in the end, we have the possibility to be the first to get our hands on new santinis and continue to grow these on a larger scale. Some even exclusively in Europe, like the popular Santini Calimero series. And for Floritec we provide greenhouse space and valuable information to make an educated guess on the future success of their varieties. It's a typical win-win."
Enjoying the Promotion
Floritec is very active in promoting not only their products but perhaps even more the added value of synergy with their growers. This should lead to a better understanding of the market further up in the floral chain. In what way does Floritec support you in marketing your santinis?

Juliska:
"Haha, I enjoy too much promoting our santinis myself! So, even without the help of Floritec we as LS Santini already put a lot of effort into marketing. But, when we do need the help of Floritec, for instance with a big presentation at a wholesaler or an exhibition abroad, they gladly offer their full assistance with sponsoring or imagery.

Juliska concludes the interview by expressing once again her gratitude for the collaboration between LS Santini and Floritec: "Both our companies have started out small, but despite the fact that we both have been growing quite a bit over the years our organizations are still flat, making communication personal and easy. I very much appreciate that way of working."