So you're (on your way to becoming) an environmentally conscious florist. Or perhaps you have earned the 'Sustainable Florist' badge already. One of the struggles today's designers and florists go through is the quest for biodegradable materials, also in floral foam, historically one of the big polluters of floricultural design. Here's a solution, not another type of foam, but something revolutionary. It's called Sideau. You don't have to pay more, it's re-usable, and it works like a charm.
What is Sideau?
Sideau is completely natural; made from basalt with plant-based starch binders. It's the sustainable alternative to single-use plastic foam. Moreover: Sideau is eco-friendly and biodegradable. More-moreover: Sideau can be used a lot cheaper than any other regular or biodegradable floral foam.
For first-time users, the most heard comment is about how incredibly quickly - only a few seconds - the floral block absorbs water without the formation of air bubbles in the product. Well begun is half done, so they say.
There is no need to use different types of materials because Sideau blocks are usable for all kinds of flower arrangements, dried flowers, silk flowers, and fresh flowers.
4 images about the use of Sideau by Kelita Choi @kelitachoi.
Try-Out Experiences From Floral Designers
Michelle Hannah is a lover of the wild and untamed. She owns and runs her NYC (and beyond!) floral studio Wild Floral Designs for weddings & events that are sustainably-minded. On the Instagram account @wildfloraldesigns: Michelle comments on her try-out of Sideau blocks:
"Does it hold: Yes! Especially someone coming from chicken wire and flower pin land, everything is in there."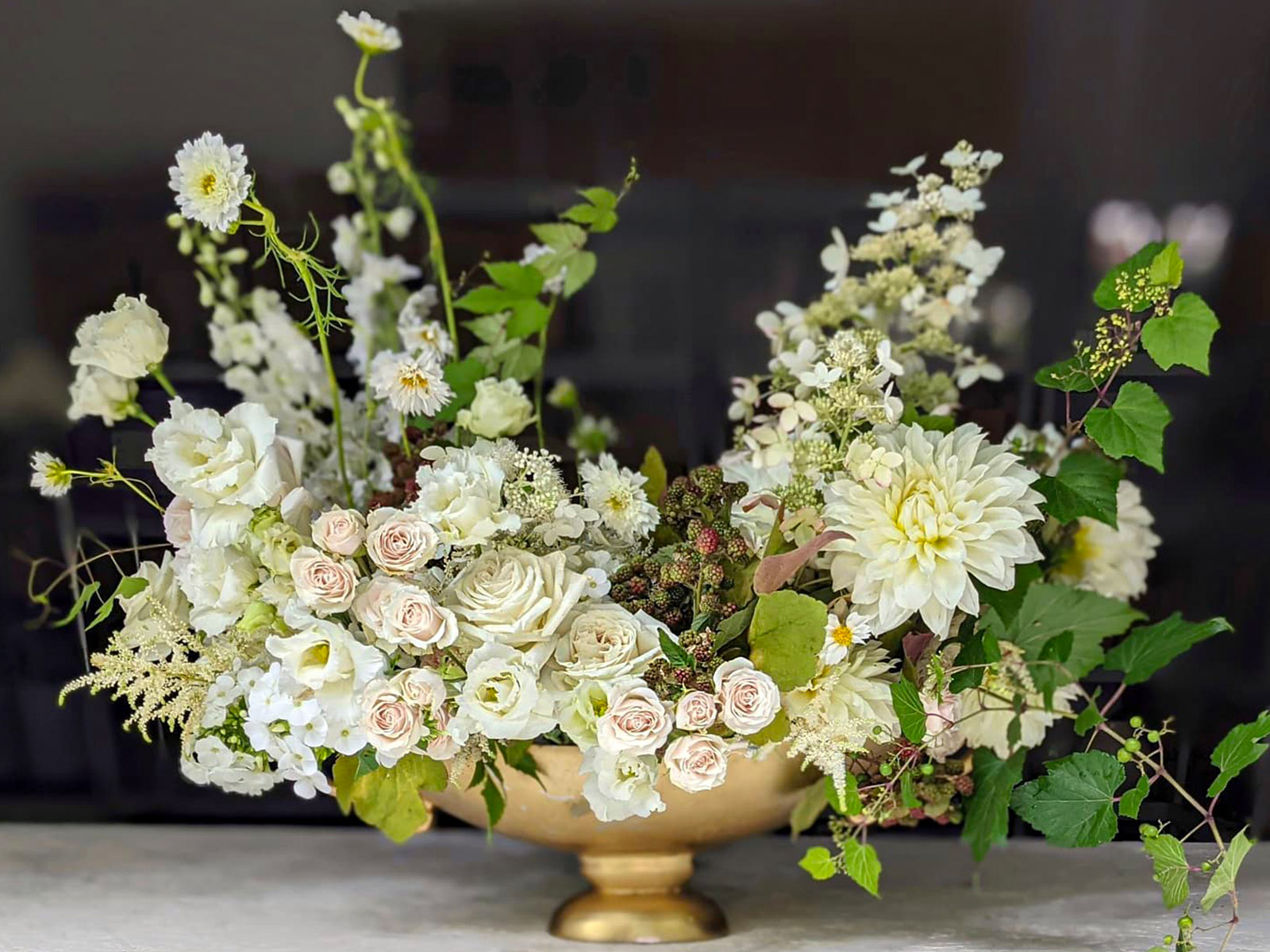 Michelle Hannah from Wilfd Floral Designs first-try of Sideau floral blocks.
Floral designer Jiseon Jang from Sole Moon Studio in Seoul, South Korea says on Instagram about his try-out:
"I turned the floral block upside down in running water right away, and after a while, the water was sufficiently wet on the inside of the foam, and I could attach the flowers stably. Sideau can be used wet as well as dry and is reusable.

I felt that the biggest attraction and advantage was that it could be returned to nature after using it more than any other advantage, so after more tests, my classes using floral foam will be gradually changed to Sideau."
Is Sideau Cheaper Than Biodegradable Floral Foam?
Yes, when you use and - more importantly - reuse Sideau well, it will be more economical than any other floral foam, regular or biodegradable. The most important reason for this is the re-usability.
The blocks of Sideau are easy to cut into many shapes. After using it for your design there's no need to dispose of it. Because of its spongy structure, it can be used for a second time by, for instance, wrapping chicken wire around it. Or make the pieces smaller for use with potted plants.
Remember: it's biodegradable, so it won't go to the regular waste. Sideau can be disposed of in small pieces in the green container (depending on the legislation of your country). Or you can also deposit it on your compost heap. What remains when degraded, is basalt meal (sand) which is completely natural and harmless to nature.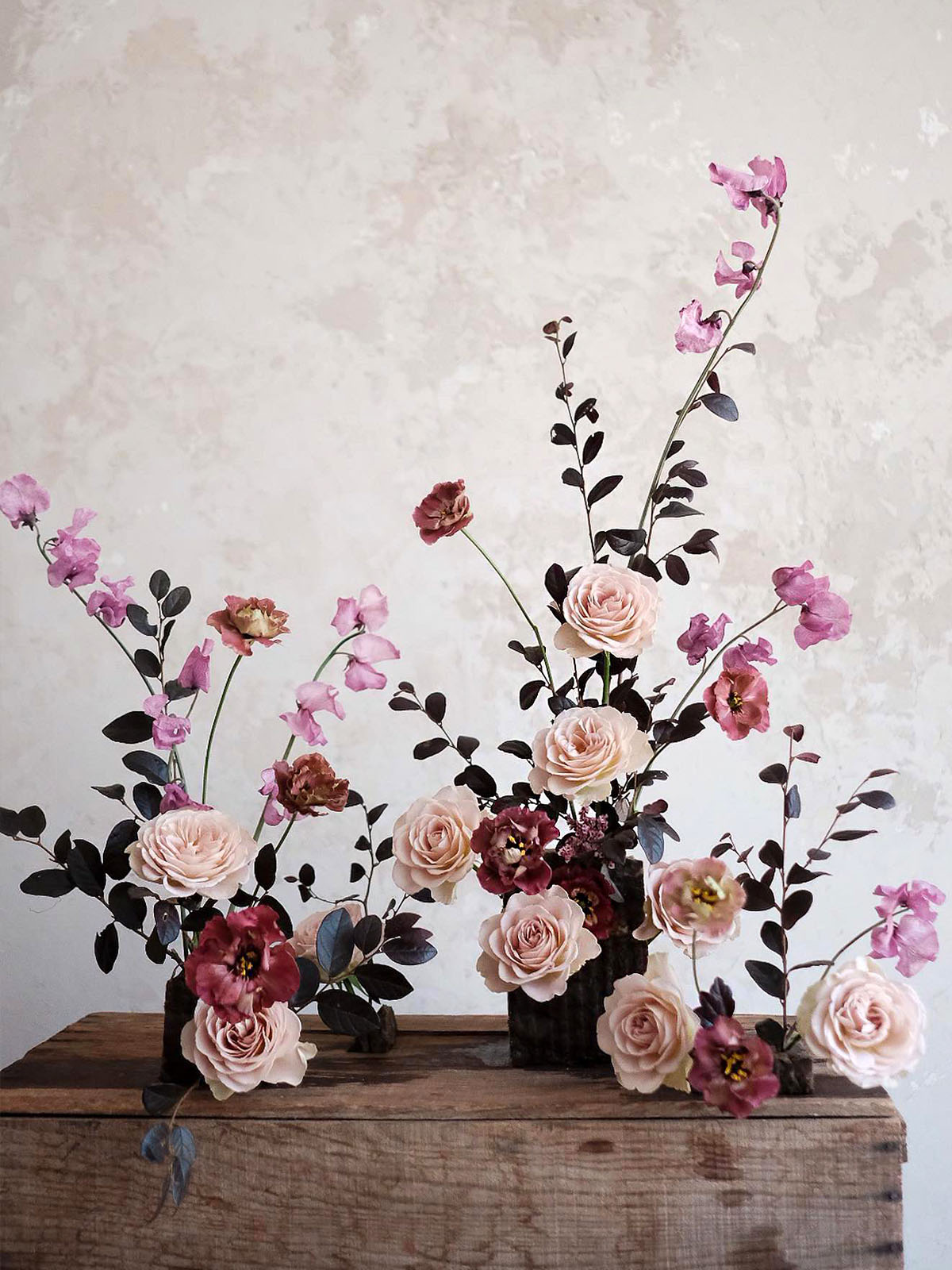 Jiseon Jang from Sole Moon Studio in Seoul, South Korea, made this try-out design. A hit on his Insta @solemoonstudio with over 1,700 likes.
Where Is Sideau Available?
Sideau has distributors all over the world, from the USA to New Zealand, from South Africa to Brazil, and all across Europe. Check the Sideau website for a local or regional distributor.