Looking for original flowers and foliage directly available from all over the world? Big chance you will find these at Coloríginz. This sales platform of brands and labels looks in every corner and niche of our globe for unique and high-quality products that make florists wow. One of which we are dying to know more about is the brilliant Gypsophila Grandtastic. How did Coloríginz get acquainted with this product, why do they import it from Africalla three or four times a week, and how do they place this product in the highly competitive market of gypsophila?
Coloríginz
Coloríginz lives up to originality in the colorful world of roses, flowers, and decorative foliage! Its nationally and internationally orientated team is always seeking out special flowers, beautiful roses, and fresh greenery with ambitious breeders and growers from all over the world.
Although Coloríginz is a Dutch Flower Group company, its sales stretch way beyond that. The first line of customers is Dutch exporting wholesalers and bouquet companies for the retail sector. Perhaps you have never seen the brand Coloríginz on a box somewhere, but big chance you have held flowers or greens in your hand from one of its quality labels Odilia, Green Ocean, Hypericum Romance My Peony Society, Parfum Flower Company, or Zero Waste Flowers.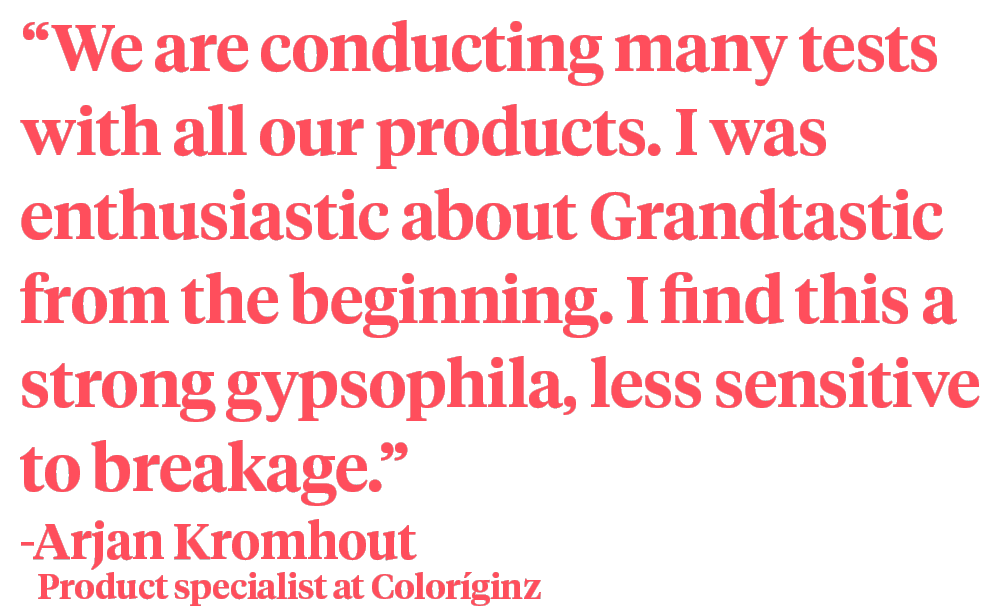 Arjan Kromhout
Arjan Kromhout is the son of a flower grower near the Rijnsburg auction who at a young age decided to step into the flower trade. After a few exporting companies in Rijnsburg Arjan landed at Coloríginz almost fifteen years ago. After a role in the sales department, he pursued a career in the procurement of summerflowers.
Arjan explains the role of Coloríginz in the floriculture chain:
"For growers, both in the Netherlands and abroad, we are a big sales platform that reaches a big part of the market. We have dedicated sales teams that serve all segments of the market, both wholesale and - through bouquet companies - retail. This means we have a wide assortment of products that fits everyone. We are not always the cheapest with high-end products, but we do have a cheaper retail line as well."
Gypsophila Grandtastic
Arjan Kromhout is an expert when it comes to sourcing the best summerflowers for the right segment. For the top segment of flower exporters - and along the chain their customers the high-end florists - Arjan has selected Gypsophila Grandtastic as the showpiece of the gyp assortment. Grower Africalla supplies Coloríginz multiple times per week with the finest and heaviest products. Its gypsophila of 70-80 centimeters with a weight per stem of 30 grams and up is simply top-level.
Arjan:
"We are conducting many tests with all our products. I was enthusiastic about Grandtastic from the beginning. I find this a strong gypsophila, less sensitive to breakage. I find the big blooms very pretty, the presentation of the branches is wonderful, and the color stays white. Another big plus is that this product has a steady quality year-round. Last, but not least, the vase life of this gyp is very good."
Grower Africalla
Coloríginz's product specialist Arjan is clearly very satisfied with the choices made by Africalla because Gypsophila Grandtastic has not disappointed him, quite the opposite! Arjan Kromhout comments:
"We market almost the full width of the Africalla assortment. It's like a partnership we have built together over the years. When a quality grower like Africalla chooses to grow Grandtastic gyp, naturally we will adopt it into our assortment."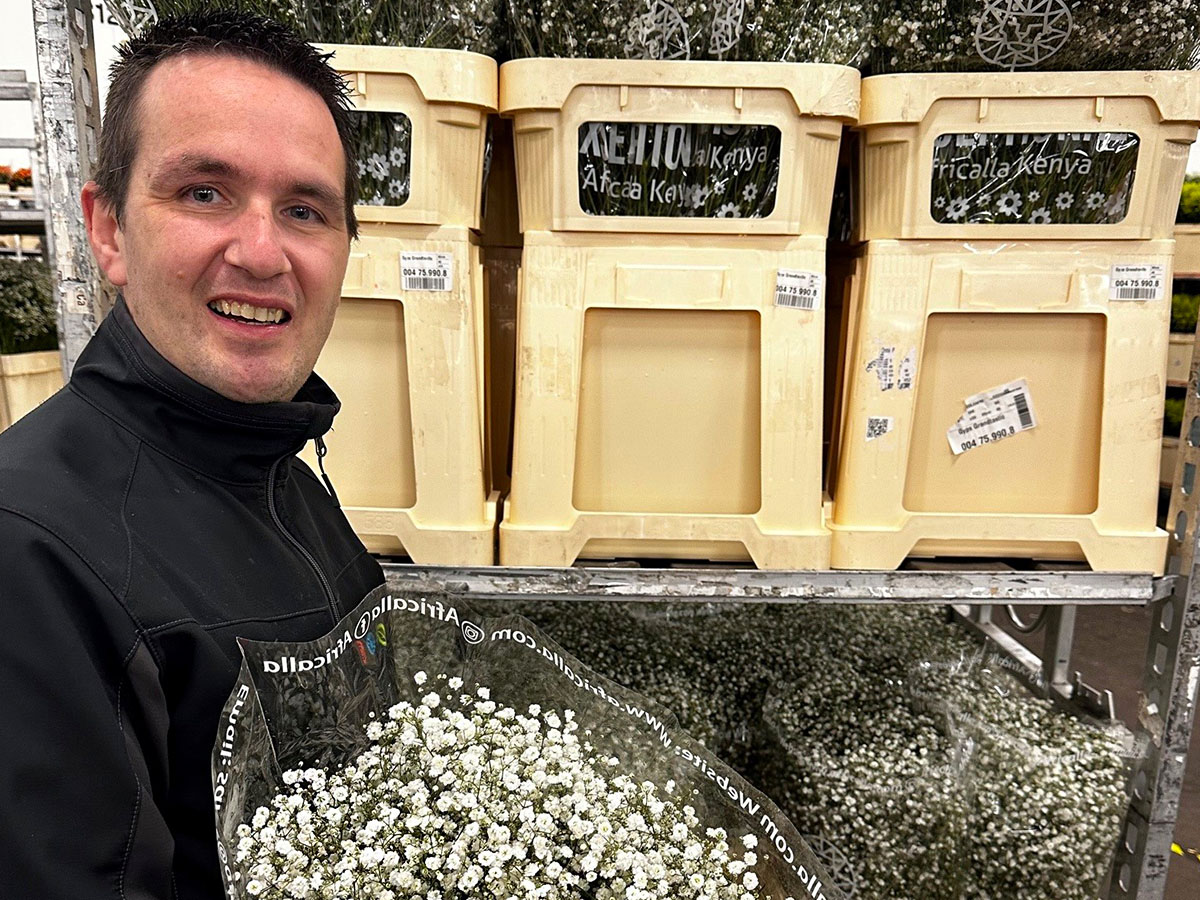 The Market
Since Coloríginz sells its products mostly to exporting wholesalers, they do not have a clear insight into which piece of the floral chain is the final station before the end consumer.
Arjan:
"When a new product comes into the market, it starts with sending samples to our customers and giving it the proper attention in our newsletters. Customers can then see and hold this new gypsophila in their hands, which increases the acceptance of this product. They see how reliable this new gyp is. This has created demand from our direct customers. If they do their job as well, there is no reason why this product can't be big with their customers as well."
Looking at the wholesalers that buy Grandtastic, it is obvious that the market for this product is on the high-end side. Think of florists seeking a quality product year-round, floral designers, and wedding arrangers.
Gypsophila Grandtastic is bred by Selecta Cut Flowers, and grown by various growers, among which Africalla in Kenya.