Isn't it sweet? A young couple in love, exchanging vows, rings, and sharing their lives forever and ever? The happiest day of their lives. How to express this feeling with the ultimate colors and flowers of sweetness. Just look at these beautiful pastel-colored flowers brought to you by Marginpar.
Flowers Make Your Fairytale
A wedding is like a fairytale. This is the moment when two persons decide they want to spend the rest of their lives together. True love is when both people think they're the lucky one. This festive act of bonding needs the perfect decoration as a confirmation of its true meaning. The flowers you pick are saying what you mean: this is a romantic party, a celebration of LOVE!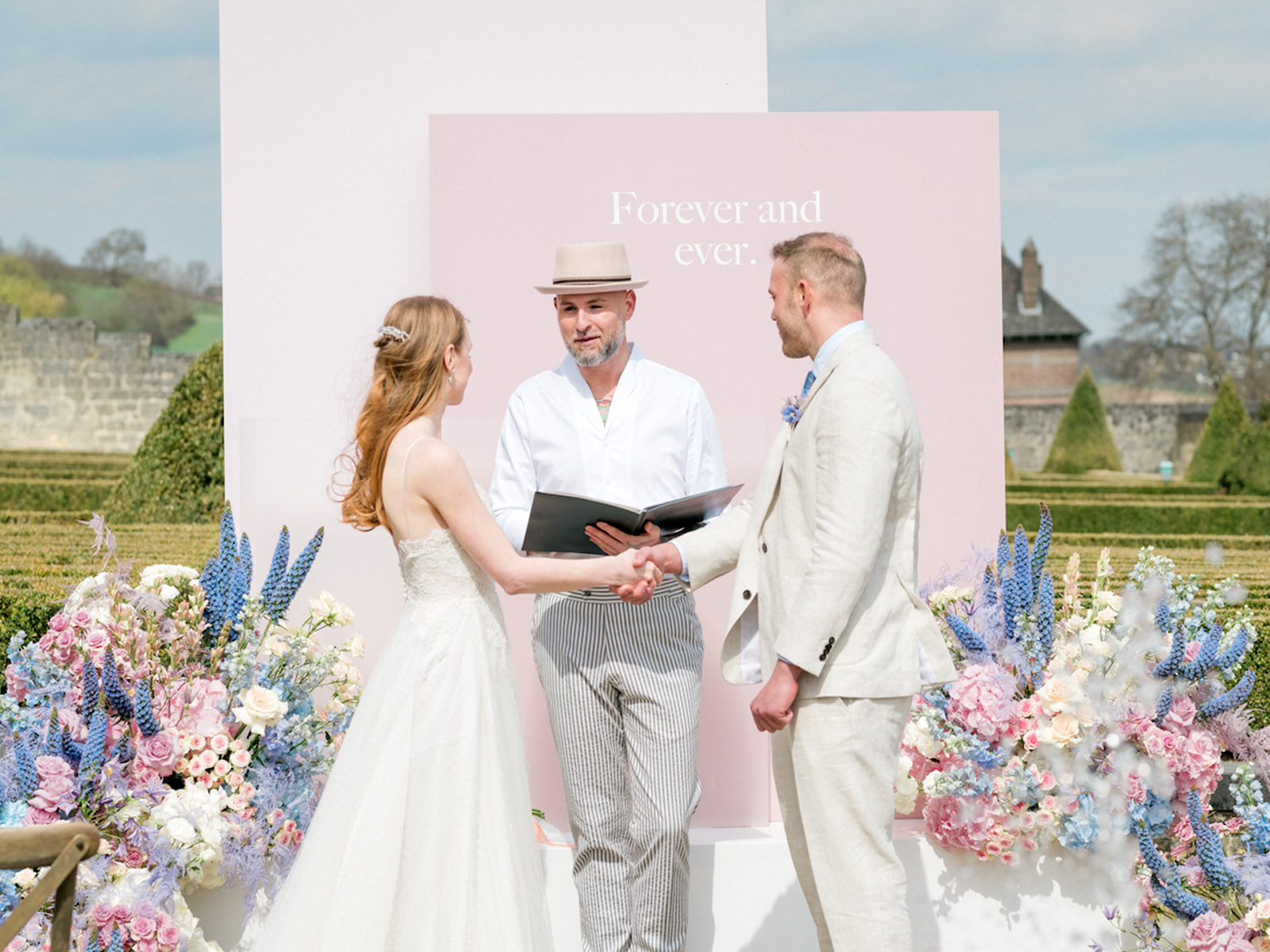 Bloemenservice Nederland at Chateau Neercanne
Bloemenservice Nederland is an expert in customized weddings. Their aim is to make fairytales come to life, and of course, fairytales come in all shapes and sizes. Founder and owner Annemarie Hoekstra has been running the business for fifteen years now, and she sees more and more couples going for dark colors, or terra cotta or gold, for example. Nevertheless, sweet, romantic weddings are always very special to decorate. Like this wedding at Chateau Neercanne in the southernmost tip of the Netherlands.
A fairytale has a story and you can tell it with flowers.
Annemarie:
"It is essential that everything fits together well and that the guests are carried along by the different parts during the day. You make different flower arrangements in the same style, but of course, you play with different shapes and sizes. Depending on the space you have somewhere, you make a grand design or just a subtle flower arrangement like these table pieces."
A Setting for Real Flower Lovers
Annemarie chose an intimate arrangement with several small tables. As a result, the size was somewhat limited, but as you can see, it does not detract from the overall atmosphere. The compact base and the playful colorful details that go up in the air make for an impressive flower arrangement, without needing a lot of space.

By using the same flowers in different flower arrangements, you create the unity that is so important for the whole. At this wedding, you see delphinium, astilbe, scabiosa, polianthes, and some from the clematis Amazing® series in different places. Even the cake is decorated in the same style, which totally completes the picture!
Annemarie Hoekstra:
"The wedding venue was beautiful, and also really big. Small flower arrangements won't work there, so we opted for grandeur, including an enormous backdrop. This setting is for real flower lovers because as you can see in the photos, they are everywhere! One tip I would like to pass on: always make sure that the top layer, the most striking parts, are decorated with your most beautiful flowers."
Harmony
The result is an astounding harmony. The exquisite and unique pastel flowers by Marginpar lift the wedding decorations to a sublime level of romance and sweetness. All you'd expect from a once-in-a-lifetime event.
The Pastel Flowers From Marginpar
The following flowers from Marginpar were used at Chateau Neercanne:
Delphinium Guardian Lavender, Astilbe Inferno, Scabiosa Focal Scoop™ Bicolor Pink, Polianthes Pink Sapphire, and several varieties from the Clematis Amazing® series.
Images by @stevendecuba and @kimberly_duchateau_photography courtesy of Marginpar.
Organization and wedding planner: @eventels.nl and @blijver_, wedding venue: @chateauneercanne, styling: @lovelyevents_planning_styling, @droomwedding, rentals: @brisked_styledweddings, hair & make-up: @silkegoossens, wedding dress: @lauravanrooijbridalcouture, suit: @latelier_tailoring, bride's shoes: @shoestories_official, cake & sweets: @albamooncakery, wedding officiant: @babs_benny, jewellery: @drksonline, wedding rings: @ringsoflove_trouwringenthuis, models: @anne7168 and Paul.