Winter is here, and if there's anything to look forward to during the season it's those romantic, beautiful winter weddings. Especially since the start of the pandemic, winter weddings have gained a lot in popularity. Even though this trend already started before the pandemic, last year's mass cancellations have led to a boom in couples opting for a winter wedding. And what better way to look forward to what is to come this season than with some popular winter wedding trends we're sure to see a lot more of?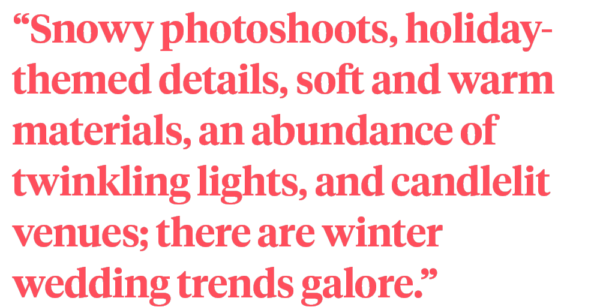 Winter Weddings Trends 2021-2022
Winter may not be the number one choice of seasons for brides and grooms to say their "I Do's" but there is also undeniably something quite romantic and a little mystical about getting married during the colder months of the year. There are so many unique ways to create the most special of days during the snowfall and the dropping temperatures. Snowy photoshoots, holiday-themed details, soft and warm materials, an abundance of twinkling lights, and candlelit venues; there are winter wedding trends galore. Let's dive into some of the most popular ones that are all over social media right now.
Black and White Wedding Color Palettes
While wedding trends change every year, there's something so classic and sophisticated about a black and white wedding. Especially during the winter - preferably with some twinkling lights mixed in - this color scheme exudes romance. The black really allows the white to pop and makes the candlelight even brighter. Simple yet timeless, this color scheme never goes out of style and is both elegant and contemporary.
Nature Inspired Themes
Those of us who spend a lot of time scrolling through our social media feeds have probably noticed that a lot of couples are staying away from very specific themes and use nature itself as the inspiration for a winter wedding. Ever since Pantone announced 'Greenery' as the color of the year in 2017, the wedding industry has taken notice. Decorating your space with organic elements is such a natural and romantic way to celebrate your big day. It feels much more attainable as well and timeless.
Greenery is nature's neutral. From cascading eucalyptus and ivy adornments to wreaths of myrtle and swags of fern, foliage is the new flower. Not only does greenery transform the plain to the lavish and lush, but it's also more cost-friendly than your standard florals. On top of that, the greenery trend lends itself perfectly to eco-friendly weddings that have been more popular than ever.
Soft Materials
Whether it's faux fur worn around your shoulders, velvet bridesmaids' dresses, or teddy fleece to keep you warm, soft materials are the way to go when it comes to winter wedding trends. While faux fur adds a layer of fairytale-like romance, shiny velvet tends to really pop in those gorgeous wedding pictures. Just remember that these materials are quite bold and easily attract focus, so moderation is key.
Romantic Shades of Red
Red is the color of love so it's no wonder this wedding trend has been around for ages, but there's just something about red when it comes to winter weddings. Maybe it's because it reminds us of Christmas. Or maybe it's simply the perfect color to add a dose of warmth to those chilly days. Whether you choose a vibrant raspberry red or go burgundy all the way, red is in, no matter what shade.
Lots of Twinkling Lights
With many of us having to endure shorter, darker, and colder days during the season, it means more light is needed. Whether you deck the table out in an abundance of candles or adorn your wedding venue in endless strings of twinkling lights, there's almost no winter wedding trend as romantic as this one.
Making you feel like you're under the stars, the warm golden tones of the twinkly lights create a truly romantic ambiance. End the night by setting off lanterns with your favorite people around you for a fairy tale finish.
Warm Yellows and Oranges
Natural color palettes infused with mustard yellows or warm oranges are a fall wedding staple but look just as good during those darker and colder winter days. Darker yellows look great with natural greens and the right shade can mimic the candlelit warmth winter weddings tend to ask for. Earthy but romantic, warm tones like burnt orange in combination with natural, brown shades can really add a rustic elegance to a wedding day.
Christmas-Infused Weddings
There's always something magical, almost fairytale-like about Christmas so it comes as no surprise that many couples opt for a Christmas theme to celebrate their special day. Pine trees, shiny baubles, twinkling lights, kissing under the mistletoe, and classic white-red-green color palettes; Christmas and weddings just go together.
A Touch of Genuine Pink
Pink has been on the rise in the land of winter wedding trends. Especially soft pastel or dusty shades of pink have exploded in popularity. The Thursd Floral Trend Color 2022 - Genuine Pink - ditches the Barbie-esque association around this color. It feels romantic yet subtle, feminine but gender-neutral, both nostalgic and modern, and perhaps most importantly, easy to live with. Muted, delicate pinks have become a mainstay for good reason. They bring elegance and softness and can take on the versatile characteristic of a warm neutral but with more interest. Plus, you can easily dial the color scheme up and down.
Snowy Photoshoots
This winter wedding trend needs no explanation. Snowy winters are the perfect opportunity for going out and snapping those beautiful winter wonderland pictures in the crisp, white snow. What's not to love? Picture snowy-white winter wedding colors with white roses everywhere, bright white fairy lights, and maybe some icy blue tones. Take it even further with fake snow inside the wedding venue for a true winter romance.