Pot chrysanthemums come in many forms, nicely variegated, bicolored, single-flowered, double-flowered, beautiful striking large flowers, or cheerful small flowers. They have one thing in common: they make you happy and - because of the diversity - they fit perfectly into any interior.
All Year Round
The pot chrysanthemum has traditionally been known as an autumn bloomer. Very understandable: after all, they provide a lot of color and cheerfulness when the dark days start. But nowadays they are readily available all year round.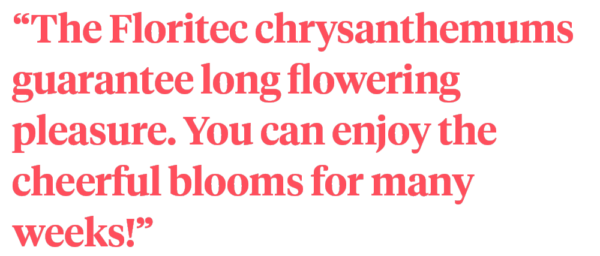 Being one of the oldest pot plants in the world, pot chrysanthemums were originally grown in China. 1,000 years ago they came to Europe via Japan. The plant is still very popular in Japan, especially honored every year during the Festival of Happiness. For the Japanese, the pot chrysanthemum symbolizes good luck.
Pot Chrysanthemums by Floritec
Breeder
Floritec
is now the market leader in pot chrysanthemums offering a great diversity of varieties. There are plants that bloom beautifully as a soloist, or plants that are excellent for being offered in a mix with three colors in a pot. In the breeding program, Floritec focuses on developing families. On the one hand, this is beneficial for the grower because the varieties fit together exactly in terms of cultivation conditions. And if a florist or consumer has had good experiences with one of the family members, this creates confidence to try the other colors as well. The breeders from Floritec pay attention to the good performance of the varieties. A variety must be reliable, have a beautiful inflorescence, and have good color. Shelf life and resilience are important elements that require careful selection. The Floritec chrysanthemums, therefore, guarantee long flowering pleasure. You can enjoy the cheerful blooms for many weeks! Two well-known product lines of
Floritec
in pot chrysanthemums are the Dynamic and the Da Vinci series.
The Dynamic Series
The Dynamic pot chrysanthemum sparkles like a diamond. A beautiful full plant with a special color gradient in the flower. With Dynamic Pink, for example, the color transitions very nicely from soft pink to raspberry red in the heart. The consumer receives a richly flowering plant with decorative flowers. This pot plant retains its beautiful color and fits well in a modern interior. The pink Dynamic was the first variety in the series. Meanwhile, a real family has emerged with various colors. The Dynamic family currently has five colors: Pink, Orange, Salmon, White, and Yellow.

The Da Vinci Series
Da Vinci is a beautiful compact and double-flowered pot chrysanthemum. The quality is more than excellent. Due to the success and positive properties of Da Vinci, the Floritec breeders have now developed a nice extensive series. The color family is available in nine colors.