When a floral icon like Kirsten VanDijk endorses a product, then we check this out. After all, we all want to learn the ropes from the best to become better ourselves, right? So, why do Kirsten and many of her colleagues use the plastic free floral block of Sideau? That's what we would like to know. So we asked her and were surprised to see that she does not just use it as soaked foam to stick flowers in.
Kirsten VanDijk About Sideau
Kirsten is connected to the US-based floral sundries distributor New Age Floral, and also an esteemed influencer with her Project Flower Show on Facebook. She uses Sideau both hydrated and dry. That's remarkable, but always thinking out of the box, Kirsten uses the foam also as a piece of decoration, like a heart shape.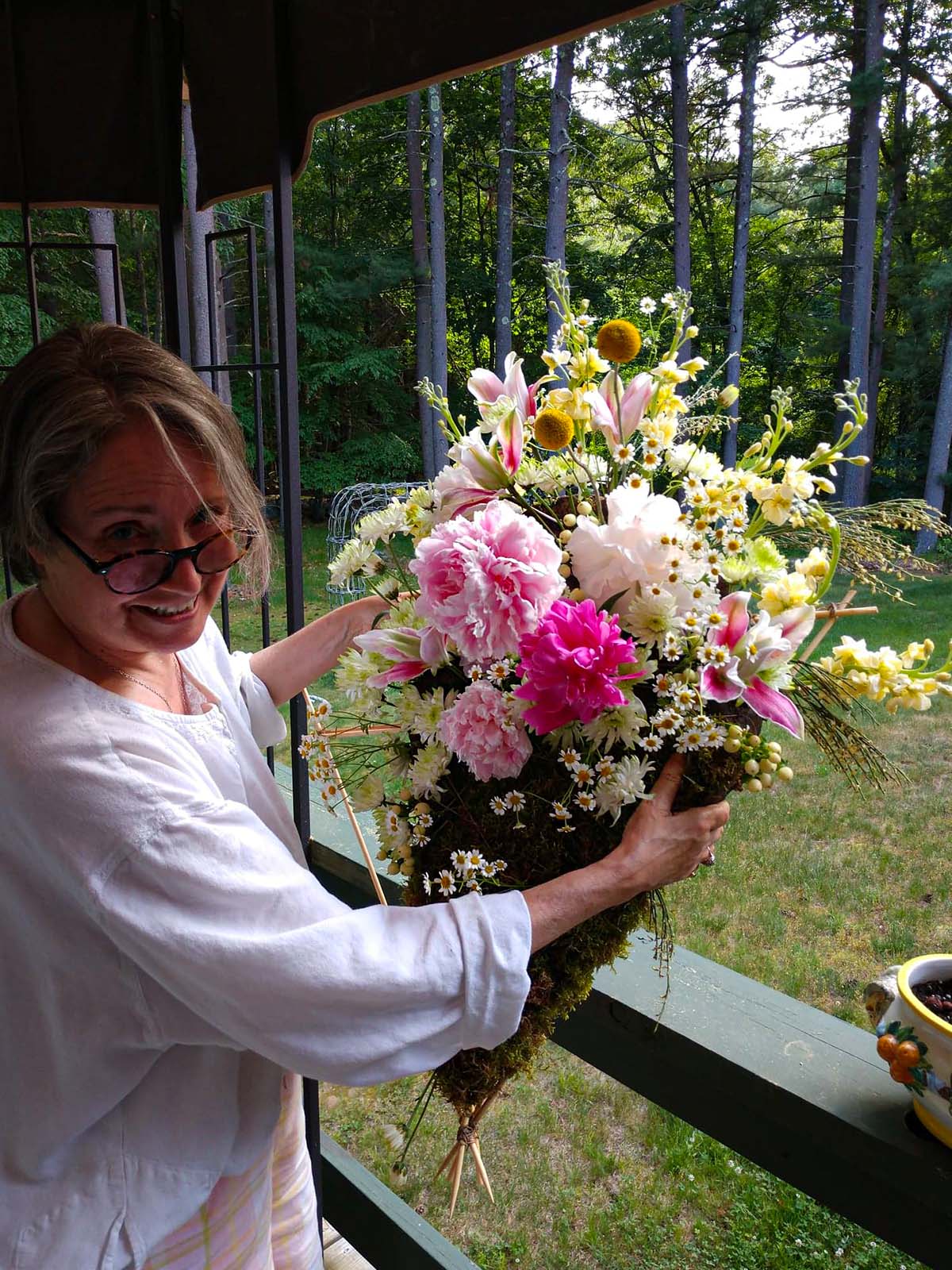 Photo courtesy of Kirsten VanDijk
Kirsten: "I love this 100% natural material first because it replaces the single-use plastic floral foam but also for its natural beauty. The brown striations of the basalt fibers remind me of the salt mines in Romania. 🙂

Sideau from Agra-Wool holds A LOT of water so I can count on it for table designs and works meant to last over multiple days. That the cuttings I might use will root up in the medium is AWESOME!
"I used Sideau both hydrated (at the base), and dry (the carved heart) for this little dish design." Photos courtesy of Kirsten VanDijk
Just What We Need in the Floral Industry Today
"With mindful attention, this innovation can be used more than once and over time breaks down in the compost. It has multiple applications which, in my book, is just what we need in the floral design industry today. A companion tool like a bamboo skewer makes working with Sideau Agra-Wool much easier when you 'pre-drill'. This is the FIRST sustainable mechanic brought to market, and as the distributor for this product in the USA, I am grateful. 💚"
New Age Floral's Kirsten VanDijk has conducted this test with a block of Agra-Wool. Watch this 'thrilling' 1,5-minute YouTube video, starring 100% Natural Agra-Wool, and quite a splash of water.
What Do Other Floral Designers Say About Agra-Wool?
This video is of Lynne from The Posy Patch, testing Agra-Wool 100% Natural Floral Foam for the first time. Lynne is creating a small double-ended funeral spray using British flowers and foliage. The vast majority of funeral tributes are made using floral foam which is a single-use, but not Lynne.
Next, this is what Rebecca from Rebecca Raymond Floral says about working with Agra-Wool in her Tuesdays at 10 Review.
Why Sideau Is Perfect for Florists. A Technical View of This Product.
Sideau® is fully biodegradable. Therefore, Sideau® is perfectly suited for florists and flower arrangers who want to use a fully environmentally friendly base for their creations.
Sideau® is made of Earthwool®, a natural product made from basalt, a volcanic igneous rock. In addition, Sideau® is made with Ecose®, a natural binder, free from acetylates and formaldehyde. In the composition of the binder, therefore, petrochemical raw materials make way for vegetable raw materials. During the production of Ecose®, 70% less energy is required compared to the production of traditional binders.
Sideau® is noticeably softer but still very dense, does not emit any odor, and gives off little dust. Hence the recognizable brown color. Sideau® is, therefore, friendly to people and the environment. It does not irritate hands and skin and is therefore pleasant to process.