Thursd Reveals The Floral Trend Color of the Year 2023: Passion Red (#C61A3E Rose Red)
For the 2023 floral design colors and trends, it's all about passion. The Color Palette trendwatchers foresee for the coming year has a beautiful addition of colors to Passion Red: bright peach #F47F91, warm creamy #F6F0CA, earthy brown #A47E68, lavender #D8BAF1, and dusty turquoise #69B2B6. The trend color 2023, Passion Red - a Rose Red - invites us to show our passion. Because that's exactly what the floral industry resembles: deep passion.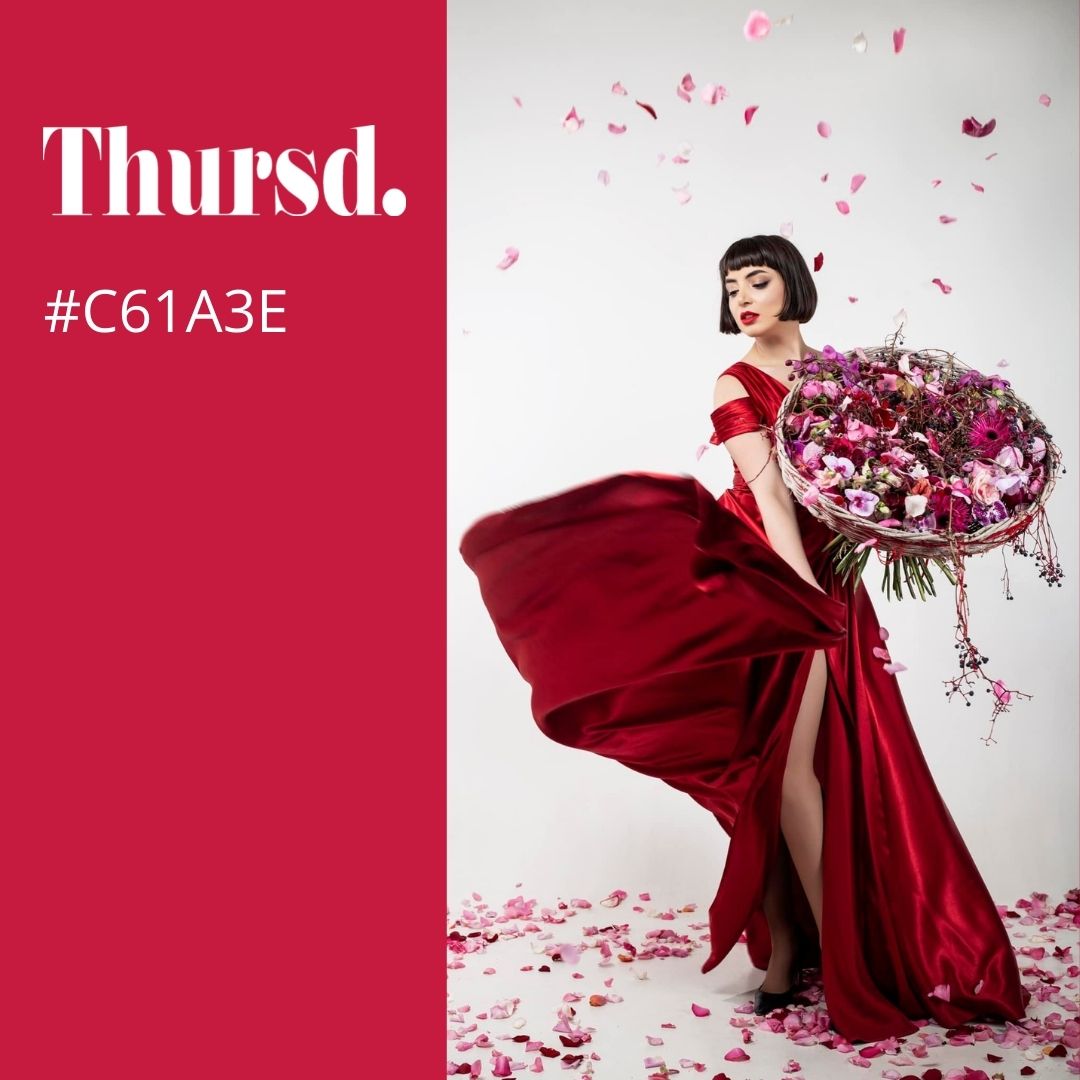 Thursd Floral Trend Color of the Year 2023 - Passion Red
The Thursd Floral Trend Color that has been chosen to represent next year, Passion Red, is one that'll inspire everyone out there to give their 110% in everything they do and create with flowers. This deep rose red is an utterly strong color that is ready to unite the passion of the floral industry. Everyone in our floral industry knows that without passion for what you do, it's impossible to achieve your goals in life.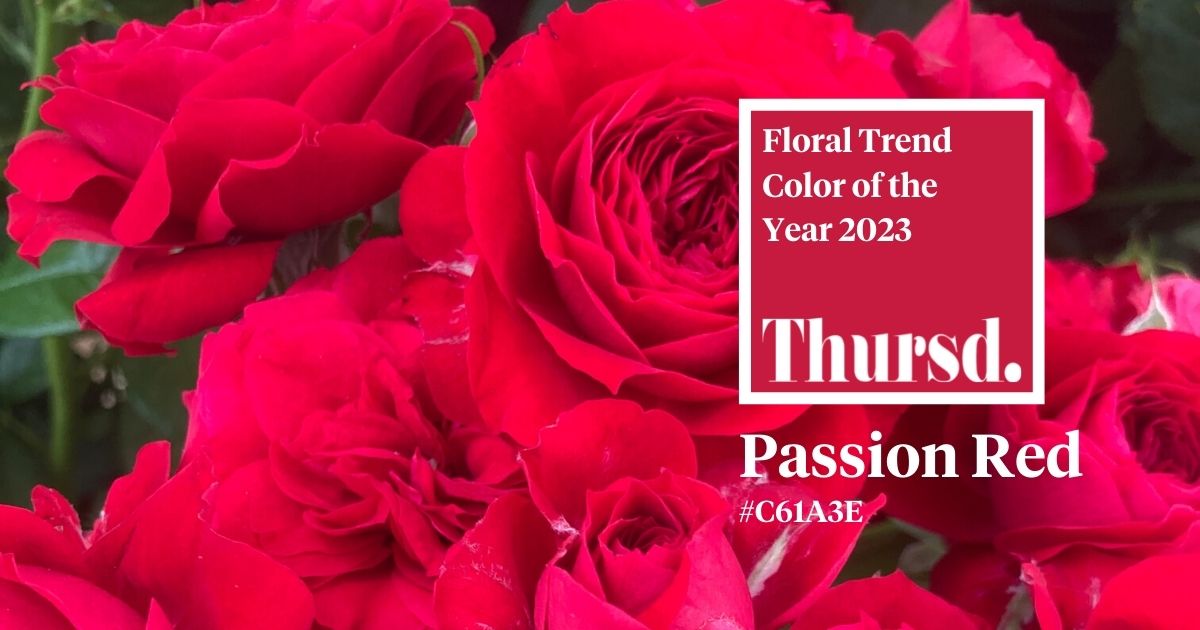 Passion Red - A Trend Color That Symbolizes the Flower Industry
Unstoppable passion is what describes the hunger of the floral industry to keep growing, innovating, and giving the world a dose both of the significance of flowers while providing high-quality blooms for everyone who enjoys flowers. Year after year, the passion of flower lovers, producers, growers, breeders, and owners keeps growing. And in 2023, the passion will indeed keep blooming and strengthening.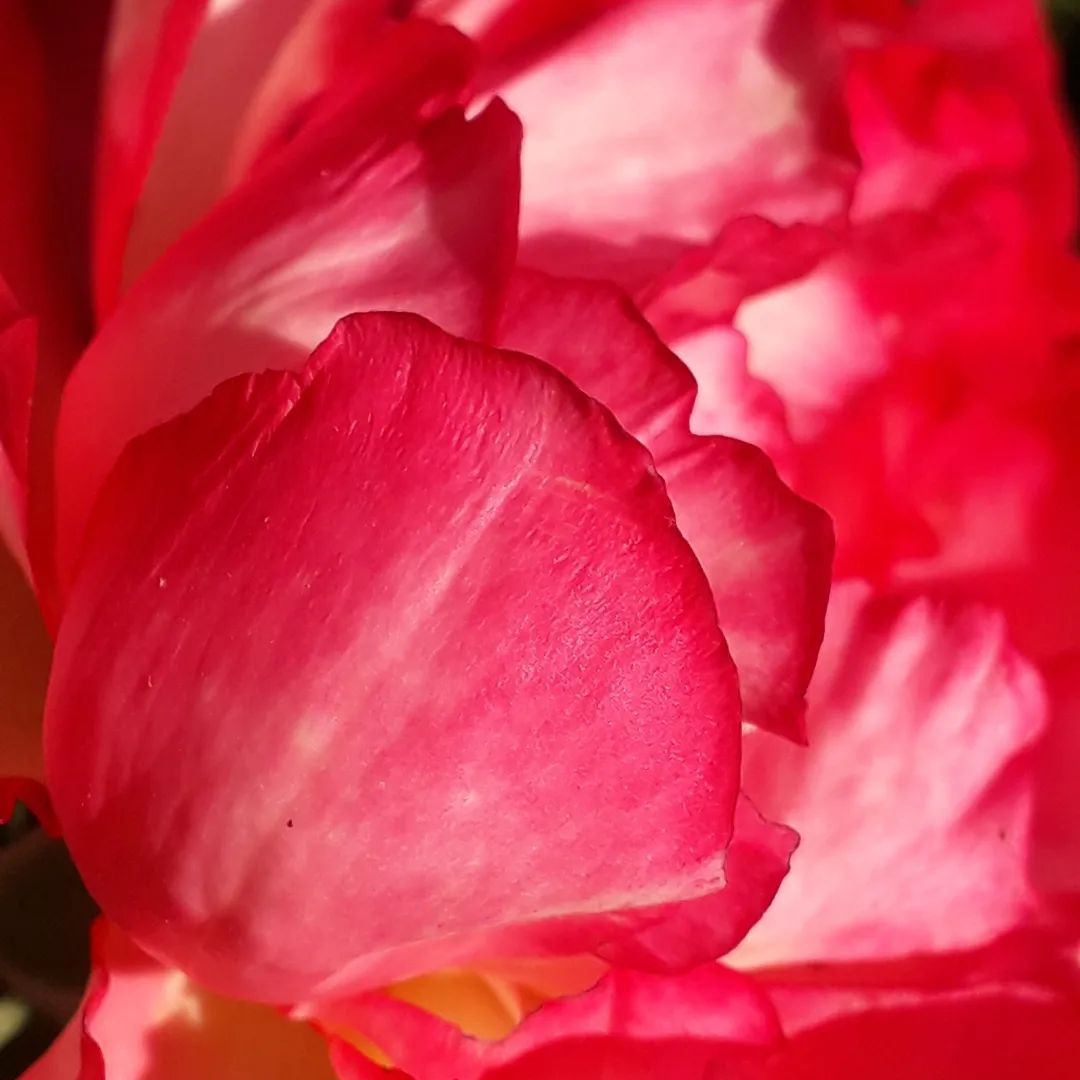 The Symbolism of Trend Color of the Year 2023 Passion Red
Although there are always a great number of meanings a certain color can have, we're here to give it all in for the passion that the red color symbolizes. A Passion Red flower is a perfect way to say, "I love you" when words are not enough. It carries the meaning of passion, true love, romance, and desire. Besides passion and love, red has a range of symbolic meanings from many different cultures, including life, health, vigor, war, courage, anger, and religious fervor.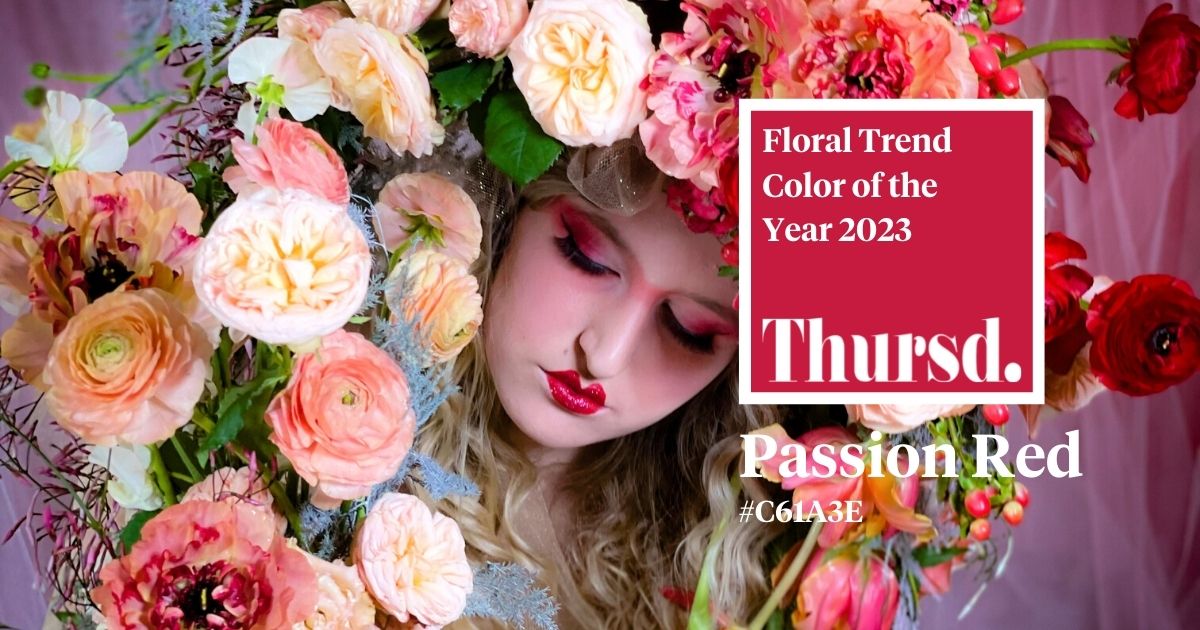 The common thread is that all these require passion, reason why we chose it as the official Thursd Floral Trend Color of the Year 2023. Passion is the starting point of everything in life, and when you slowly start harvesting it in your day to day, there's nothing that can stop this passion for what you love and do from growing.
The Impact of Red Color on Your Interior
First and most importantly, red is a color that will make anything, anywhere stand out. The fierce and intense color of the Thursd Floral Trend Color 2023 - Passion Red- will be staying and becoming a very popular choice of color throughout the coming year.
Considered the color of romance and passion, red is a design tool that heightens the senses. Red can feel contemporary, traditional, rustic, or timeless, depending on the context you use it. A touch of Passion Red can warm up a cool blue or a white room, or even add drama when used as the main color in a small space like a powder room. Red has many shades to create several moods. Passion Red on one wall can make the room feel more intimate, or perk up a neutral dining room.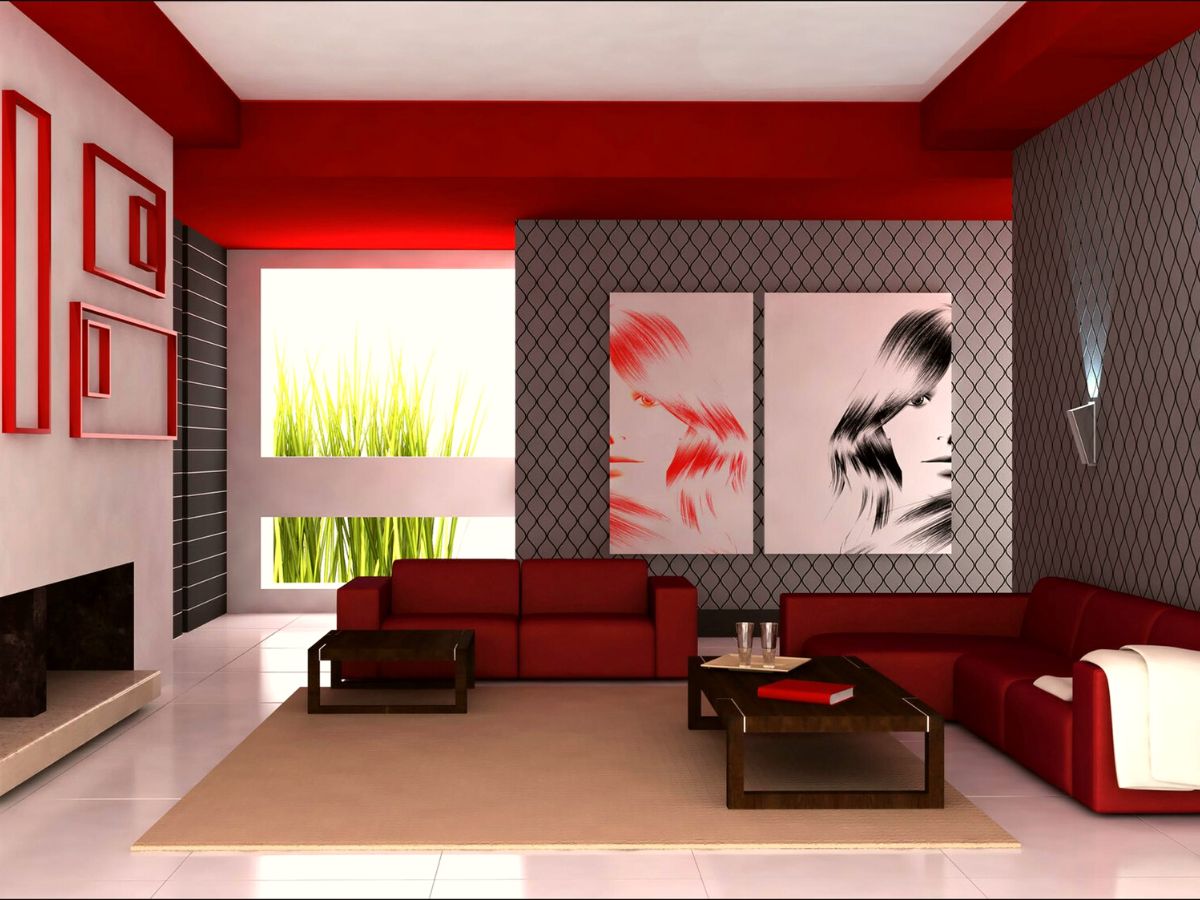 If your intention for next year is to create and renovate your indoor spaces with trending decor and colors, trust us, you'll want to include Passion Red as part of your interior decoration brainstorming. Want a pop of color? Use Passion Red. Want to create a striking color effect? Use Passion Red. It all comes down to the power and daily impact of the red color.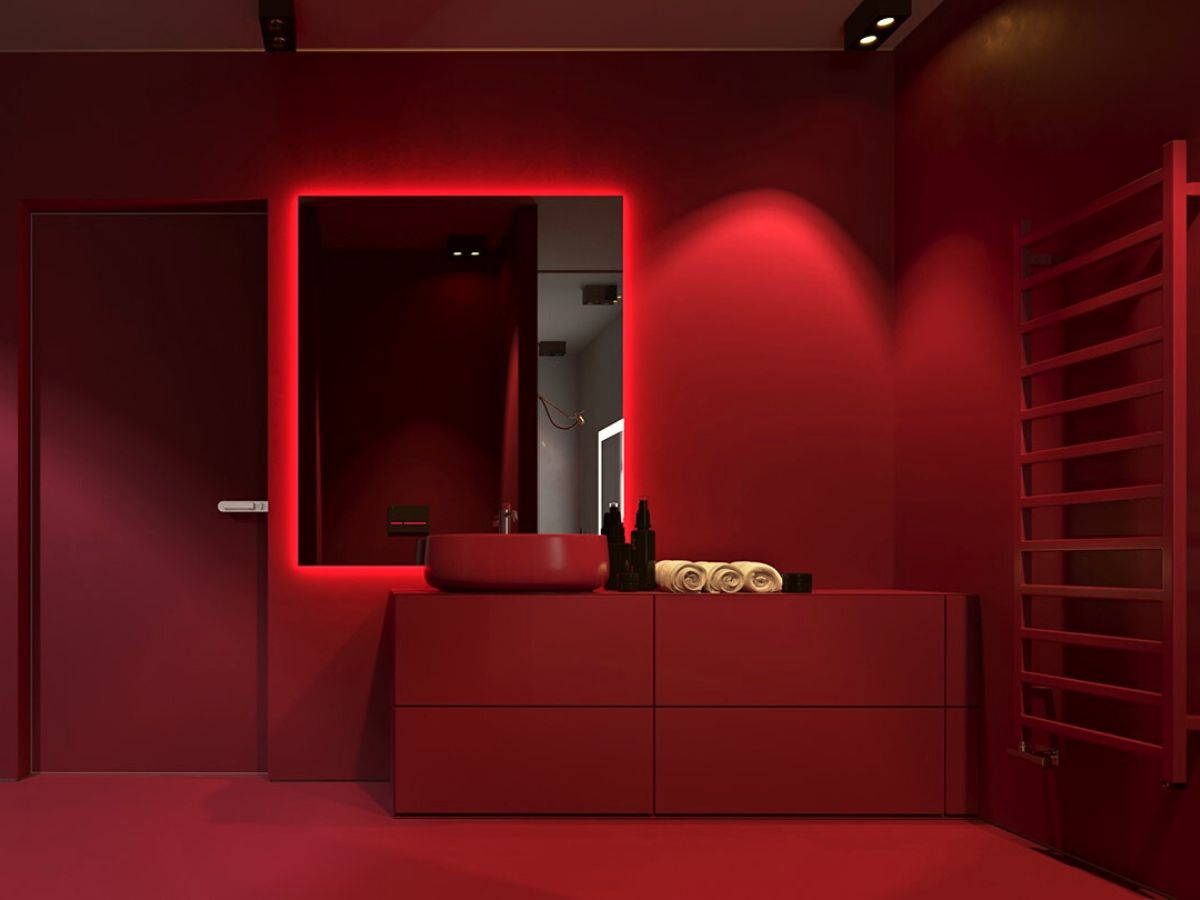 Trend Color of the Year 2023 Translated in Botanicals
Red is well represented in the botanical world with lots of interesting species – from the fiery gloriosa to classic red roses, many shades and sizes of dahlias, velvety amaryllis, poppies, celosia, freesia, gladiolus, gerbera, tulip, orchids, hydrangea, cymbidiums, renanthera, dianthus, peonies, anemones, ranunculus, alstroemeria, zantedeschia, anthuriums… there's a botanical in every shade of red and with every kind of mood you can imagine.
A Time to Find Your Passion
After several years of still living in challenging situations, the Thursd Floral Trend Color of 2023 will be the color you need to motivate you and inspire you towards becoming your best and most passionate version yet. This color will serve as a first step to seeing all the possibilities this world and industry have for you if you put in the passion it requires.
A Bold and Striking Color Palette
Not only does Passion Red make part of this incredible color palette of the year 2023, but also bright peach #F47F91, warm creamy #F6F0CA, earthy brown #A47E68, lavender #D8BAF1, and dusty turquoise #69B2B6. The Thursd Floral Trend Color Palette for 2023 does indeed start with the star color 'Passionate Red', slowly shifting towards a pink-peach color, while continuing an amazing colorful path to a warm creamy color to then finish the palette with an earthy brown tone like sand, delicate lavender, and a distinct dusty turquoise like the ocean.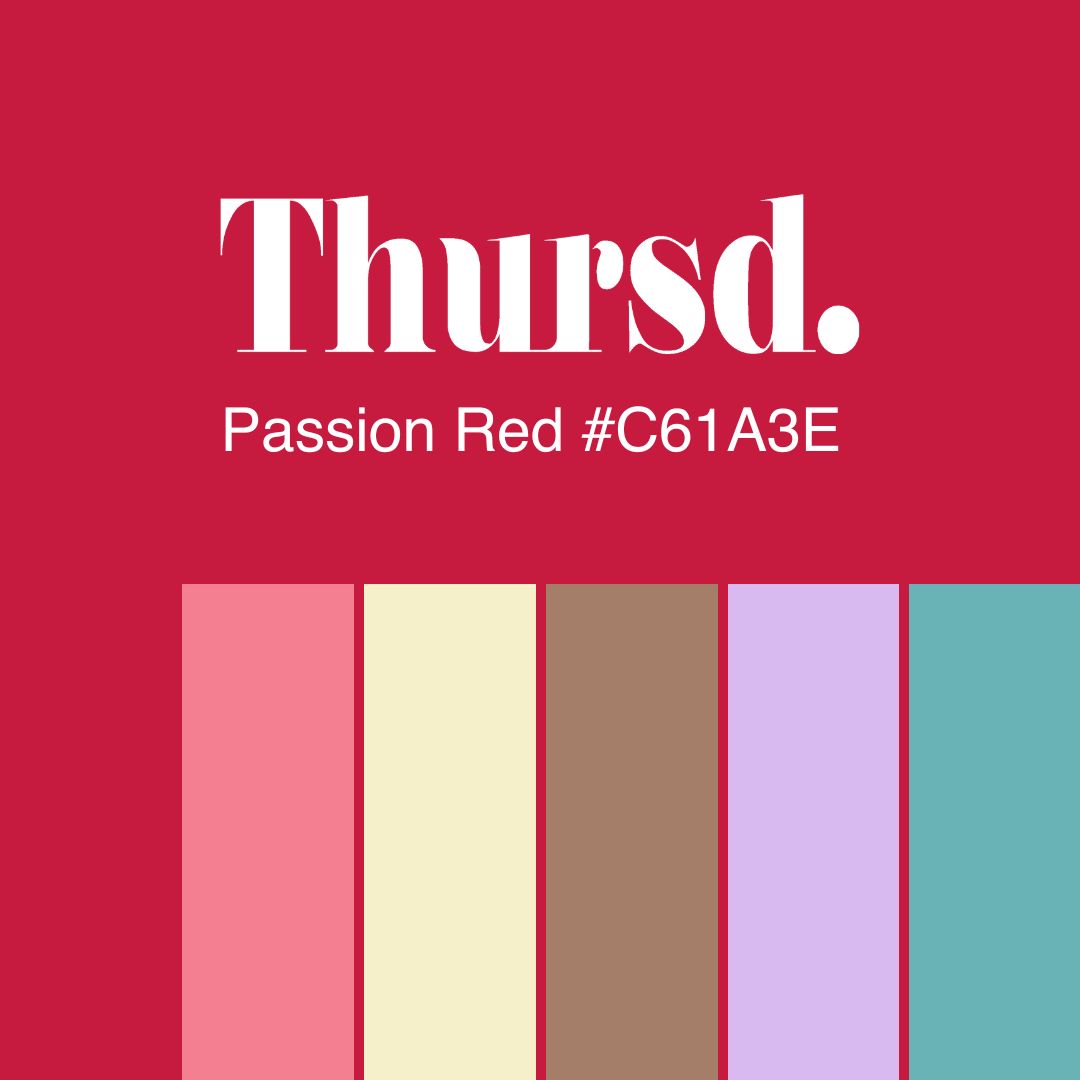 With This Trend Color of the Year 2023 Thursd Creates Awareness
The strong Thursd brand uses its power to create awareness for passion! It's what we need to make our floricultural industry as strong as a rock for the future. Passion Red is Thursd's Floral Trend Color of the Year 2023 and will unite and share flower love over the whole world.
Like the Scorched Earth Floral Trend Color 2021 created awareness for sustainability, the Genuine Pink Floral Trend Color of the Year 2022 for community and building bridges, this Trend Color of the Year 2023 will create awareness for passion. Throughout the whole floral industry chain, one needs passion to work with flowers. And we need passion to talk about it and bring all those flowers into our world. In the color palette, you see besides the flowers also sand and water. May we all work together with a passion for helping our soil to stay as fruitful as possible and our oceans to keep clean.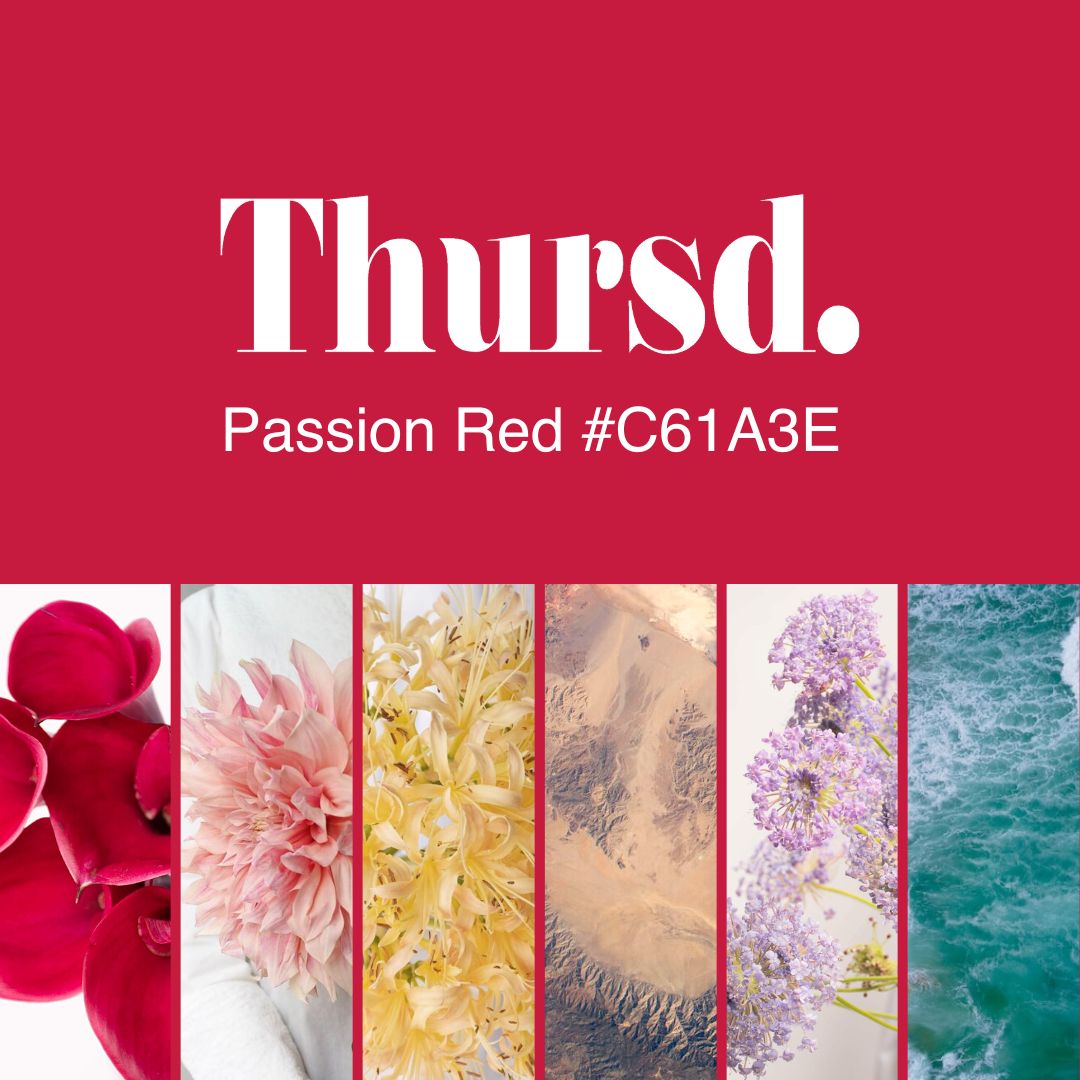 Remember to Use the #thursdtrendcolor2023 #thursdpassionred #trendcolor2023 Tags
With only two months remaining in 2022, we can't wait for what 2023 will bring to the flower industry, especially when we see the passionate red color coming in strong. Make sure to get ready to keep us company in 2023 when the Thursd Floral Trend Color comes along, and remember to share any post or story with #thursdtrendcolor2023 #passionredthursd #trendcolor2023 hashtags. The steps we all take towards a difference, are those that matter. Let's passionately bloom together on social media, and bring more positive energy, and meaningful connections to our lives through the voice and creativity of the floral industry.
Ready to live 2023 full of a deep passion to accomplish your biggest and wildest floral dreams? Because we sure are!