In the world of flowers, a gentle change is taking place. Not all changes are permanent, some are returning (like wedding and event work - which we have had to miss recently). But the palette is changing, and the question arises: is the flower business still as strong as pre-Corona?
Marginpar's Top 10 Floral Trends 2022
In some countries, domestic consumption has actually increased, due to the simple explanation that people are spending more time at home. Furthermore, we see that highly qualified, artistic florists are increasingly distinguishing themselves from the traditional flower stalls. Concepts with 'a bit of everything' are fading. More 'workroom' concepts are emerging. At the same time, it is a challenge to keep shops at prime locations in the city. This Floral Trends 2022 top 10 by Marginpar created in collaboration with Gregor Lersch has been designed for florists but is also interesting for buyers and distributors. An interplay with trends from the interior field, looking at colors, textures, images, shapes, and craftsmanship. "It is not a must, but I see the special, extraordinary flowers as being eminently suitable for artistic flower design. These very delicate and graceful flowers are most beautiful in the hands of professionals," says Gregor Lersch.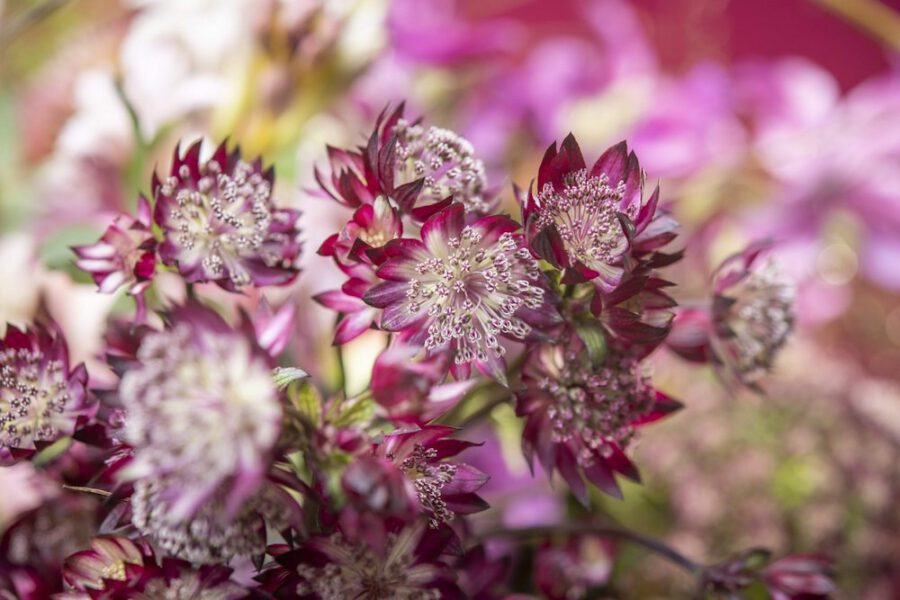 Top 10 Floral trends 2022:
1. Wild love
2. Bouquet goes interior
3. The art of organic floristry
4. Flowers arranged around themselves
5. Blooming everywhere
6. Room-changing beauties
7. Fresh vs. dried
8. Straw
9. Bundled power
10. A game of colors
1. Wild Love - Bouquets With a Natural Spontaneous Appeal
The bouquet seems almost self-made, but on closer inspection, it has a high level of sophistication. A spontaneous whole, which some might see as 'unfinished', but the expression is very natural, organic, and lasting. The creator feels nothing for conventions, rules, and does not allow himself to be limited. Wild vines flatter themselves between groups of blossoms and grasses. Even a piece of a loose branch can hold the searching eye for a moment. Little flowers flow and dance. The handle of the bouquet disappears under the falling lines and vines. To create this, you need high discipline, to let the many graceful flowers and delicate stems reach the water source without stress.
"The soul explodes in the enthusiasm for summer flowers."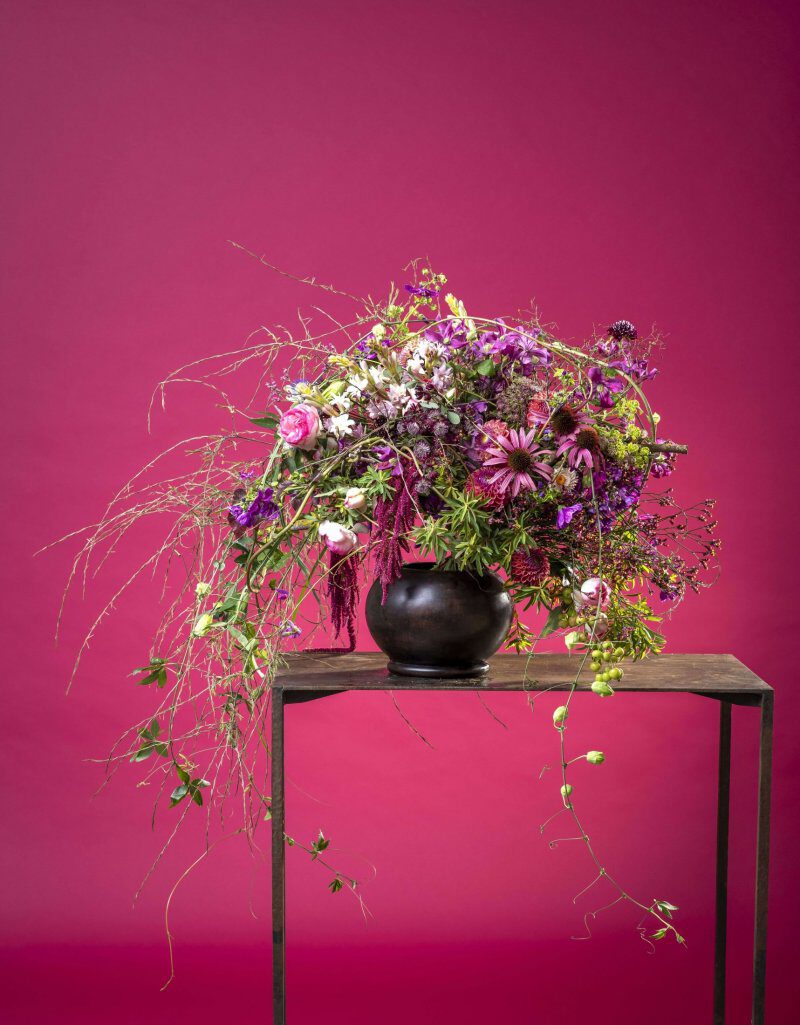 The 'wild love' bouquet does not scream out 'you must be mine'. No, it comes with a certain opulence. It does not reach the heart but goes to the soul. Standing in glass or ceramic, in metal or hardwood. This bouquet goes from hand to hand and must be able to speak. There are summer beauties available all year round to make this bouquet, but don't forget to look for some wild addition from nature around you. These little extras may give a whimsical touch.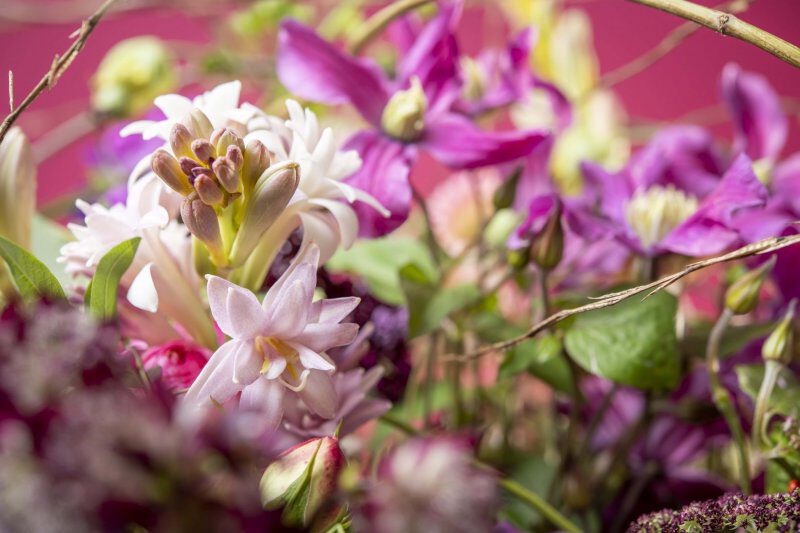 About the Design
The base is a horizontally held, green lichen-covered branch, drilled on a willow stick and pushed into this wooden, pure organic base. On this wooden base are some leafless hop vines, also as a technical medium, to hold the flowers. The bouquet has no wires. The flowers flow inside, going up and down, forwards, and backward. The shape ends in an oval.
2. Bouquet Goes Interior - Temporary Interior Elements
The opposite of the hand-tied bouquet is this one, the one that sets the mood in a room. There are many possible forms; the interior bouquet is more stylized and follows the parameters of the environment. A bouquet such as this shows itself in its totality: the stems are clearly visible as well. This trend is marked by the harmony between bouquet and water supply. The container is often a flat plate with a lower water level if the thirstiness of the flowers allows it. Some 'swimming' leaves or petals can be added to the water.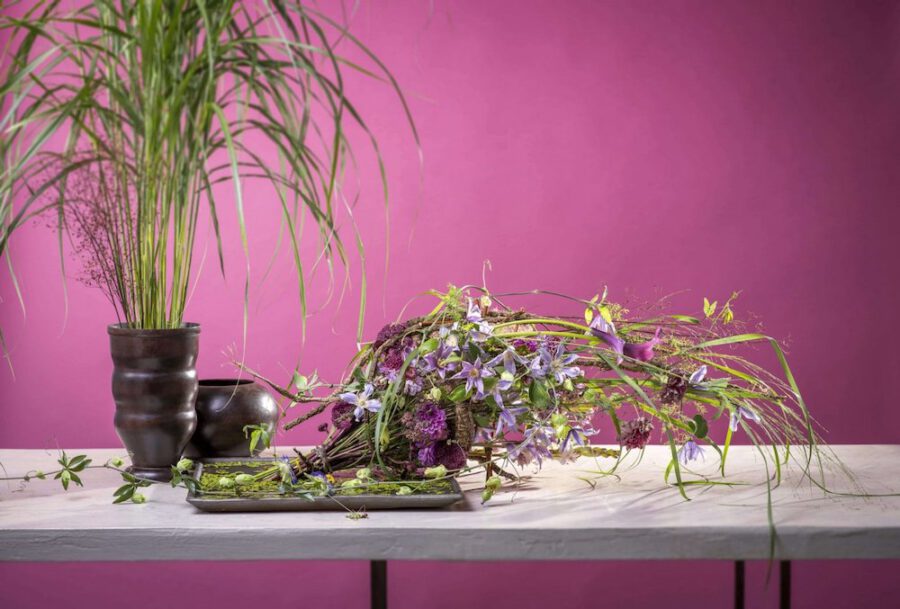 Almost all flower styles and positions are possible: standing at the edge of a table, flowing downwards, erect with a few vines, armed with grasses or flowering tendrils to the floor, upright, horizontal as table decoration, restrained lushly or even cool and modern. Grasses, leaves, and vines are useful in this trend.
"When someone enters the room they feel the attraction, the special sight of an uncommon design."
'Bouquet goes interior' is a challenge, a reason to keep practicing and studying. This trend requires knowledge of botany: which flowers are suitable - looking at shape and character, creating enough diversity, etc. It is part of our identity as 'people of the green professions'. It is becoming more and more important to know the names and uniqueness of our floral friends.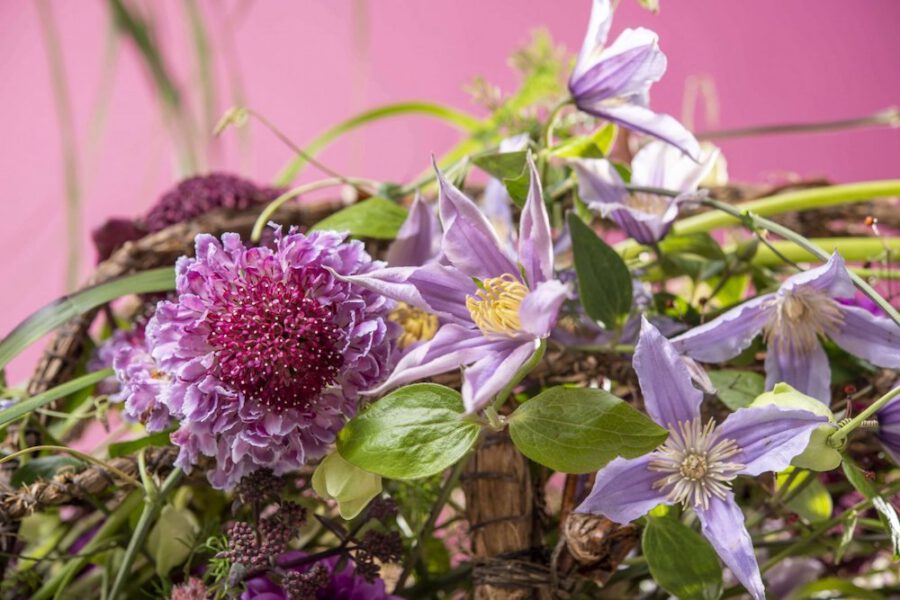 About the Design
A stretched table decoration in the shape of a drop: long and pointed. The structure is made of willow twigs, covered with Clematis bark, and wrapped in a durable wax cord. The Clematis and Scabiosa in the foreground dominate. The binding ends in a point in such a way that only the slanting cut stems are under the water level. This technique is not suitable for all types of flowers; you really have to be skilled at it to be able to work in this way. The binding point is clearly not a spiral, which is unusual. This style of the bouquet - free-standing, lying, or leaning - is not made for handing out as a gift, but really for interior decoration.
3. The Art of Organic Floristry - Floral Compositions of the Sustainable Kind
The works in the floral scene are becoming more and more sustainable. Where previously artificial decorative items were chosen (which will still be in a landfill in another 100 years), our trade is now starting to feel the responsibility for nature and climate. The choice of natural color and shape elements is so enormous that it is no longer necessary to reach for something artificial.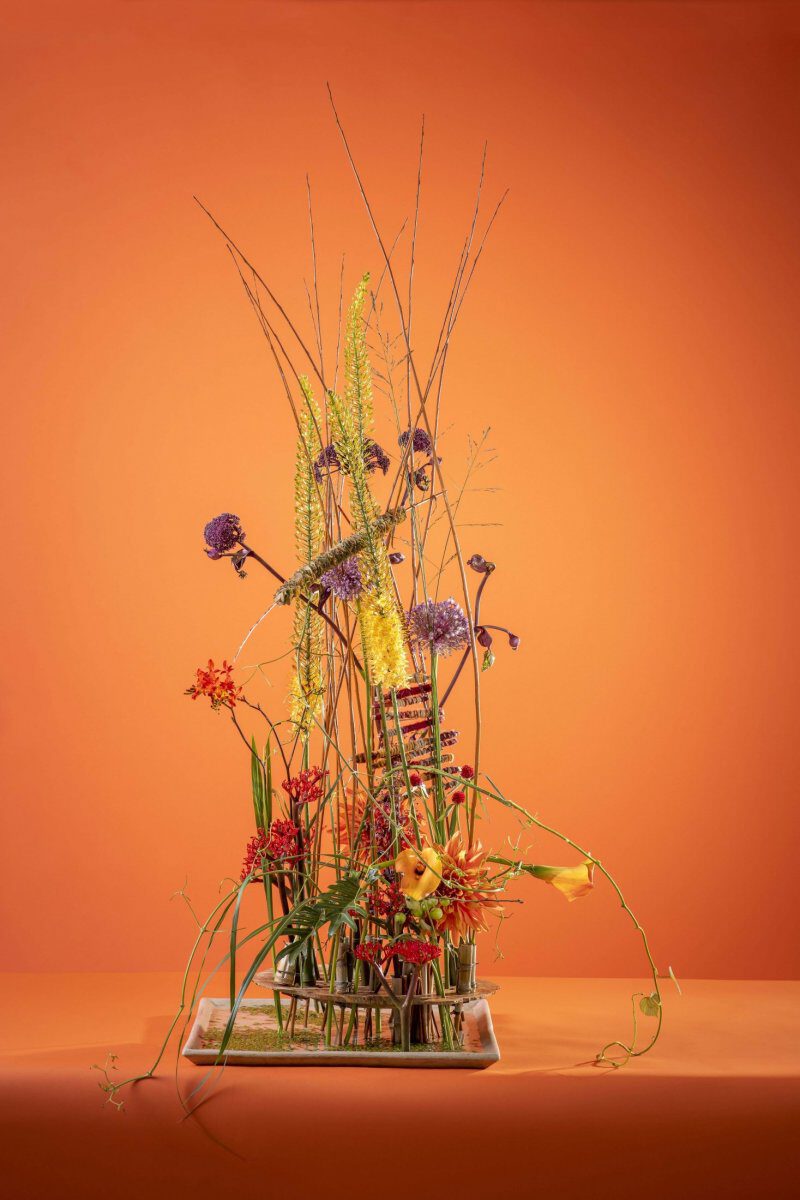 Works are becoming 100% sustainable and compostable. This really doesn't have to come at the expense of creativity. Although it does sound a little funny when we say that with this trend 'florists design for the trash can'. The flowers used in this context have innocent 'garden faces'. Small, nodding their heads, building communities, or looking proudly ahead, seeking attention. The structures are made of pure plant material, standing in water. No glue, paint, wires, or plastic... the key is creativity. Because of this, the chance for innovation is high, works in this trend are often surprising. The pieces can be classical, decorative, but also modern and very asymmetrical. Think also of mono; in form or monochromatic shades.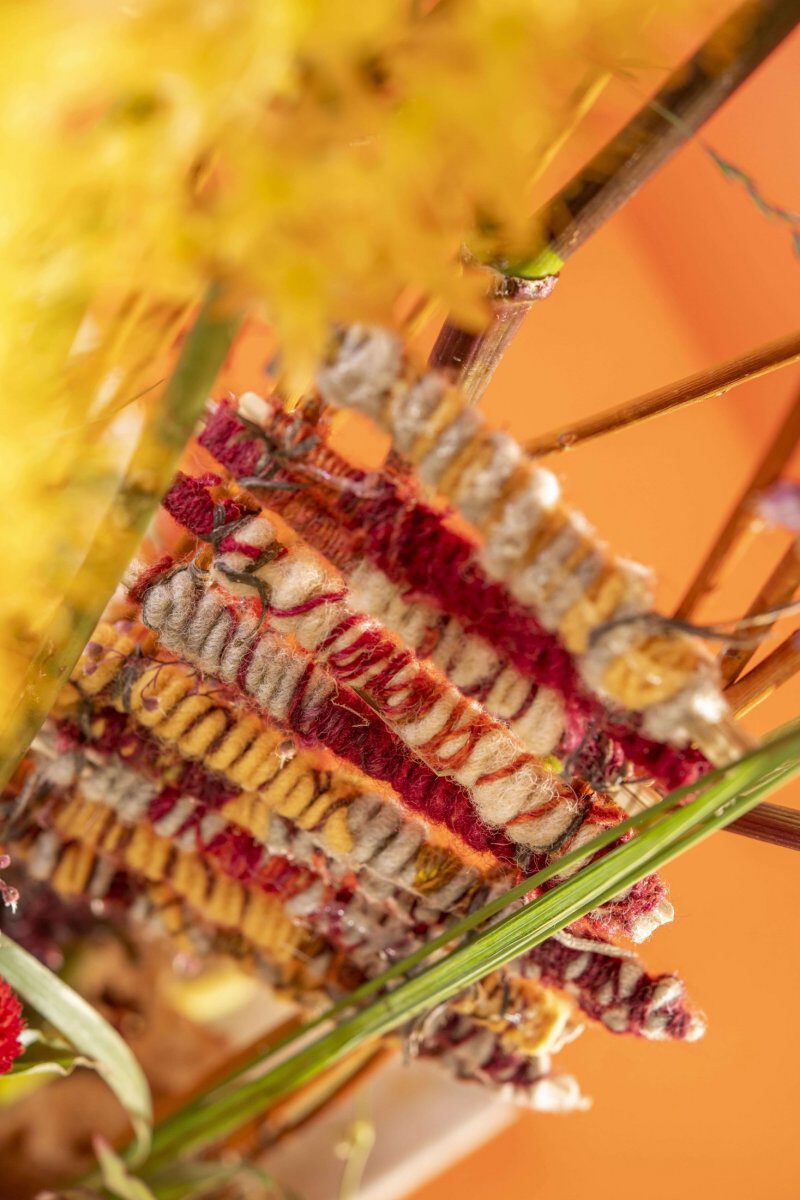 About the Design
In this organic work, the flowers are placed through drilled holes in a disc. The disc stands on long willow poles, which have a bound cross under the wooden base. It is fastened with a wax cord. There are also a few tubes of bamboo placed on the disc, tied to the willow sticks. Flowers can be placed in the basin in which the work is placed. The less sensitive flowers can be put in the tubes. The Jatropha flowers, for example, keep very well there. There are straight upright flowers like the Eremurus and the taller Alliums, the vine of a Kiwi plant, and Crocosmias. More floral trends for 2022 on the Marginpar website.
Top 10 Floral trends 2022:
1. Wild love
2. Bouquet goes interior
3. The art of organic floristry
4. Flowers arranged around themselves
5. Blooming everywhere 6. Room-changing beauties
7. Fresh vs. dried
8. Straw
9. Bundled power
10. A game of colors
Contact Marginpar
For more information, questions or requests, do not hesitate to contact us.
Visiting address:
Legmeerdijk 289
1432 KC Aalsmeer
Netherlands
Phone: +31 (0)20 453 64 07
Fax: +31 (0)20 453 64 06