Grand Rapids, MI, August 24, 2021 – "This is exactly what I had hoped would happen – that people would not only watch the show but be motivated to try arranging flowers – and experience the benefits themselves," says J Schwanke, host and creator of the television show "Life in Bloom," seen nationwide on public television stations (PBS).
Make People Comfortable With Flowers
"My initial goal was to make people comfortable with flowers," J continued. "I wanted to remove the intimidation factor. Have you ever noticed when someone gives a bouquet - like a hostess gift - neither the gifter nor the recipient wants to arrange them. They love the flowers, but are afraid they won't place them in the vase correctly." J shows viewers simple techniques that lead to success.

Connecting the Dots
"Remember, the only person you really need to please is yourself, so give it a try!" J noted. "And judging by the response to the show and the dramatic uptick in flower sales, viewers are succeeding!" "I'm thrilled to receive personal notes, and comments from viewers via e-mail and social media," enthuses J. "The show is really connecting the dots for viewers and they are sharing their experiences of arranging flowers and enjoying the experience." "These messages are inspiring for me. Including one, that was a beautiful hand-written note in the mail – yes, snail mail – inside a lovely card from a viewer in Colorado," recounts J.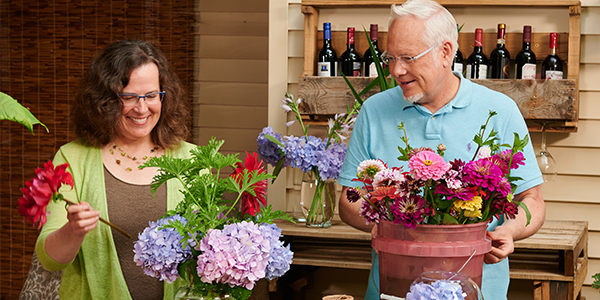 Viewers Share
Susan P. wrote, "I've learned so much about incorporating plants and flowers into nearly every aspect of my life, my garden, my gifts, and my lifestyle. It's become part of how I see myself now in nature." Another viewer, Lisa K., shared the following, "I'm kind of smitten with the idea of having little arrangements around my home to remind me that I deserve a little extravagance and frivolity in my life, and I don't have to have loads of money to acquire it." "Shortly, viewers started sending in pictures of flowers they had arranged themselves," J notes, "it's wonderful, not only that they are discovering the power of flowers first-hand - which is so important, but that they take the time to share what they have created with me. I am so grateful."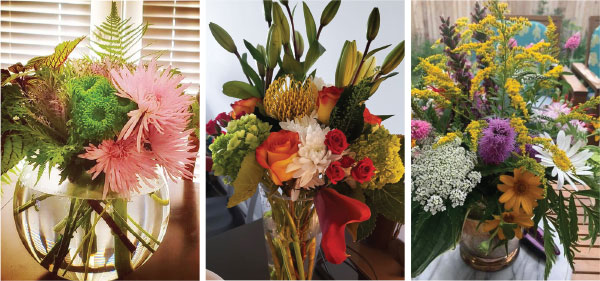 From Virginia K. in South Carolina, "I love your style of floral arranging and have learned soooo much. I've attached a photo of my latest. My husband said 'J would be proud!'" Jackie B. from Long Island New York shares the following, along with her photo, "My supermarket bouquet had a Protea! I was so excited when I saw these. I added the Lilies." A couple of weeks later Jackie B. followed up with, "Here is this week's supermarket arrangement. I buy two different bouquets and mix them together. finally some Snapdragons! I tucked some of the large carnations deeper. Stay tuned!" including another picture. Tennessee viewer Carol D. writes, "I recently applied skills you taught me to purchase grocery store flowers, prepare and arrange them. I was very pleased with the results. Many thanks, and keep up the good work." Some viewers have likened J to PBS icon Mr. Rogers and referred to J as "the Bob Ross" of flowers. "Those are amazing compliments. To be mentioned in the same breath with such legends of kindness is humbling, without a doubt," says J.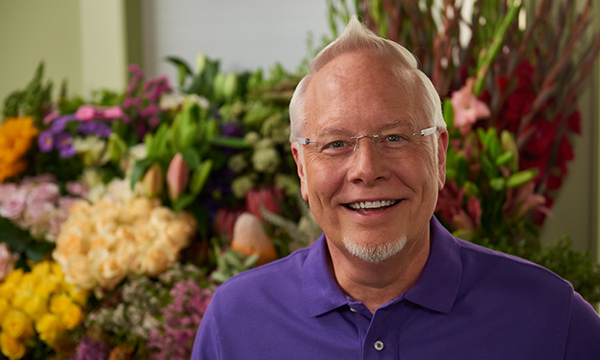 "I Am Humbled"
"While such comparisons are almost surreal, the notes and pictures of viewer-made arrangements are very real and so inspiring for me," says J. "However there are also viewer messages that really reflect the true power of flowers. I am humbled that they would share their personal challenges, and I am gratified that they discovered that flowers could make such a difference in their lives." Along with a steady stream of pictures of her arrangements, Claudia D. from Colorado has shared, "I do know for sure, I would LOVE to share my story of how I found you on TV during some of my darkest and scariest days. I can't thank you enough for helping me through those times." "It's not me, it's the flowers," J asserts.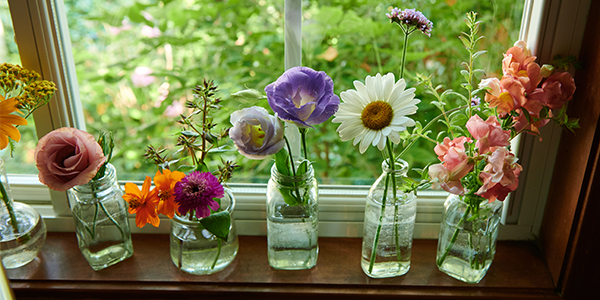 J Schwanke's Life in Bloom 
is still accepting underwriters for Season 4, which debuts nationwide in the U.S. in April of 2022. Inquiries and input about the show are always welcome at:
[email protected]
.
----
J Schwanke's Life in Bloom is presented and distributed by American Public Television. Check local public television listings to find out when J Schwanke's Life in Bloom airs in your area. The show is also available to stream for free via www.uBloom.com/LifeInBloom and the PBS App.