There are many reasons to visit India, but some of them are especially great for us outdoor nature lovers. India is a country of rich heritage and countless attractions. It's no wonder the country is among the most popular tourist destinations in the world. From the breathtaking mountains to ancient structures, to the beautiful sea, there are many reasons why people are drawn to visit the country. But did you know there are some incredible places in India that glow in the dark?
Visit These Incredible Places in India That Glow in the Dark
Mother Nature has blessed us with wondrous things that we can hardly begin to comprehend, and one such phenomenon is bioluminescence! If you don't know what that means, Bioluminescence is the emission of light by bacteria, fungi, algae, insects, and aquatic animals such as jellyfish. In nature, we observe bioluminescence in marine waters and forests; but you don't have to travel to an exotic foreign land to witness this. Here's a list of travel destinations in India that give you stunning bioluminescent/glow-in-the-dark views!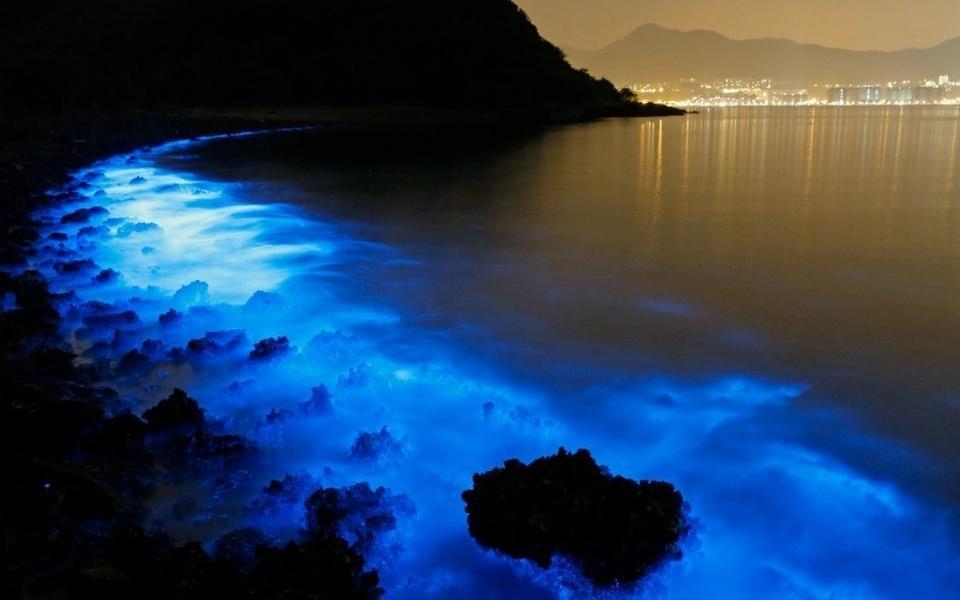 Purushwadi Forest In Maharashtra
This tribal village of Maharashtra attracts a large number of visitors during summers. You will be surprised to know the reason for the large number of tourists, and those are millions of fireflies. Moonless night, a beautiful forest, and thousand of fireflies that lit up the forest is a dream come true. If you visit this place during May and June, you will witness the mesmerizing scene of dotted trees with these fireflies. A firefly festival is celebrated in this region. Trackers visit this spot to watch the fireflies in all their glory.
Bangaram Island In Lakshadweep
A tiny tear-shaped island covered with palm trees and surrounded by serene blue waters; Bangaram Island is a part of the Lakshadweep cluster of islands. Pristine beaches, water sports, dining by the beach; if this doesn't sound perfect already, wait, there's more! The most exciting part about this island is the bluish-white glow the waters start emitting come nightfall. The waves sweeping up the shore glow with an iridescent bluish light as a result of the phytoplankton, algae and other aquatic creatures such as jellyfish in the waters. And it is a vision to behold!
West Jaintia Hills, Meghalaya
When researchers from China and India went to West Jaintia Hills District in Meghalaya, after hearing about 'electric mushrooms', they were not expecting what was in store for them. After reaching there, they were asked to switch off their torches by the local guide, and that is when they witnessed the magic. The researchers couldn't believe their eyes; they saw tiny mushrooms emitting light on their own. Here, the locals use these mushrooms to navigate the forests. Tests revealed that these electric mushrooms are a new species from the genus Roridomyces.
Ahupe Village in Maharashtra
Ever visited the Western Ghats during monsoon season? The misty weather coupled with the fresh smell of nature is an invitation few travelers can deny. One of the places you should definitely visit is the small tribal village called Ahupe near the Bhimashankar Wildlife Reserve in Maharashtra. During monsoon, the forest lights up due to a bacterium called Mycena. This bacterium has a unique ability to light up when they are present near a huge amount of moisture in the air. You should definitely visit the tiny tribal village of Ahupe to see the forests glow in the Bhimashankar Wildlife Reserve, particularly during the monsoon. Also, fireflies too, offer another invitation for you to visit and you can try out the night trek to Bhandardara, Rajmachi Fort to find fireflies putting up the best light show!
Betalbatim Beach In Goa
If Goa is your favorite holiday destination just like us, then you're in for a treat! Adding something extra to the copious natural beauty of Goa is this glow-in-the-dark beach. The Betalbatim beach located in South Goa also witnesses gorgeous blue bioluminescence in its waters just like Lakshadweep. The Betalbatim Beach has pristine white sands, is ideal for watching sunsets and dolphin spotting. So drop the Baga and Calgunte for a change and you know where you're going on your next Goa trip!
Mhadei Wildlife Sanctuary In Goa
You can find glowing mushrooms in the forest trails of Mhadei Wildlife Sanctuary. This reserve is a paradise for wildlife lovers, from Bengal tigers and Black Panthers to parakeets and flycatchers. During monsoon, this forest also becomes home to glow-in-the-dark Mycena mushrooms. A green landscape covered with glowing mushrooms.