The idea is still vague in Colombian artist Doris Salcedo's enormous work titled 'Uprooted'. Salcedo is renowned for her sculptures and installations that feature commonplace, home items like clothing or furniture. On this occasion, she has created a house made from hundreds of trees that are morphed into an impenetrable thicket. Check it out!
Doris Salcedo's Uprooted Project
'Uprooted' is a sculptural installation created by Doris Salcedo, a Colombian artist known for her large-scale installations that explore themes of memory, loss, and displacement. The installation was first exhibited at the Tate Modern in London in 1998 and has since been displayed in other galleries around the world.
The art piece consists of several hundred chairs that have been bisected and then reassembled with their legs pointing upward as if they have been uprooted from the ground. The chairs are arranged in a grid pattern across the gallery floor, creating a powerful and unsettling visual effect.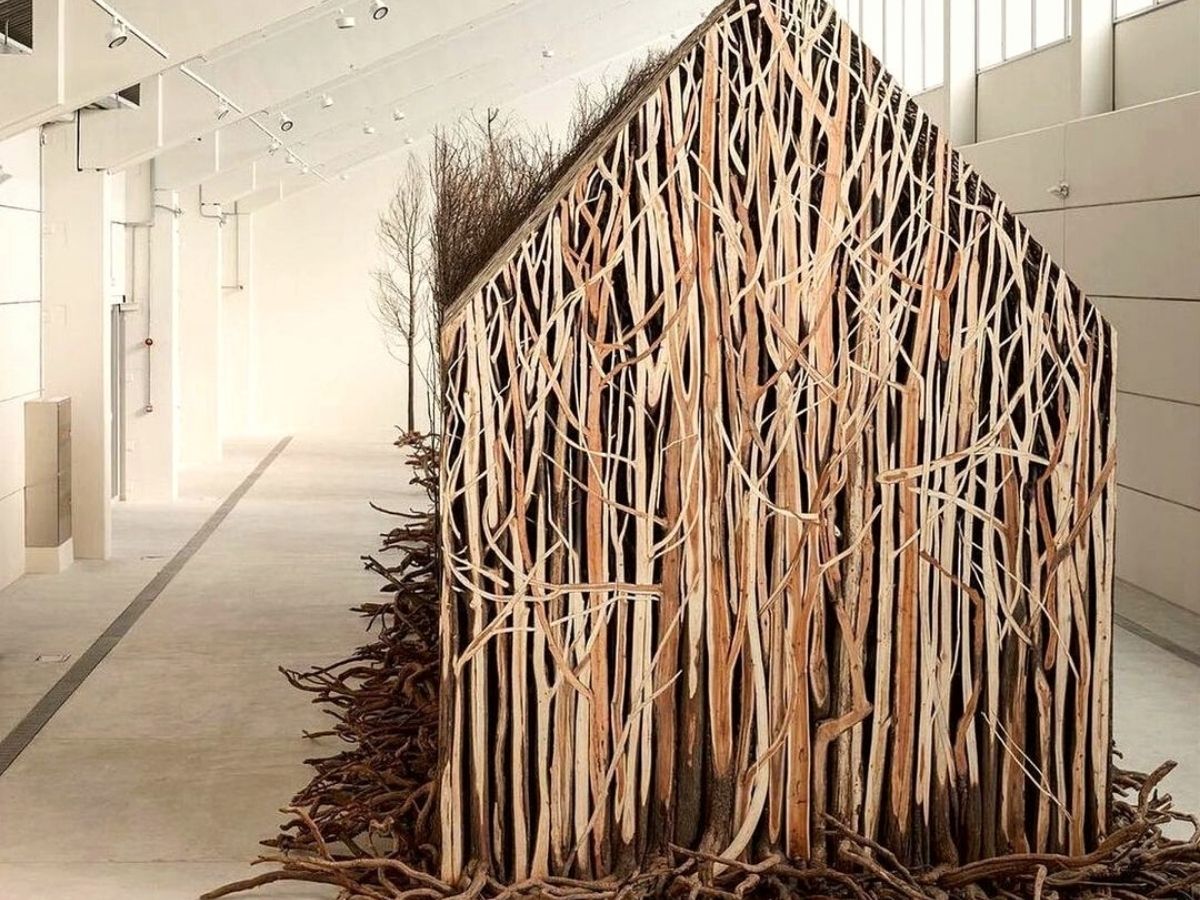 Through Uprooted, Salcedo seeks to create a metaphor for the displacement and uprooting of people in situations of conflict and violence. By transforming the familiar object of a chair into a disorienting and uncomfortable form, Salcedo evokes the feelings of dislocation and disruption experienced by those who have been forced to flee their homes.
Doris Salcedo Is Well-Known for Her Stupendous Installations
Salcedo is known for sculptures and installations that incorporate quotidian, domestic objects like tables or garments. Her practice often takes historical events as a starting point, focusing on the effects of major political actions on people's everyday mental and emotional experiences.
Salcedo previously cataclysmically broke Turbine Hall's floor in London's Tate Modern and slid more than 1,500 chairs between two buildings in Istanbul to address displacement brought on by war. What she looks for is to convey burdens and tensions with exact and efficient means through her artwork.
In Uprooted, the theme of migration continues in the form of hundreds of dead trees that have been shaped into the recognizable silhouette of a house, its meticulously constructed walls, and pitched roof gradually morphing into a thicket.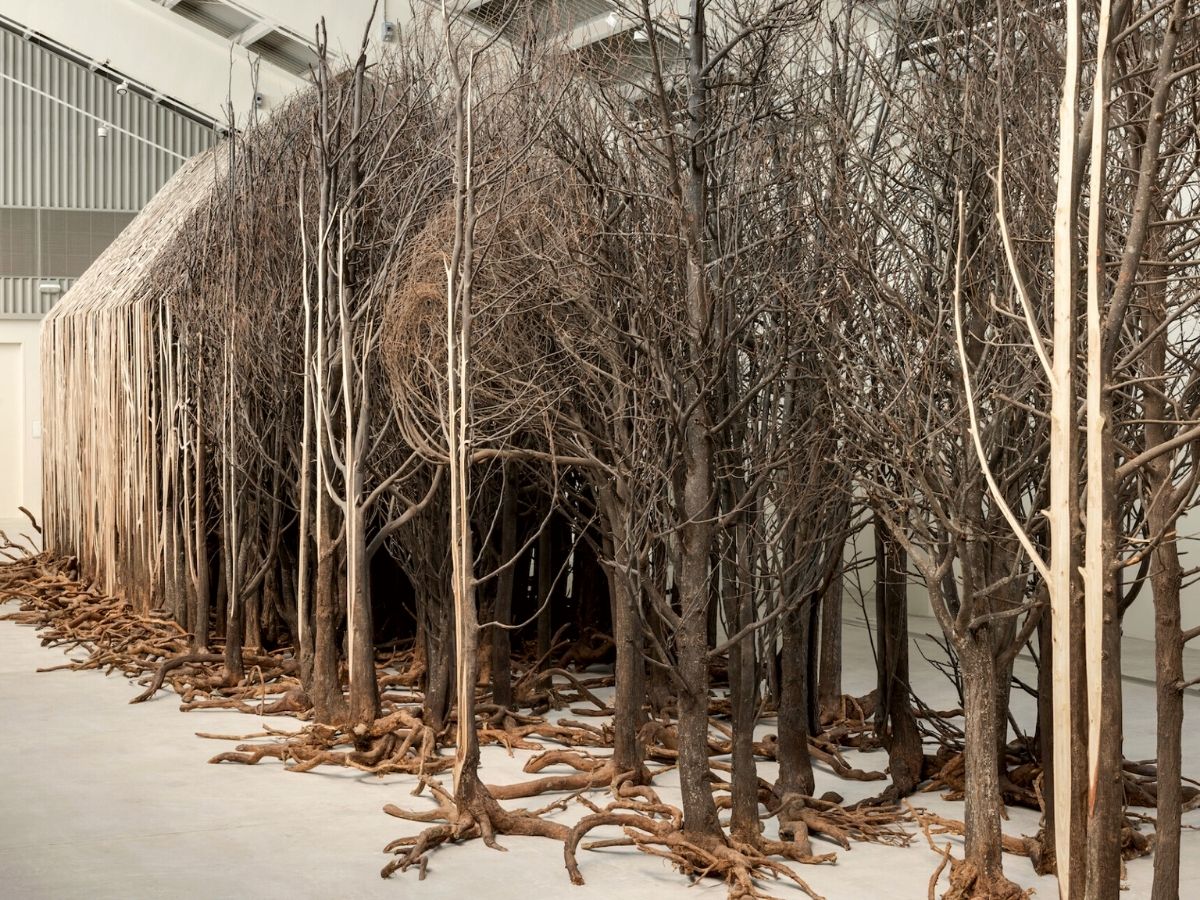 The installation also speaks to broader themes of power and oppression, as the chairs are rendered useless and unusable in their new form, symbolizing the destruction of communities and the stripping away of individual agency. Overall, the project by Doris Salcedo is a powerful and thought-provoking work that encourages viewers to contemplate the complex and often devastating consequences of conflict and displacement.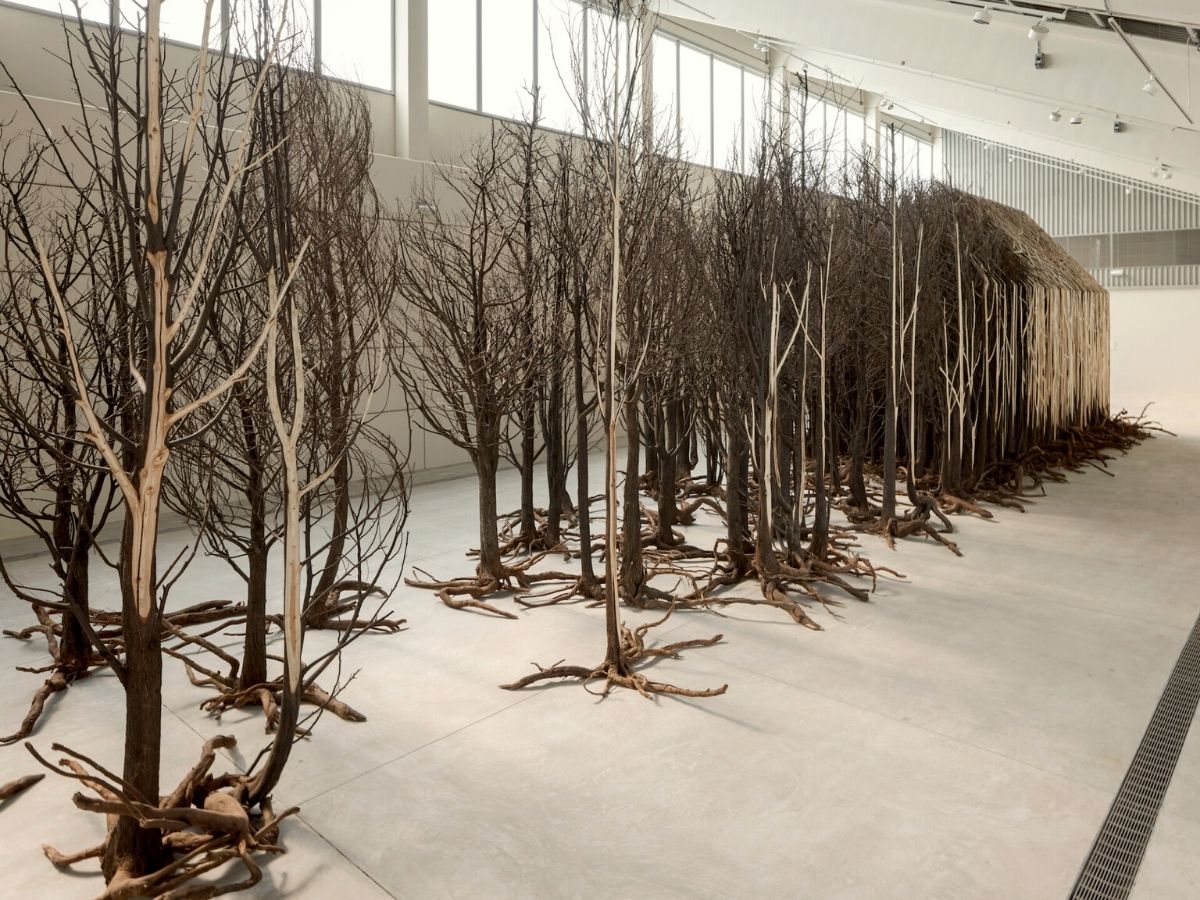 More About the Artist
Doris Salcedo was born in 1958 in Bogotá, where she continues to live and work. Salcedo studied fine arts at the Universidad de Bogotá Jorge Tadeo Lozano in 1980 focusing on painting and theater before earning an MFA from New York University in 1984.
She was influenced by the work of Joseph Beuys and his notion of 'social sculpture', integrating political awareness with art making. Her work has been exhibited in major museums and galleries around the world, including the Tate Modern in London, the Museum of Modern Art in New York, and the Guggenheim Museum Bilbao.
In 1985, she returned to Bogotá where her first solo exhibition was mounted at the Casa de Moneda, Banco de la República, Bogotá in 1985. Interested in arts education, she worked as director of the Instituto de Bellas Artes in Cali from 1987–88 and taught sculpture and art theory at the Universidad Nacional de Colombia. Her first solo show in the US was held at Brooke Alexander Gallery, New York, in 1994.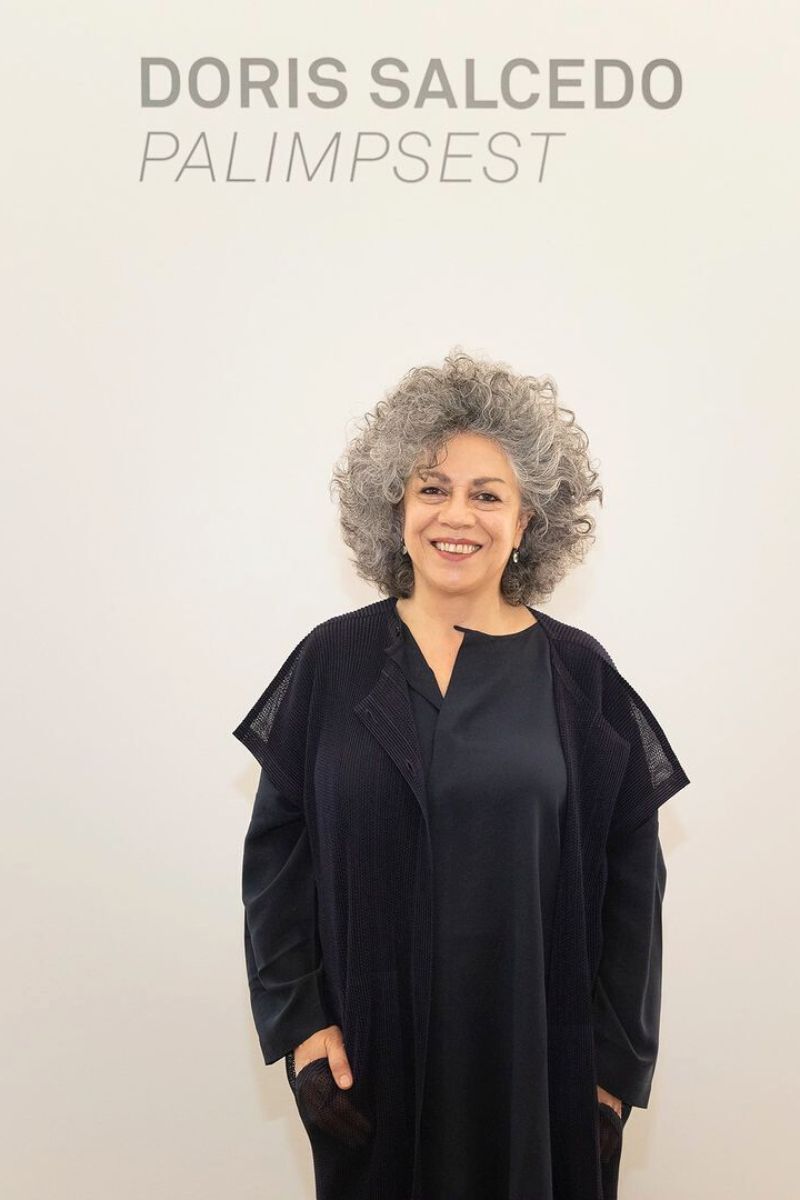 Doris is known for her large-scale sculptures and installations that explore themes of trauma, loss, and memory, often in the context of political violence and social injustice. Salcedo's work frequently incorporates everyday objects, such as furniture, clothing, and household items, which she transforms into powerful and thought-provoking pieces of art.

One of Salcedo's most famous installations is 'Shibboleth' (2007), a large crack in the floor of the Tate Modern's Turbine Hall that symbolized divisions in society such as racism and classism. Other notable works include 'Atrabiliarios' (1992-2004), a series of wall-mounted niches containing shoes belonging to victims of political violence, and 'Plegaria Muda' (2008-2010), a series of wooden tables stacked upon each other with layers of earth and grass in between, reflecting on the violence and loss experienced by marginalized communities.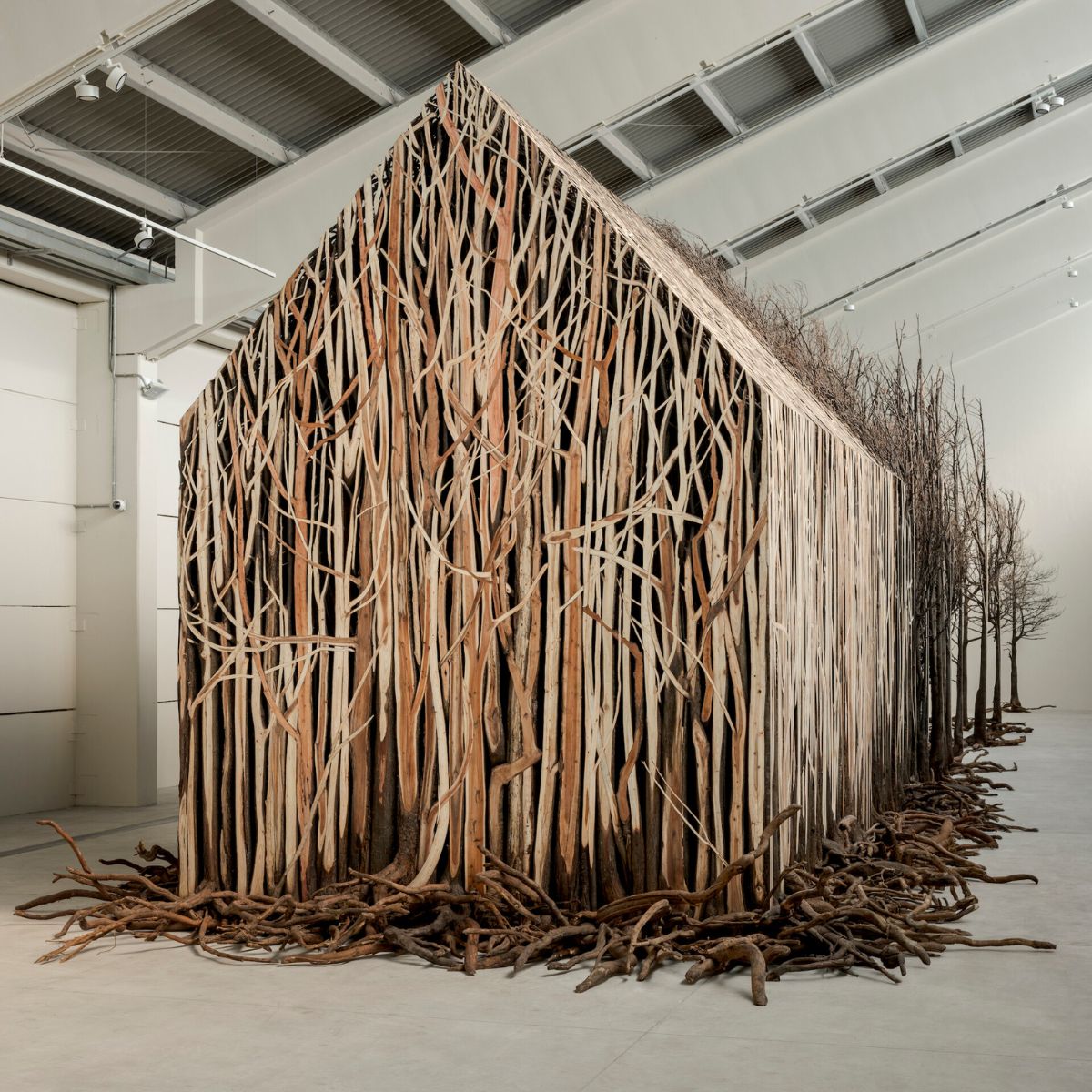 If you wish to know more about her and see how she has changed the perspective of many around the world, make sure to check her work out!
Photos by Doris Salcedo.