Great news! We completely digitalized our showroom and greenhouses that opened their doors in week 15 & week 24. Click on the banner below to
enter our virtual showroom
and walk around and enjoy the beautiful plants.
Make a Digital Appointment for a Virtual Flower Walk
If you like to virtually walk through our 3D trials in our greenhouse, please
send us an e-mail
. We will make a digital appointment and show you around.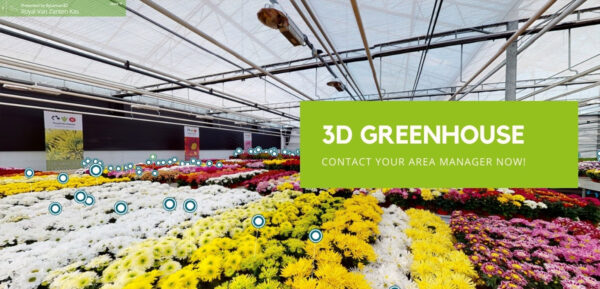 Tips for the Best 3D Experience
Did you know you can
visit the 3D showroom
on every device: laptop, tablet, and mobile phone?! Use your mouse (or fingers if you have a touchscreen) to: • use your scroll button to zoom in/zoom out • walk around (by clicking on the white circles) • click and drag the screen to turn and look around
Details
When you click on the round tags you'll find more detailed information. If a product picture is available it will show as well.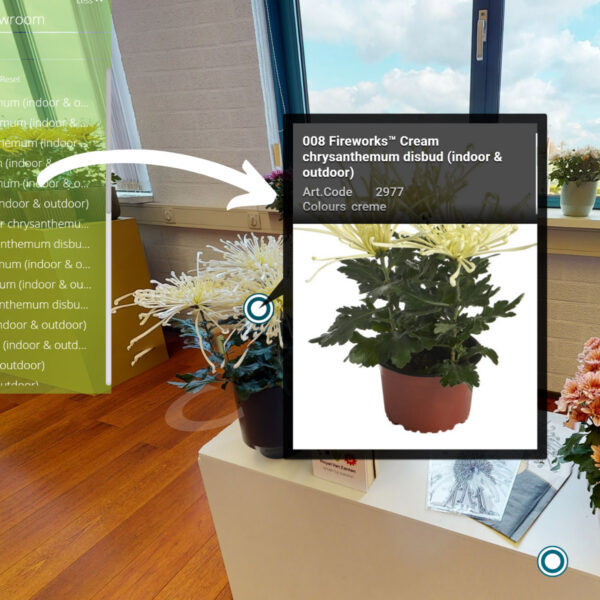 Search for products
On the top left, you'll see a green overview. You can collapse this field or use it to search for products. Click on the product you like and it will automatically take you to the right spot.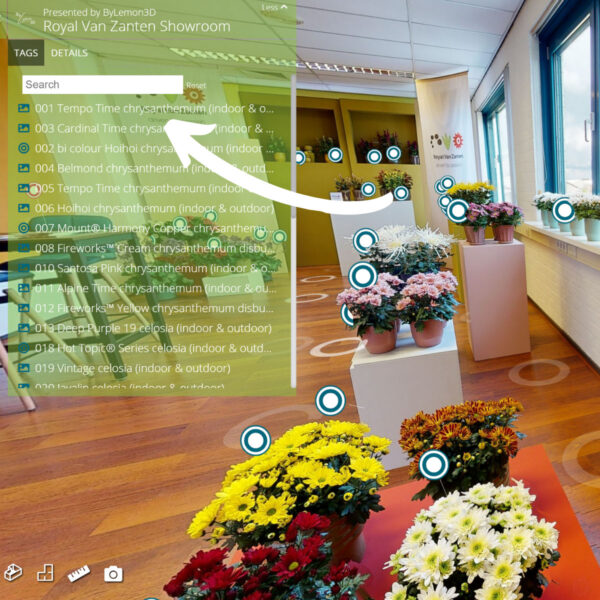 VR-glasses
If you are a real pro or gadget lover you maybe have google glasses or other VR glasses. In the corner on the right below, you can see an icon with glasses. Click this and you'll get the complete VR experience.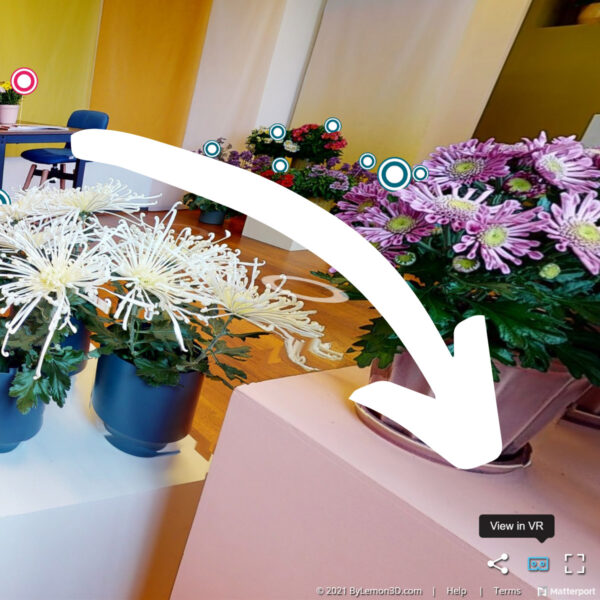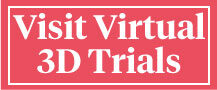 Meet Our New Plants for 2021/2022!
Our Area Export Managers Tjomme, Egbert and Nico are showing you our new plants and highlights for this year and next year. We made short videos of 30 and 60 seconds, so within a few minutes, you are up to date!
Our Sustainable Plant Picks
Plants are not only pretty to look at, but they contribute to a better and "greener" world. We selected our Colorita® series and our award-winning Salt Lake® for you. Watch the videos to learn more about these amazing and unique plants.
But There Is More!
During trial week 24 we are digitalizing our huge pop-up showroom. We expect to share this link on Thursday the 16th. You'll be able to walk around and: • check out our complete assortment on our plant tables inside • walk through our garden mum field outside • get inspired in our co-creation center • find all novelties in our innovation lab • and of course enjoy all our plant trend houses
Contact and Follow Royal Van Zanten
Like to order? Please ask your supplier or grower for our products. You can contact us for more information or if you love to work together with us. Royal Van Zanten's Market Manager Wouter Jongkind Email:
[email protected]
Instagram:
https://www.instagram.com/youngchildwj/
Royal Van Zanten's Area Export Manager cut flowers and pot plants Egbert Bok Email:
[email protected]