"Somewhere over the Rainbow, way up high. There's a flower that I have heard of once in a lullaby." This flower is called Chrysanthemum Chic Rainbow. Come along the yellow brick road and discover how Chic can be dyed in the craziest of colors.
Chrysanthemum Chic Rainbow
Chic is already a beautiful white spray chrysanthemum by herself. But watch her as she gets a chance to 'dress' for the occasion. Her strong petals are perfect for dyeing and will not shed, keeping the vase life to a maximum. White is always an excellent choice, but sometimes you want more color in your life. Chic can be dyed in the craziest of colors: from ton-sur-ton to a bright mix of rainbow colors. So forget about color conventions and expectations and play with colors. It is so much fun! Chic, a timeless beauty, and a strong fundament for versatility.
So the journey starts at the beginning of the Rainbow. This is where you'll find this pure white spray chrysanthemum Chic. You cannot help but notice her unique features, such as a fresh bright green center, strong petals that do not shed, and her long vase life and you are invited to test her excellent dyeability.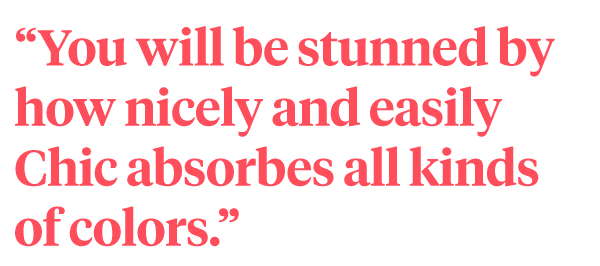 Along the journey to the end of this Rainbow, you will be stunned by how nicely and easily Chic absorbs all kinds of colors. It's child's play. Royal Van Zanten's youngest laboratory Wizard of Oz does some magic and there she is: Chic Rainbow.
They say that white contains all colors in our spectrum. That is what you discover when you see a pure white Chic at the end of the Rainbow: a marvelous, rich-colored chrysant.
Chrysant Chic is licensed by Dutch breeder Royal Van Zanten.