Every bride dreams and deserves to have a fairytale wedding but again, the pandemic changed everything. You can't do epic weddings with only 50 guests, but with the help of the venue, with a good wedding planner, and a powerful wish to live a dream, everything is possible. I am usually booked for an event one or two years ahead and when I signed this contract there was no pandemic. Yet it came, and we waited until the last moment hoping to be allowed to do it.
The Most Beautiful Pandemic Wedding I've Had in 2020 Was Split in Four
At that time (October 2020), the restriction was to have a maximum of 50 persons for one event but this family had lots of friends who wanted to join their wedding, so we split the guests into four groups in order to be safe and to respect the law. My Romanian company, Flori Cu Fitze, is always concerned about people's safety but because the venue had three event halls and one big terrace, we split the guest into groups of equal numbers and created different and spectacular flower arrangements using the same flowers and colors.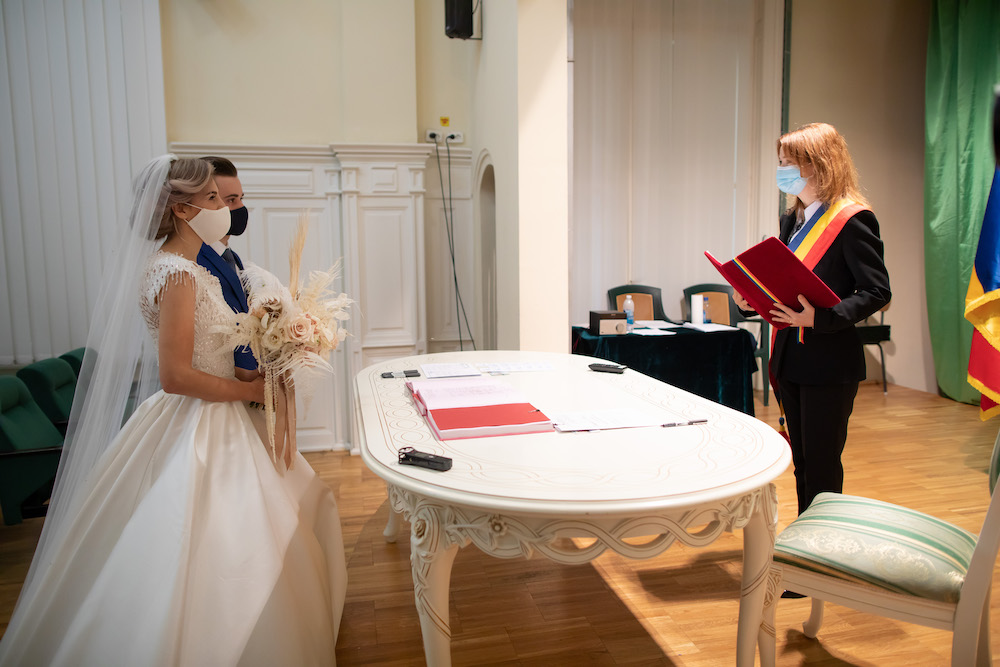 How We Brought it All Together
In the groom's hall and on the terrace, we had similar flower arrangements on each table. Then we had a smaller room where we made a huge design right in the middle and some tiny scented arrangements on the tables and in the last hall, and we made some beautiful lanterns centerpieces, with scented flowers and ambient lights that everybody loved.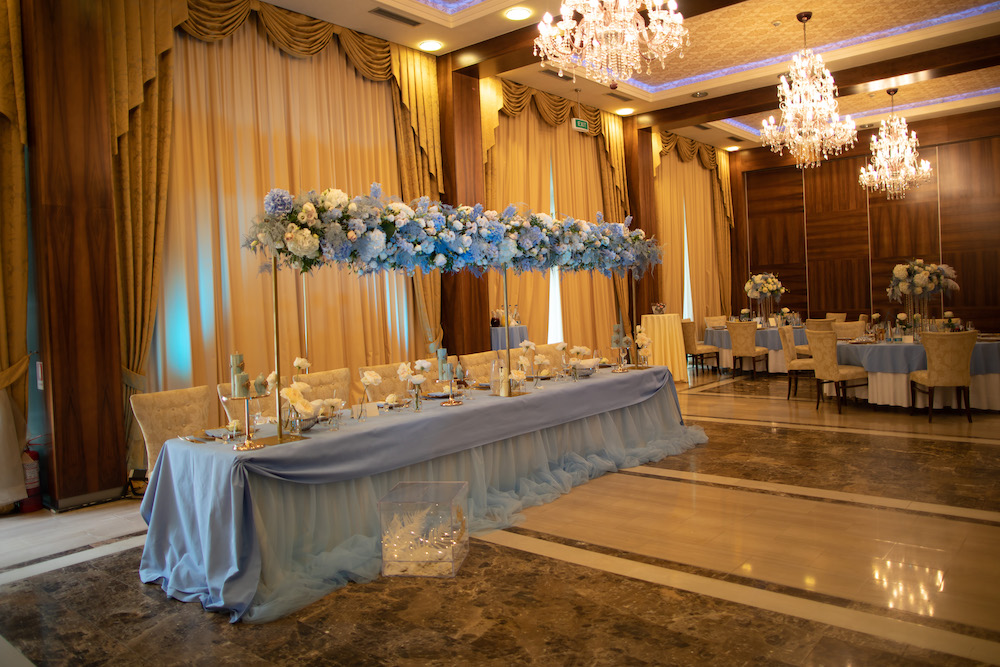 The bride wanted to combine light blue with white and ivory and I added scented garden roses to complete the designs in my way. We used white and light blue hydrangea from Colombia, light blue dyed asparagus from Mulder, White O' Hara roses and White Majolica roses from Parfum Flower Company, and Candlelight roses also from Colombia.
High-Class Weddings Like in Donald Trump's Hotels
The godmother of the bride lives in America and used to work in one of Donald Trump's hotels. She personally came to congratulate us, saying that she only saw this kind of flower arrangement in Donald Trump's Hotels, and she definitely was impressed by everything. It was a huge compliment that gave me an overwhelming feeling. From my point of view, the wedding was a huge success but seeing the bride's reaction when she first saw the flower arrangements? Absolutely priceless.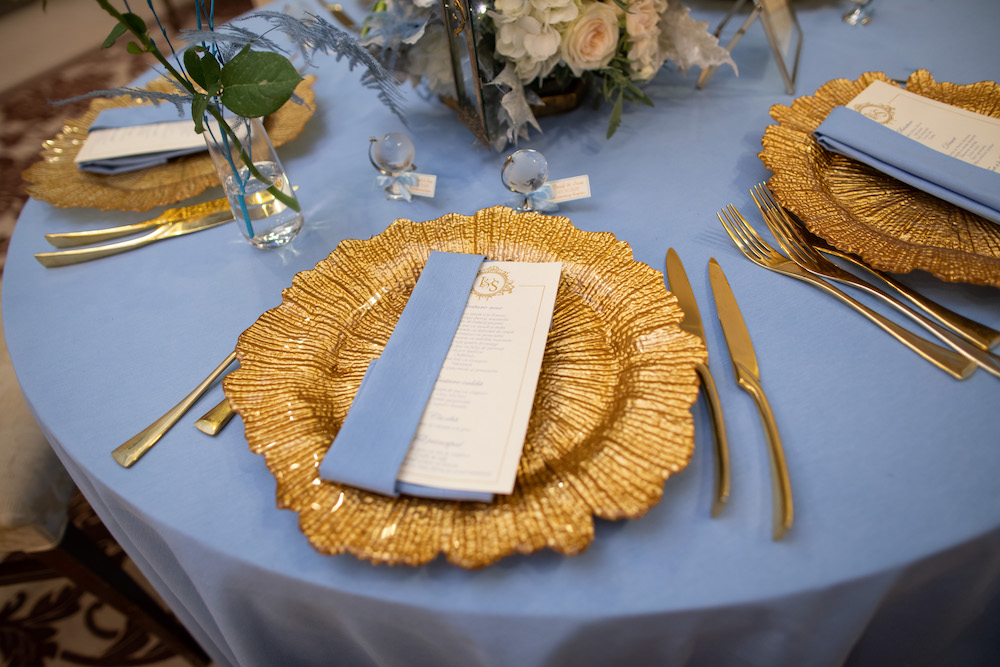 Designing Someone's Dream Wedding or Event
When I say yes to a new wedding project, I never really think about the money. It is not my main interest. All my focus goes into exceeding the client's expectations and designing their dream wedding or event. My favorite picture from this pandemic wedding is the one outside the church when the bride saw the designs of her dreams for the first time. Her bridal bouquet was beautiful, very Pinterest-like, and balanced perfectly with her dress and personality.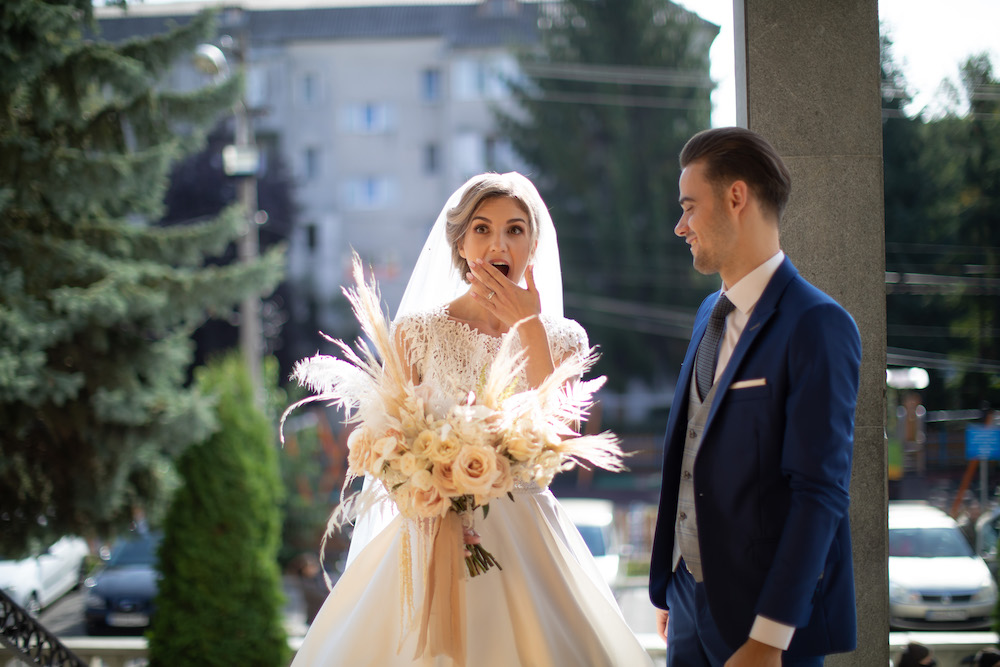 I don't know about you, but I made a promise to myself to only work with people who want the very best for their weddings and who allow me to properly transform a dream into a beautiful reality. Until next time! A warm hug from Alina Perfumella.