It is no secret that I love creating designs in unique places and spaces. My company, Garden and Grace Florals, has gained a reputation for the extreme environments in which we design. Whether it is in natural springs where the challenges include strong water currents, 68°F (20°C) water temperatures, and underwater caves below - or hanging installations, photoshoots on mountain tops, and in the rainforests of Costa Rica - the more unusual the challenge is from a mechanics-perspective, the more exciting it is to me.
My Love of Travel, Floral Artistry, and the Uniqueness of This World
Thinking about creating floral designs in unusual, sometimes extreme environments comes from a combination of my love of travel, floral artistry, and the uniqueness of this world. Why make an arrangement in a vase when you can take the whole design underwater, for example? It is certainly not easy and requires many hours of planning in advance, but my hope is that anyone reading this article could come away with some ideas to implement in their own life to spice up their floral designs. You may not need to create designs for photoshoots in the rainforest, but wowing guests at your child's next birthday party with some out-of-the-box flower installation? Just as much a win in my book!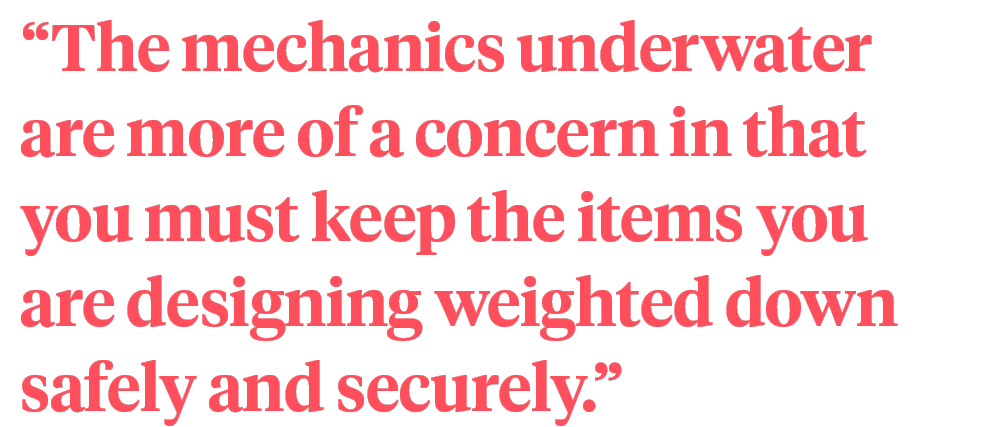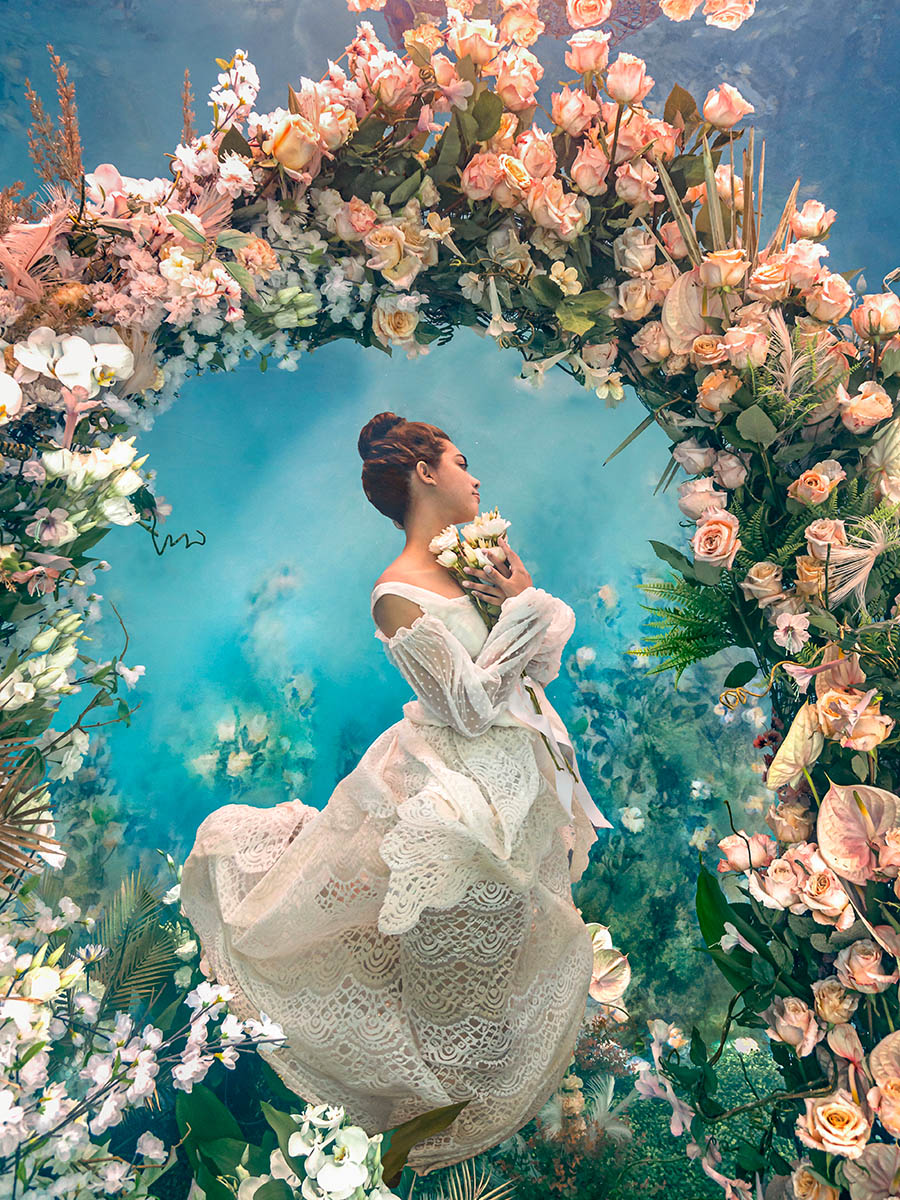 Considering Weather and Landscape
One of the first aspects to consider when creating floral designs in unique environments is the conditions that are outside of your control. Understand and study the type of area, landscape, and temperature you can expect during the project set-up. Even if you can't be in the space in advance, do your research. The Weather Channel and Google Maps are very helpful places to start. I've found that the easiest, initial prep work can really make or break the success of a project like this. So take the time to do your location research.
If you can, also assess the specific dimensions or area where your installation will be located. How high, deep, or wide must it be to fit into the landscape and ensure a seamless look amongst and within the environment itself? The more you can scale dimensions to fit a space, the better the overall design will look. For example, if you are planning to create a floral arch in a large, open field you will want to ensure that the arch is big enough to look substantial in a huge field with no other visual interest to draw the viewer's eye.
Stem Choice and Conditions
The next step in effectively planning an installation in a unique environment is to think about how the stems you're using will hold up in the space (and/or position) they are in. Ask yourself: do the stems do well out of water? Will they wilt as soon as they are cut? Be sure to keep this in mind and experiment with how long certain stems stay hydrated. When creating in unique spaces where I'm not sure how frequently an activation or installation will be watered, I consciously use flowers and greenery that I know are hardy and can withstand being without regular watering. Dried stems also work well if I can't water a design very frequently.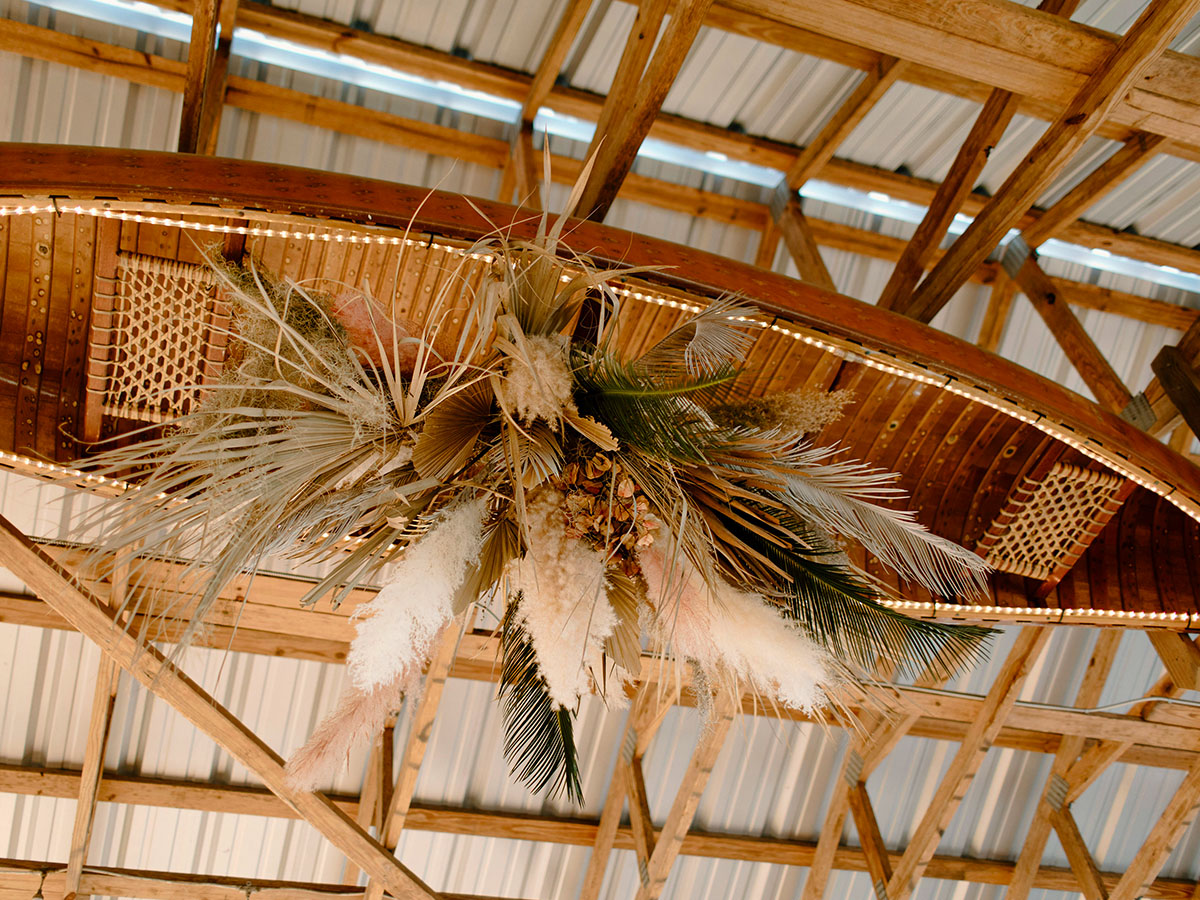 Test…and Test Some More!
From here, test, test, and test again. I'm not embarrassed to admit that I've assessed and tested more stems and mechanics in my bathtub before large underwater shoots than I can count. I would much rather understand in advance how a particular stem sinks or floats than find out when I'm trying to assemble something underwater on the day of a photoshoot or underwater elopement.
In this same line of thinking, also keep in mind how well the stems or greenery might handle being arranged using different mechanics (chicken wire, versus a vase, etc). These are all things to keep in mind depending on the use of your stems. Test and try unique stems that catch your eye and match your aesthetic. I love whimsical, textural stems, so I've utilized a variety of different foraged grasses and greenery over the years to see what works best for me, my design tastes, and the season. You can view more of my foraging tips for the luxury market here.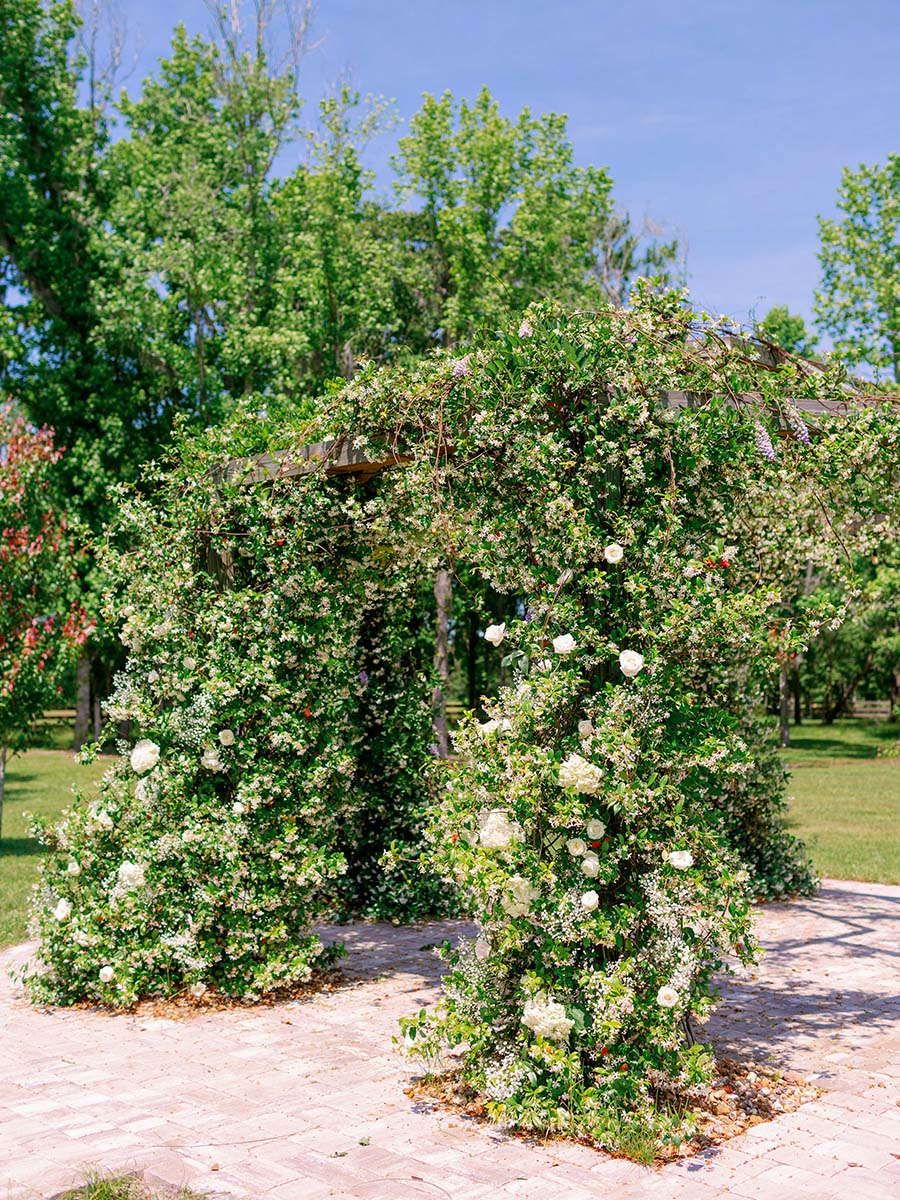 Designing Underwater
Each environment is different so in an underwater space, for example, the consideration is less about hydration - though you would want to know if a pool was chlorinated, salt water, or if you could visually see the installation in photographs, etc. Again, research your environment in advance so you know what you are dealing with and can plan ahead and choose your stems accordingly. The mechanics underwater are more of a concern in that you must keep the items you are designing weighted down safely and securely. This is for aesthetic reasons of course, but also for safety reasons as well. You must always ensure the safety of any models or swimmers interacting with pieces underwater. Entanglement and drowning are real threats that must be considered. Always have a safety swimmer and team of professionals around for a shoot of that type. I'm grateful to have learned and worked with one of the most innovative underwater photographers in the industry for several years now: Water Bear Photography. Kimber, the Owner, and Lead Photographer, also has fantastic videos on her YouTube channel that go deeper into this topic of safety and underwater photography.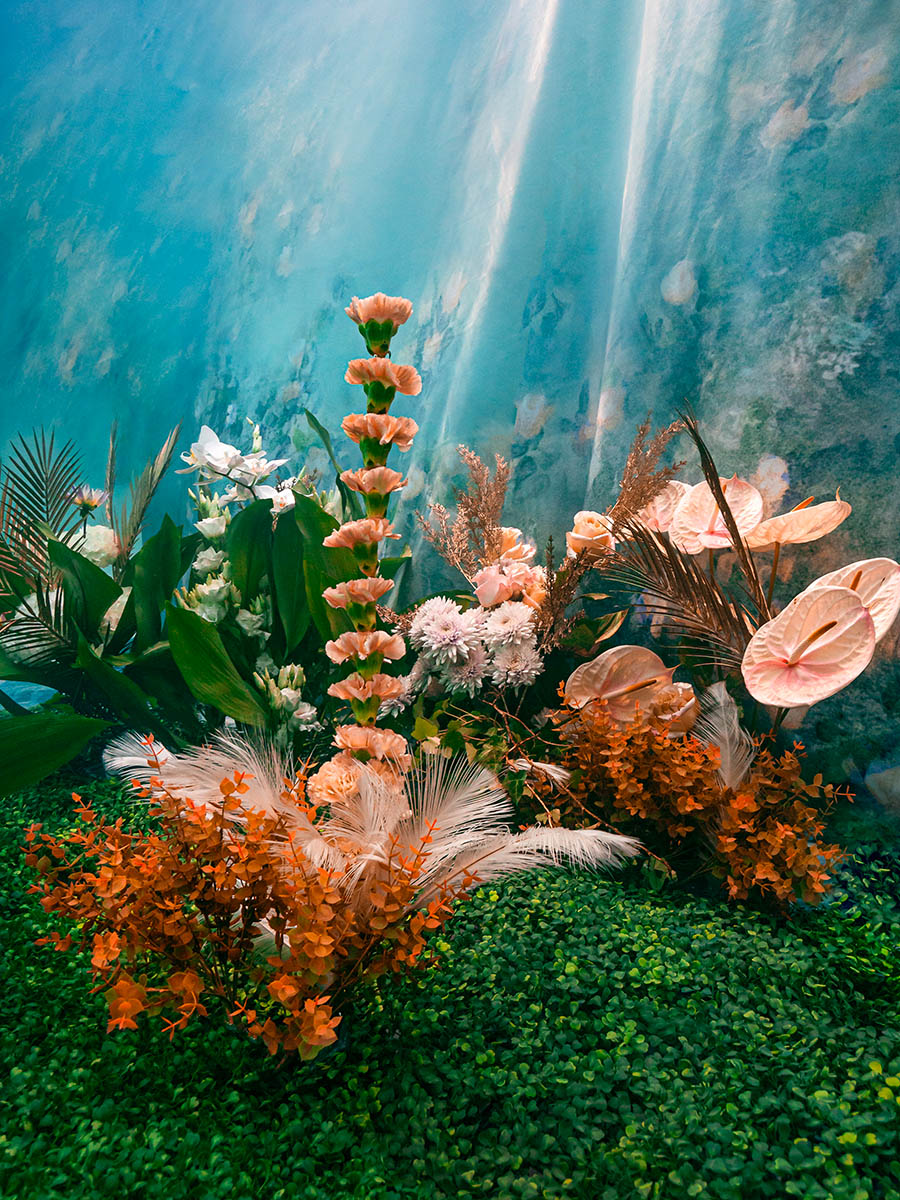 How to Trouble-Shoot Extreme Temperatures
Moving from underwater to above land, in an environment where the extreme temperature is an issue, either very hot or cold, think about how your stems will react and how you need to process them in advance. For extremely cold or hot temperatures I've also found that incorporating faux stems on occasion is also a great idea. While faux stems don't require conditioning and processing, they do require packing/unpacking in a particular location, as well as all of the same challenges as real flowers when it comes to cutting and designing in a particular area. Again, ensuring the safety of models and professionals has to always be the top priority. So stems that stick or poke out too far, or that are too heavy in weight, are typically not ideal for travel or designing in unique locations.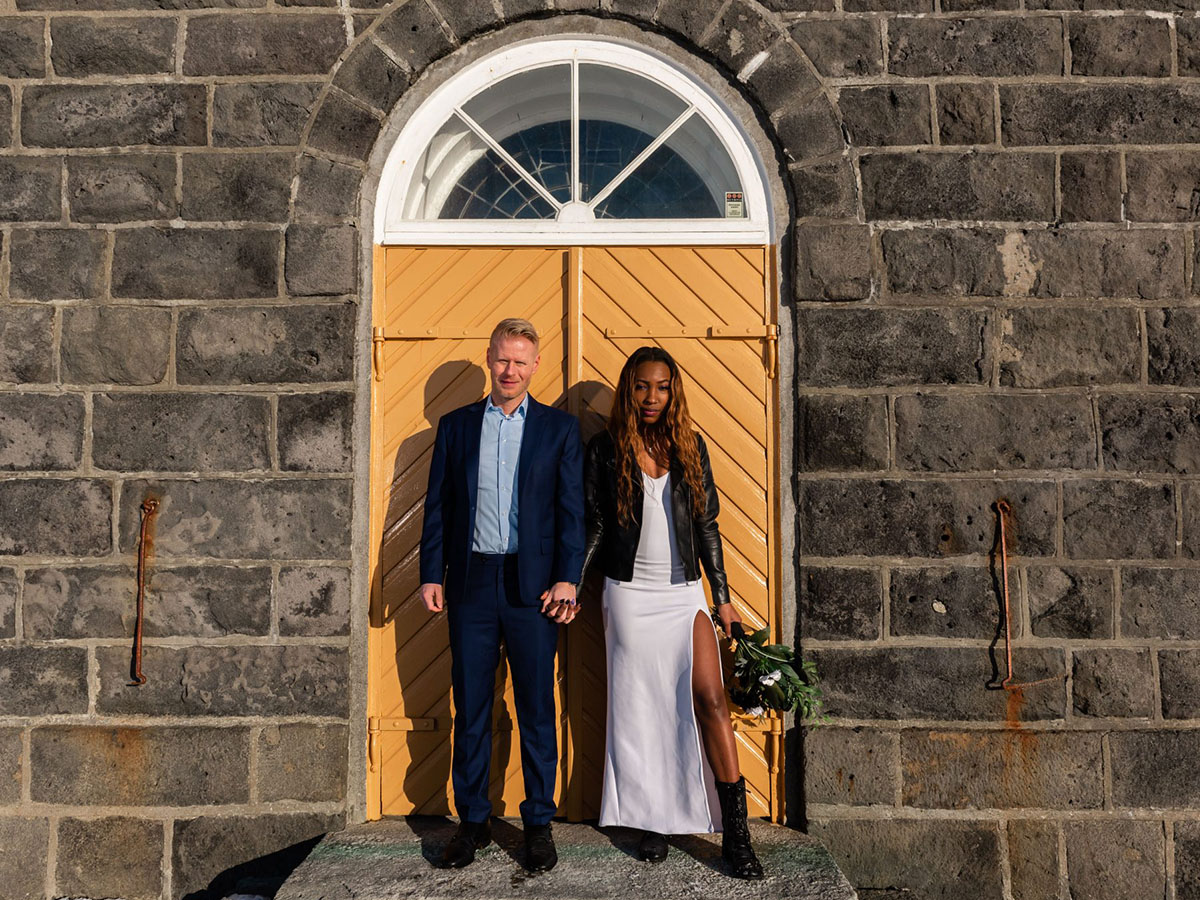 Sustainability Considerations
My hope is that this article gives you a behind-the-curtain look at how I create bespoke floral designs in unusual locations and spaces. It's worth noting that in all of my designs, I also try to think about the most sustainable way to create a project. In order to do this, try to think seasonally about where you are located. My design studio is in Florida, so we have greenery available to forage year-round. However, even if you live in a location where greenery is limited in the fall and winter seasons, the option to incorporate dried stems, as well as branches (one of my favorites), seed pods, or tree trunks and stones can be fun to consider depending on the creative project. Particularly if I'm going to a place that is new to me, I love finding unique stems to the area to incorporate.
My love of the world's beauty, and traveling to explore it, has led to my unique niche in floral artistry. It is not for the faint of heart but I love sharing my art with others in some of the most beautiful, extreme places in the world. Keep an eye out for some of our new projects to come soon on Thursd!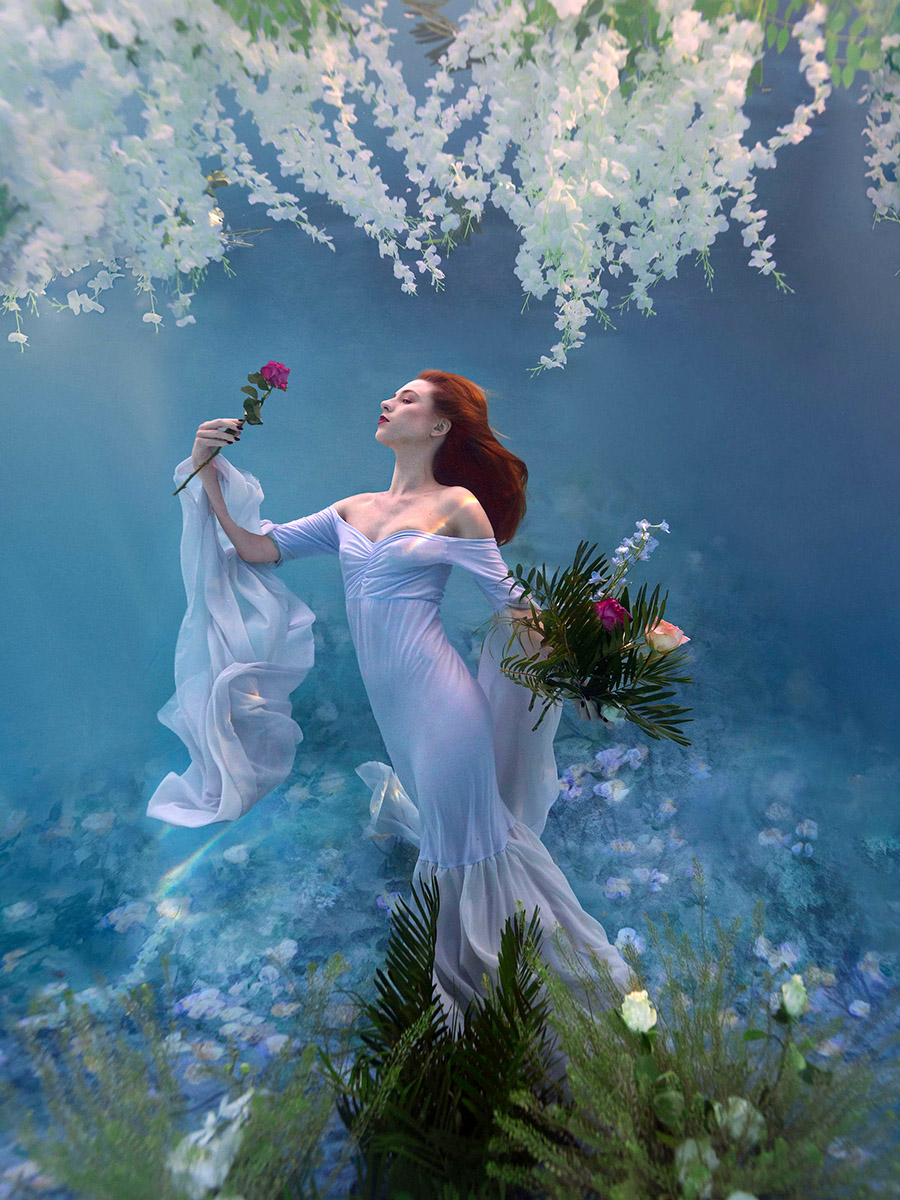 Photo credits in order of appearance: Water Bear Photography in Gainesville, FL, Celeste Burns Photography in Hawthorne, FL, Marston Photography in Brooker, FL, Water Bear Photography in Gainesville, FL, Water Bear Photography in Reykjavik, Iceland, Water Bear Photography in Gainesville, FL.