The sustainable floral trend color for 2021 'Scorched Earth' brightens the atmosphere with its vibrant golden yellow which radiates warmth and cheerfulness.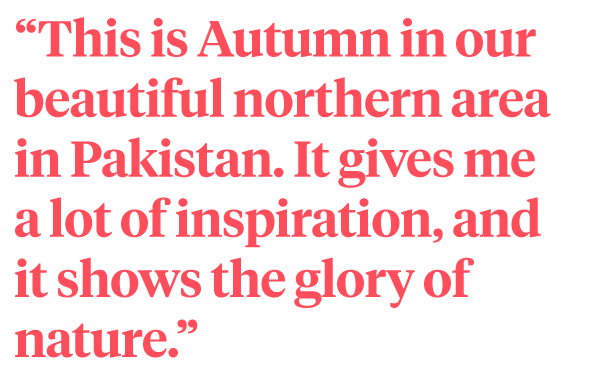 What Scorched Earth Means to Me as a Color
To me, Scorched Earth envisages the rich season of Autumn in all its glory and reminds me of the poet John Keats when he wrote his famous "Ode to Autumn". He described it as the season of mists and fruitfulness close bosom-friend of the maturing sun.
Autumn in Pakistan
When Nature changes its garb to gold, orange and red, and then sheds all leaves baring the trees to silhouettes of brown and beige. The richness of autumn colors so profuse they invigorate the mind energizing it with gusto, energy, and elation. I am inspired in my designs by the autumn colors in the North of Pakistan Of the majesty and glory, they create. Through Nature, we become aware of the possibilities of color combinations. That produces harmony and beauty which we emulate in our designs.
What Scorched Earth Wakes up in Me
To keep beauty alive, we must play our part to nurture and protect nature in every way. To protect the environment from harmful effects and eradicate all pollution, gases, and industrial waste. My designs have picked up the beautiful shades of autumn set outdoors to be close to nature.