I had the pleasure of interviewing Polish renowned floral designer Arletta Lembowicz. Arletta has two important roles in her life. One where she is the mother of Zuzia, Krystian, and Laura, and one where she is the founder and owner of Art-letta Studio Florystyczne in Kalinówka, near Lublin, Poland.
Mother's Day Interview
It is not by coincidence that this interview is placed this week. It is almost Mother's Day in many countries around the world. In Poland, this is traditionally the 26th of May. In this interview, Arletta speaks openly about the adventure, the joy, and the challenges she copes with combining the precious parts of motherhood and floristry in her life.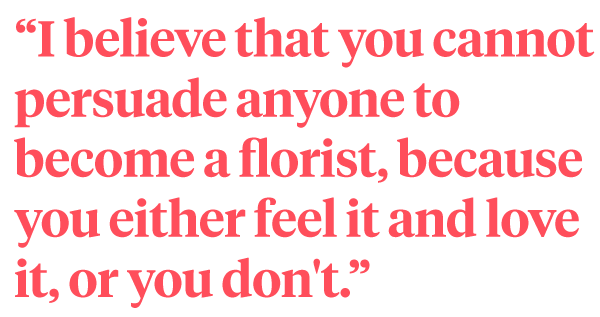 Why did you become a florist?
"I have been artistically talented since I was a child, and since I can remember the smell of flowers in flower shops evoked delight and a feeling of joy in me. Professionally, however, I was involved in gastronomy for ten years, but as a mature person and a young mother, I did not feel that this job was what I wanted to do in my life.
My inner voice pulled me into arranging flowers. I took a florist course, then a two-year floristry study. In the meantime, I attended a workshop and opened a tiny florist shop. Unfortunately, I started my own business as a very inexperienced person and made a lot of mistakes. Today, however, I know that every failure leads us to something, and difficult beginnings did not discourage me, and I have been running a florist's studio to this day.
However, I had small breaks for maternity leave along the way. For years, my biggest dream has been studying at the Mariola Miklaszewska Academy and now my dream is coming true. I will be getting ready for the master exam under the supervision of the wonderful Mariola Miklaszewska and probably only now I am developing my talents and floristic possibilities."
What is Mother's Day for you?
"I still associate it with my mother, and not with a very busy day for us florists. I teach my children to draw cards for my loved ones for an important occasion, so on this day, my children know that the most important thing is for them to give them a hand-made card. My husband jokes that all this educational effort is compensated by a flower for Mother's Day."
How do you manage to combine work with childcare? What was it like when the kids were tiny?
"Hmm... I still think my kids are tiny (haha). Two preschoolers and an 11-year-old still want something from their mother. Apart from them, our family has the eldest child - my husband's daughter, who also helps a lot, and thanks to her I have become a step-grandmother.

I am now extremely proud and excited about this situation because I have become an expert grandmother, and my experience with children is extremely helpful for Olivia, which I am very happy about. Until now, I have mainly focused on wedding decorations, where I work more at weekends and in the evenings, then my husband can take care of the children, and I work calmly.

While running the studio, I have a very flexible working time, which is why it is easier for me to reconcile home and work. Sometimes irreplaceable grandmothers also help. But it is also very common that I fry pancakes with one hand and make headpieces with the other. I am often nervous when I do not make the order because I had to cook the soup, but I agree to it consciously, because I am still a mother first and in the meantime a florist."
What's your ideal daily schedule?
"I love days when children are at school and kindergarten, and I plan wedding decorations with the bride, sipping coffee and no one disturbs me. But it's hard for me to answer this question because I don't have a perfect schedule. Often, even a perfectly planned day can suddenly change, so I accept that change. Each day has its pros and cons and each day passes just as quickly..."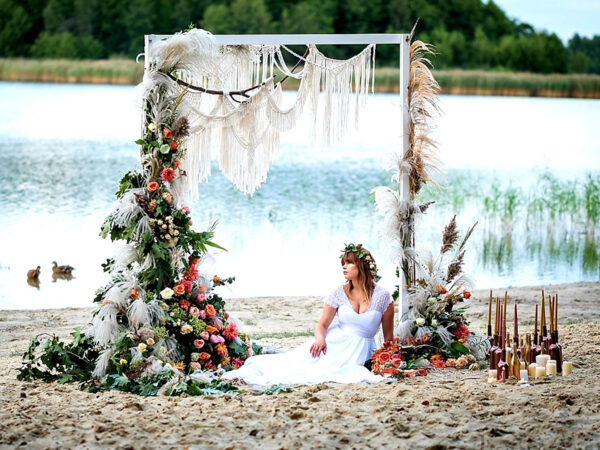 What arrangements do you like to make the most? What's your favorite flower?
"I like to arrange all kinds of compositions in a container the most. Lately, I am a fan of light and graded arrangements. Wedding floristry is my favorite. My favorite flowers have always been lilies of the valley, they delight me with their delicacy and shape, and their smell is just like a drug for me - it draws in, excites, and makes me an addict."
What advice would you give future florists?
"Probably the most important advice is not to be afraid and act your way, as you feel it, and every experience and even failure is needed because it gives us wisdom for the future. But apart from this, training, workshops, and personal development are extremely important."
Why is this profession worth practicing?
"I believe that you cannot persuade anyone to become a florist because you either feel it and love it, or you don't. Sometimes even the love of nature is not enough because it is also really hard work. But if you find yourself in it and feel that this is your way, it will give you a lot of satisfaction and fulfillment.
The florist is, however, a bit of an artistic profession; it allows me to spread my wings in many handicraft techniques, I can really translate what is in my head into a composition and feel proud of myself. And I think the satisfaction of other people and clients with our work is a big plus in this profession because then you feel that it is worth it."
Special Thanks to my co-author
"A special thank you to my co-author Lena Stryjska for making this interview possible."