Hello, fellow green enthusiasts! Frank here, but you may know me better as Mr. Green. I've been meaning to share my latest project with you, and I'm thrilled to finally take you on a journey through a verdant wedding wonderland I recently designed using OrcaGreen foliage.
Working With Orca Green
As someone who lives in a forest and is constantly inspired by the beauty of nature, I couldn't have asked for a better project. The idea was to create a wedding location that felt like stepping into a natural tropical forest, complete with a diverse array of shapes, textures, and shades of green. And let me tell you, working with OrcaGreen products was an absolute dream.
Before we dive into the details, let me share a little bit about my creative process. When I design, I always start with nature as my foundation. I draw inspiration from the breathtaking shapes and colors of the forest around me, and I let that guide my vision.
In this particular project, the OrcaGreen foliage was the star of the show, and I wanted to create a design that showcased its versatility and beauty.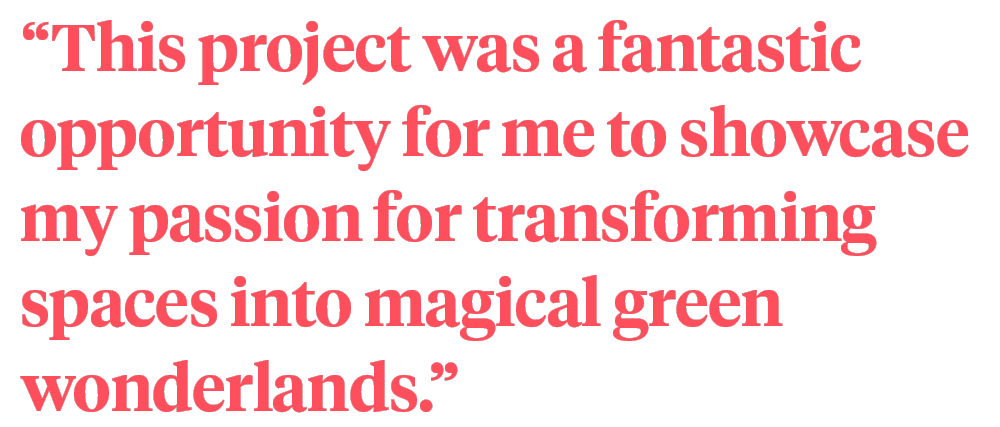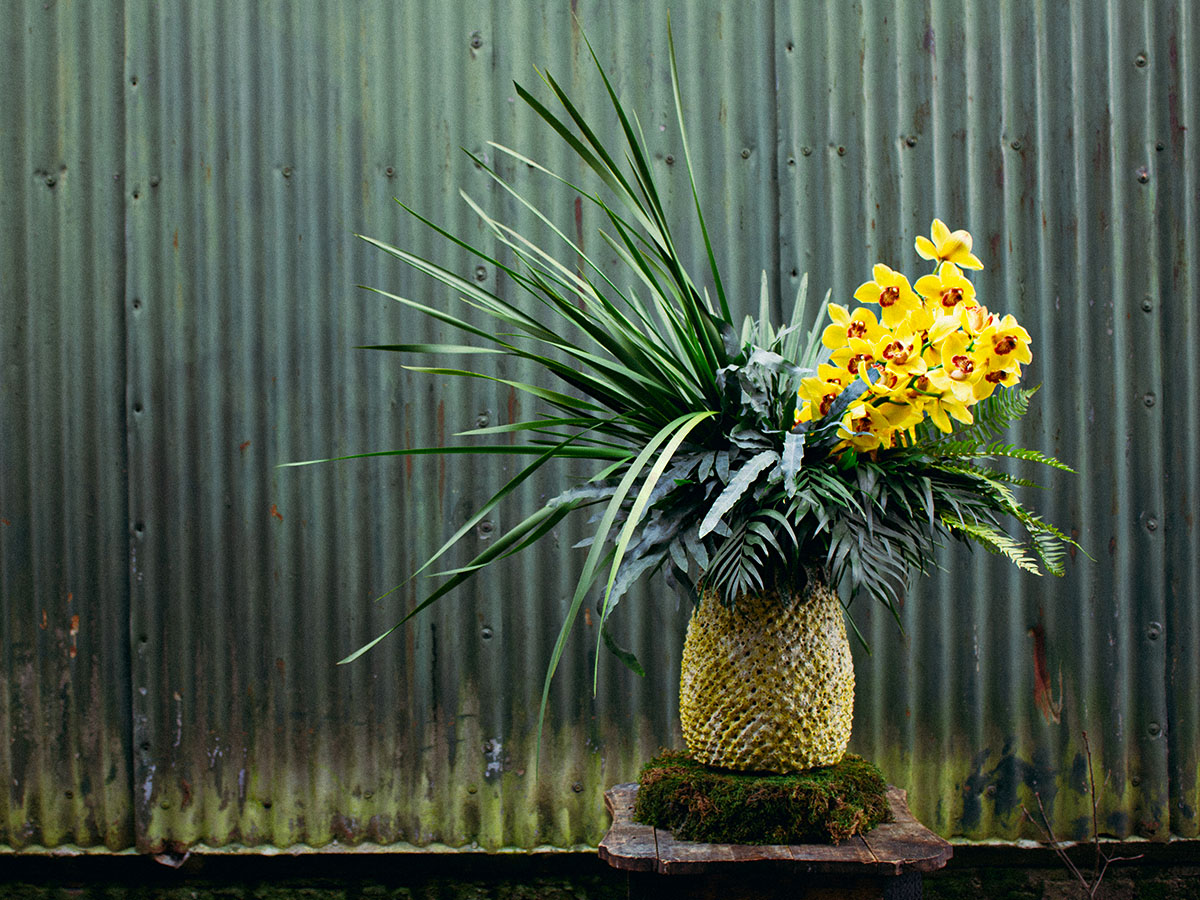 A Green Cloud of Enchantment
One of the most mesmerizing pieces I created for this wedding was a 'Green Cloud' made from an assortment of stunning leaves and greenery from the OrcaGreen brand. This floating centerpiece packed with foliage like Swordfern, Aspidistra, Chico Jumbo, Beargrass, Phlebodium, Palm, and Typha was designed to be the focal point for the ceremony, and it perfectly complemented the bride's bouquet, which was also crafted from the same leaves.
What I love most about the Green Cloud is how it seems to come to life when the light and wind play with it. As it spins and sways, the different shades, and textures of the greenery become more apparent, adding a touch of whimsy and magic to the space.
Lush Green Table Decorations
To keep the tropical forest theme flowing throughout the wedding venue, I also designed arrangements for the other rooms that incorporated a few flowers for a pop of color. The pineapple vase was a perfect addition to the theme, adding an extra dose of tropical charm to the arrangements.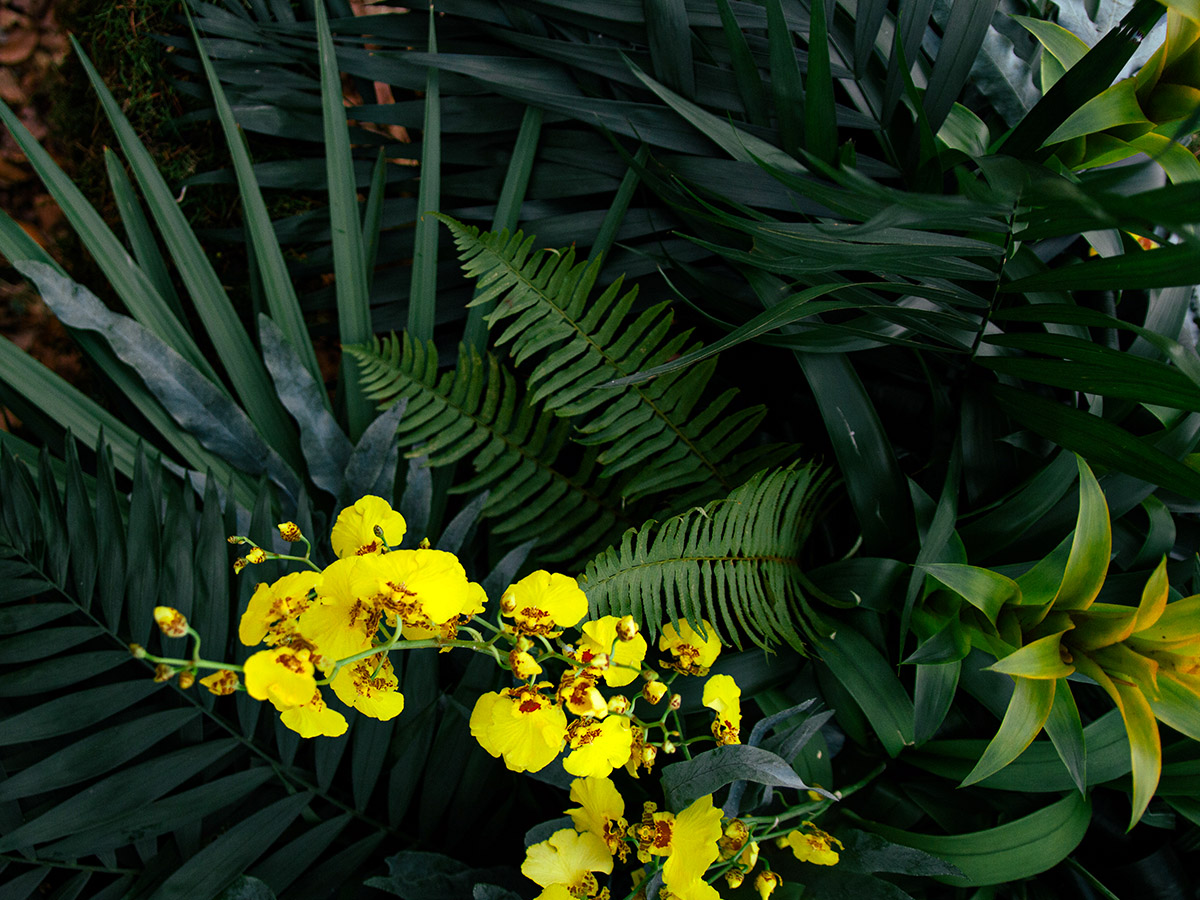 I wanted the dining experience to feel as if the guests were nestled in the heart of nature, so I created a table setting that looked as if it had been crafted by the forest itself. There was just enough room for small plates, but the abundant greenery threatened to envelop the table entirely. Check the lush grey Tillandsia and bright green Flat Moss that accompany the OrcaGreen foliage.
To complete the tropical ambiance, I used yellow cymbidium and oncidium orchids and bromeliads as accents, which beautifully tied together the entire decor.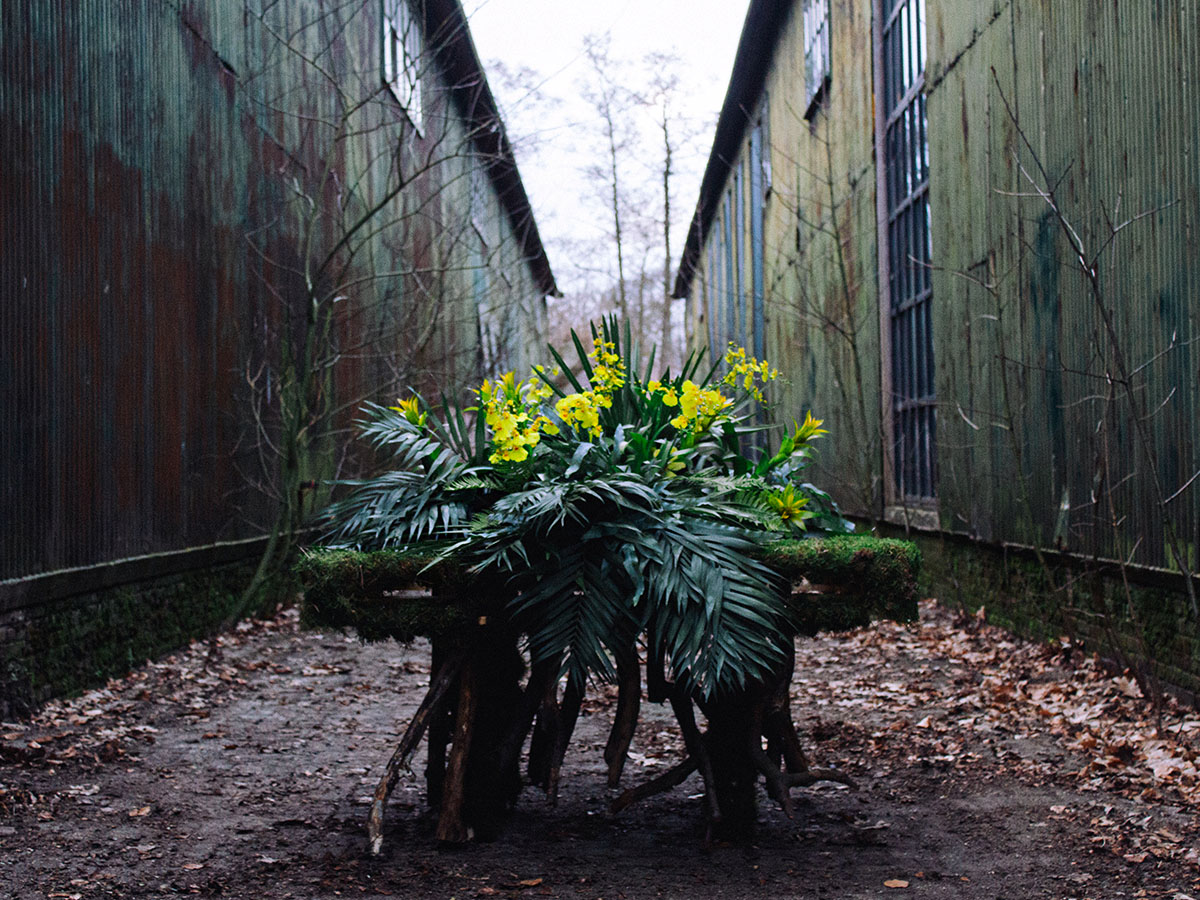 About OrcaGreen
I can't wrap up this post without giving a shout-out to OrcaGreen, the top-quality foliage brand from Adomex that made this entire project possible. The variety and beauty of their products are truly unparalleled, and it was a joy to work with them in bringing this lush wedding oasis to life.
This project was a fantastic opportunity for me to showcase my passion for transforming spaces into magical green wonderlands. I'm incredibly grateful for the chance to work with OrcaGreen foliage, and I can't wait to see what other amazing creations we can dream up together in the future!