Using Recycled Materials
As my design in the Scorched Earth theme, I chose to create an arrangement in the shape of a lyre - an ancient instrument that is meant to vibrate in the souls of the sensitive, to make them laugh or cry, as the case may be.

I would love that the harmony of this lyra - made of materials that usually go to the garbage - makes people understand that beautiful things can be created from recycled materials, which can become "art"!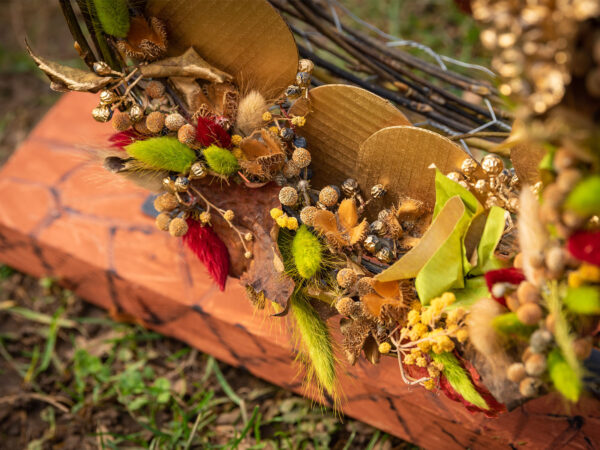 Combining Recycled and Natural
Earth, our everyday home. It offers us food, shelter, and dream landscapes. It offers pampering for anyone who has the soul and time to observe, but let them understand! Many things and materials from what we use every day dirty, pollute and agglomerate our dear planet called Earth.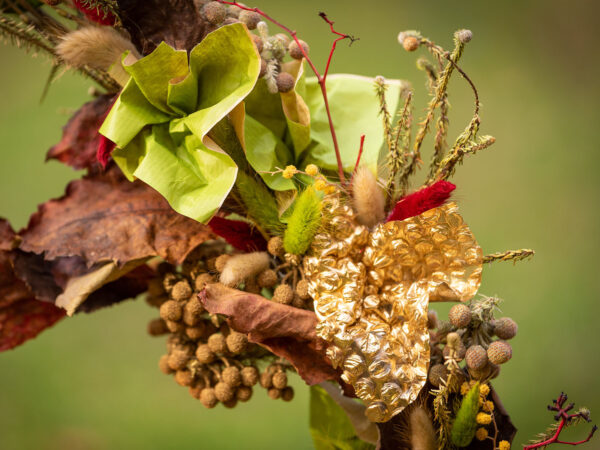 My Creation
So, this is my design for Scorched Earth: From the bubble wrap I chose to create a heart in gold color, I also painted the cardboard circles gold to delight the eye, and from the wrapping paper, I created flowers. We used these materials to make an arrangement that touches the souls of those who do not understand that it is very important to protect our mother planet. Earth! Our everyday home! Let's love our planet, let's respect our planet, let's keep our planet clean and welcoming! And our planet will reward us tenfold! Best, Laura