Bailing Wire is wound and molded into spirals, loops, and finally into a round circle form. It is attached to a vase, and dancing additions of stems appear to be floating. Sounds simple and visually simple enough but that is where the magic comes in. To create something that seems effortless but demands attention to intention is a beautiful thing. This is what organized chaos looks like.
Organized Chaos as a Design
First, when deciding what art I want to do and the message I want it to read, I have to think about the emotion that I need to express. This particular design is just as the title suggests, Organized Chaos. Organized in a systematic way but also with a bit of disorder. This is suggested in the composition as a whole but also in each element. In the wire armature and the intricacies inside, the placement of the calla lilies, the spirals of the lily grass, offset placement for the botanical material, the circle form, and the vase alike.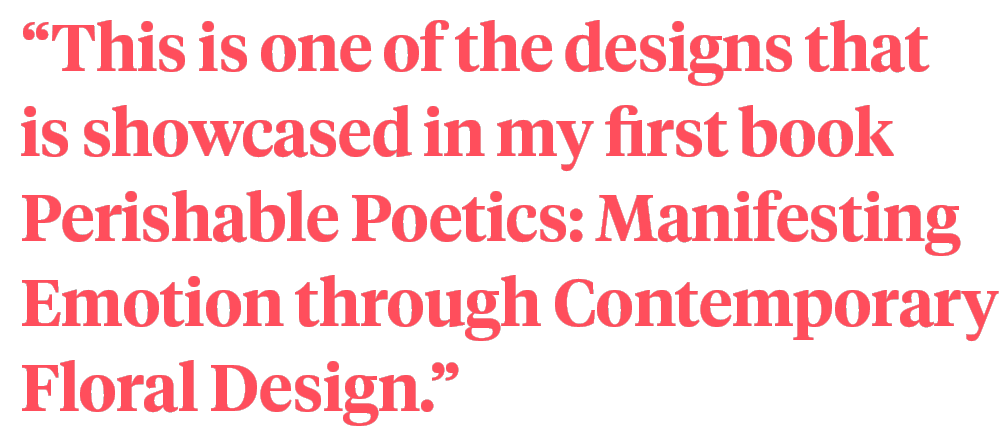 Just Elegant Flowers, Vintage Materials, and My Hands
The flowers are elegant; Zantedeschia Aethiopica Crystal Blush and Liriope Muscari. The materials are a vintage milk glass vase, bailing wire, and a recycled wire used to support orchid spikes. There are no other mechanics required. No additional pieces of binding material, no water source, no glues or adhesives. By using just the force in my hands I am able to manipulate the heavier wire to create the exterior line for the circle, then add the thinner wire coils and loops.
The calla lilies and the lily grass are inserted by repeating the same weaving technique that supports this entire structure.
Perishable Poetics: Manifesting Emotion through Contemporary Floral Design
This is one of the designs that is showcased in my first book Perishable Poetics: Manifesting Emotion through Contemporary Floral Design and every piece is partnered with poetry that I wrote to give a glimpse into the personal feelings that go along with creating art. This is this one's story:
Extremes are alive and well
Within me
On one side I am lively and outgoing
Able to share everything
That I feel and know
Able to stand up for myself
And trust in the process of myself
And others

On the other side, I am quite
Reserved
Introverted
Not because I want to shut you out
But because I need
Time
To digest the world
Around me
So I may know where I can
Just be
Me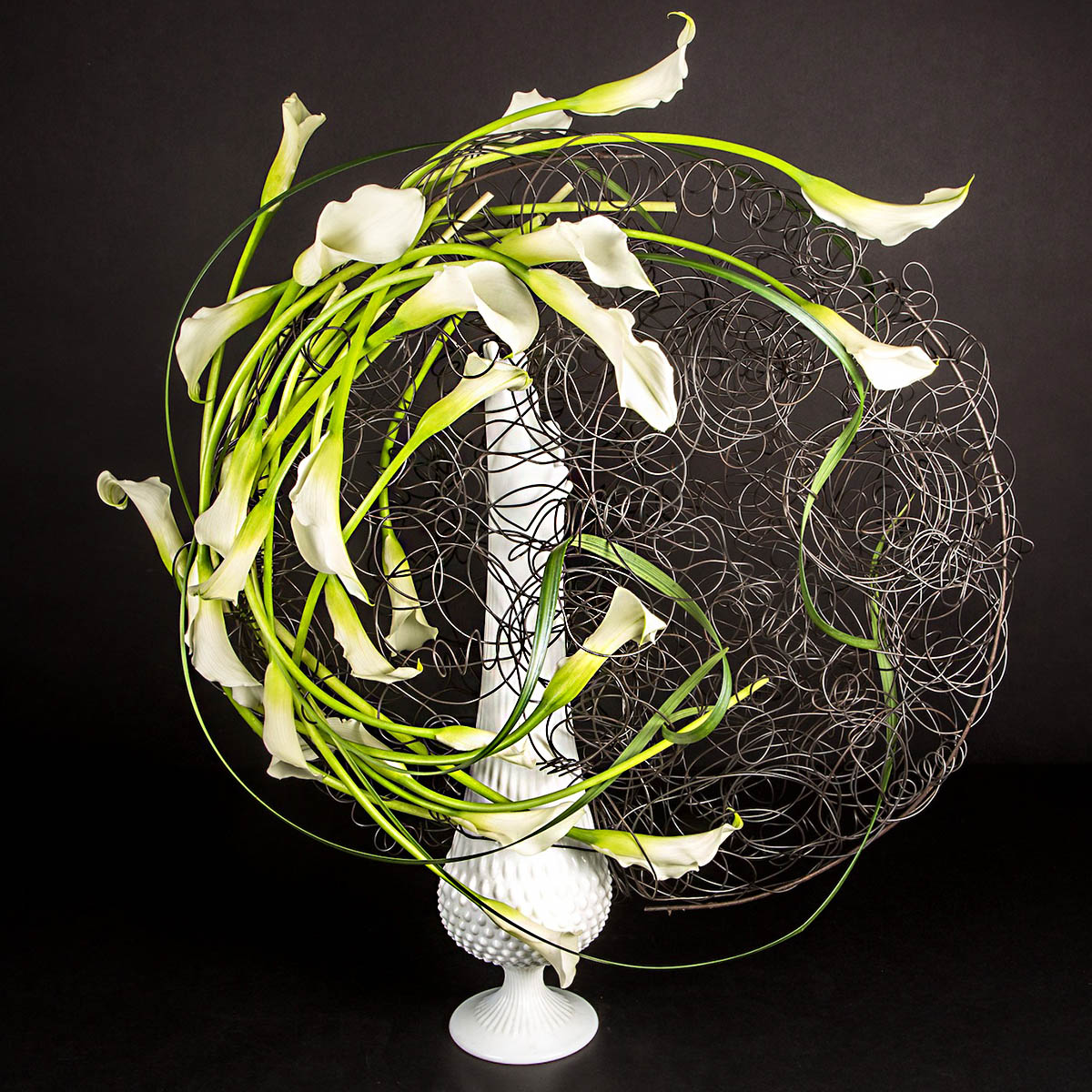 This Design and 40+ More
You can check out this design and 40+ more in my book Perishable Poetics as well as my much anticipated second book Endless Florescence: Transformative Contemporary Dried Floral Design both available on my website.
Let's connect on social media as well!
FB
IG