Kahala roses have a beautiful color combination of soft shades of pink and orange. I don't often work with soft tones and prefer brighter colors so Kahala was a challenge. But when I look at this rose, I see a certain softness. She is sweet, cute, but also elegant and made me think of the beautiful cherry blossoms in Japan.
Mimicking Japanese Cherry Blossoms With Kahala Roses
My name is Robin and I am 19 years I am following the Flower, Green & Styling training at level 3 at
Yuverta
and I am currently completing my second year. In addition to my education, I work at Bloemisterij Het Molentje in Nijmegen, Netherlands. I enjoy doing this work. My favorite part of this job is working with color. I really like to create unity with different colors. I'm also always working on new color combinations. Color is really the part that makes a flower arrangement or not. A bad color combination can really ruin an entire flower arrangement for me.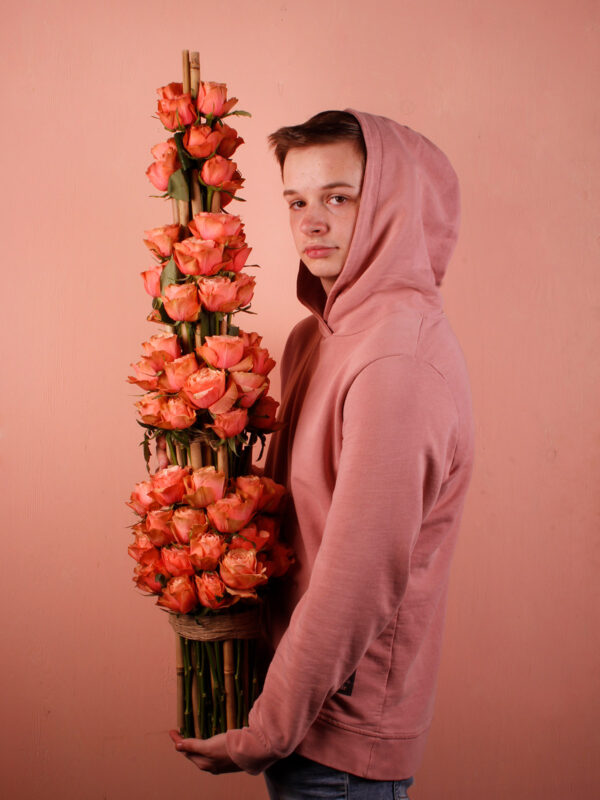 I have to admit, when I got the explanation about this assignment, I was a little hesitant at first. I don't see myself as a florist who will participate a lot in competitions. But the more I thought about it, the more the idea appealed to me. In the meantime, I became very enthusiastic about this assignment and I really enjoyed working on it. You don't get this chance often!
Kahala Roses From Kenya
"My" rose is called
Kahala
. This rose with a beautiful color combination of soft shades of pink and orange comes from Kenya. The nursery that produced this rose is called Akina. The rose is really beautiful, but a challenge for me. I don't work much in soft tones. I prefer to use brighter colors. But challenges are there to be completed, and so I did.
Inspired by the Sakura Trees in Japan
To make it easier for myself, I first decided to choose a theme. The idea originated from pictures of cherry blossom. This is a beautiful blossom tree, with beautiful pink flowers that bloom from February to May in Japan. Another name for this tree is Sakura. This tree has the same appearance as the color of the rose. When I look at the color I see a certain softness. She is sweet, cute but also elegant. The color also exudes calm, and you really get a wow-effect when you have many of these roses together.
The Creation of My Staff Bouquet
I chose to make a staff bouquet. This would then imitate a cherry blossom tree. To strengthen my flower arrangements, I chose to use dried bamboo in the staff bouquet. I did this with the reason to give a real wood look to my work. After all, it has to imitate a tree. The Asian feeling is also enhanced by the bamboo. An additional advantage is that the color of dried bamboo goes very well with the color of the 'Kahala' rose. When photographing I had flower petals scattered. I have imitated the effect of the cherry blossom with this. I also think this makes my photos unique.
Check out My Instagram
If you want to see more of me and my work, check out my Instagram. Robin Keijzers Instagram:
@robins.flowers
Co-creation:
Practical support/advice: Coby van Otterdijk. Styling & photography: Elfi Voermans. Textual guidance/editing: Ruud Teutelink