Wedding creations are indeed one of my favorites because is there anything more beautiful than designing with white, pure flowers to make a bride and all her guests happy? On this occasion, I've used white callas to express divinity, charm, calm, and especially elegance.
Where There Are White Callas There Is Beauty
Why I love white callas for wedding designs you may be wondering...It's all because of their sleek, trumpet-shaped blooms that exude sophistication, making them a popular choice for upscale events like weddings. The clean, minimalist look of white callas adds a touch of class and refinement to any floral arrangement.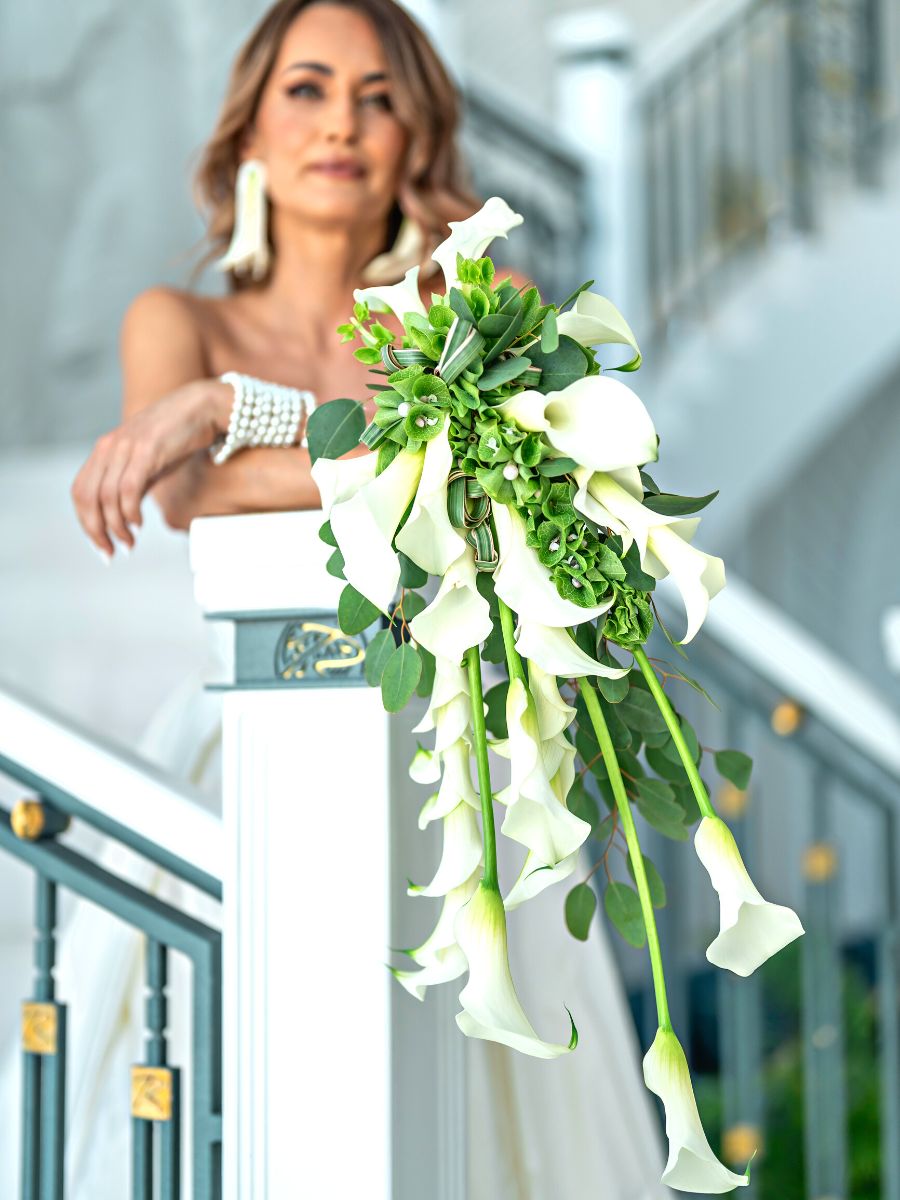 Here's a little poem on my behalf, dedicated to white callas:
Where elegance and beauty sprawl,
There blooms a flower, a graceful sight,
Calla, pure and white.

Adorned in petals, creamy and pure,
A symbol of grace, forever endure,
Zantedeschia, a decorative grace,
Bringing charm to every space.

So let it decorate the world around,
With elegance and beauty profound,
Zantedeschia, calla so divine,
A treasure for both yours and mine.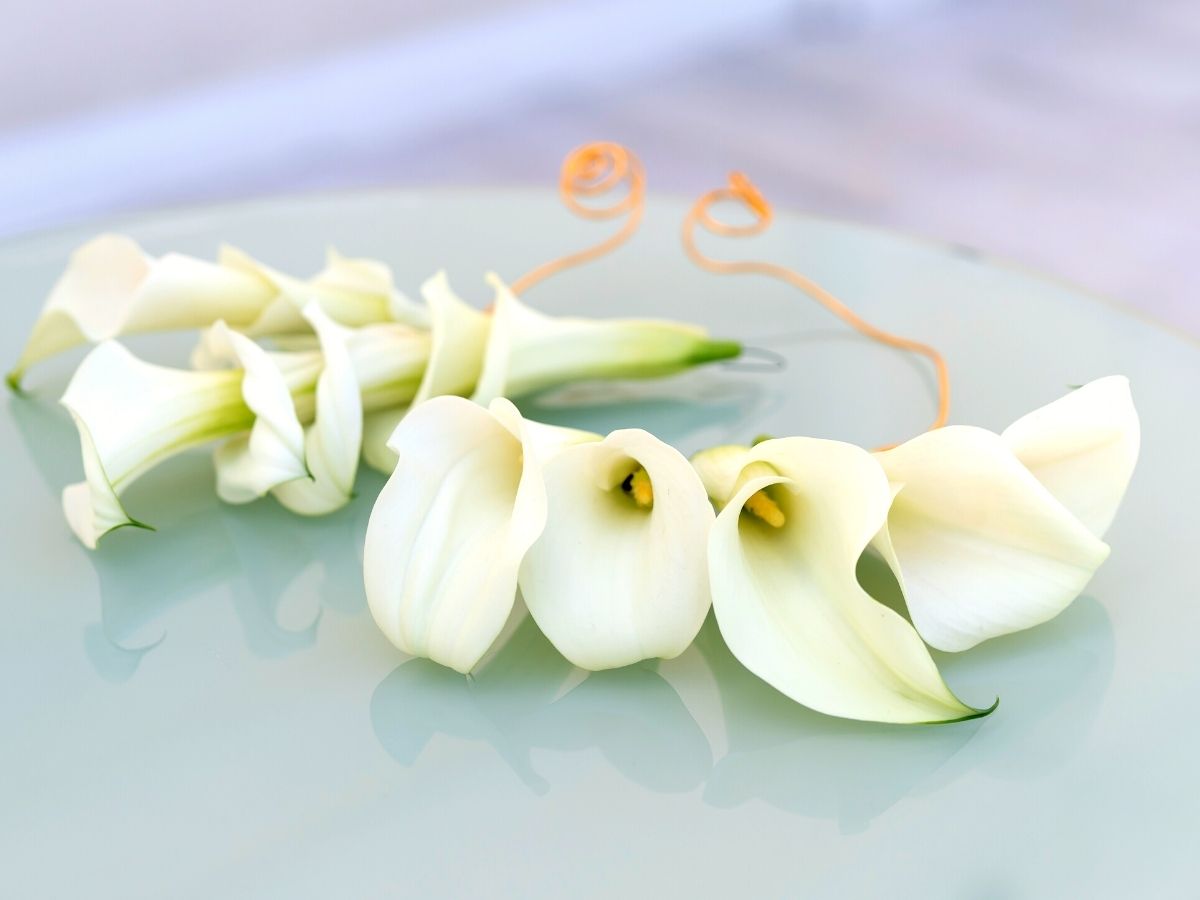 The Magnificence of White Calla Lilies
In the realm of flowers, there exists a captivating blossom that has apprehended the hearts and imaginations of people across the world. The calla lily, scientifically known as zantedeschia, is a very soft and graceful flower that symbolizes elegance, purity, and beauty. It's known as a 'wedding flower', bringing a touch of refinement and grace to people and places.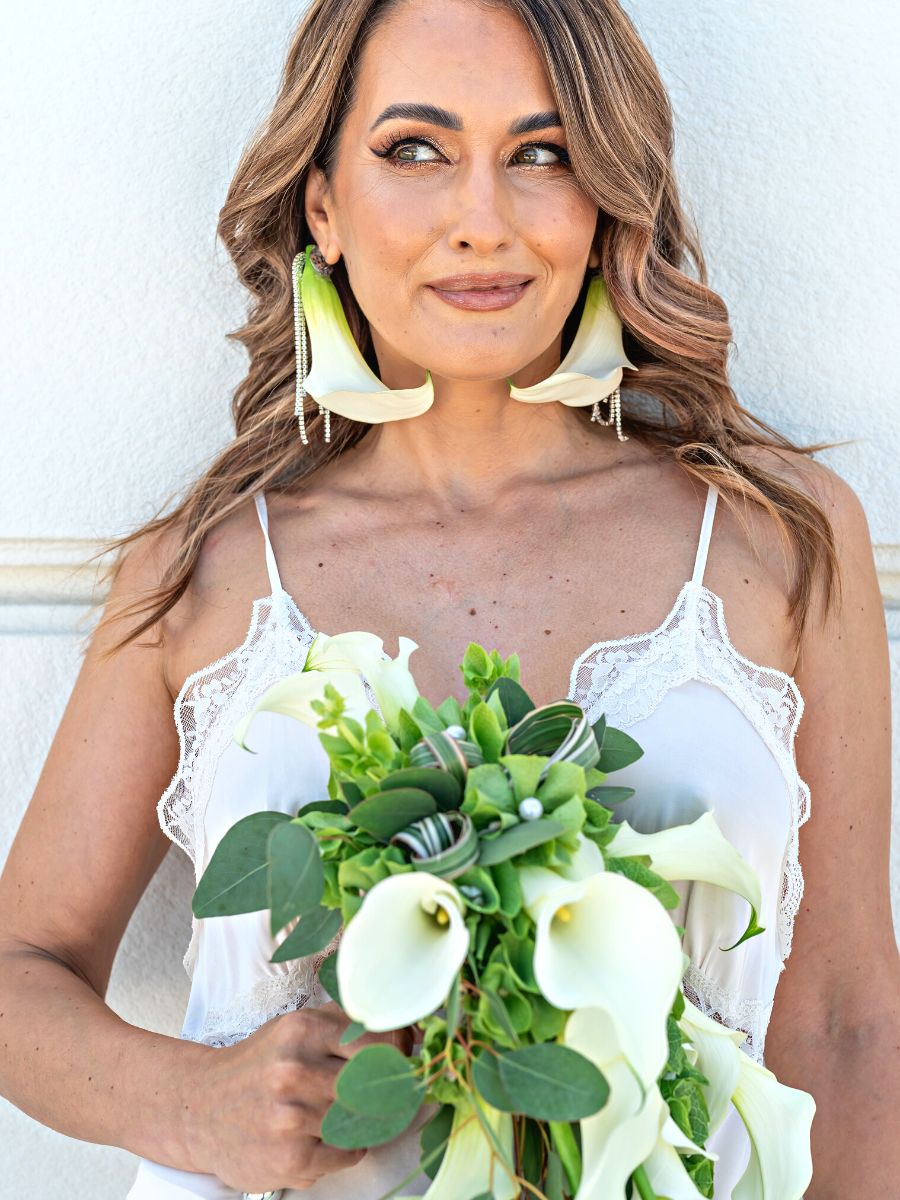 Weddings, with their celebration of love and unity, often embrace the calla lily as a decorative symbol. Brides in particular enjoy incorporating this enchanting flower into their bouquets and floral arrangements. The flower's association with purity and innocence makes it an ideal choice for the bride's ensemble, harmonizing perfectly with the joyous atmosphere of the occasion.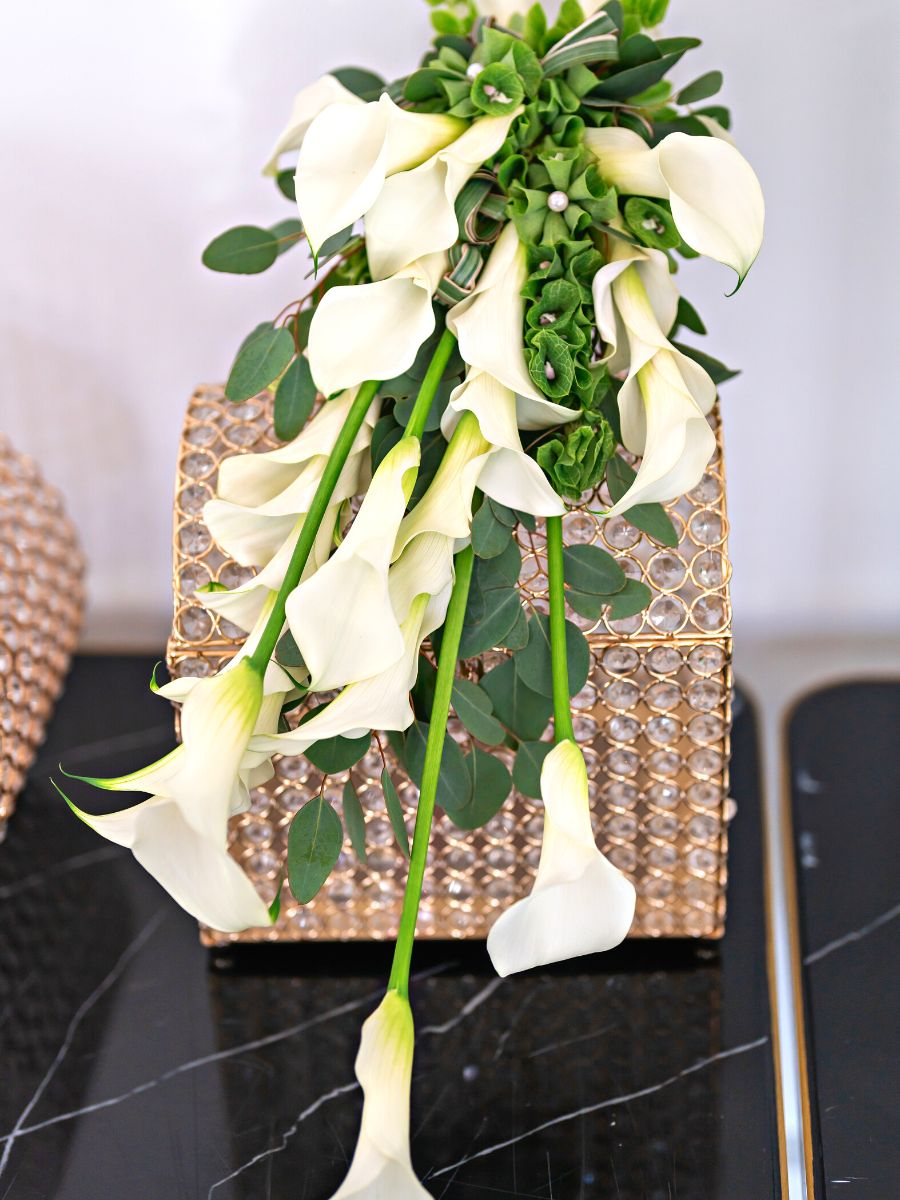 A Faultless and Flawless Wedding Choice
The long, elegant stems of the calla lily can easily be used to create a beautiful flowing bride's bouquet. These long stems and the exceptional quality of callas from Simply Calla inspired me to create a long flowing bouquet that perfectly matched the elongated silhouette of the bride.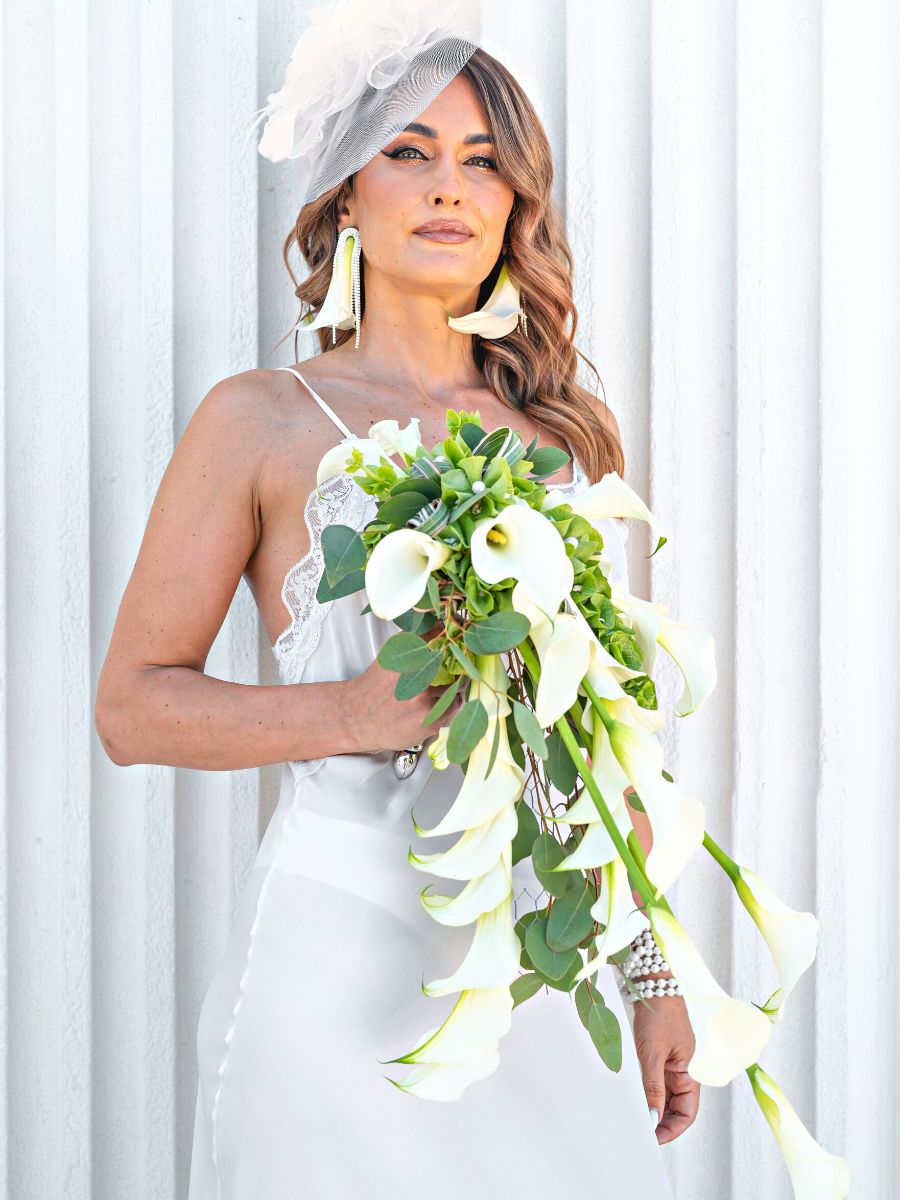 This elegant calla bouquet, long from the bride's waist to her knees, highlighted the beauty of her body and at the same time of the wedding dress. Although the wedding dress was a classic one, the bride's desire was to have more modern style pictures and she was able to pose in other outfits close to the idea of the bride. The bouquet mainly included callas from Simply Calla, but to give it shape and texture I also used Molucella and Eucalyptus. For a plus of elegance, I added pearl pins.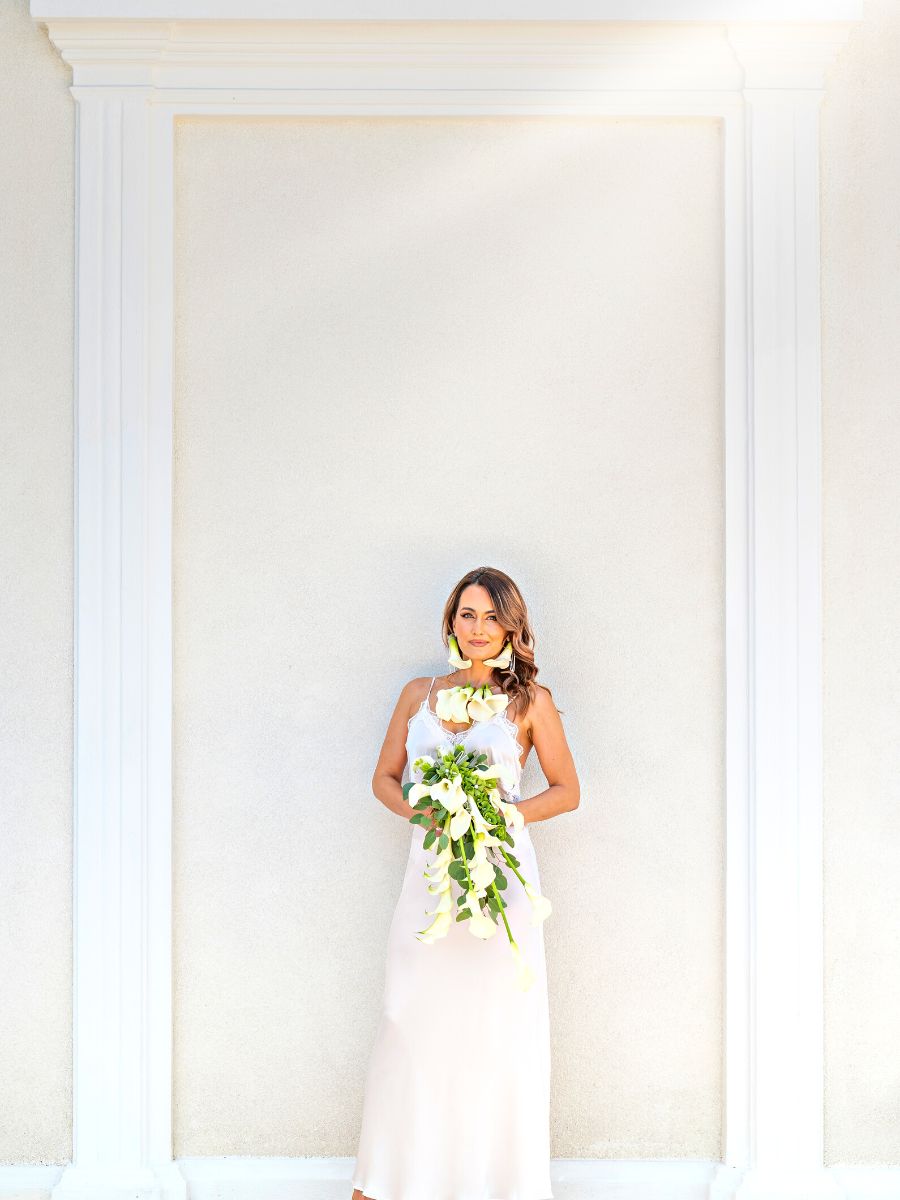 The Techniques I Used to Create a Celestial Calla Wedding Bouquet
I used different floral techniques to create this exquisite bouquet, and the callas helped me put my ideas into practice by being particularly fresh and keeping their shape and color intact. The garlands made of callas which were then added to the bouquet, kept their freshness for a long time. They delighted both the bride and the spectators with their delicacy, pleased the eye, and warmed the hearts of many.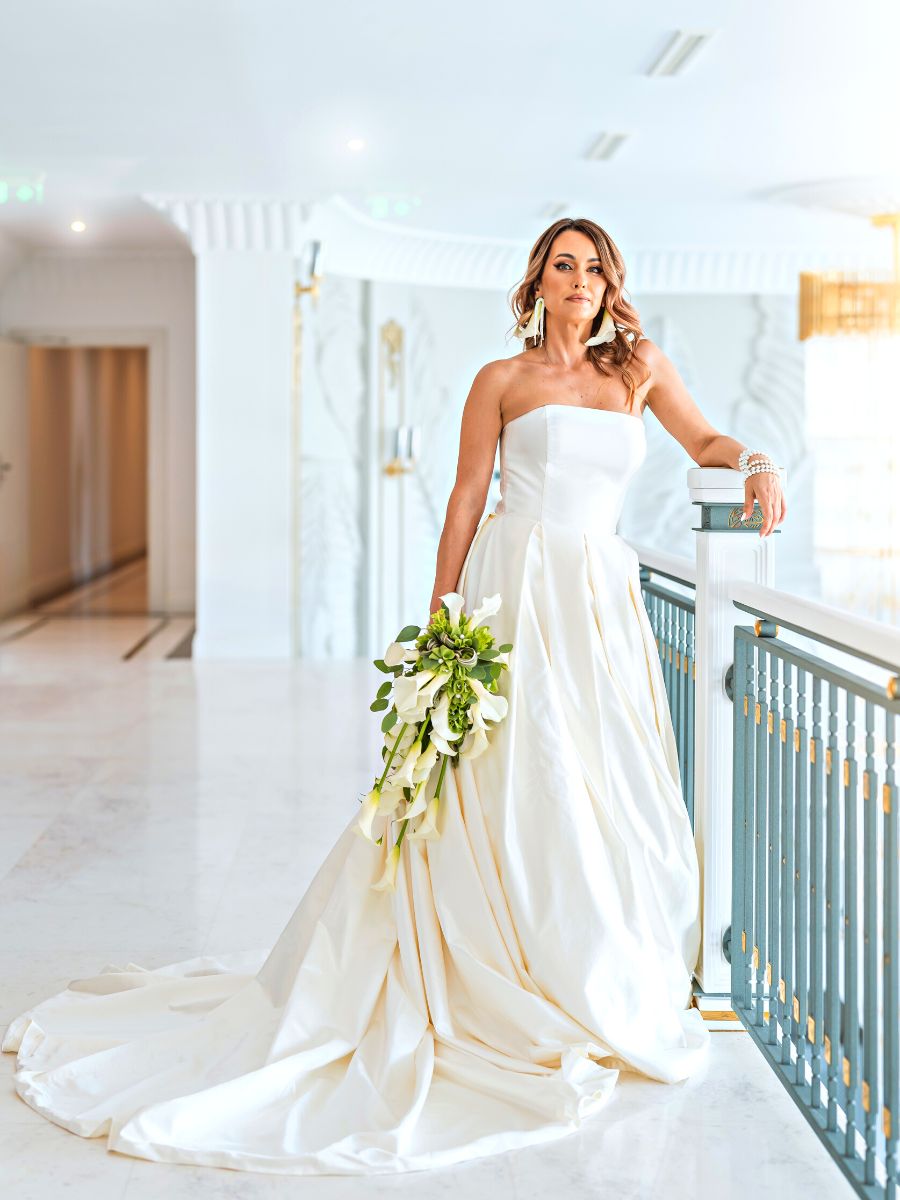 As a floral designer, I can never limit myself to just one design, especially when it's about such special flowers that inspire me. Beyond personal celebrations, the calla finds its place in grand events and public spaces. Banquets and corporate functions often incorporate these flowers into their decor, as they effortlessly lend an air of sophistication and refinement.
Whether arranged in clusters or used sparingly as accents, the calla adds an element of elegance that complements any occasion. Its graceful presence can be seen in luxury hotels, prestigious venues, and even art galleries, where it enhances the visual appeal and creates a memorable ambiance.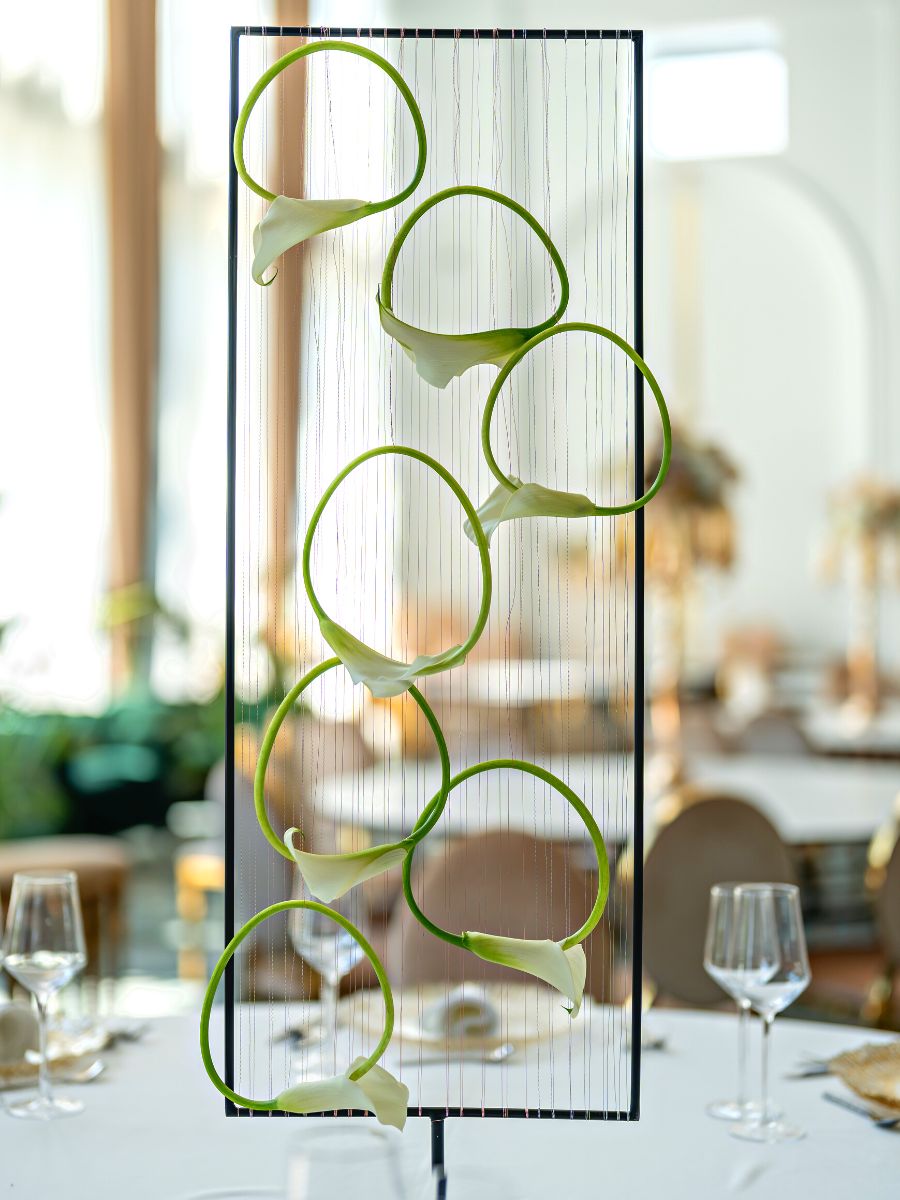 A Flower That Catches All Eyes and Can Be Used to Create Accessories
Also for weddings, a calla arrangement manages to attract all the admiring glances. That is why I created two kinds of calla arrangements. One in a low vase - a classic radial arrangement that highlights the perfect calla stems (embellished with pearl pins to match the bride's bouquet) and the beautiful trumpet-shaped flowers.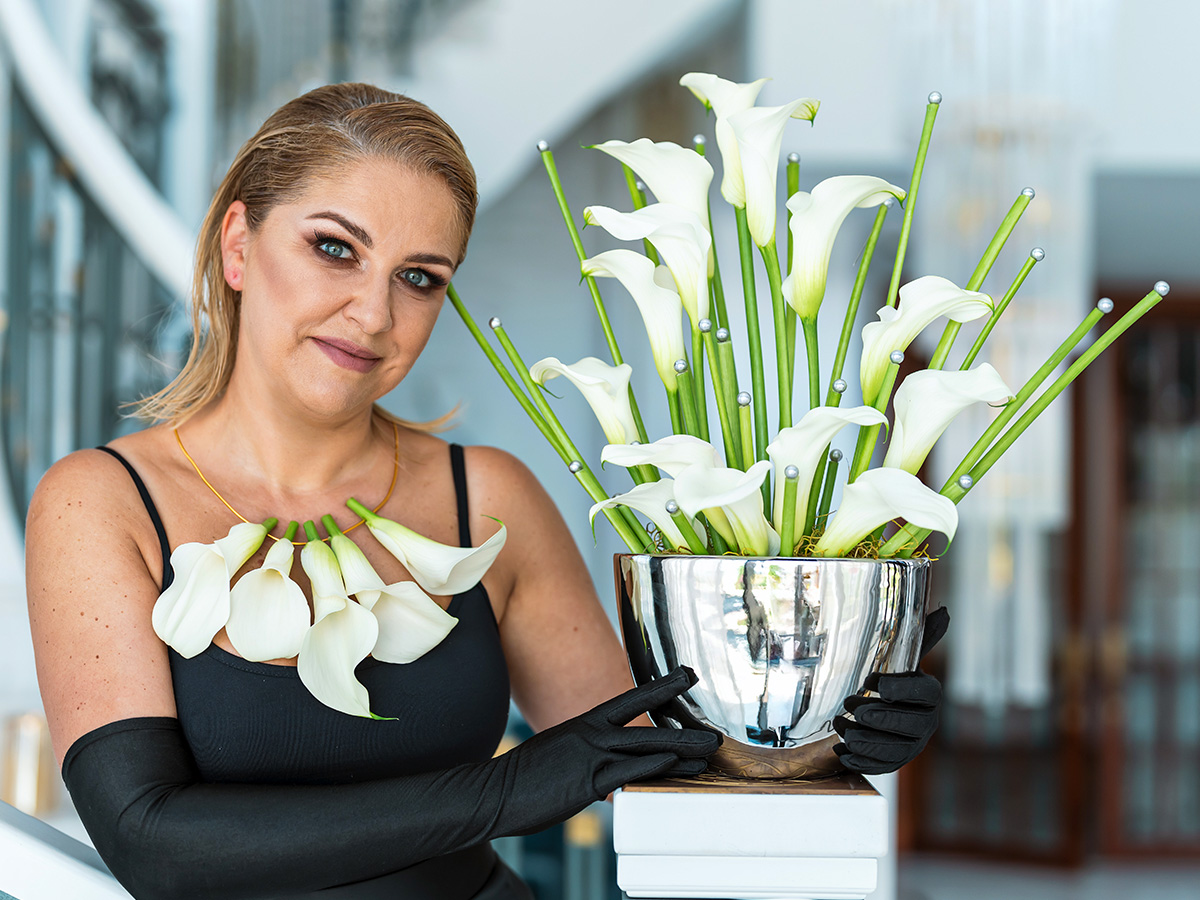 The second - a higher, modern, hand-made arrangement, highlights calla in a different posture and form. The circular shape that these flowers can take if you know how to care for them and process them is unique and deserves to be exploited for extra attention. Another part of floral design that I am in love with is creating jewelry from natural flowers. Callas offer me endless inspiration through their elegant shape and texture. I designed special natural calla earrings and a simple necklace to have a complete set of natural flower jewelry to be worn at a wedding or a party.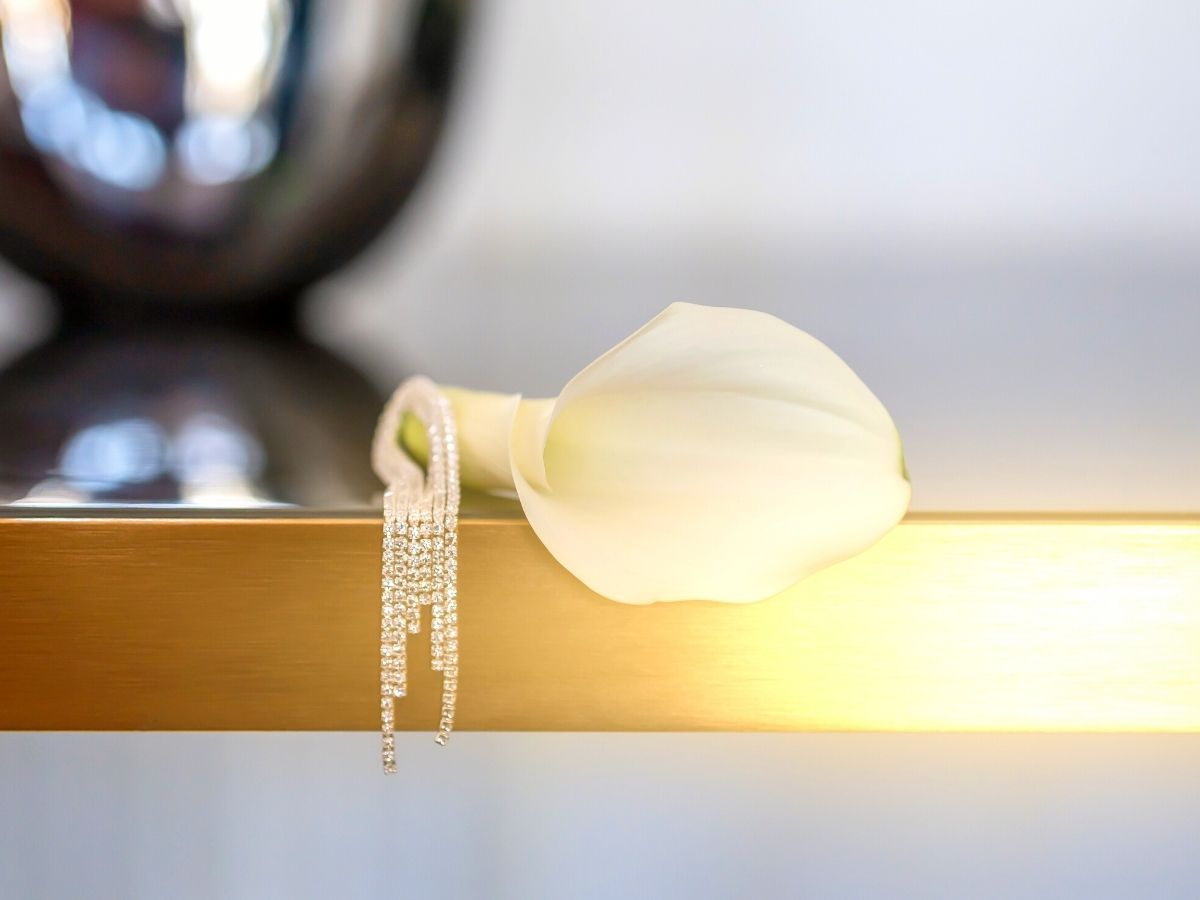 For the bride, I chose to create natural earrings to complement her dreamy bouquet, to which I added elegant little diamonds for a touch of evening elegance. Callas are proof that nature bestows upon us. Its delicate elegance and captivating charm have made it a beloved decorative choice for people and places worldwide.
Whether at weddings, adorning homes, or public spaces, calla's presence brings a touch of intricacy and frailty to those who are around them.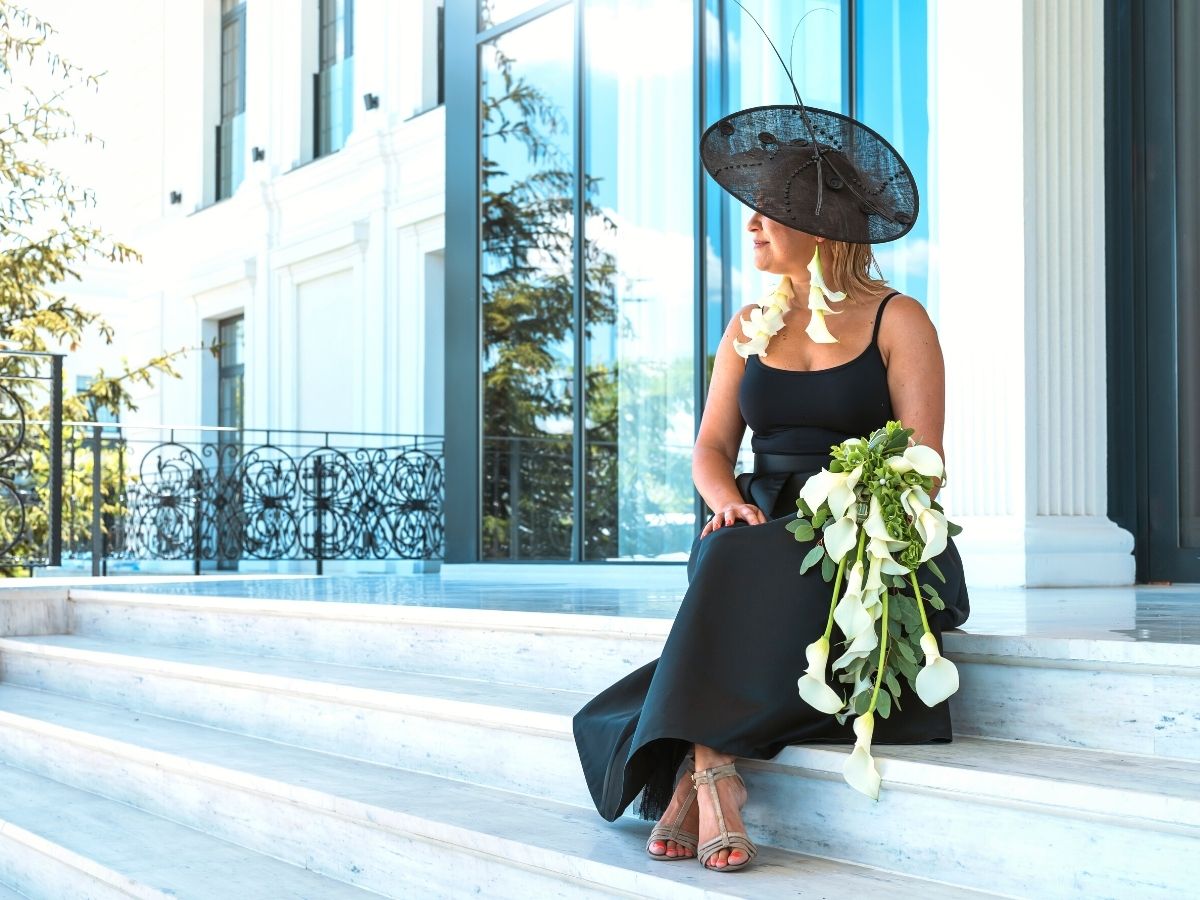 Bride model in white: Bogdana Cimpeanu, Make-up: Andreea Radulescu, Hair: Isabela Sandu, Bride dress and hat: Dahlia Couture.
Floral designer and model in black: Laura Draghici EMC/Chic Fleuriste, Make-up: Ioana Mateescu Make-up, Hair: Paula Paula, Hat: Dahlia Couture.
Photography: Julie E. Photography. Flowers: Callas from Simply Calla. With the support for delivery in Romania by FloriHolland Romania.