My Floral Wall Arrangements
First of all, I'd like to thank Thursd for the invitation and the opportunity to write on the themes climate change and sustainability and to illustrate my words with the images of my new work: floral wall arrangements made mostly with recycled and dried materials, as well as with recent eco floral foam by Oasis. The arrangements are made in a color scheme matching the Floral Trend Color 2021, "Scorched Earth" suggested by Thursd.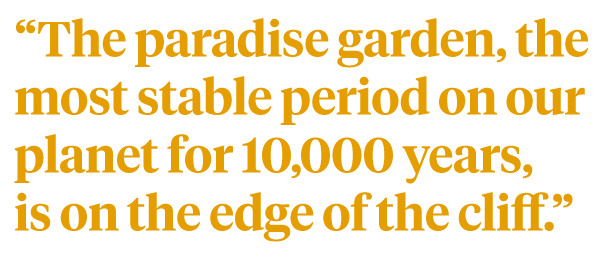 Destroy Anything that Might Be Useful to the Enemy
Scorched Earth, Verschroeide Aarde, Выжженная Земля. These are the three names, in English, Dutch and Russian, of the same military strategy and politics, that aims to destroy anything that might be useful to the enemy. Looking at the impact that our human activity made on our planet's wildlife for the last two hundred years, it looks like nature itself is our enemy. Sounds crazy. But we are keeping destroying wilderness, surrounding ourselves with asphalt jungles, living and moving around in metal, glass, and concrete constructions, polluting, wasting energy, wearing plastic, eating and drinking in crazy ways, growing food, breeding animals in quantities and ways that are devastating for nature and our planet. Thanks to our blind and enthusiastic activities, our culture focused on money, and our own pleasure an unthinkable amount of wildlife and nature is simply gone. We've conquered nature, isolated ourselves from it, used too much of it.
The Enemy Is Almost Defeated
Well, it seems that the enemy is almost defeated and tragically very soon only Scorched Earth is left behind. Sounds gloomy and negative, I know. But global warming, rising sea levels, melting ice shield, climate change are already our reality. The paradise garden, the most stable period on our planet for 10,000 years, with a finely tuned climate and the richest ever and most elaborate biodiversity, is on the edge of the cliff. Numbers don't lie, they say. Just have a look at the huge shift from 66% of remaining wilderness, 2.3 billion humans, and 280 parts per million of carbon in the atmosphere in 1937 to 35%(!) of remaining wilderness, 7.8 billion humans, and 415 parts per million of carbon in the atmosphere in 2020. These astonishing numbers are taken from
David Attenborough's new film "A Life on Our Planet"
, which I watched recently on Netflix. The film is an impressive, personal, and powerful insight into the current situation through the eyes and the life of perhaps the world's most loved and experienced biologist, activist, and narrator. He starts his film with pictures of deserted Chernobyl buildings, partially empty and decaying, and partially taken back by nature. He says:
"The explosion was a result of bad planning and human error. […] Many people regard it as the most costly in the history of mankind. But Chernobyl was a single event. The true tragedy of our time is still unfolding across the globe, barely noticeable from day to day. I'm talking about the loss of our planet's wild places, it's biodiversity. […] We rely entirely on this finely tuned life-support machine. And it relies on its biodiversity to run smoothly. Yet the way we humans live on Earth now is sending biodiversity into a decline. This too is happening as a result of bad planning and human error. And it too will lead to what we see here [in Chernobyl]. A place in which we cannot live."
My Chernobyl Experience
I think I was in a primary school in Moscow when I heard about the Chernobyl disaster for the first time. Our teacher told us about the catastrophe, how people were scared of radiation, about radioactive clouds coming as far as Moscow and Berlin, about people hastily leaving the area. About heroes and victims. I think I was about 8 years This lesson deeply impressed me and later I wrote a short and clumsy, but very emotional poetry, offering my apologies to young trees, that were killed by mankind. I wrote: "Please forgive us, humans. You understand it, they don't. They just kill you." Not sure why I've mentioned only the young trees in my little heartfelt poem, probably because as a young kid myself I could relate easier to them.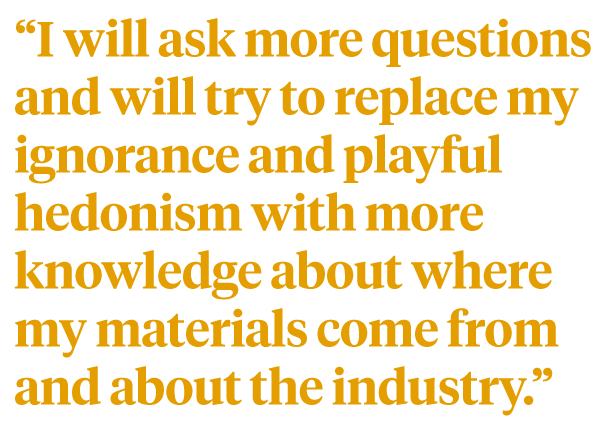 I Cannot Call Myself a Sustainable Designer
As a
floral designer
, I continue to enjoy my creativity and working with my clients. I must confess I cannot call myself a sustainable designer. I do use an eco floral foam when it's essential, like for events and weddings. I predominantly buy seasonal and local flowers and work with a lot of care and respect for my material, keeping waste to a minimum. But I do take an easy road and buy flowers at big wholesale stores and directly from growers, where very often I don't know about how sustainable they are. I use a lot of water as flowers love and need water. Thanks to this initiative of Thursd, I will ask more questions and will try to replace my ignorance and playful hedonism with more knowledge about where my materials come from and about the industry. I suspect that the floral industry is not the cleanest, and I hope it's not one of the most polluting industries in the world. I definitely would like to know more about it.
A Postscript
As a postscript, I'd like to leave you with another quote from
David Attenborough's film "A Life on Our Planet"
, which is a must-see:
"In the previous events it had been taken volcanic activity up to one million years to dredge up enough carbon from within the Earth to trigger the catastrophe. By burning millions of years worth of living organisms all at once as coal and oil, we have managed to do so in less than 200 years. As the result, the average global temperature is one degree Celsius warmer than it was when I was born. A speed of change that exceeds any in the last 10,000 years.[…] If we continue on our current course, the damage that has been the defining feature of my lifetime will be eclipsed by the damage coming in the next."