As a floral designer, I have always been fascinated with the power of flowers to transform any space into a magical haven. This passion for beauty and whimsy has led me to create a variety of floral arrangements that evoke a sense of joy and wonder. Today, I am thrilled to finally unveil my latest floral design – The Joyful Floral Tablescape.
As the name suggests, this tablescape is designed to bring a sense of happiness and warmth to any occasion. Whether you're hosting a romantic dinner for two or a lively gathering with friends, this design will create an atmosphere that is both inviting and enchanting.
The Inspiration
When I began designing The Joyful Floral Tablescape, I knew I wanted to incorporate elements that were bold and vibrant, yet still maintained a sense of elegance and romance. I was inspired by the predictions of David Austin, who anticipated the hottest flower trends for 2023 to include creativity, color, and abundance. We're talking bright colors, bountiful designs, and maximalism. More is More! I took this inspiration to heart and began to brainstorm ways to make this tablescape truly one-of-a-kind.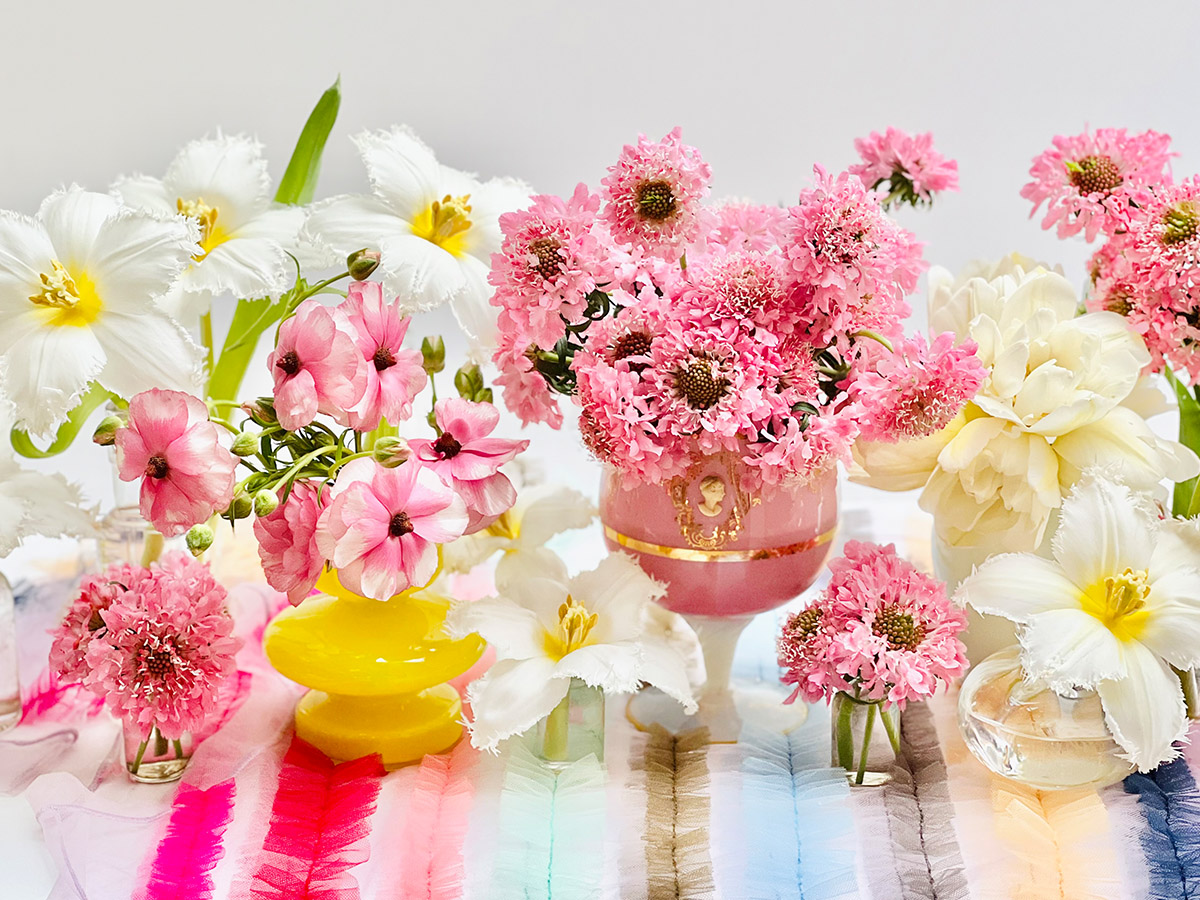 The Vases
To achieve the perfect blend of modernity and vintage charm, I decided to use vintage vases sourced from various Amsterdam shops. Each vase is unique, with its own history and character, which adds depth and dimension to the overall arrangement. These vases serve as the ideal foundation for the bright and bountiful blooms that make up The Joyful Floral Tablescape.
The Flowers
For this particular design, I opted for a delightful combination of white and yellow tulips, pink Ranunculus Butterfly, and Scabiosa. The tulips bring a touch of classic elegance, while the pink Ranunculus Butterfly adds a burst of color and whimsy. The Scabiosa, with its intricate petals and soft texture, provides the perfect finishing touch to this vibrant and eclectic mix.
The Table Runner
To complement the bold colors and unique vases, I chose a table runner designed by the brilliant Dutch fashion duo, Victor & Rolf. The fabric is a work of art in itself, with its rich textures and exquisite patterns. This table runner serves as the perfect canvas for The Joyful Floral Tablescape, tying together all of the elements into a cohesive and visually stunning display.
The Finishing Touches
No tablescape is complete without the perfect finishing touches. For this design, I chose to incorporate a variety of candles, which provide a soft, romantic glow that highlights the vibrant colors of the flowers. Additionally, I selected elegant tableware, including fine china and polished silverware, to elevate the overall dining experience.
Candles and Glasses
I've made another fragment of a joyful floral tablescape and for this, I used taper beeswax candles and colorful glasses. The glasses are by Dutch designers Anna + Nina, two Dutch designers with an eye for that je-ne-sais-quoi quality that is so hard to find, based on their fascination for Cabinets of Curiosities and the mysteries of the underwater world. The florals are Italian poppies, Ranunculus Butterfly, Spirea, Kumquat, and Dutch Ranunculus.
The silk table cloth is handmade and hand dyed with natural dyes in Spain by talented Rachel from Pomegranate Colours. She uses plants and flowers from her own garden to dye her silk ribbons and table textile. I use only her silk, as it's very delicate and artistically made.
More Than Beautiful Arrangements
The Joyful Floral Tablescape is more than just a beautiful arrangement; it's a celebration of life, love, and happiness. As a floral designer, it brings me immense joy to create something that can bring a smile to someone's face and create lasting memories. With its bold colors, bountiful designs, and maximalist approach, The Joyful Floral Tablescape perfectly aligns with David Austin's predictions for 2023, and I am proud to be at the forefront of such an exciting movement in the world of floristry.
Sharing With You
Creating The Joyful Floral Tablescape has been an exhilarating journey, and I am so excited to share it with you. Whether you're looking to make a statement at your next event or simply want to bring a touch of beauty and happiness into your home, this design is sure to leave a lasting impression on all who encounter it.
As a floral designer, my goal is always to inspire and bring joy to others through my work. The Joyful Floral Tablescape is a testament to the power of flowers and the beauty that can be found in every bloom. I hope that this design encourages you to embrace the creativity, color, and abundance that flowers have to offer and that it serves as a reminder of the happiness they can bring into our lives.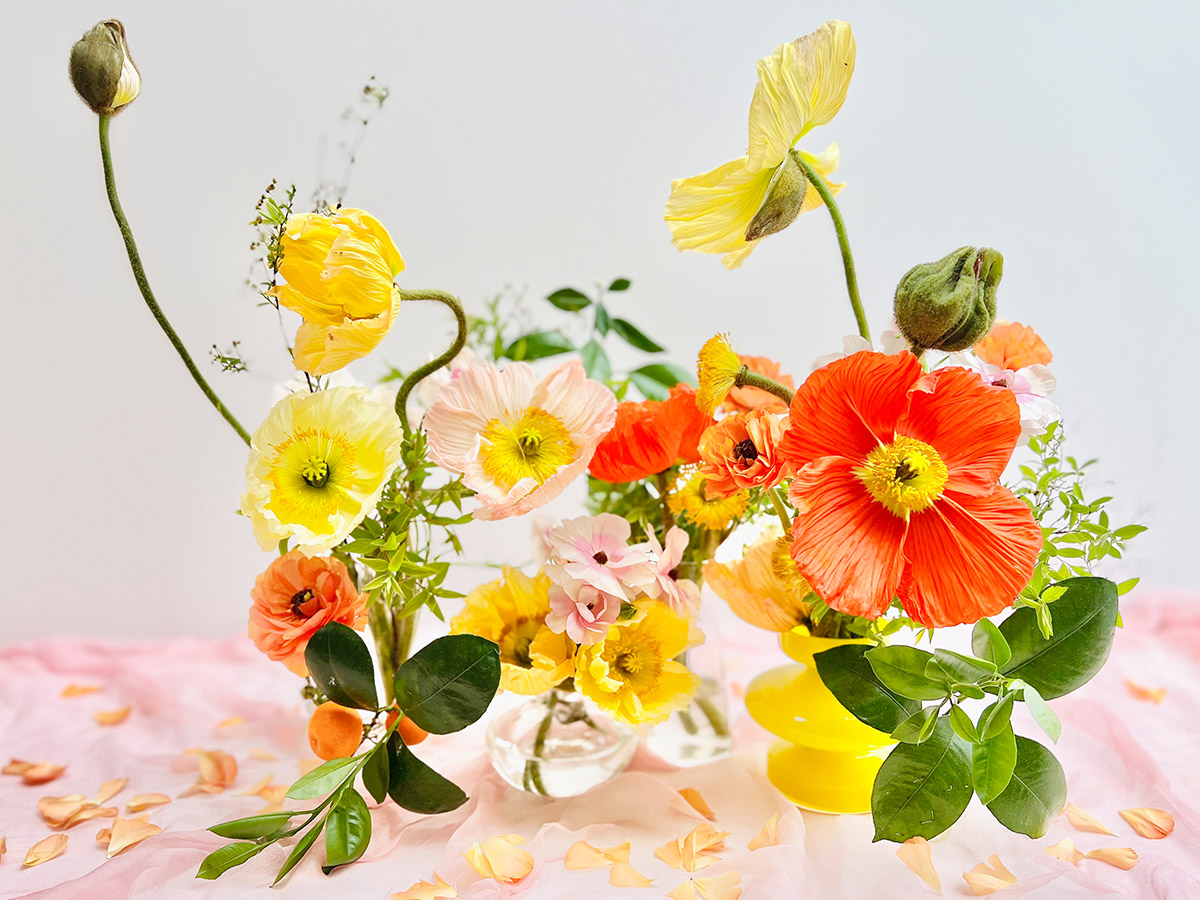 With creativity, passion, and a love for all things beautiful, I look forward to creating many more designs that inspire and delight, and I can't wait to share them with you. Until then, may your days be filled with joy, beauty, and an abundance of flowers. More is More!
With love and gratitude,
Katya Hutter

Get more inspiration at @katyahutterfloraldesign.