Symbol of Autumn
Chrysanthemums are for me the most beautiful symbol of autumn, it is very far from being an old-fashioned flower. On the contrary, in large quantities, and with the long-lasting vase life, (Pina Colada) Chrysanthemums are a very current flower. A contemporary flower. Young and modern. They are essential autumn flowers for me. I chose to process them simply with a very clean style. For that, I really put chrysanthemums at the center of my work.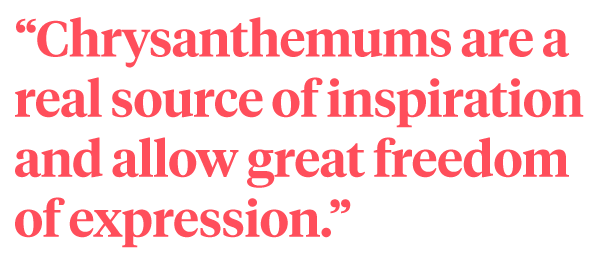 Great Diversity of Shapes and Colors
The Pina Colada chrysanthemum leaves room for great creativity and offers us a great diversity of shapes and colors. I also like it symbolic in many civilizations which consider it an exceptional flower. These different aspects make it an essential flower for exceptional designs as well as for floral creations in stores.
Totem
The chrysants are placed in incrustation on a block of floral foam. For the decorative element, I worked with beeswax plates for beehives. The colors in monochrome allow me to reveal the color of this chrysanthemum with its atypical color.
Yellow Cake
In the following design, I have chosen to express the autumnal side of chrysanthemums. But to avoid the heavy side often attributed to chrysanthemums, I made a structure to elevate the block of floral foam. This way I accentuated the lightness. I made a line through the chrysanthemums using some branches and fall foliage. The colors are accentuated by the subtle presence of foliage and fruit in shades of red.
White and Gray Bouquet
For this bouquet, I wanted to bring out the snowy side of white chrysanthemums. That's why I processed them in a compact mass. The wooden patterns are inspired by the patterns of the old sweaters from our childhood that we had to wear in winter. But to avoid the heavy side of the composition, I also worked on some dry elements gleaned. They also accentuate the winter side of the whole by providing structure and a wintery gray.
White Bouquet with Yellow Leaves
To express autumn this time, I chose an original color variation for the season, white, yellow, and black. The leaves are glued to a structure that emphasizes the white mass of the bouquet. But to avoid the crushed side of the bouquet, I came to bring lightness with branches of berry ligustrum and with some foliage as if this bouquet was a snapshot of an autumn landscape.
A Real Source of Inspiration
Chrysanthemums are a real source of inspiration and allow great freedom of expression. Far from the old-fashioned cliché of this flower, it is, on the contrary, very current by its incredible longevity in a vase but also by its simplicity of preparation. I'm a fan of chrysanthemums!
Pina Coladas by Gaétan Jacquet
These floral arrangements were made with chrysanthemum Pina Colada and Pina Colada Cream from Fred van Paassen/VannoVa.