Don't Panic
You know that I love flowers... I can say 80% of the weddings are postponed this COVID year. But what about the small wedding celebrations? Don't Panic ❤️. This is easier said than done but where possible try to keep calm and make some dried flowers bridal flowers.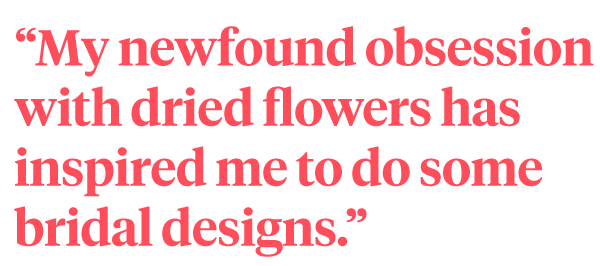 Across the world, couples change plans, dates, for their wedding day. In different parts of the countries, some flowers may not be available either for micro weddings or you can't afford to buy full varieties of flowers. So what to do...
My Newfound Obsession
My newfound obsession with dried flowers has inspired me to do some bridal designs. A fabulous selection of dried and bleached flowers gives me the opportunity to make a beautiful long-lasting, stunning bridal bouquet. How sweet to think that wedding day flowers could be forever immortalized! This long-lasting small bouquet is not only for COVID micro wedding trends. Also if you are struggling with hot weather or your ceremony is located abroad, the bride can easily carry her bouquet on the plane.
Time To Fall in Love
It is time to fall in love with dried and bleached flowers. They are perfect for vintage and modern weddings. Seed pods, dried fern, bleached ruscus, briza maxima, helichrysum italicum, lavender, with tillandsia usneoides or a mix of bleached flowers and tillandsia flowers making bouquet unforgettable.
What Matters To You
• Prioritize what you're looking for: If you love it: start recommending dried bridal flower trends. • Upside down: Dry Flowers may be held both ways by the bride. • Switch It Up: Once in a while, switch up the combination of flowers. Play with structure, sizes, or colors. • Most importantly is: To have Fun.🌿
Photos courtesy of @natalialaubephotography. The beautiful model in the images is Wiktoria Mlynarczyk.