This week I saw flowers coming by on TV, and to be honest, this is news to me. It doesn't happen enough, so I'm happy to share it. The integration of flowers in "De Cooke & Verhulst Show" is part of the campaign "the power of the flower". The second wave of this campaign will run around Mother's Day with a collaboration with Radio Nostalgie and the online editors of Het Nieuwsblad and De Standaard ( national newspapers), and Play 4, National TV.
Vlam
will have a weekly item around flowers for six weeks.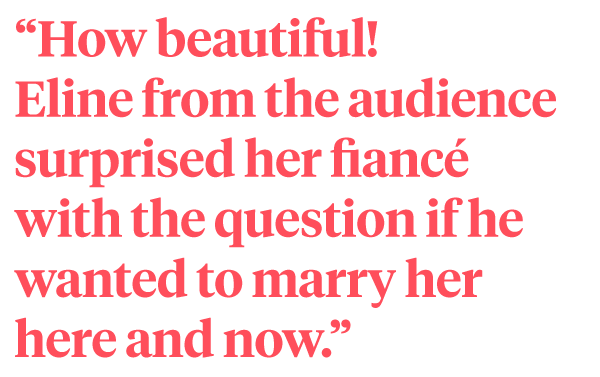 The Power of the Flower in "De Cooke & Verhulst Show"
Week 1 was Magnificent! Monday, April 19, 'De Cooke & Verhulst Show' started on Play 4. Gert and James will be on screen daily for 6 weeks. And guess what? The lovely couple Eline and Toby from the audience got married during the show. Flowers bring instant happiness, so Stefan van Berlo, Belgian Flower Arranging Champion in 2020, and known far across the borders, was invited to give the bride and groom an unforgettable day and night. He created a flower arch and a bridal bouquet. The whole scenery was amazing.
#depowervandeflower
As a partner, VLAM integrates a flower and plant item every week to bring #depowervandeflower into the living rooms. They map out the effects of flowers and plants on people using propositions and facts from studies. But it seems that flowers also have sex appeal. According to the French Institute for Public Opinion, 63% of female participants between the ages of 18 and 24 stated that they get a big libido boost from a bouquet of flowers. Here is a link to a short movie out of the program where you see bride and groom saying yessss. https://www.goplay.be/video/de-cooke-verhulst-show/prachtig-elien-en-toby-uit-het-publiek-trouwen-in-de-cooke-verhulst-show
Here Are Also the Themes of the Coming Weeks
Week 2: Flemish tulips Week 3: Roses of love (Red Naomi Roses) for TV program The Bachelorette with Elke Clijsters Week 4: Mother's Day (report with Stefan Van Berlo) Week 5: theme to be determined Week 6: What does "get flowers" do to a person?