From my trip to Aalsmeer to visit Holla Roses, Coloríginz, Decofresh Roses, I took home beautiful Red Tacazzi+ from breeder Dümmen Orange. I wanted to test the vase life: young plants often give roses that are not that strong yet. The green arbutus from Adomex International is perfect to surround these beautiful roses. Here's my advice if you buy them.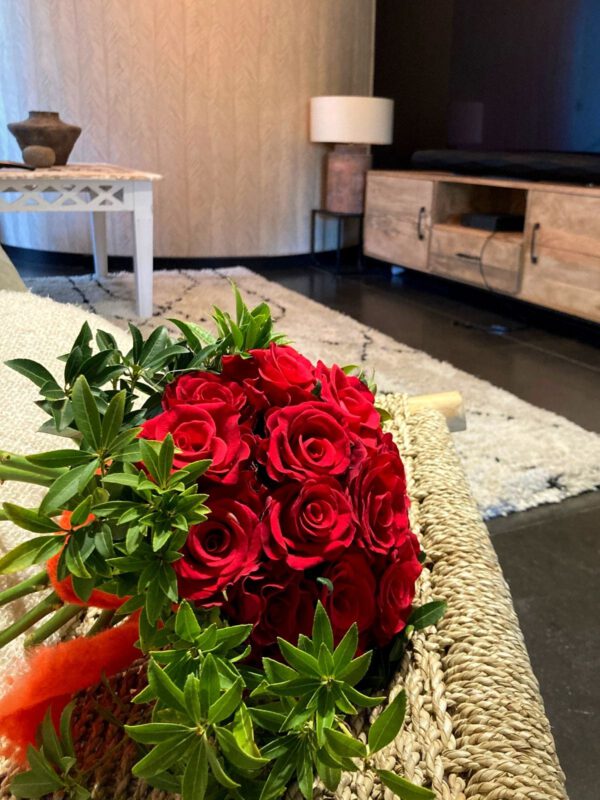 Red Tacazzi+ Roses and Arbutus
A small wedding bouquet, or for an anniversary, or even for lovers, this is something really commercial.
Red Tacazzi+ Roses
When I got home I took the roses from the packaging and cleaned the stems. With almost no thorns that's an easy job. I love easy roses. I gave them a nice and clean cut with the knife and put them in water with floralife. The next day they were already opening up so beautifully. The Red Tacazzi+ have thick stems. That makes that the water sometimes has more difficulties getting in the bud. So keep an eye on them, the moment they show not that steady anymore, you give them a new cut, 10 centimeters shorter.
Arbutus from Adomex International
Strong foliage like arbutus is perfect to use to surround the Red Tacazzi+ roses. It gives a certain romance to the Biedermeier bouquet. I love the casual look the green gives to this.