Last week, Alexandra Farms announced the winners of their prestigious Sixth Annual Garden Rose Design Competition. Having had the honor of winning 1st Prize in the Wedding Work category last year, as a part of my award, I had the incredible opportunity to travel across the globe to Colombia last February, visiting Alexandra Farms, one of the world's finest rose farms. In this exclusive blog post, I am delighted to share my unforgettable experience with you, as well as with this year's contest winners so they can anticipate their upcoming visit. Join me as I take you through my adventure and showcase some captivating images from my trip!
The Beginning of My Exciting Journey
The journey began in Aalsmeer when I was tasked with creating an immersive floral experience for the David Austin Exclusive European Marketing Event held at Parfum Flower Company's Fragrant Garden venue in early April 2022. This opportunity was both humbling and exhilarating as I had the privilege to work with approximately 3,000 luxury David Austin garden roses from leading growers Alexandra Farms, Rosaprima, and Tambuzi, alongside an equal number of supporting flowers, textural materials, and foliage, totaling around 6,000 stems.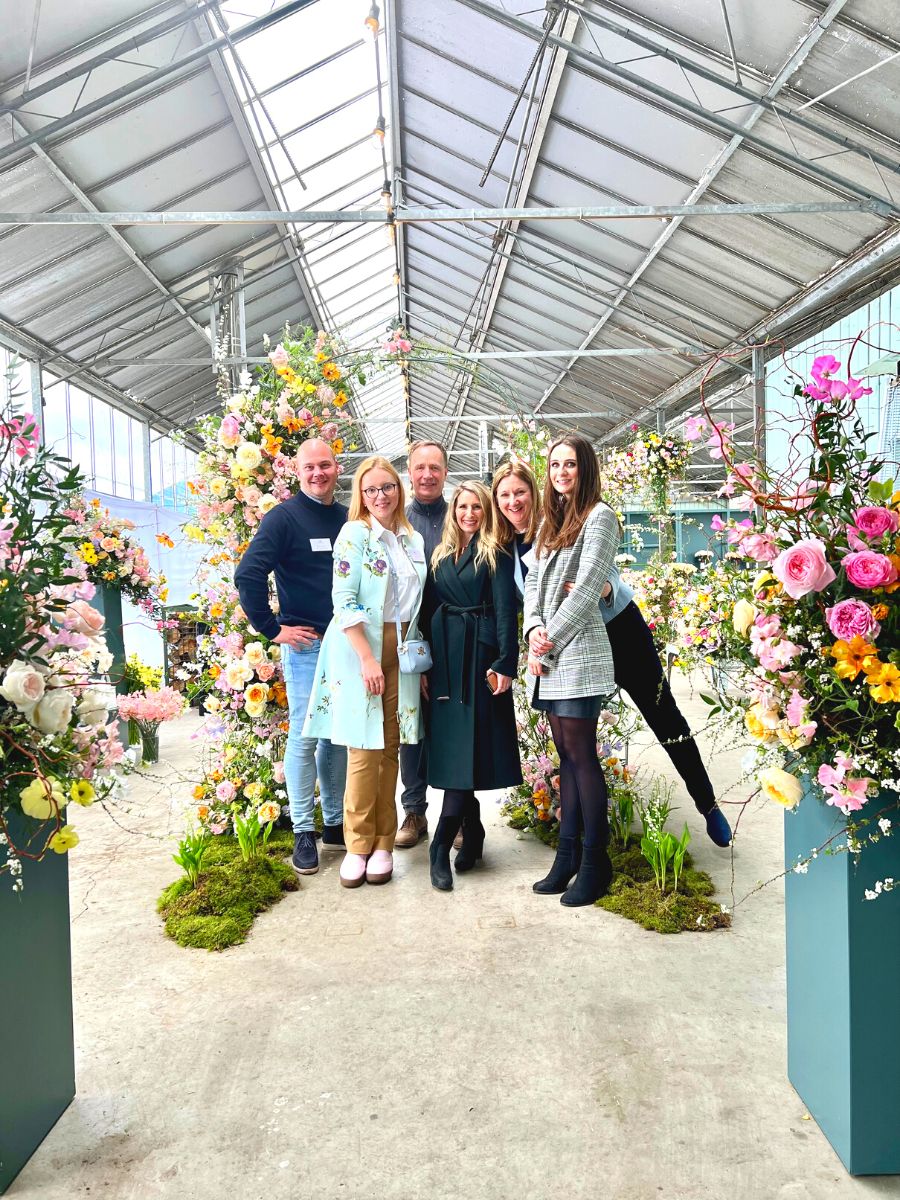 The garden-style wedding ceremony design, adorned with David Austin roses and an array of spring flowers, radiated opulence, romance, and abundance. The award-winning image was captured during a post-event photoshoot and ultimately earned me the chance to embark on a remarkable journey to Colombia. This incredible opportunity included an all-expenses-paid three-day tour, complete with luxurious 5-star accommodations, meals, a guided city tour in Bogota, a visit to their botanical garden, and the invaluable opportunity to connect with numerous talented floral designers from around the world, as well as the dedicated employees of the farm. Last but certainly not least, this journey gave me the privilege of witnessing firsthand the incredible garden roses they cultivate, widely regarded as the best in the world.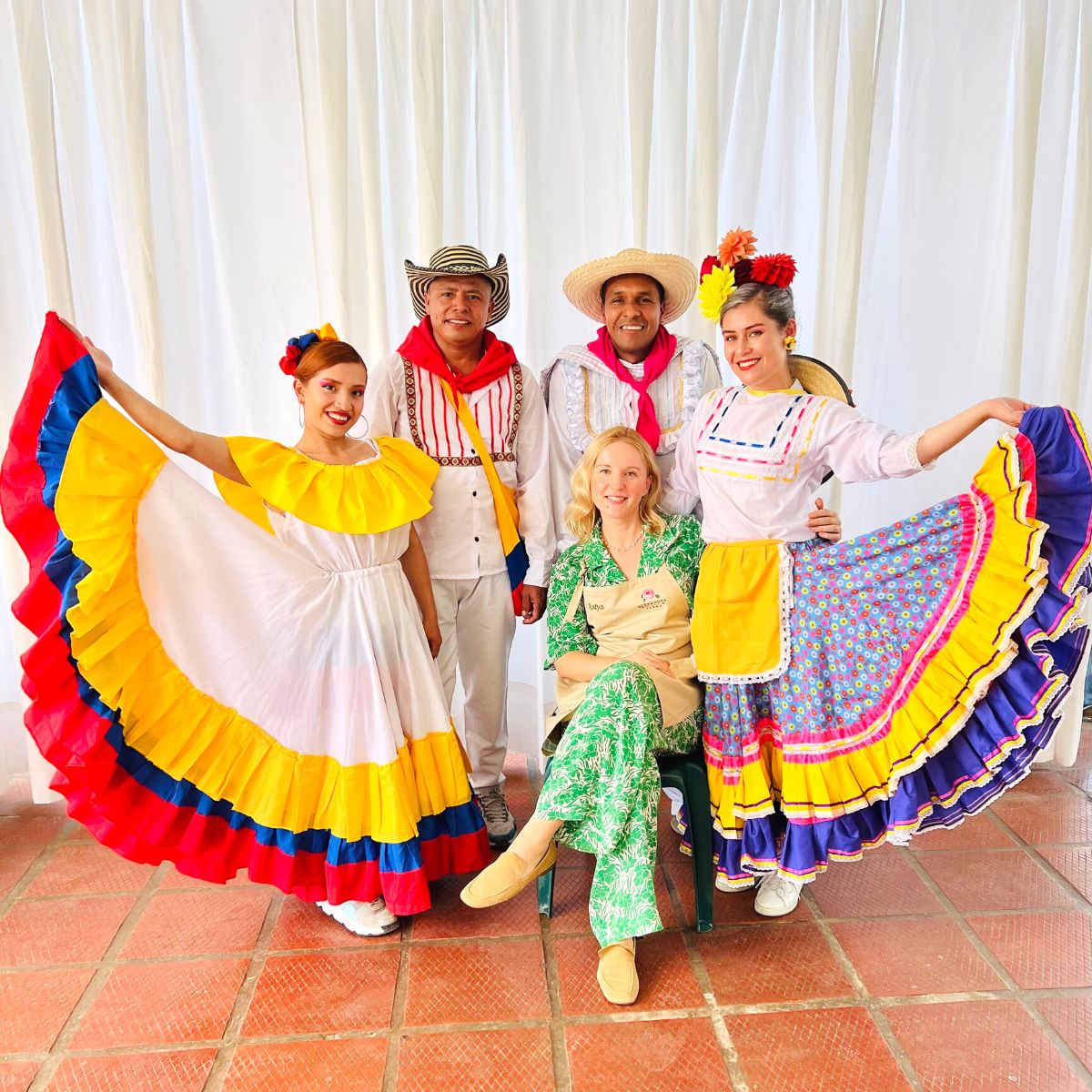 Arriving in Bogota, Colombia For a Blasting Flower Experience
I'm based in Amsterdam, running a specialized floral design business for events and weddings. The journey to Bogota took about 12 hours. My husband joined me as a guest. To make the most of the long journey, we planned a vacation before visiting the farms to explore Colombia's culture, and people, and savor its amazing cuisine. Upon our arrival in Bogota, we checked into the Hotel Clarion Sabana Park, outside of the capital where the farms are located. A lovely hand-tied bouquet, crafted by our gracious host Monica and her team at Alexandra Farms, welcomed us and set the tone for our visit.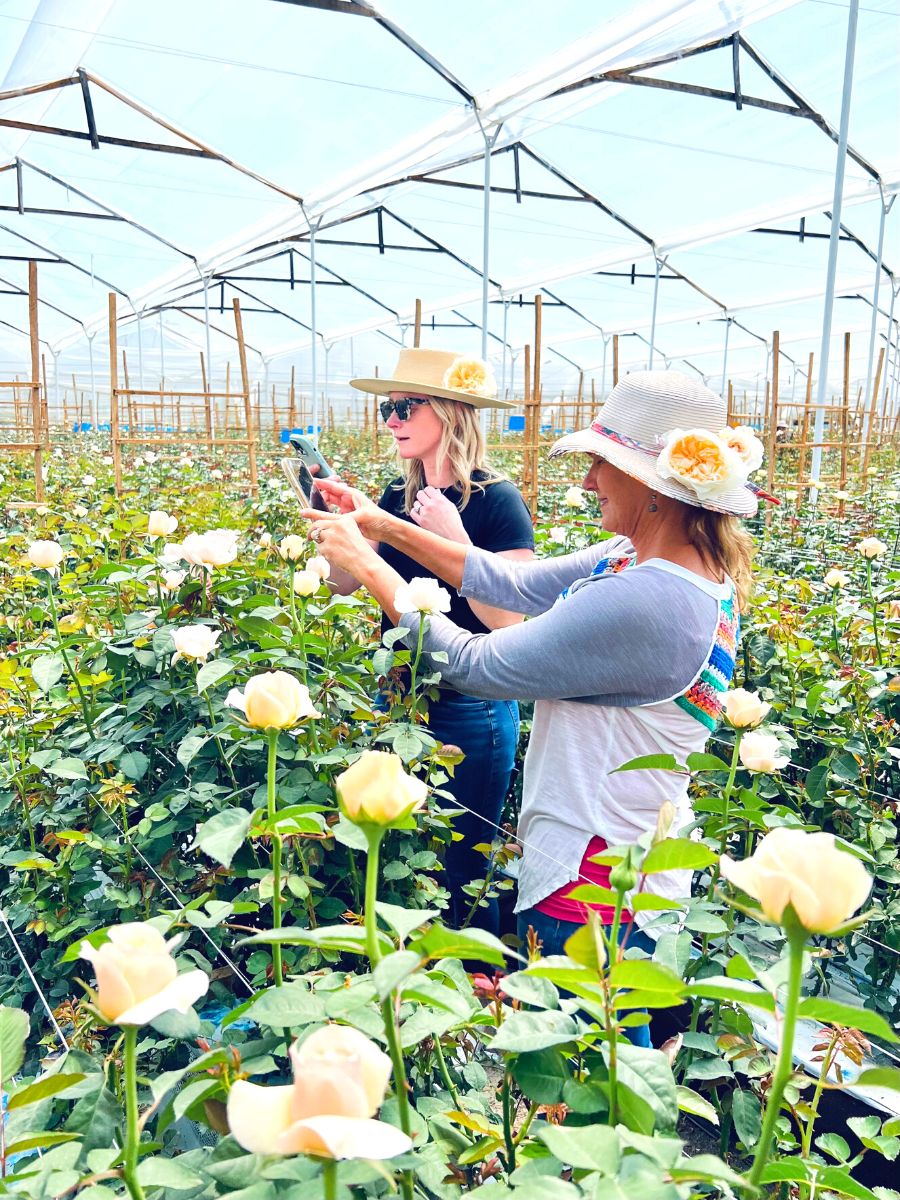 Due to high altitude sickness in Bogota, located over 2500 meters above sea level, I missed the first dinner. Fortunately, a fellow group member provided special supplements that helped me recover for the next day's tour to our first farm, San Ignacio.
Alexandra Farms' Director, Jose 'Joey' Azout, established this boutique garden rose farm in 2005 and named it after his daughter. Joey has an impressive background of over 25 years in the flower industry. He personally greeted us each day, joined us for breakfast, and guided us on tours of both farms. His remarkable enthusiasm, love, passion, and extensive knowledge as a garden rose grower enriched our tour, making it deeply personal, informative, and truly unforgettable. Joey, along with the entire Alexandra Farms team, displayed incredible hospitality, kindness, and warmth.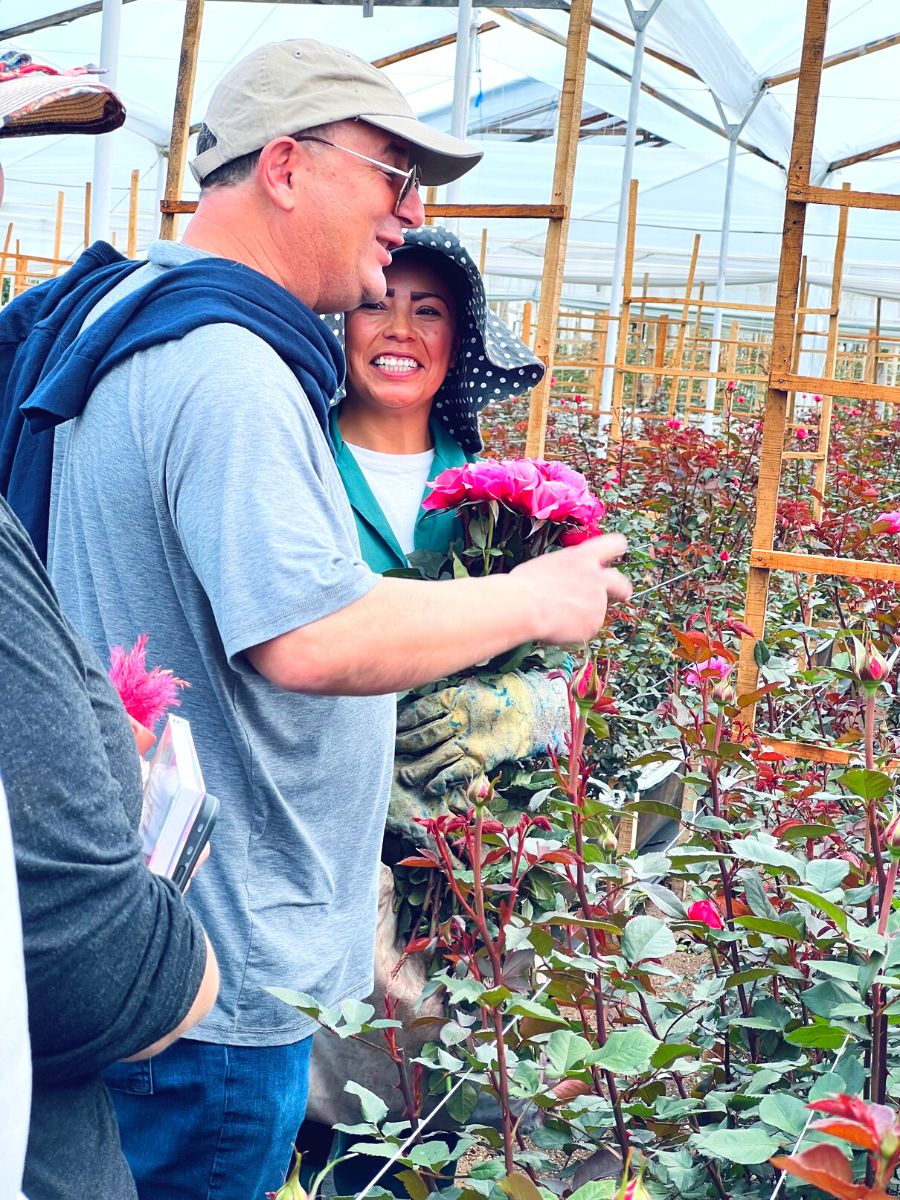 An Inspiring Group of Professionals Leading the Alexandra Farms Journey
Our group consisted of several outstanding professionals, including previous contest winners, such as Katie Noonan (2019 Garden Rose Design Contest winner), her guest, a U.S. florist, and her former mentor, Jenny McNiece Aifd Emc. Also among us were Elizabeth Miller (2022 Garden Rose Design Contest winner) and her lovely husband, Scott, as well as Janelle Gerestein (Alexandra Farms Certified Designer contest winner) and her husband, the talented cinematographer Oscar. We were joined by Canaan Marshall, a floral designer and contestant from Season 2 of 'Full Bloom' on HBO Max, who collaborates with Alexandra Farms, and his friend Collin, Nita Robertson, a graduate of Alexandra Farms' Certified Designer program and a staff member at Florists' Review. Completing our ensemble was Kaylyn Hewitt from True Vine Studio in Los Angeles, and the sales team from the prominent flower supplier, Mayesh USA.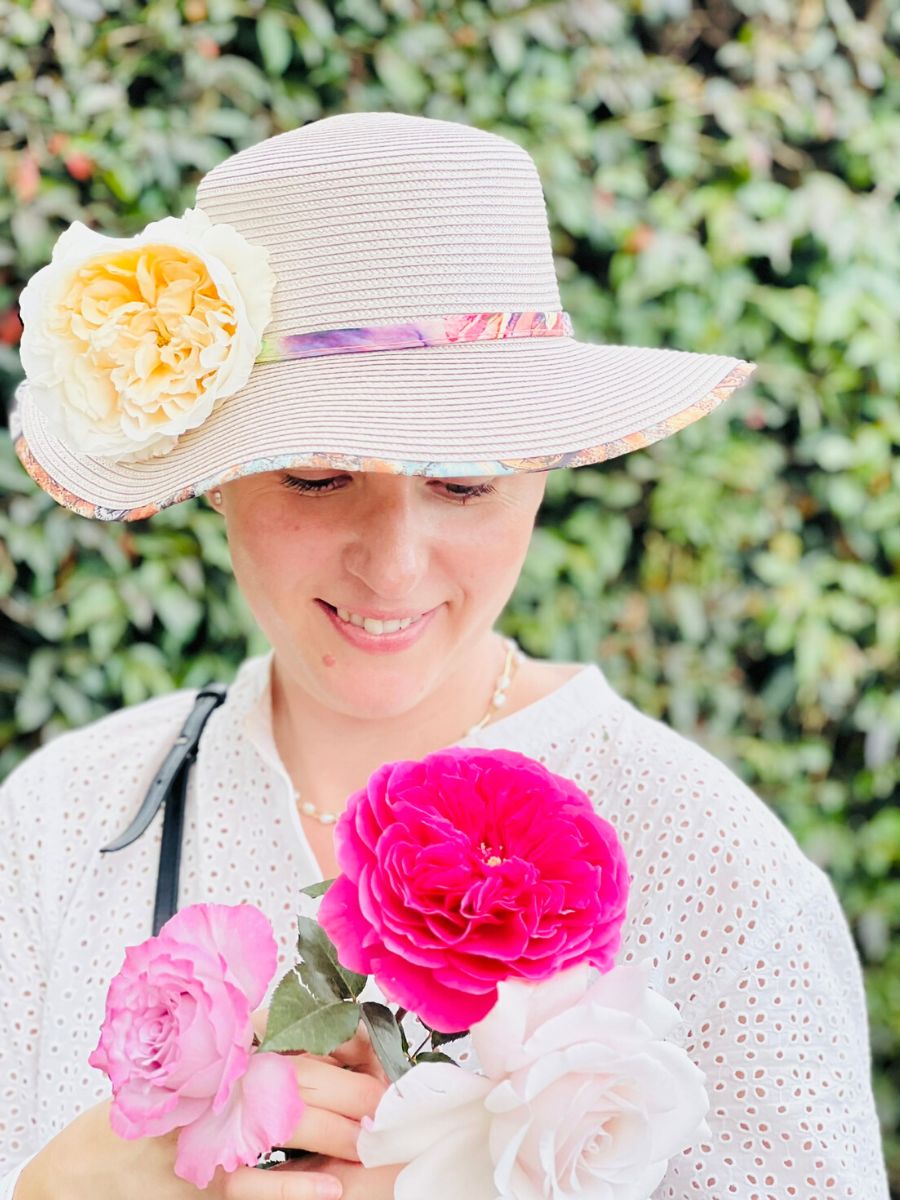 Our tour itinerary included visits to two farms: San Ignacio and El Jardin, both situated at high altitudes in Colombia's Andes Mountains. I learned that it's thanks to this elevated location that the roses develop their stunningly large heads. I must say that both farms are floral havens, nestled in the most picturesque surroundings. The farms prioritize environmentally friendly practices, such as avoiding the use of pesticides and employing natural hedges to deter insects. They've also adapted clever techniques like the implementation of reusable blue sleeves, which are placed on roses by hand to distract insects that don't seem to appreciate this color. While their primary focus is on cultivating garden roses and dahlias, they also experiment with tweedias and various other filler varieties. There are 34 carefully selected Deluxe garden roses in their collection as well as eight unique Japanese garden roses, a six-rose line by a Japanese breeder Keiji Kunieda, and nine dahlia varieties for the cut flower market, with more in testing.
Alexandra Farms - Sole Representative of David Austin Roses in Colombia
Alexandra Farms is the world's largest David Austin rose grower and the sole representative in Colombia, they offer a captivating selection of 17 romantic English roses in their Wedding Collection. Personally, I have a profound love for these iconic English garden roses, and when the budget allows I choose them for my wedding designs.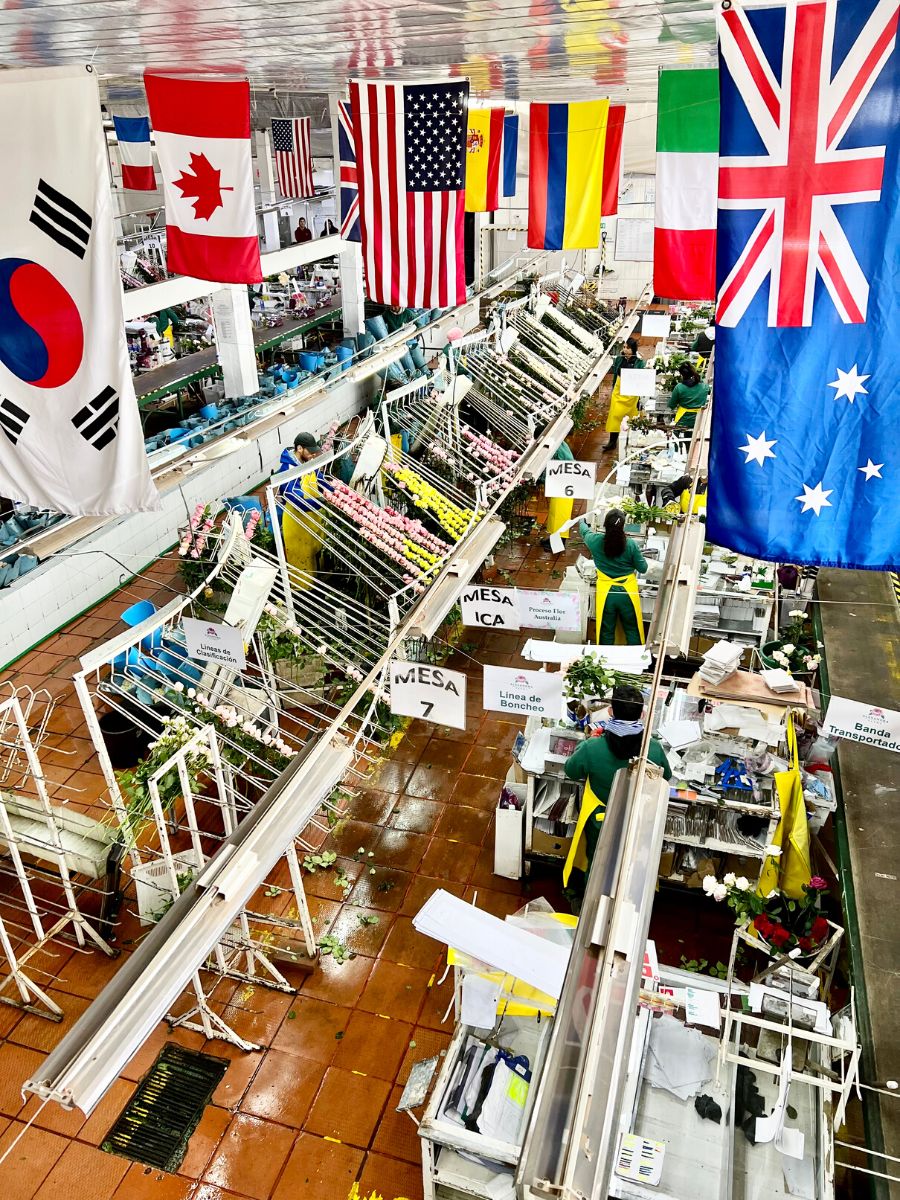 During my visit, I had the privilege of witnessing some of the most exquisite new rose varieties, still in the testing phase before they can officially join the David Austin rose collection. Two varieties, a delicate lavender hue, and a stunning peach shade, left me utterly captivated. What amazed me even more was learning that these roses undergo rigorous testing, lasting up to 8 years, to evaluate their health, performance, vase life, and, in the case of David Austin roses, their fragrance. The fate of these two enchanting beauties showcased in the pictures above remains uncertain. I found myself yearning to influence their journey into commercial production. Perhaps it's time to consider a referendum to sway David and his team.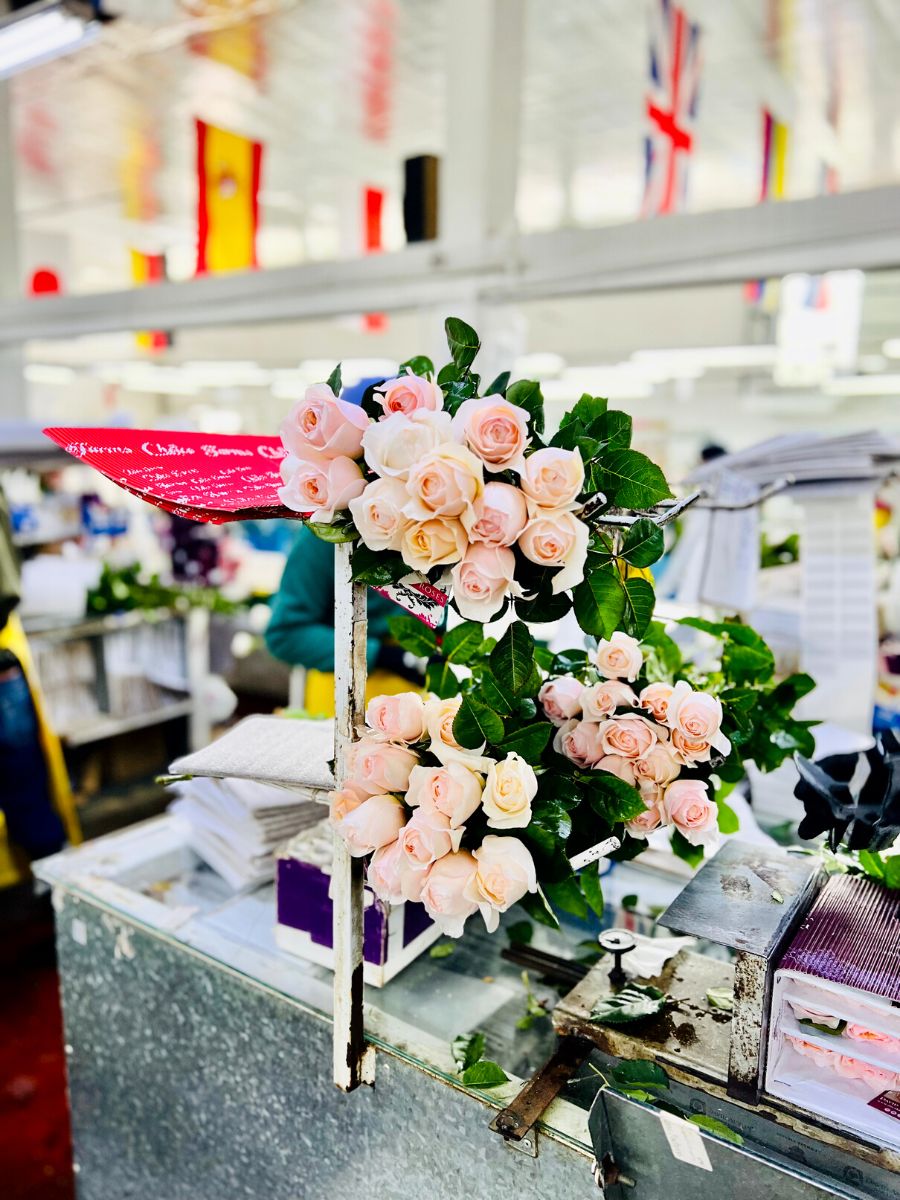 Back at the farm, we visited the sorting and packaging facilities. All the work, from planting to harvesting and packaging, is done by hand, giving it a personal touch. In the packaging facility, we noticed flags representing the countries where they send their flowers, including the USA, Canada, England, Belgium, France, Germany, Switzerland, Japan, and more. We also observed packaging tables that had been partially designed by the staff to improve efficiency, speed, and ergonomics in the packaging process.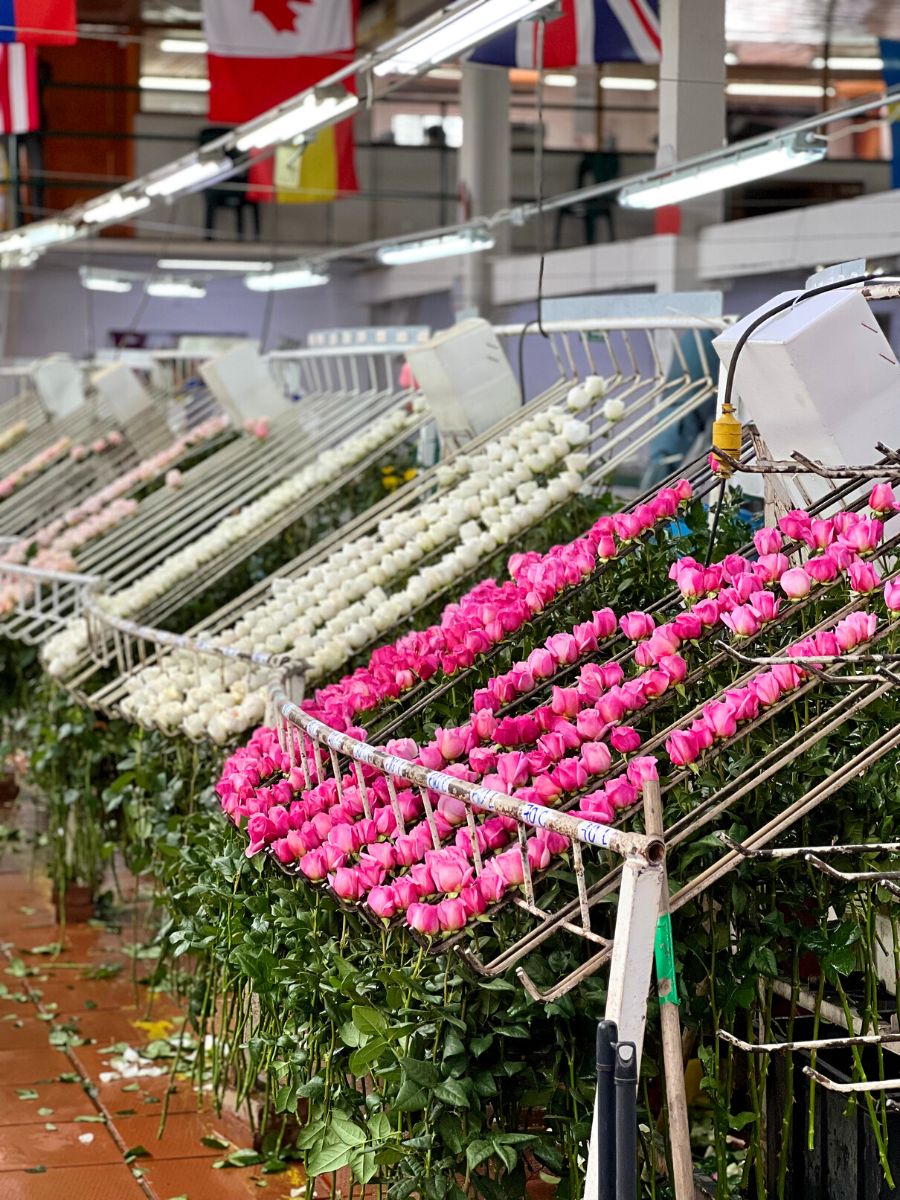 The Harvesting Process at Alexandra Farms
Following the harvesting, the flowers undergo a meticulous grading process based on the stem length and bud size before they are thoughtfully hand-packed. Each box carries the name of the individual responsible for packing it. This not only elevates the quality and personal responsibility but also establishes a unique connection. When a floral designer, like myself, on the other side of the world unboxes these roses, they get to connect with the person who carefully packed them, forging a meaningful bond across borders.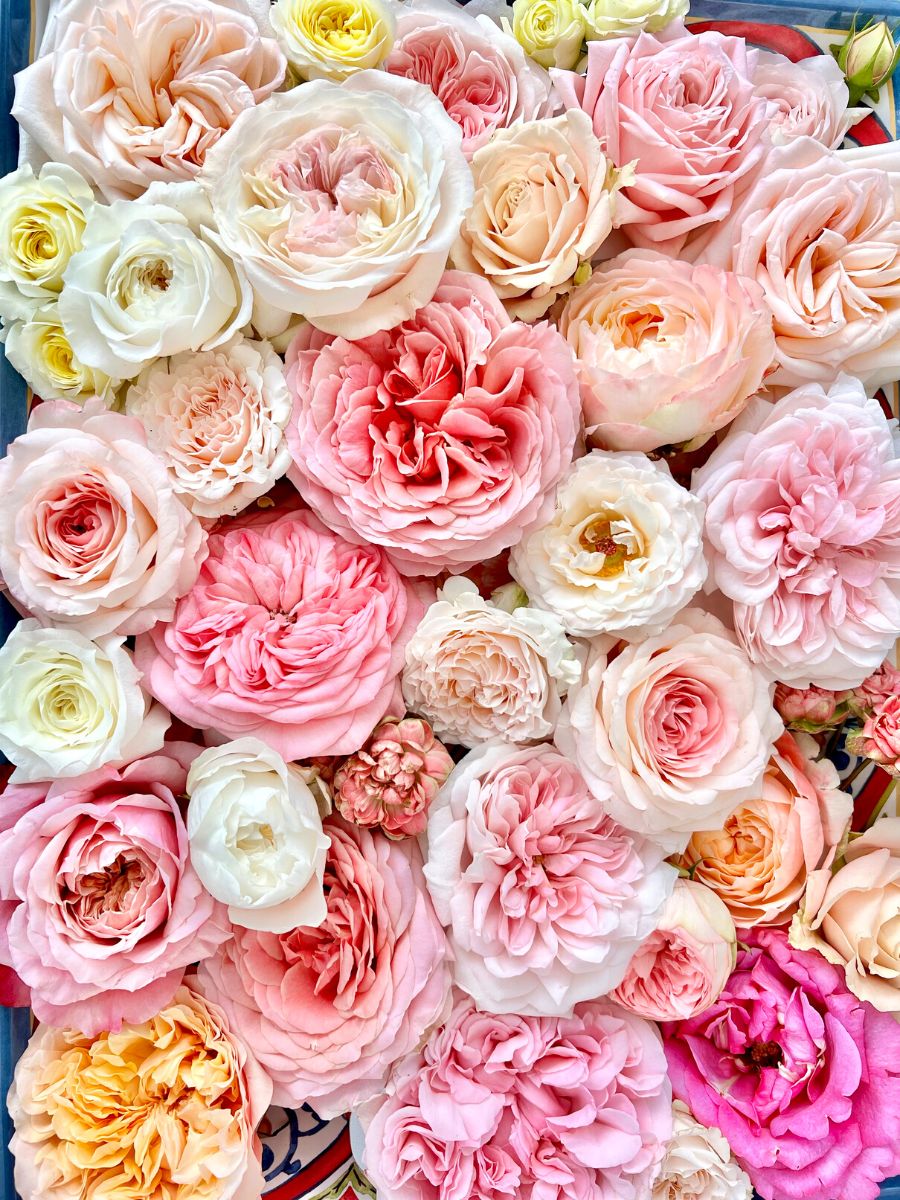 After an enchanting first day at San Ignacio Farm, followed by a delightful local lunch hosted by the wonderful Monica, Joey invited us to assess some new rose varieties. Gathered around an improvised round table, our enthusiastic group eagerly provided feedback on each variety presented by Joey and the farms' leading botanist, Pilar. As floral designers, we passionately discussed every rose, offering our enthusiastic approval with comments like 'This one is absolutely stunning!' and 'I love it!' or sometimes expressing reservations with sentiments like 'Not quite my style' or 'I wouldn't personally use it'. These candid reactions filled the room with lively discussion and creative energy.
Visiting 'El Jardin Farm'
On the second day, we visited another farm named El Jardin. Following the tour, we were warmly welcomed into a beautiful marquee, where the farm's finest garden roses, dahlias, and various filler flowers were showcased. We were treated to a delightful BBQ lunch, and the awards ceremony took place. I was thrilled to receive my certificate and thoroughly enjoyed the lunch.
After the lunch and the award ceremony, we were treated to an unforgettable performance by the farm's staff, who performed a breathtaking national dance in traditional costumes. Apparently, they had diligently prepared for this dance, receiving two weeks of training from a tutor before our visit!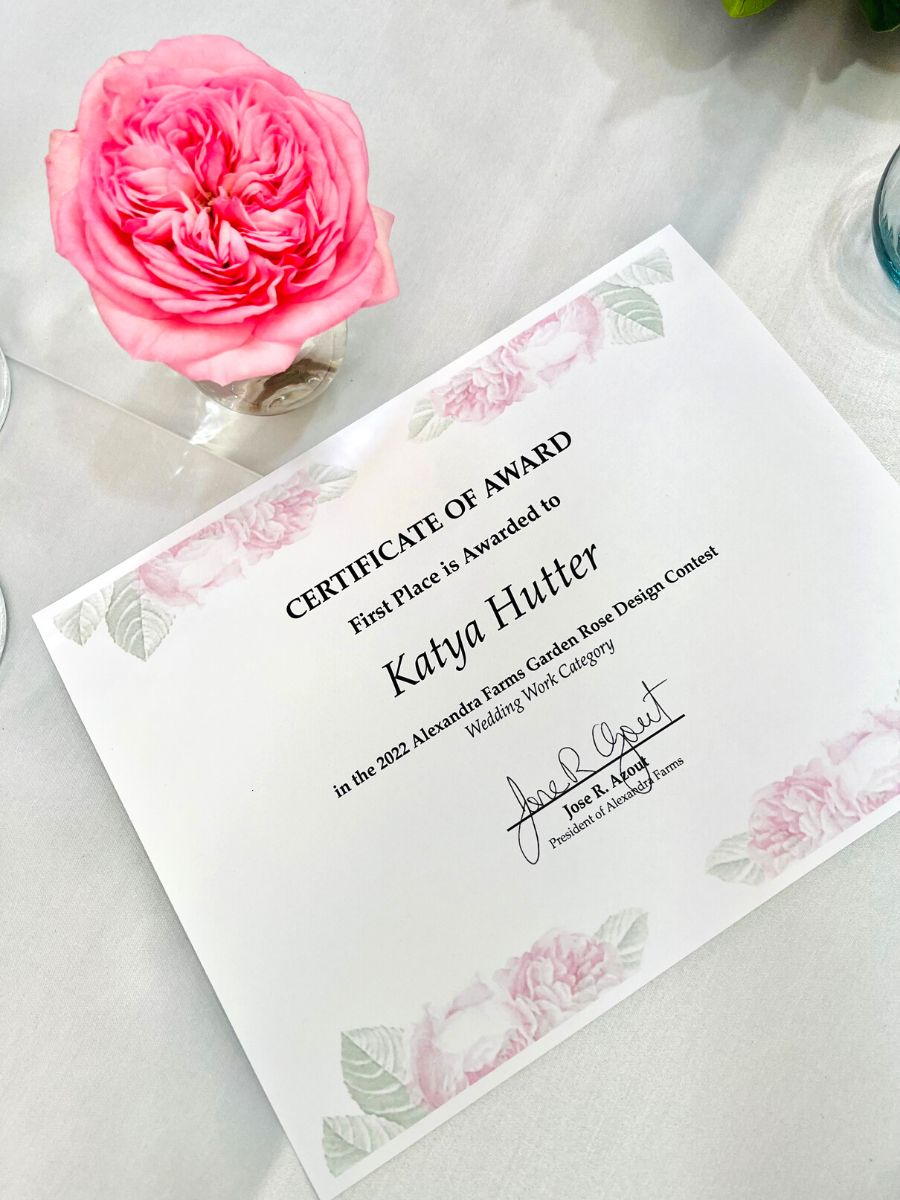 The ladies wore captivating dresses in the colors of the Colombian flag, while the men sported handsome costumes complete with special hats and bandanas, all while dancing barefoot! I can't forget this dance, particularly the very last part when they incorporated lit candles into their moves. It was enchanting, incredibly beautiful, and simply stunning.
What made it even more touching and sentimental was seeing these wonderful people, who grow such exquisite flowers, dance with dedication and the utmost respect for us. It was a priceless experience to connect with their rich culture and generosity.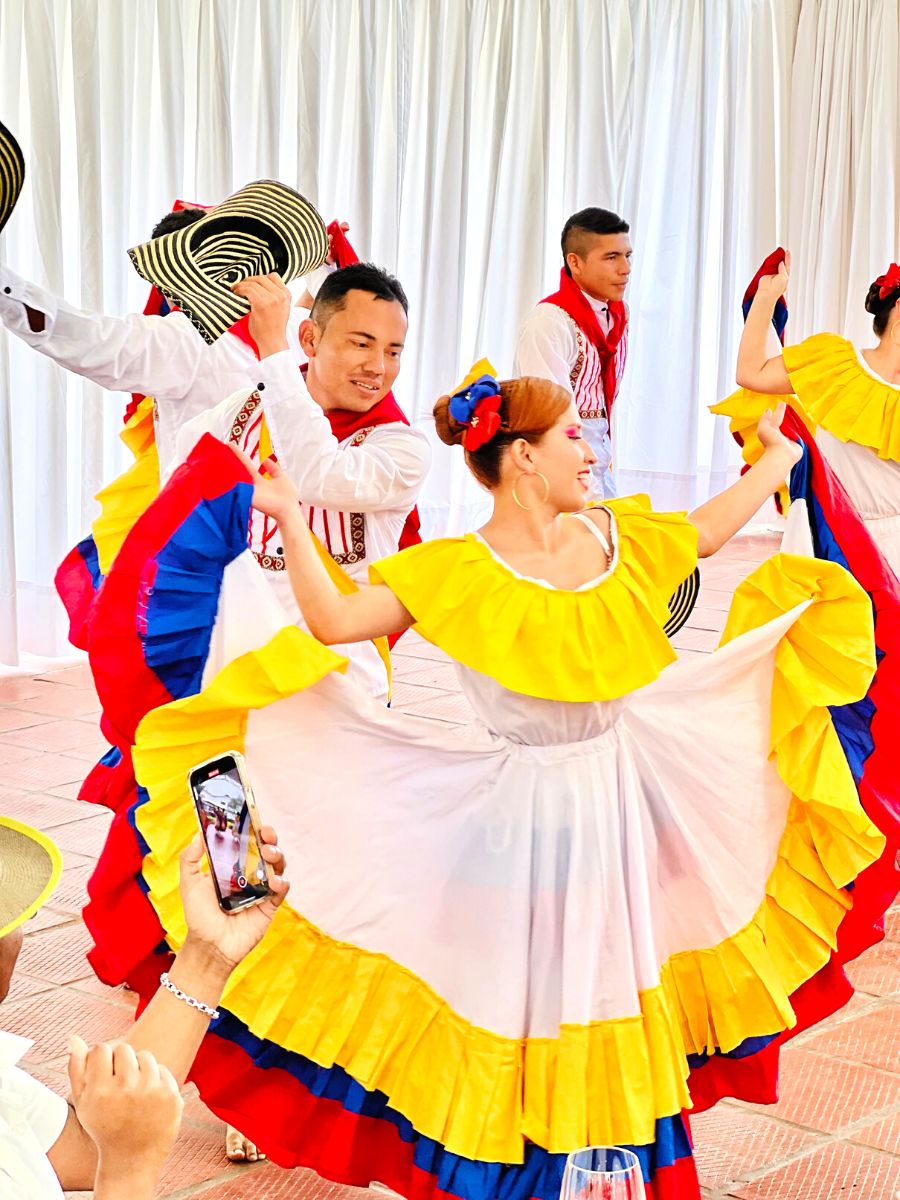 As part of our itinerary that day, we had the opportunity for some creative floral work. Each designer could choose their favorite blooms and craft a floral arrangement. Intrigued by the vibrant local culture, the colors of the Colombian flag, and the traditional costumes, I decided to go for a lively and colorful scheme, selecting various types of bright dahlias and David Austin roses.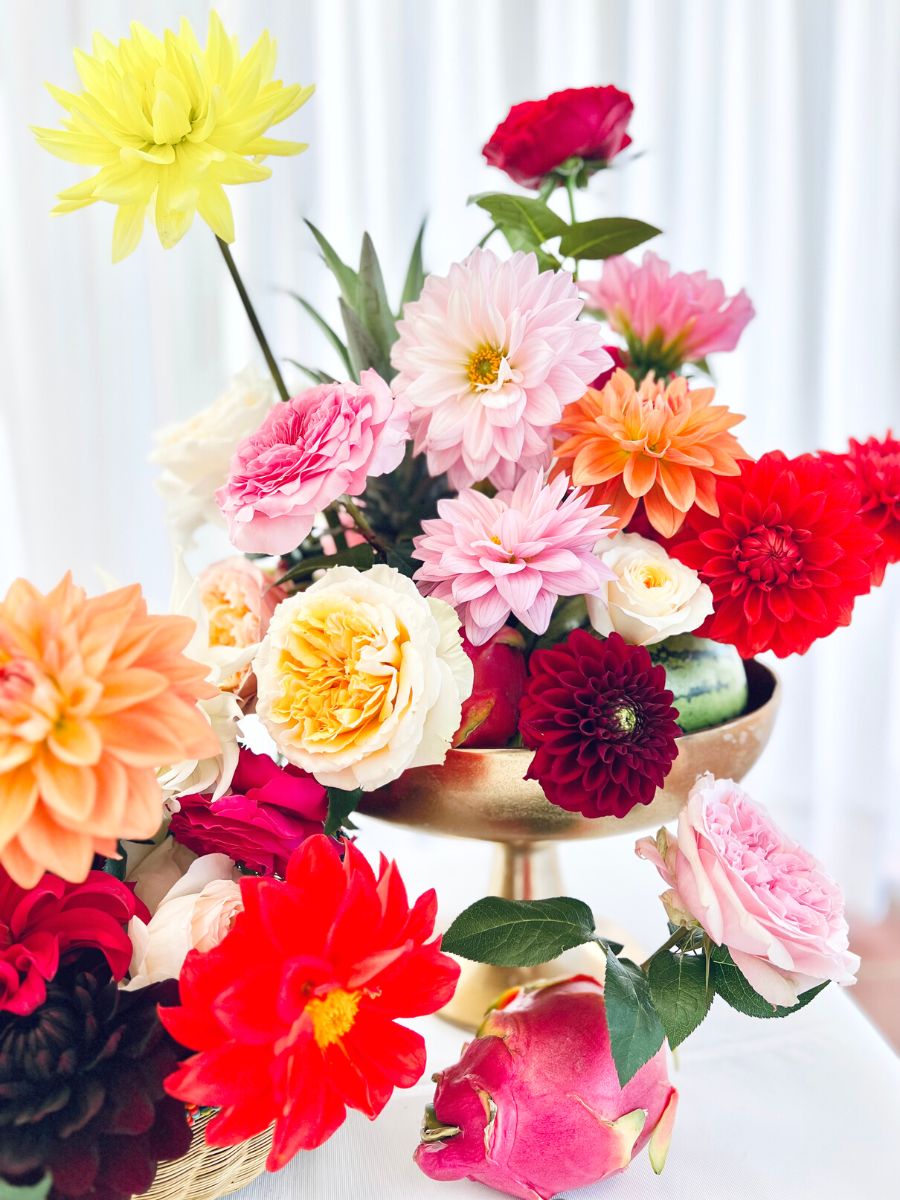 To enhance the local flair, I asked Monica to buy some local fruits for me to use them as a source of hydration for my floral creations. Watermelons, dragon fruit, mangoes, pineapples, various citrus fruits, and bananas became my unique canvases. Once my arrangements were ready, I spontaneously invited some of the dancers to pose with the creations, drawing inspiration from their vibrant costumes.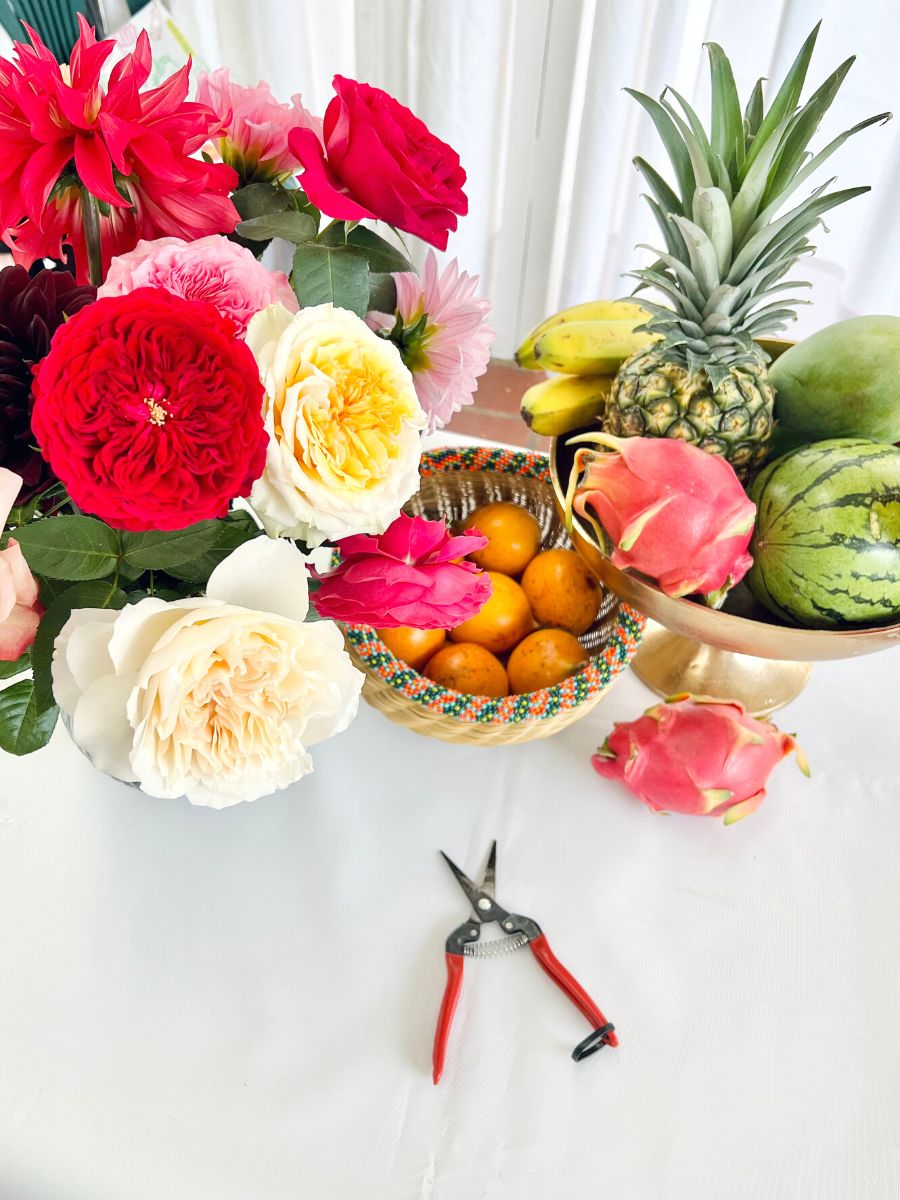 It turned out to be a fantastic improvised photo session, perfectly complementing their bright and colorful Colombian La Pollera Colora ('brightly colored skirt'), which is perhaps Colombia's most iconic national costume for women. I absolutely love and cherish these spontaneous images.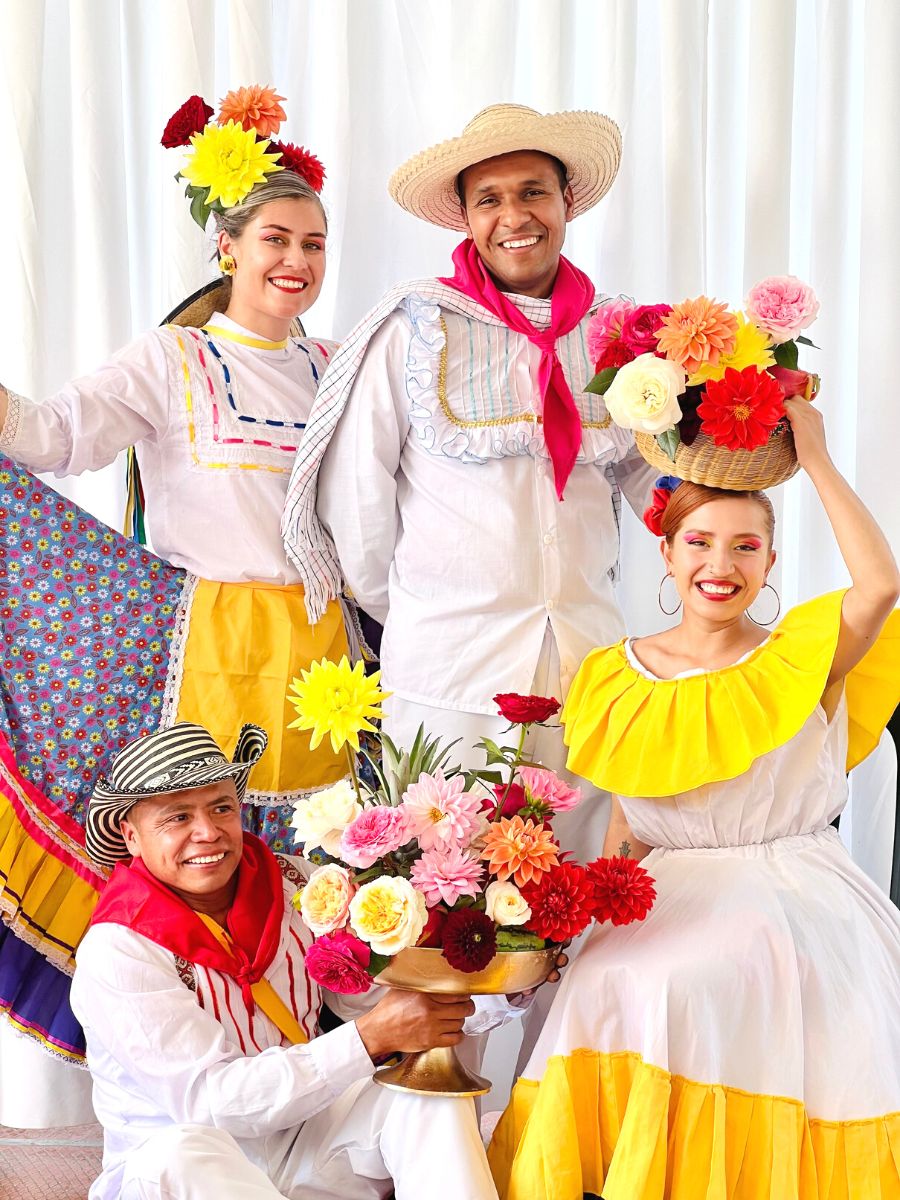 My Collaboration With Other Designers
In addition to my colorful floral arrangement in Colombian style, I had an ambition to create a personal floral piece for every floral designer in our group. I even sent them messages with some 'instructions' in the morning. Well, it seems my enthusiasm got the better of me, as time was obviously limited. However, I did manage to complete two designs successfully. The floral design above, a floral décor of a glamorous handmade handbag, was made for Nita Robertson, an editor from the esteemed US magazine 'Florists' Review.' For this design, I used black dahlias, as well as amaranth and stunning David Austin Tess roses among other supporting flowers.
Another one was a flamboyant floral headpiece designed for the great US floral designer Canaan Marshall. He was very gracious to agree to be my model. To complete the look, we added extravagant Alexander McQueen sunglasses and a matching scarf, which I gifted to Canaan since they suited him much better than me.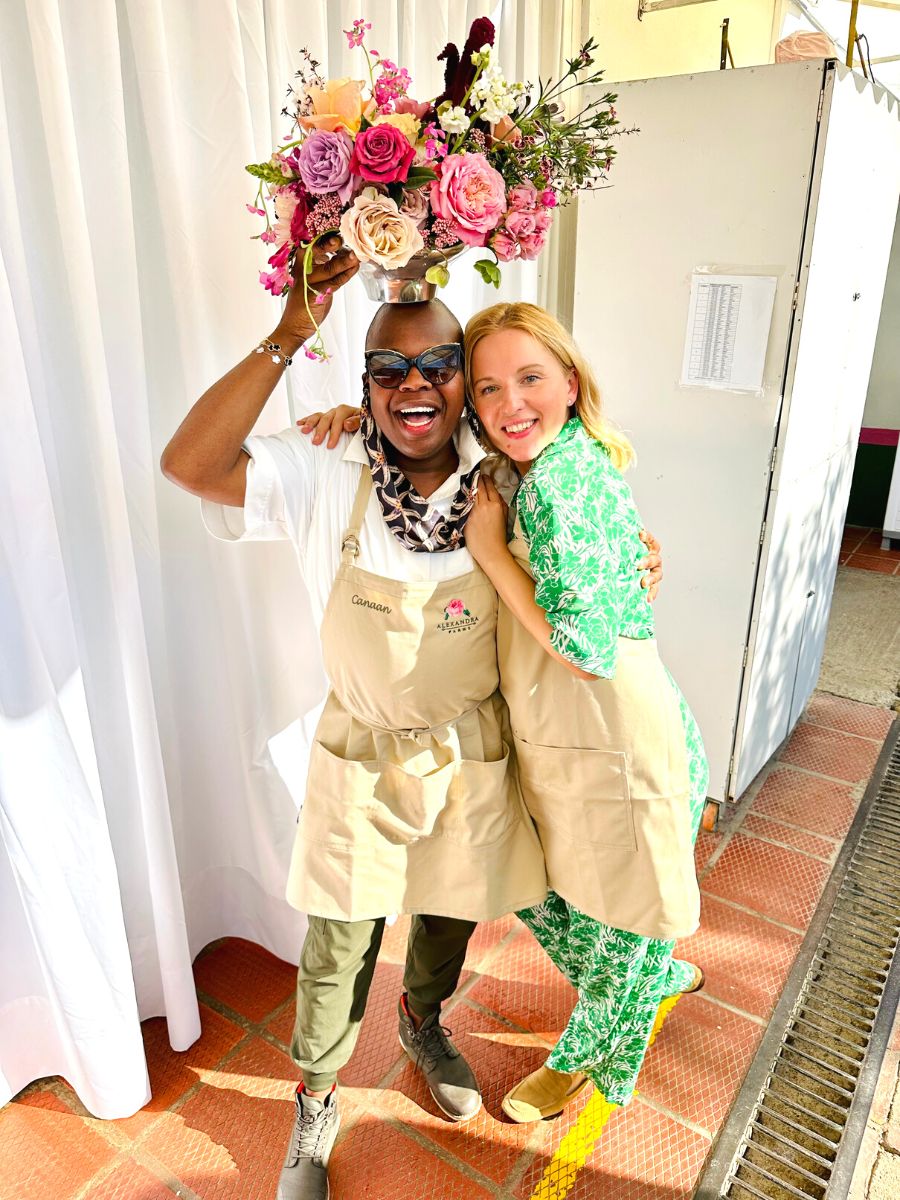 We had a great time taking some fun pictures together, and Alexandra Farms captured a lovely film with both of us in the frame:
All the designers in our group created stunning pieces. It was both enjoyable and informative to see the different styles, techniques, and color schemes they used. I admired their work, as they were all very talented, and we still keep in touch via social media channels. In fact, I even became floral friends with some of these talented designers.
An Exceptional Culinary Experience
The culinary experience deserves special mention! Each day, we all gathered for breakfast at our hotel, with Joey joining us every day. I cherished those morning moments when we came together, engaging in delightful small talk. Lunches were a highlight, with each farm offering a unique menu of local, and national cuisine. Dinners were equally enjoyable, filled with the lively laughter and cheerful atmosphere of our spirited 'Americans from the South' group, who set the tone for joviality. The rest of us, representing various nationalities, engaged in meaningful conversations. I vividly recall our conversations with Roberto, the managing director, his wonderful wife Monica, and their lovely daughter. I also had the pleasure of chatting with Oscar from Canada, Janie's husband, a talented cinematographer who displayed a deep fascination with Dutch culture and history, influenced by Janie's direct Dutch ancestry.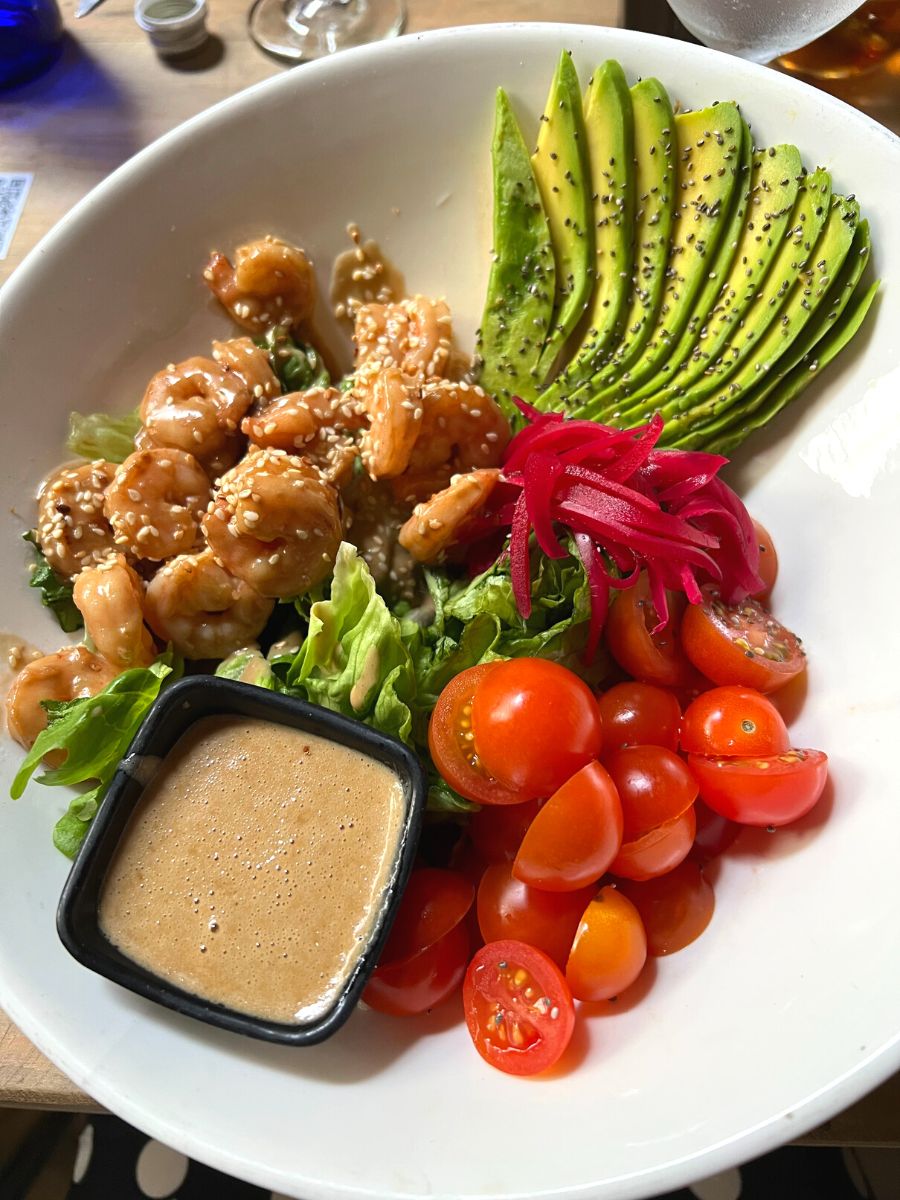 The Last and Final Day of My Tour With Alexandra Farms
Well, if you're still reading this rather lengthy blog, I can assure you it's coming to an end! On the final day of our three-day program, we enjoyed a guided tour of Bogota, some sightseeing, and a visit to the beautiful botanical garden. It was a wonderful way to have fun together, learn about the local culture, appreciate nature, and savor the cuisine—all of which made this experience truly priceless.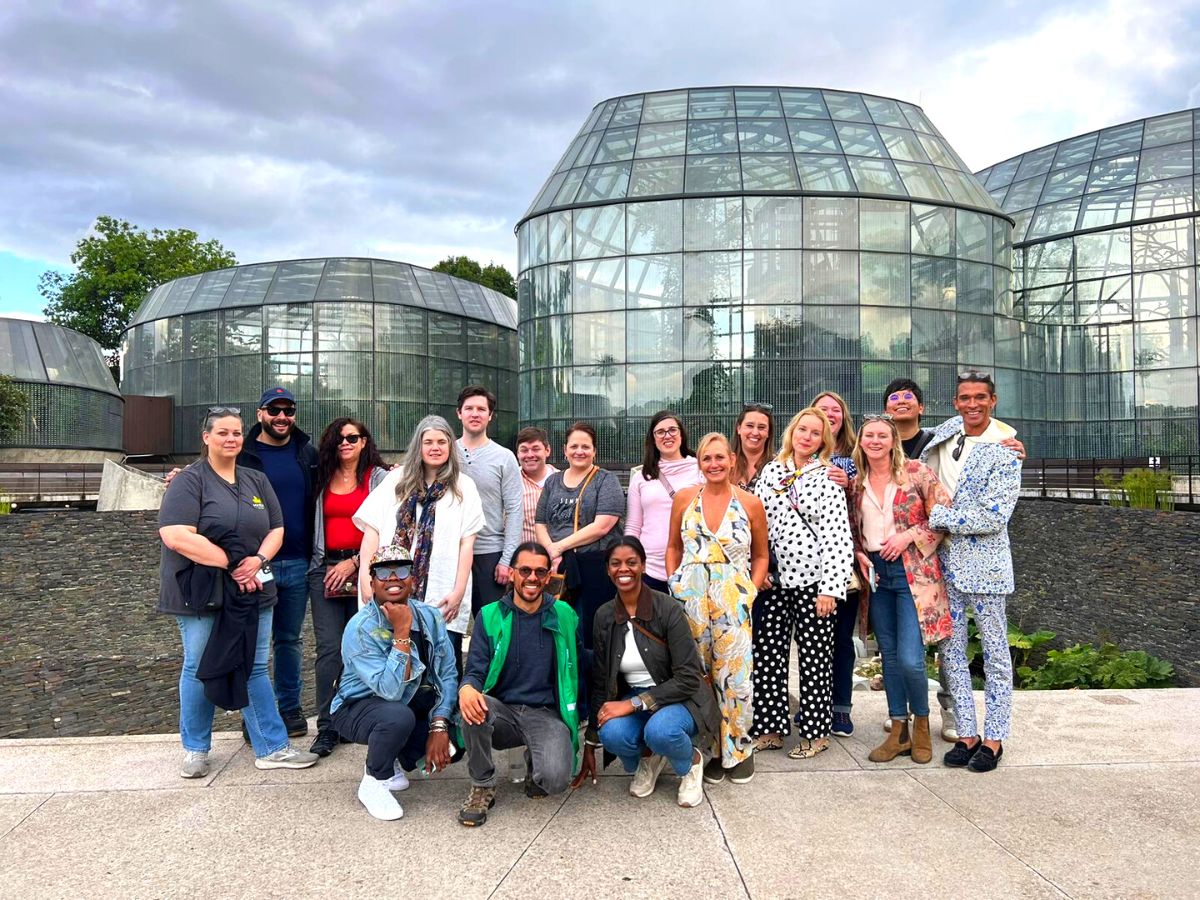 The overall journey, from the initial submission of the images for the contest to the unexpected award and the subsequent unforgettable generous treat with the three-day Alexandra Farms tour program, was absolutely high-class and outstanding. A heartfelt, immense thank you and a deep bow to you, Alexandra Farms! Not only do you grow some of the world's most beautiful roses, but your business is also beautiful from the inside out.
I wish all the winners of Alexandra Farms' Annual Garden Rose Design Competition this year and in the future a fantastic trip!