This week I paid a visit to a very interesting Anthurium grower, Marco Oosterom. Marco is the partial owner of Anthogether. He is responsible for the sales of anthuriums for Anthogether, which is a growers' association of five Anthurium cut flower growers. I think the anthurium is a beautiful flower that is available in all shapes and sizes. Did you know you find a full range of about eighty types of Anthuriums?
Anthogether
Anthogether has a complete range of cut Anthuriums. The newest cultivars are added every year. The trade of the anthuriums takes place daily via the auction clocks of Royal FloraHolland. And directly via their own webshop and direct sales to exporters. The flowers are available in any conceivable packaging. That one box with that special kind, or a completely mixed box of various kinds. From deep red to pastel colors and from a spring mix to a Christmas mix, it can all be found at Anthogether.
There are five companies affiliated with Anthogether; Spekflowers, Oosterzon, Van Adrichem Anthurium, Bouman Anthuriums, and Evanty.
Today I Visited Marco Oosterom From Nursery Oosterzon
In the mid-1920s, grandfather Oosterom started growing vegetables under glass. In the 60s his son joined the company, and they started growing cucumbers and lettuce in the winter. Marco and his brothers, Theo and Gert. Came in in the '90s. They started with cut Anthuriums in 2000. In 2011, Anthogether was founded to have a better market position. Still today the 5 growers are intensifying the collaboration to have joint sales and other advantages.
Anthurium - a Short History
Anthurium originates from tropical rainforests and grows on trees with aerial roots. (An epiphytic evergreen tropical perennial). Anthurium andraeanum is the official name. It is commonly called flamingo lily or painter's palette. The plants are native to Colombia and Ecuador. Anthuriums are most noted for their attractive waxy, palette-shaped, bright red spathes and contrasting dark green foliage. In the greenhouse, they grow under screen cloth to protect the plants from too much sunlight.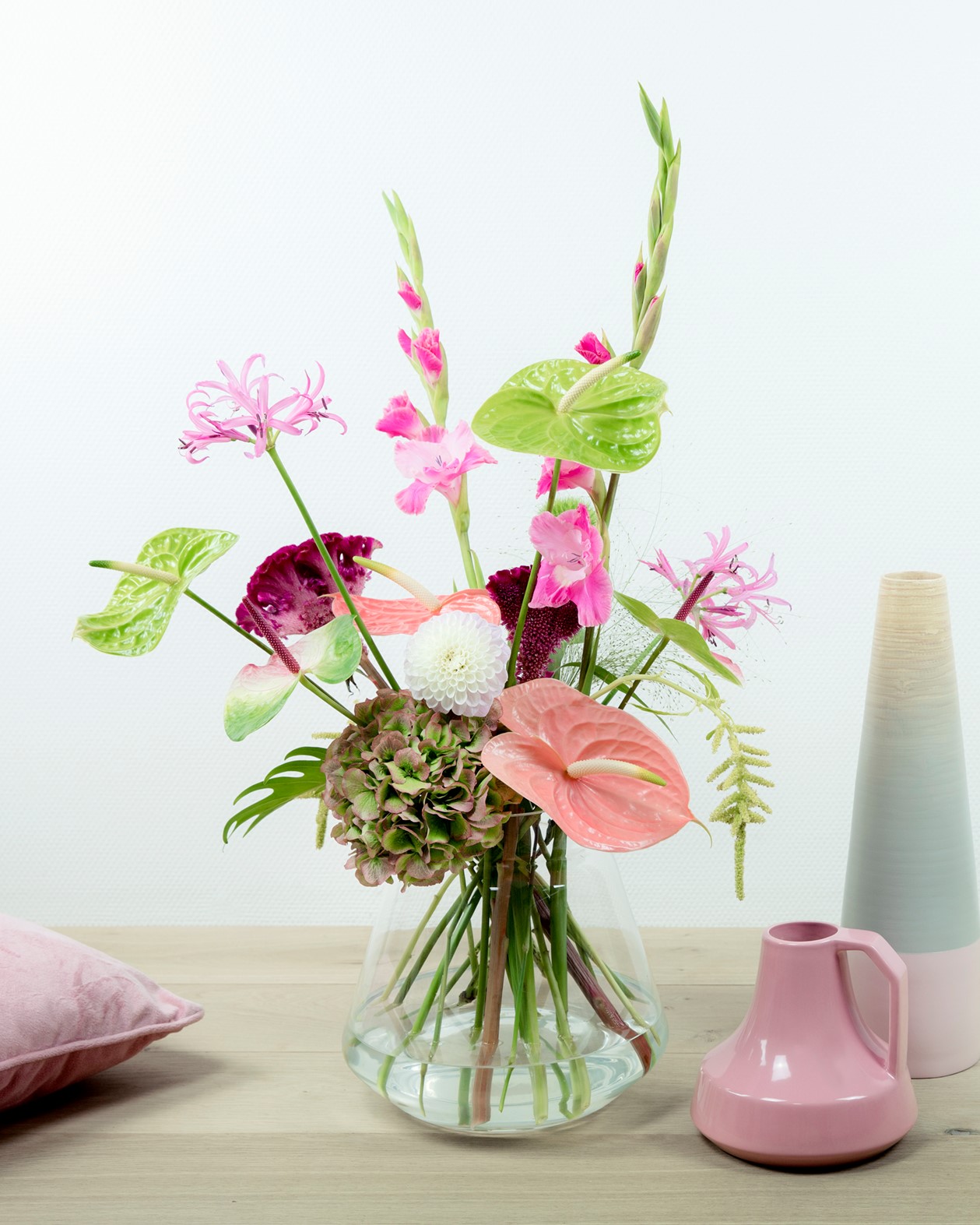 Marco Oosterom
This anthurium grower is specifically proud of the way they run their business. With constantly introducing new varieties, it is possible to have a distinctive and outstanding range of products. At least 35 percent of the assortment is exclusive to Anthogether. But also the way they enable access to their products to the trade is something Marco talks about joyfully:
"We really have what we call 'short lines with the trade', we are very well immersed in the trade, and the contact with all the flower buyers is really good. The flowers we provide arrive quickly at the flower auction, and all boxes can be traced. About the product, we know that the shelf life has improved a lot. So, that is good news too. We also provide small boxes, in different sizes. Know that when we introduce new varieties, they keep for at least 3 weeks. Impressive, right?"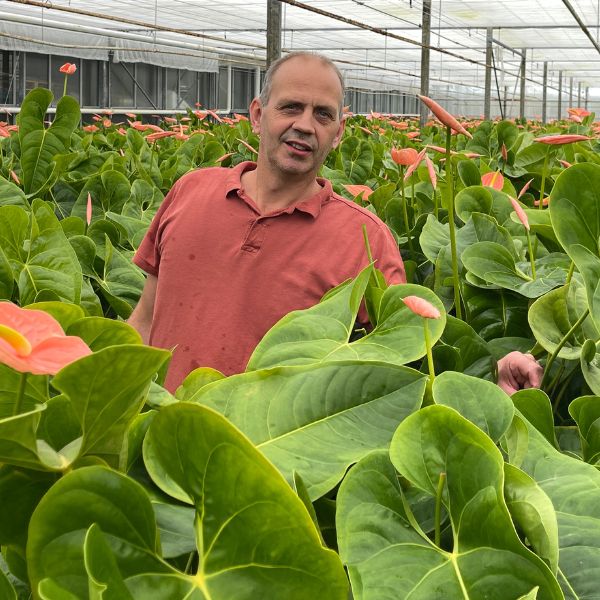 Exclusive Flowers
Marco continues to explain that the anthuriums are no longer a normal, regular product, it has really evolved into an exclusive product. It is no longer a standard product, it has become an exclusive product. And that is also something they hear from florists around the world; a great assortment, with a wide range of colors that can be customized for florists with flowers in all sizes and lengths. Even up to 100 cm. The production of these flowers is as sustainable as it can be. Now using 50% less gas than the last year. And they fight pests, almost 100% organically. This grower has many certifications, including MPS A and MPS GAP.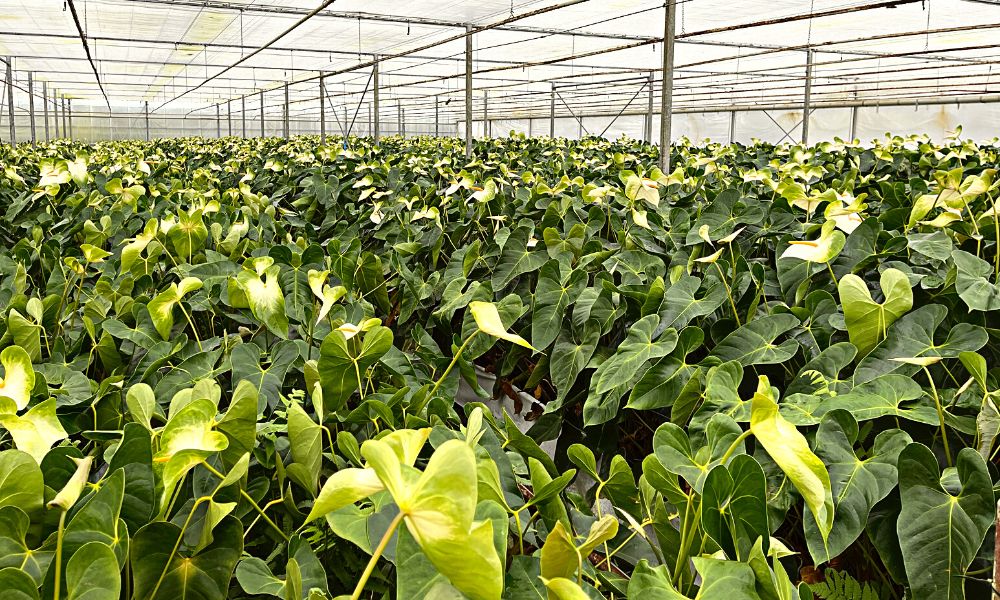 Favorite Flower & Dream
When asked about his favorite flower, Marco replies with three varieties; Anthurium 'Bellanca', 'Tequila' and 'Denali'. marco hopes they evolve to be the market leader in anthuriums and to unburden all buyers in cut anthuriums with the best possible service. And best products.
The 5 Nurseries of Anthogether
A lot of flowers are being produced in the group of five nurseries of anthuriums. Nursery Spekflowers has a production area of ​​about 65,000 m2, with the brothers Klaas and Dennis van der Spek at the helm. Oosterzon has a production area of ​​about 45,000 m2, with the brothers Gert, Marco, and Theo Oosterom at the helm. Van Adrichem Anthuriums is managed by Jan and Jeanet van Adrichem and they have about 10,000 m2 of production area. At Bouman Anthuriums they have a production area of ​​about 33,000 m2 and the daily management is in the hands of Jens Kool. At the head of Evanty are Jaap and Marco Evers and they have about 26,000 m2 of production area.