Italians are used to gift women a yellow bouquet full of mimosa! The sprig of mimosa was associated with the 8th of March starting from 1946 after the parliamentarian Teresa Mattei offered it to women for the Women International Day.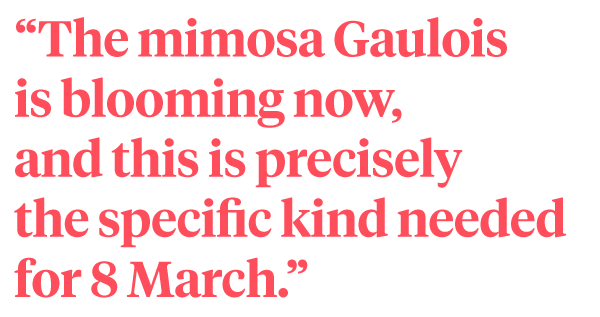 Just the Right Time for Mimosa
Mimosa blooms at just the right time for Women's Day. Its branches bloom at the end of winter and with their straw yellow color they instantly dampen the greyness of the cold season, bringing the joy of the coming spring. You may or may not like the intense scent of its open flowers, but they certainly help you to remember the imminent arrival of spring!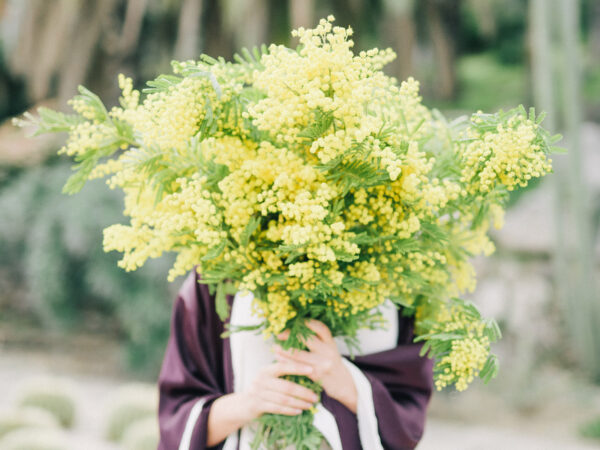 Originally from Australia
Mimosa is a plant belonging to the Mimosaceae family, which was imported to Europe at the beginning of the 19th century: originally from Australia, it found ideal conditions mainly in the "Riviera dei Fiori", in Sanremo, where it found the ideal climate to grow and develop. Mimosa plants grow in large shrubs or small trees, in open grounds, and a mild climate. It is an evergreen plant with compound or whole gray-green leaves. The plants grow fast (from 50cm to 1m per year) and after only two years they begin to give their first flowers. When it reaches five years of age it enters full bloom. Mimosa plants require direct sun exposure and neutral to slightly acidic soil. The resistance of the plant depends on the age of the tree and its exposure (to wind and sun). Mimosa plants are naturally resistant to drought and do not tolerate excess water, they begin to suffer from -5 ° and can even die if the temperature remains at -10 ° for several days.
Mimosa Gaulois
The mimosa is blooming now and the mimosa Gaulois is precisely the specific kind needed for 8 March. However, the blooming is conditioned by the weather, which can anticipate and postpone the flowering. Each year harvesting mimosa right for the selling during Women's Day is always an unknown factor. Furthermore, it becomes difficult to find mimosa because it is a hard job and many elderly collectors are not replaced by the new generations.
Resembling a Ball
The mimosa flower resembles a ball, is rather delicate, and particularly suffers from wind and rain. Once collected, it must drunk water so that it can swell. The growers give the mimosa to cooperatives and wholesalers that pack it in bunches of half a kilo, placed it in cold rooms at zero degrees, and placed it in boxes that usually contain six bunches, for a total of three kilograms per box. Also, the final end of the plants, called tips, are s In recent years, demand has been very high especially since new markets have opened up, in Eastern Europe and in particular in Russia.