People say that Australians enjoy some of the best weather in the world. Their warm climate also provides optimal conditions to grow the world's most unique flowers - many native to only the Antipodes. Let's find out which native Australian cut flowers you ought not to miss out on in the more exclusive part of your assortment that will thrill both you and your customers.
Australian Native Flowers
Many Australian native flowers such as the grevillea and can easily last long periods in a vase, or even without water at all. This is due to the flowers being built to last within their hot Australian climate. With global temperatures on the increase, these flowers are finding ways to adapt and evolve in order to flourish in these warm climates. Often they have woody stems and require a nice sturdy vase (and a sharp pair of cutters) to support their weight, such as the famous heavyweight banksia, Waratah, and protea.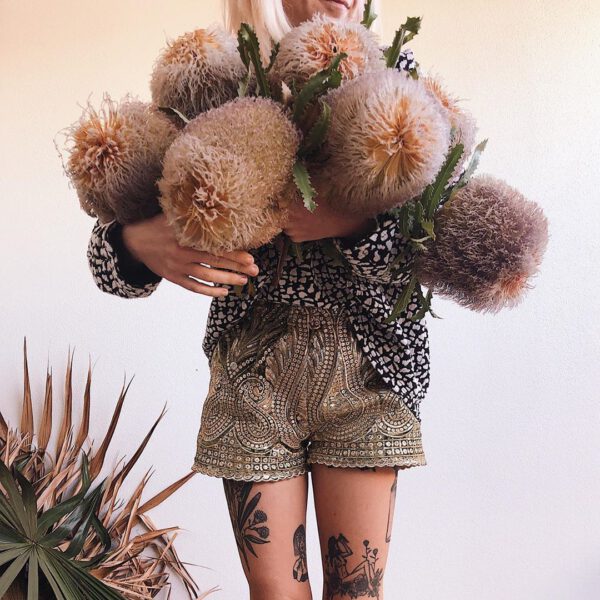 Many locals unassumingly walk by these native plants in their local streets, or on bushwalks, with branches often sprawling out onto the sidewalks and underfoot. Some suburbs are even named after the town they inhabit, such as the Gymea Lily (Doryanthes excelsa), from the Sydney suburb of Gymea, - or the Geraldton Wax (Chamelaucium uncinatum), endemic to one of the most western regions of the country.
So, get your pencil and paper ready, and scroll 'down under' to this 'aussome' top 10 hitlist of the most coveted Australian flowers.
1. Mimosa (a.k.a. Wattle)
Mimosa produces stunning yellow flowers from a young age, and both the gorgeous flowers and foliage are widely used around the world to create floral arrangements. These fragrant pom-pom-shaped flowers provide a surge of sunshine to any bouquet. Certain kinds of mimosa contain a strong, sweet, and honey-like aroma that is even used in perfumes and has been cultivated for food, medicines, and dyes.
More in this article: What is a mimosa flower?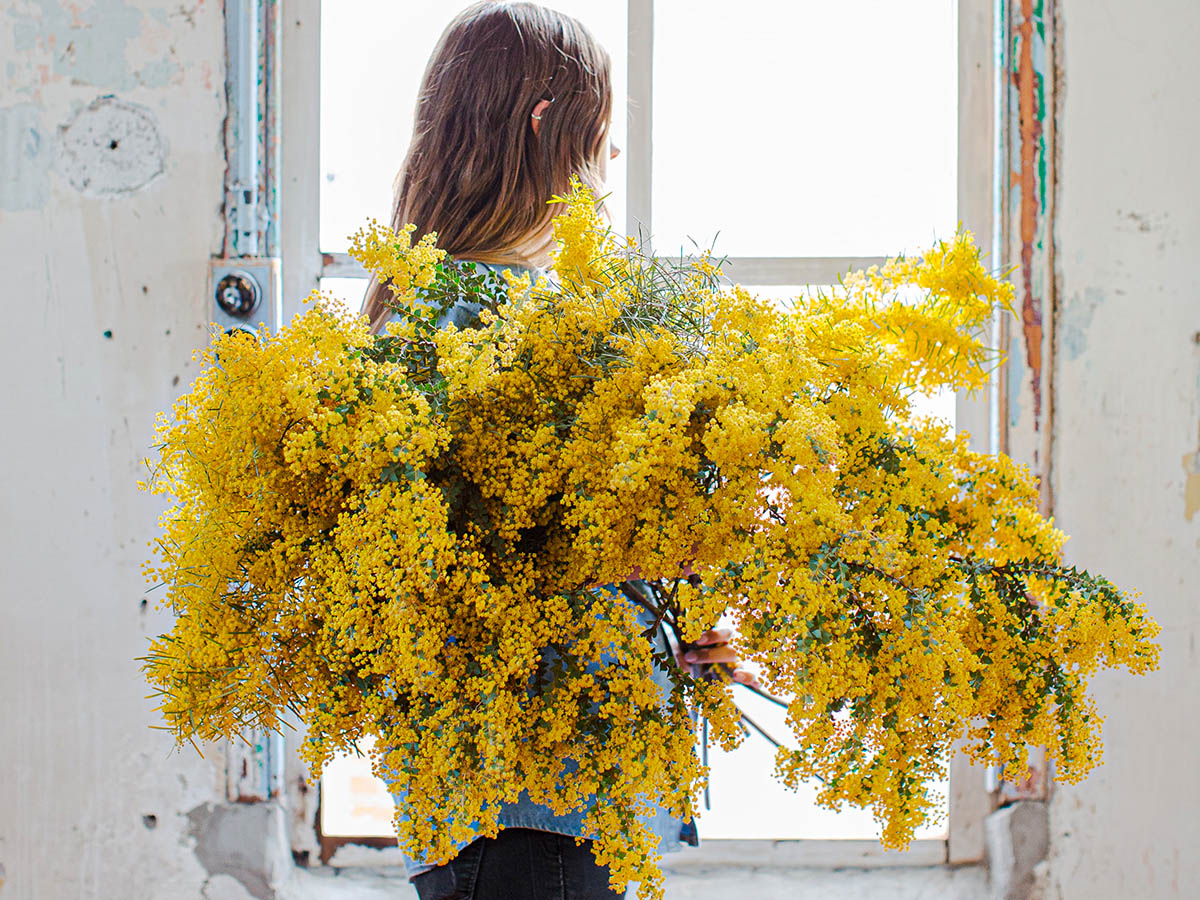 2. Waratah (botanical: Telopea speciosissima)
The bold and iconic Waratah is, unsurprisingly, the national symbol of the state of New South Wales. The name Waratah comes from the Eora Aboriginal word 'warada' meaning 'beautiful' or 'seen from afar'. And rightly so! Its cone-shaped flower and green razored leaves have been the muse for some of Australia's leading modernist artists such as Margaret Preston, in her stunning linocut works.
More about Waratah in this article: The Waratah Flower is the Perfect Addition to This Season's Floral Designs.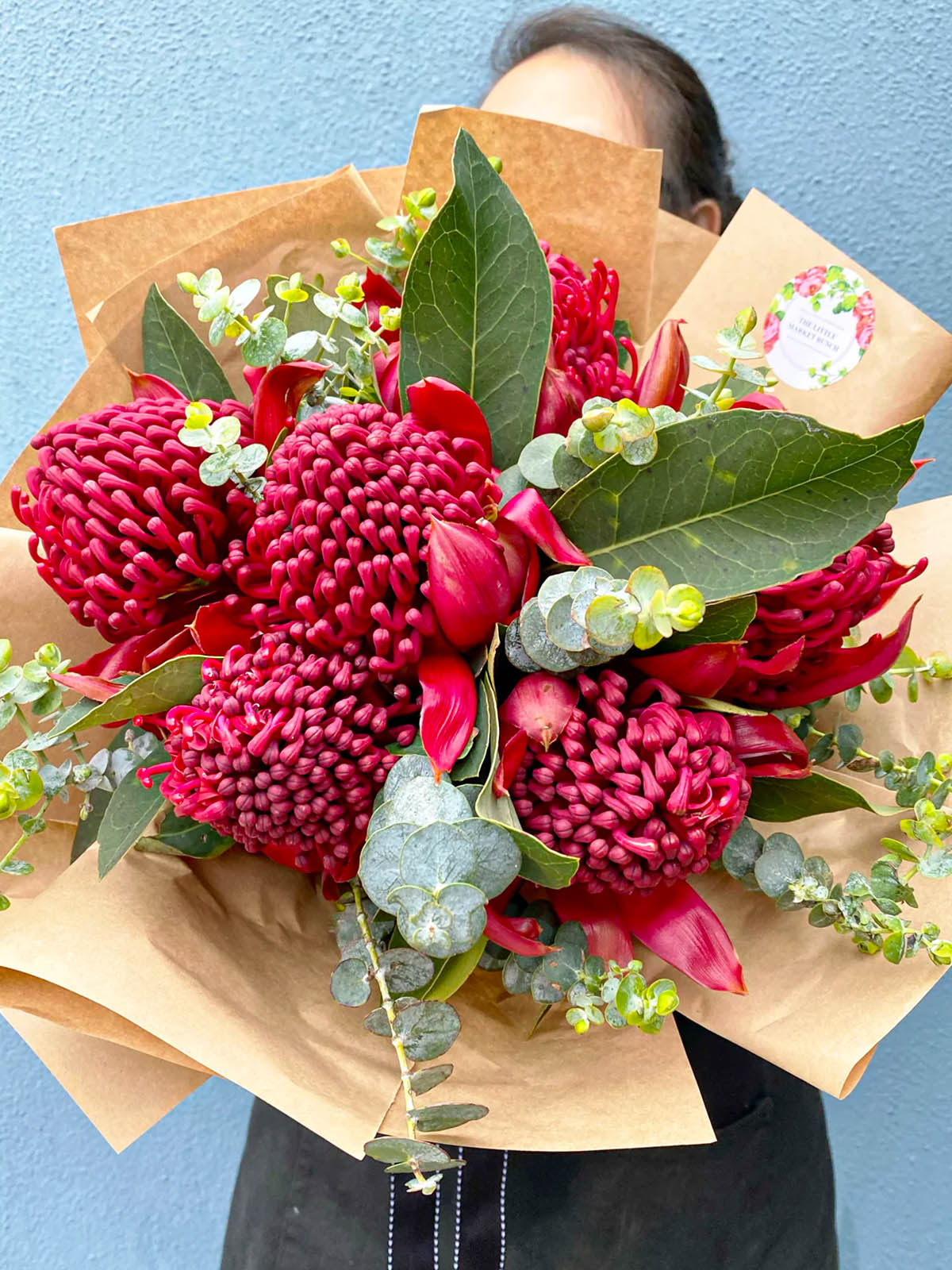 3. Waxflower (botanical: Chamelaucium)
Waxflower is chosen to be one of the world's most versatile fillers, due to its long shelf life, statuesque lines, and beautiful flowers. It's available all year round thanks to companies such as Helix Australia who specialize in breeding and licensing of these wild blooms. The waxflower has even been used in gin and craft beers and smells amazing.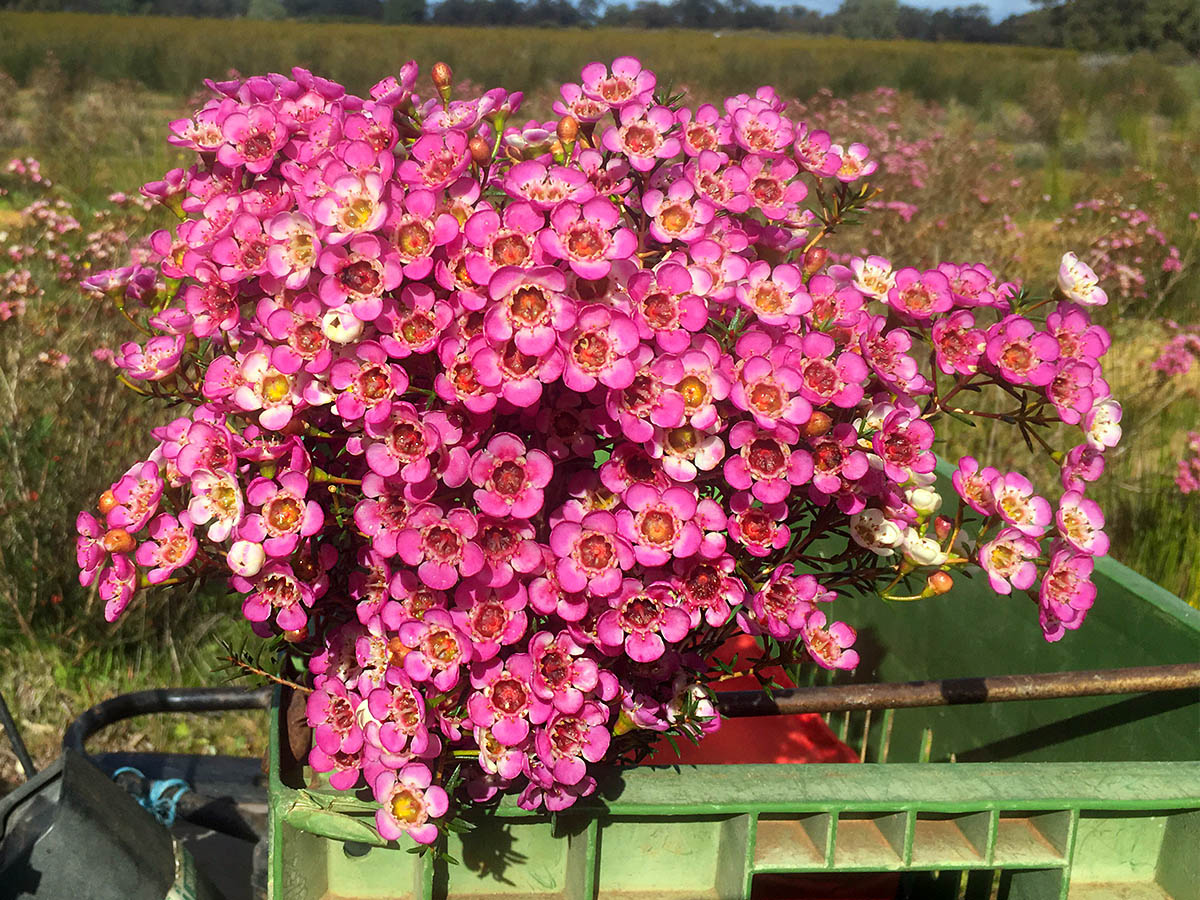 4. Kangaroo Paw (botanical: Anigozanthos)
These distinctive furry fellows gain their nomenclature from their flowers. Often found in red, but you can also source these anigozanthos in single, bi-colored, and tri-colored forms, and they are shaped just like a kangaroo paw.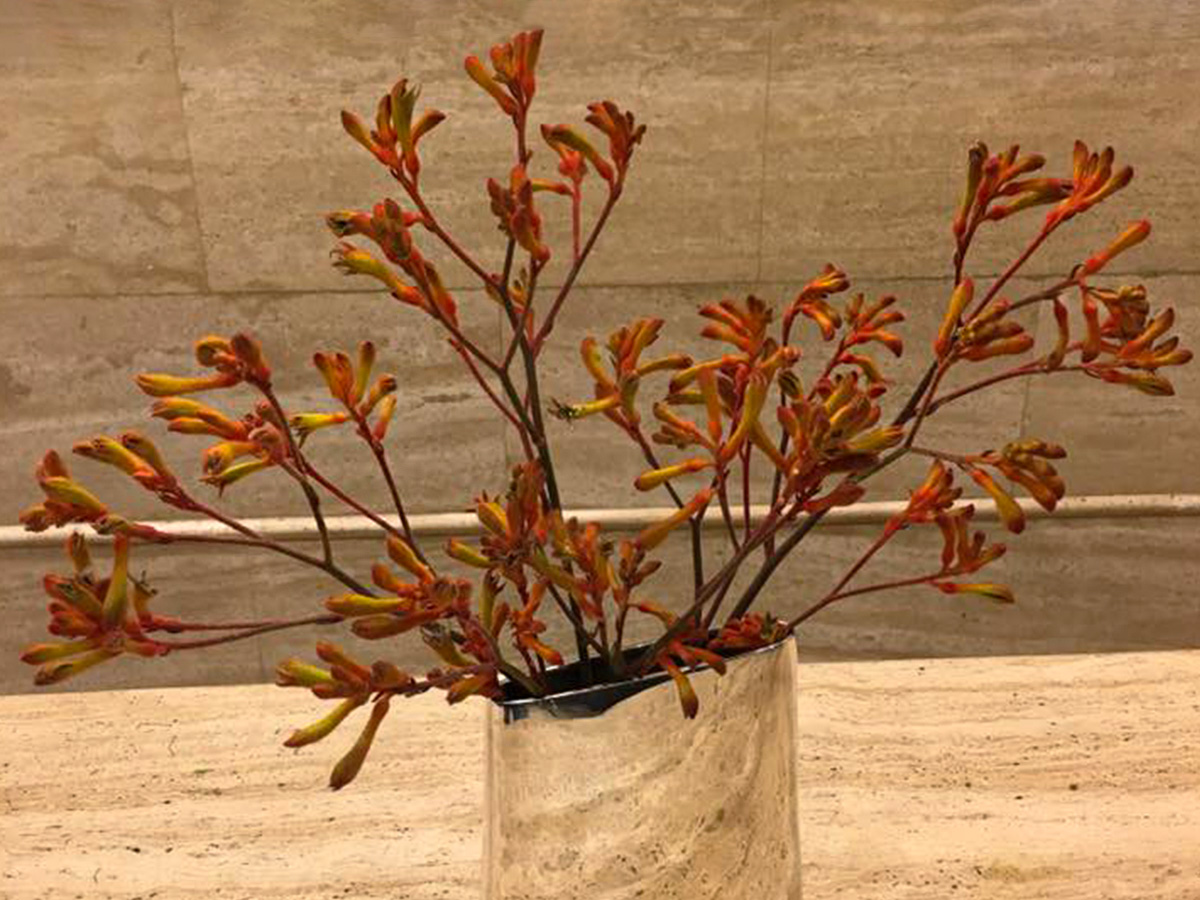 5. Craspedia (colloquially known as Billy Buttons)
These are a florist's dream! Designers love to use craspedia (Craspedia Globosa) as line material, adding a dynamic open resting place and a vibrant color pop. Their spherical yellow heads are also very popular as dried flowers and can last for several years, and are said to symbolize good health… they certainly convey a sunny disposition.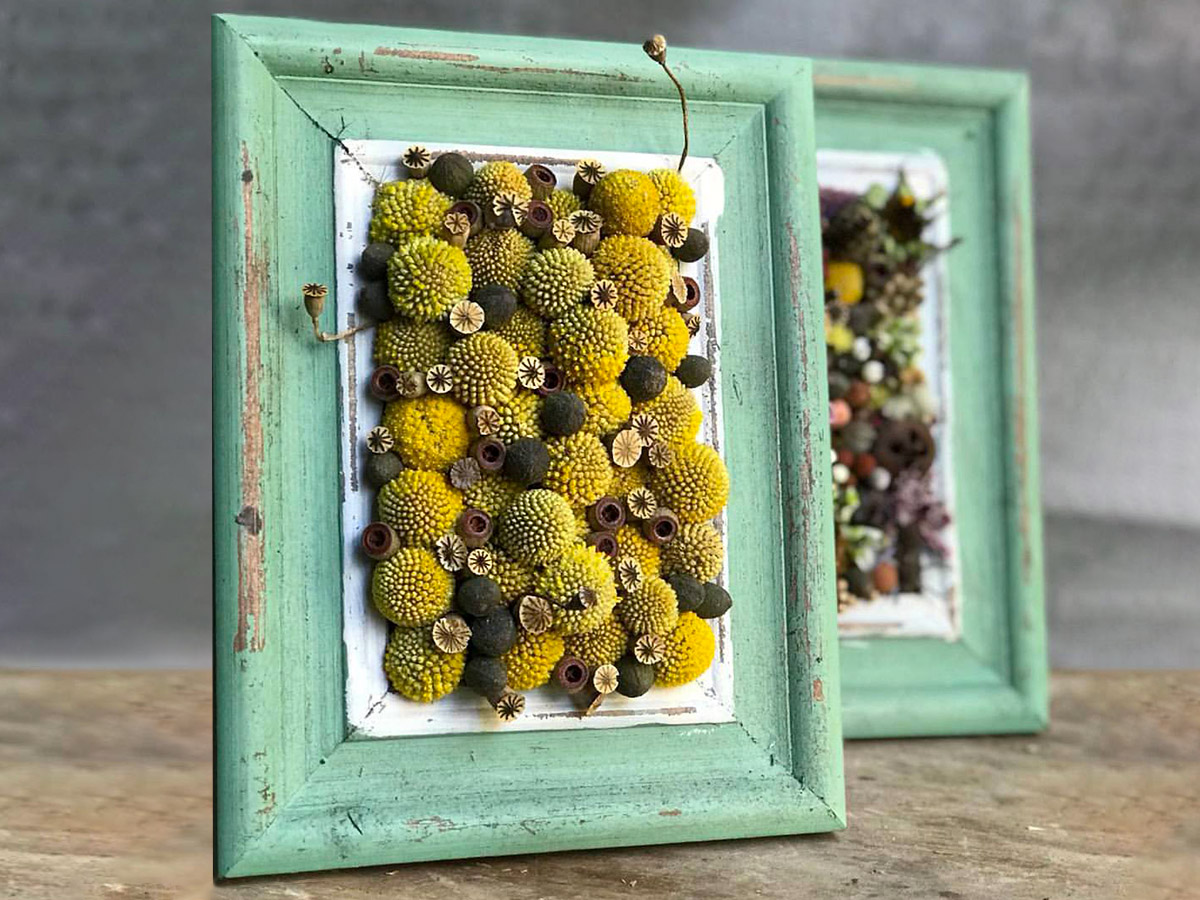 6. Spider Flower (botanical: Grevillea)
Grevillea, commonly known as spider flowers, is a genus of about 360 species of evergreen flowering plants in the family Proteaceae. Yes, the original proteas are native to South Africa, but this particular flower is endemic to Australia, and parts of Indonesia. Plants in the genus grevillea are shrubs, rarely trees.
Grevillea flowers were a traditional favorite among the Aboriginal Peoples for their sweet nectar. This could be shaken onto the hand to enjoy, or into a coolamon - a traditional ship-shaped wooden bowl - with a little water to make a sweet drink. They might be referred to as the original 'bush lollies'.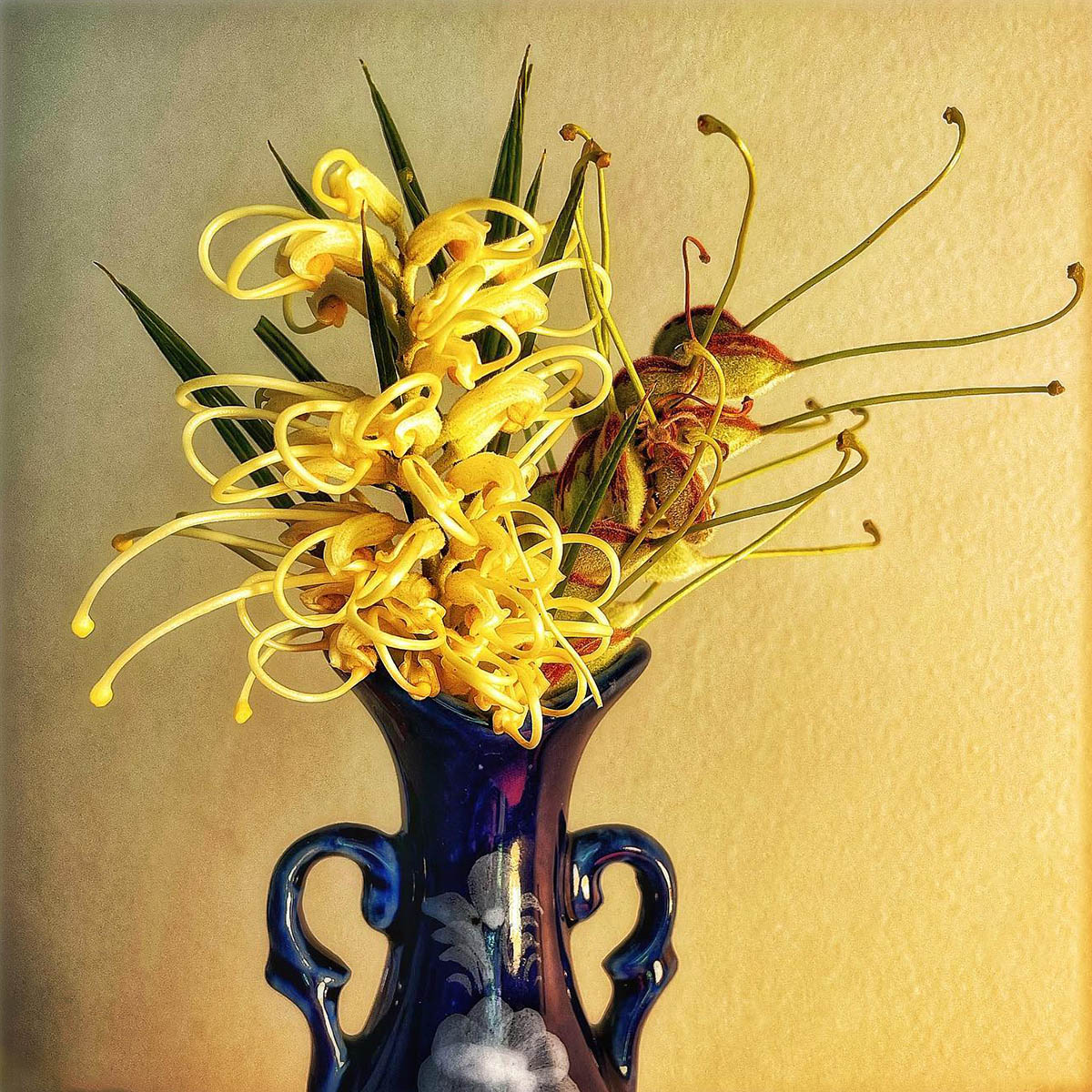 7. Flannel Flower (botanical: Actinotus helianthi)
Despite its appearance, it is not a member of the daisy family. This felt-like flower is soft and delicate to the touch and a stark (and welcomed) contrast to many of the Australian native florals in this list and can range from 40-60cm in length. Their radiating wooly bracts make this flower a stunning feature in floral arrangements.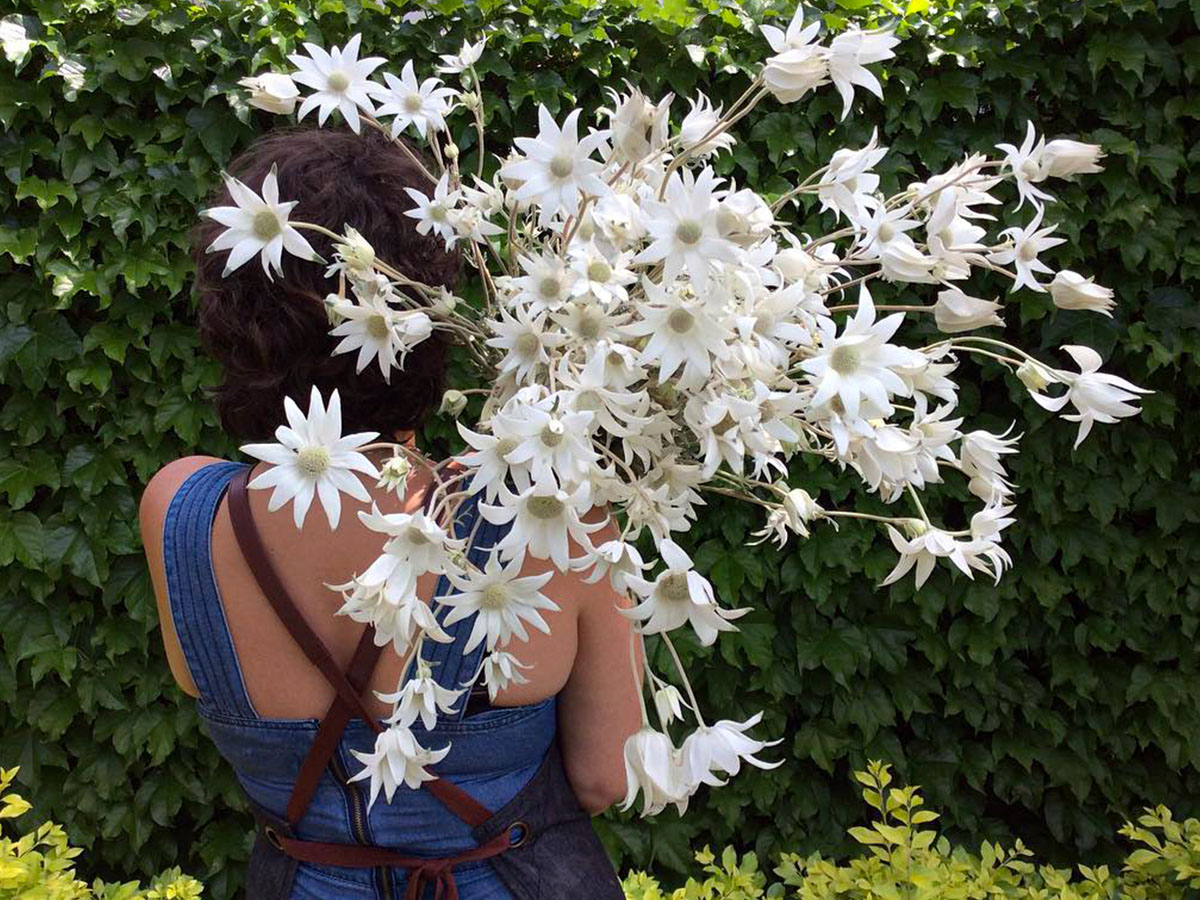 8. Banksia
These natives are dominating and artistic blooms that have wide commercial use in the flower industry and can be used as a feature flower in fresh or dried flower arrangements. They have a long-lasting vase life and strong woody stems. You will find the banksia trees in local Australian gardens, parks, and neighborhoods.
Mora about banksias in this article: Banksias Are So Fluffy!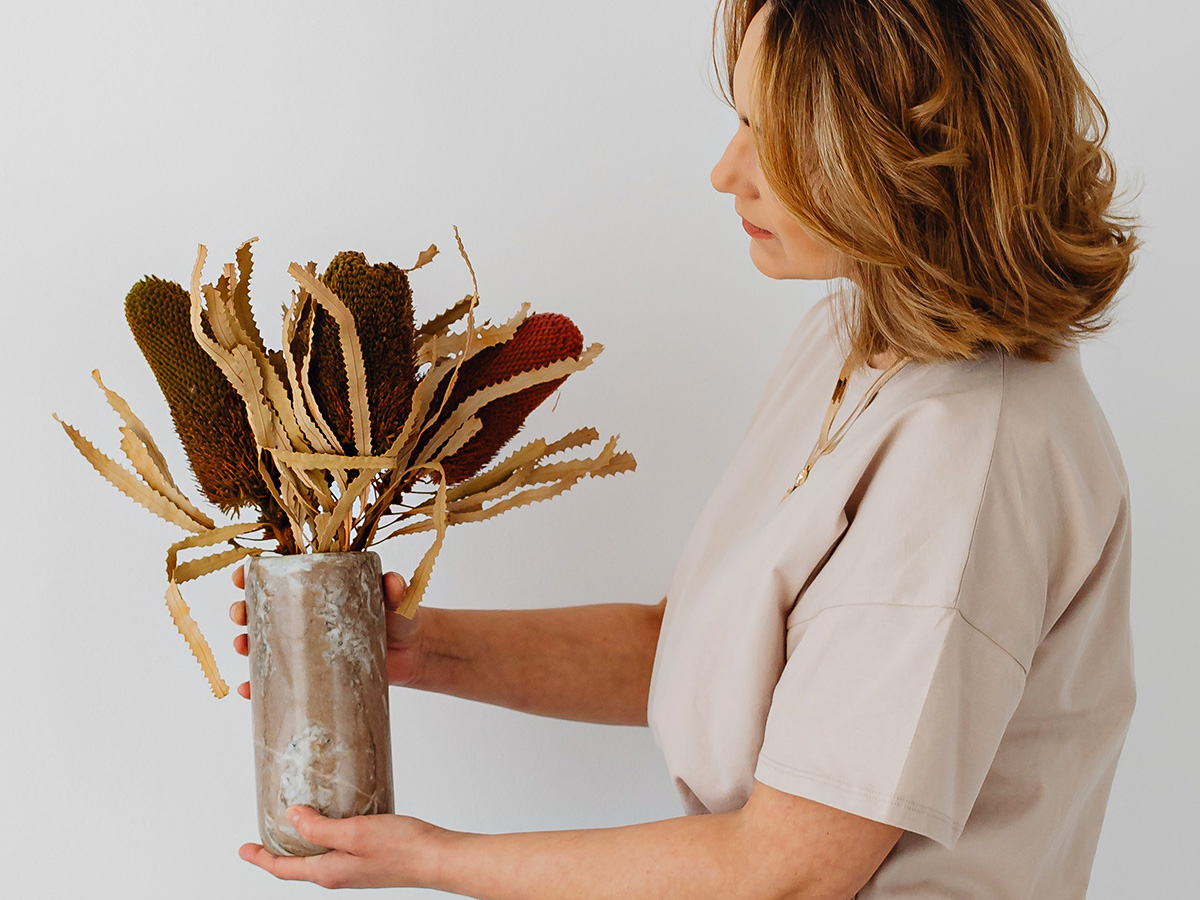 9. Gymea Lily (botanical: Doryanthes excelsa)
This tall beauty is one of the heaviest and tallest flowers of all Australian natives! It emerges from the earth through its sword-like leaves and can grow a flower spike of almost six meters tall! Renowned Japanese floral designer Azuma Makoto even used the Gymea Lily in his 'Life and Death' film.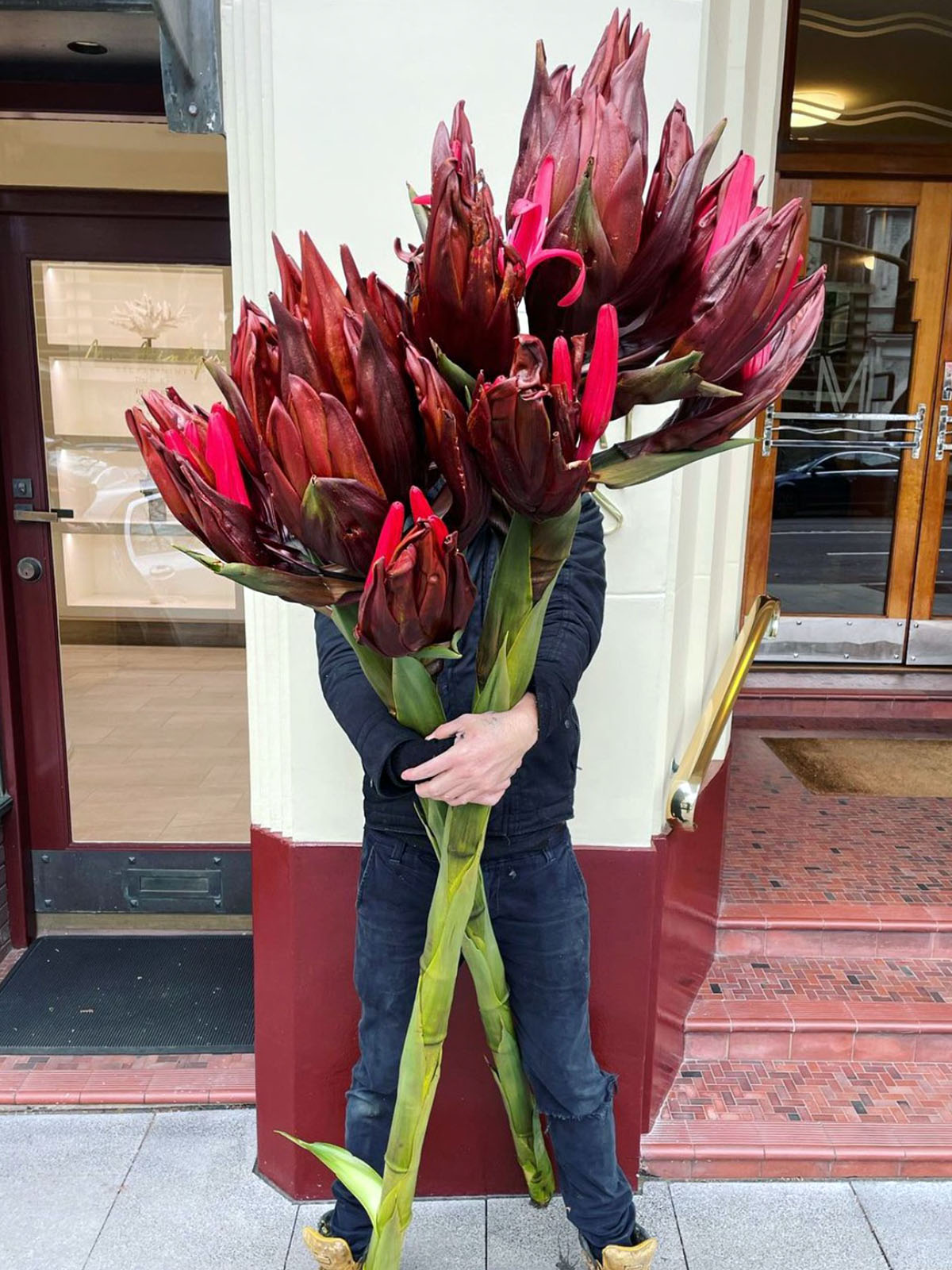 10. Red Flowering Gum (botanical: Corymbia ficifolia)
When you think of Australia, many people immediately think of the red flowering gum tree, a.k.a. Eucalyptus, or Corymbia ficifolia. It's a tree that dominates the Aussie landscape. It is a sight to behold experiencing a gorgeous flower pop open from its seed pod. The red flowering gum tree inspired the famous Australian Author May Gibbs to write a series of books named Snugglepot and Cuddlepie, which feature characters such as the Gumnut Babies who are the protagonists of the story and well-loved by many Australians.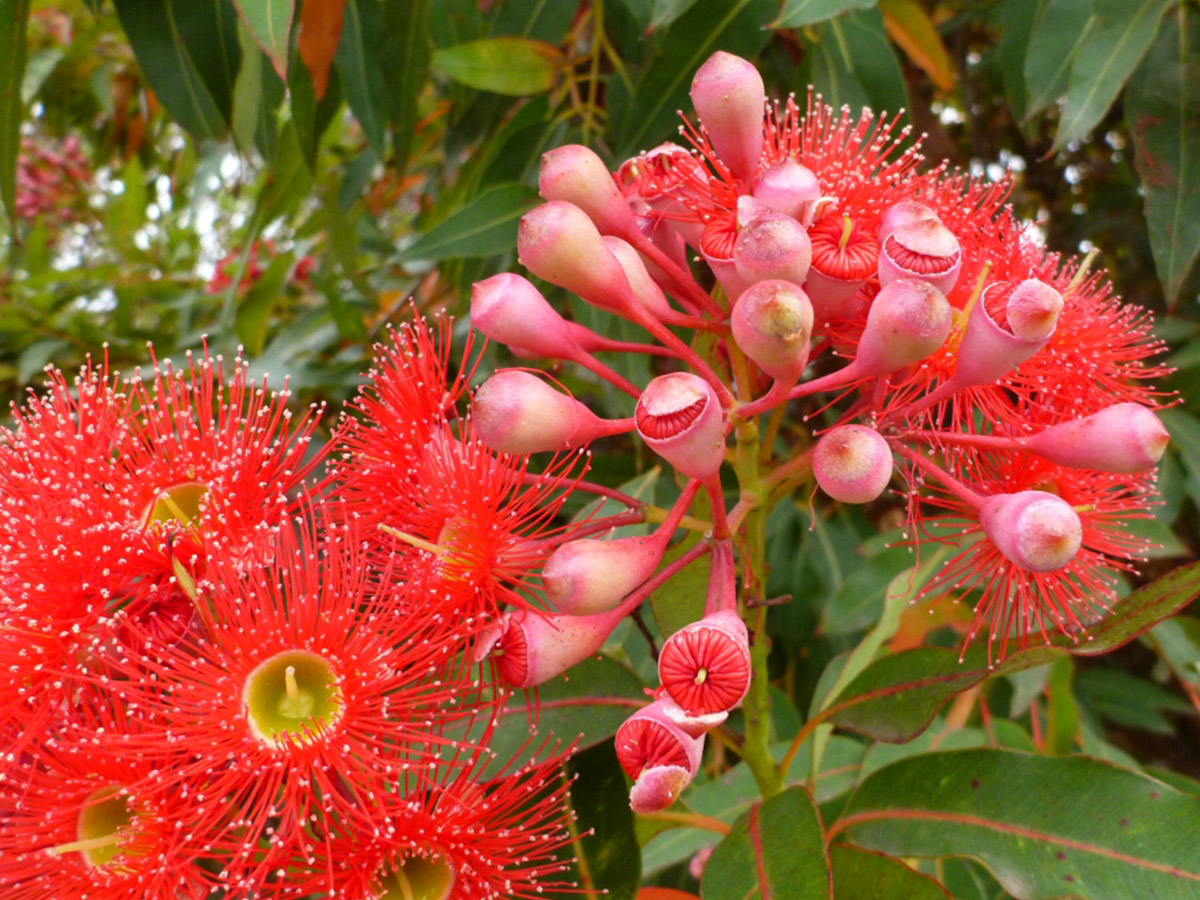 Some of the top Australian floral designers such as Grandiflora, Poho Flowers, and Doctor Cooper showcase Aussie natives in their daily bouquets and styled photoshoots, whilst artists like Tracey Deep (pictured below) use these dried native elements in her 'living art' floral sculptures, which hang in some of the most prestigious locations around the country.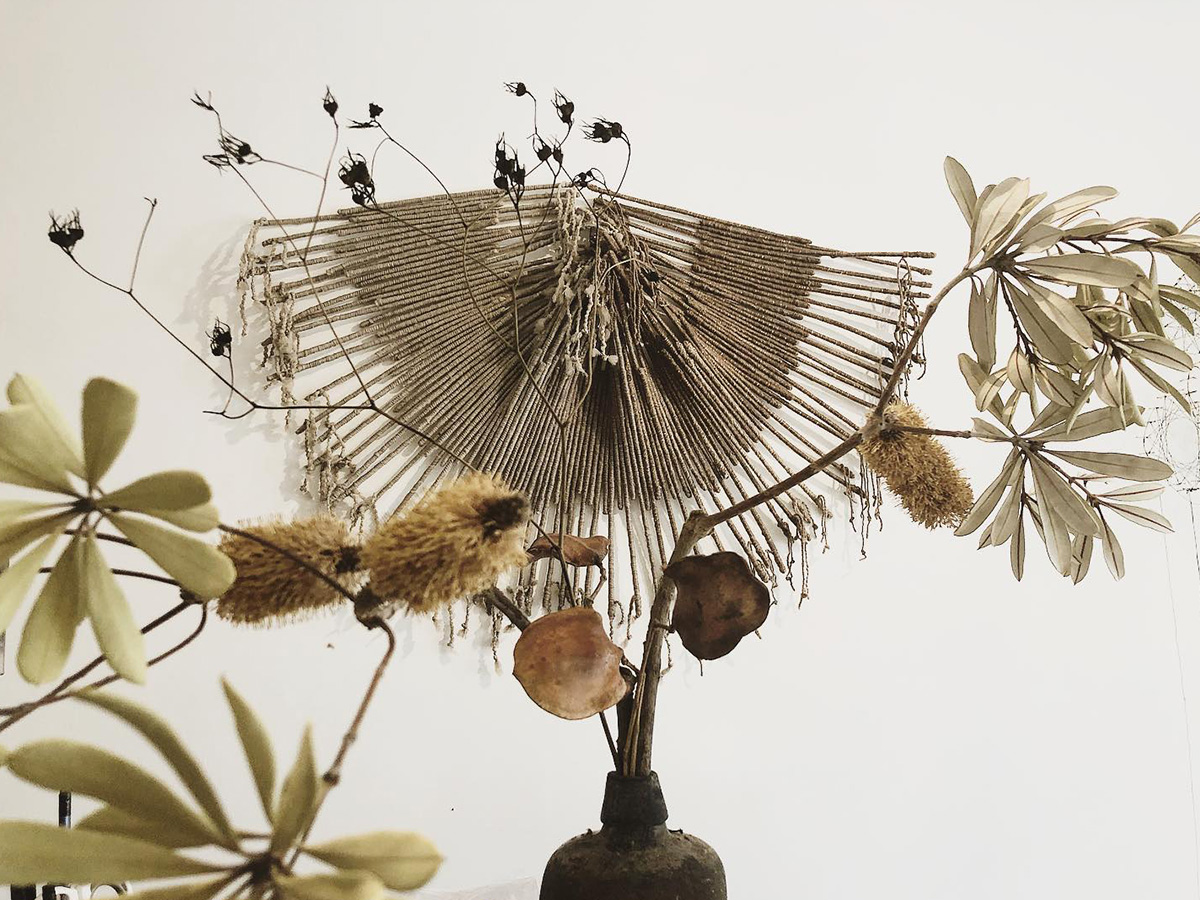 Next time you see these flowers at your local grower or florist, take them home and experience your very own piece of wild long-lasting nature.
Header image by Bjørn Christian Tørrissen on Wikipedia.