We're pumped to see businesses and couples alike becoming more conscious of the environmental impact of weddings, and floristry is one area where this has become a real priority. And before you start picturing foraged posies and native-everything (not that those things aren't awesome) let us assure you that sustainable practices can still mean high end floral design.
The Environmental Impact of Weddings
We chatted to four of our fave eco-friendly florists – Megs from Good Grace & Humour, Ame from Raven & the Rose, Kate from Sir Botanical and Nat from Zinnia Floral Designs – about how they're striving to leave a smaller footprint on the planet and how you can do the same when it comes to your wedding flowers, with these 5 tips: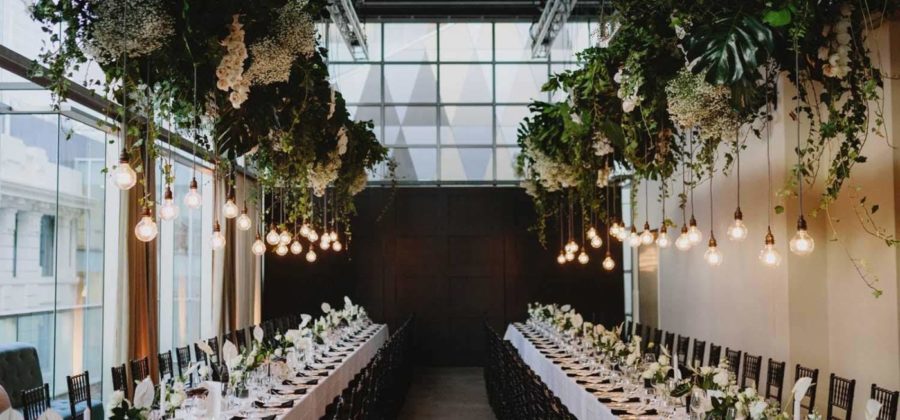 Pom & Splendour
1. Go Floral Foam Free
Ditching the use of toxic floral foam or 'oasis' is probably the best thing your florist can do to reduce your floral footprint. Ame from Raven and the Rose says,
"Floral foam is terrible for our environment and for us. There are many other alternatives and I love seeing so many florists getting around this and sharing ideas on ways we can limit it in our work. There's a lot more knowledge about it now which is so great for our industry".
Kate from Sir Botanical agrees and shares;
"After the royal wedding going #FloralFoamFree there has been a huge push for other florists to do the same who weren't already. So there is definitely a movement within the industry at the moment. I think now that plastic bags and straws are being phased out it's really started an important dialogue across a wide range of industries and we are definitely trying our best to work with the environment in mind."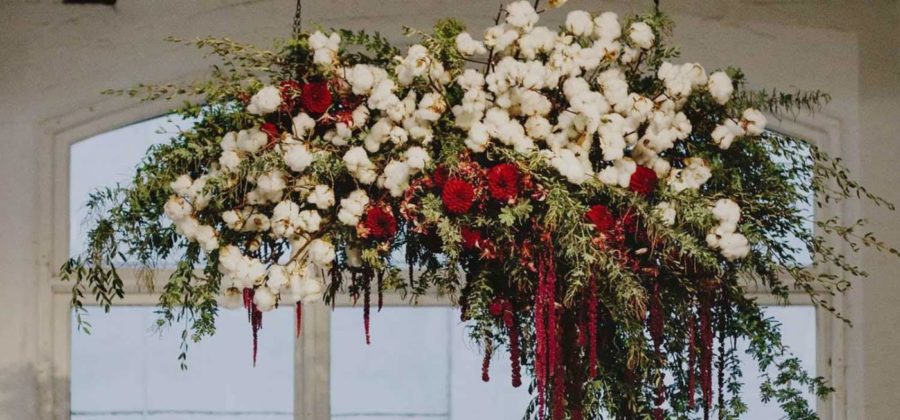 Unique hanging installation, using an unexpected combination of cotton and amaranth,
Good Grace & Humour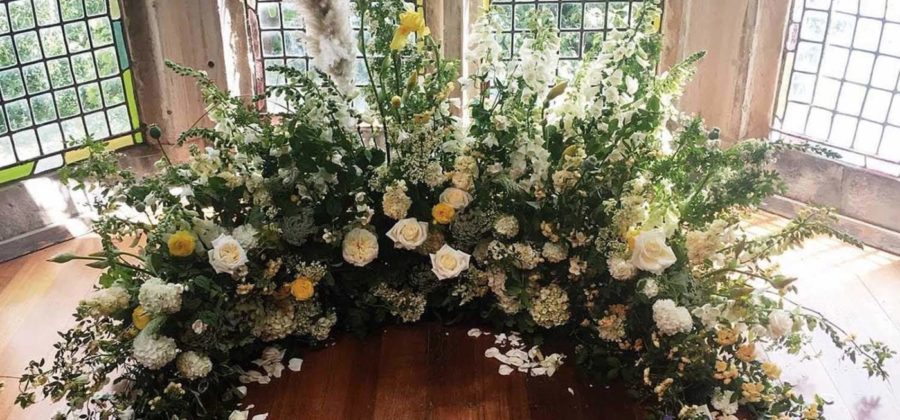 Indoor garden ceremony backdrop floral foam free by
Raven & The Rose
2. Choose Local and Seasonal
Nat from Zinnia tells us that using local growers, especially those with sustainable practices, can make a huge difference.
"A lot of flowers are grown in countries with little governing over the chemicals used to grow these flowers, and wages and working conditions are poor," she explains. "They reach our quarantine and are treated with more chemicals to stop the risk of bugs and disease entering our country."
Nat goes on to explain that;
"Sadly the imported flower industry has put many local farmers out of business. Ideally, I would love to use 100 per cent sustainably grown flowers, however right now it is not possible as there are only a handful of growers in WA. I have always grown flowers at home on a very small scale, this year we have decided to step it up and create a full cutting garden at our family farm in Waroona."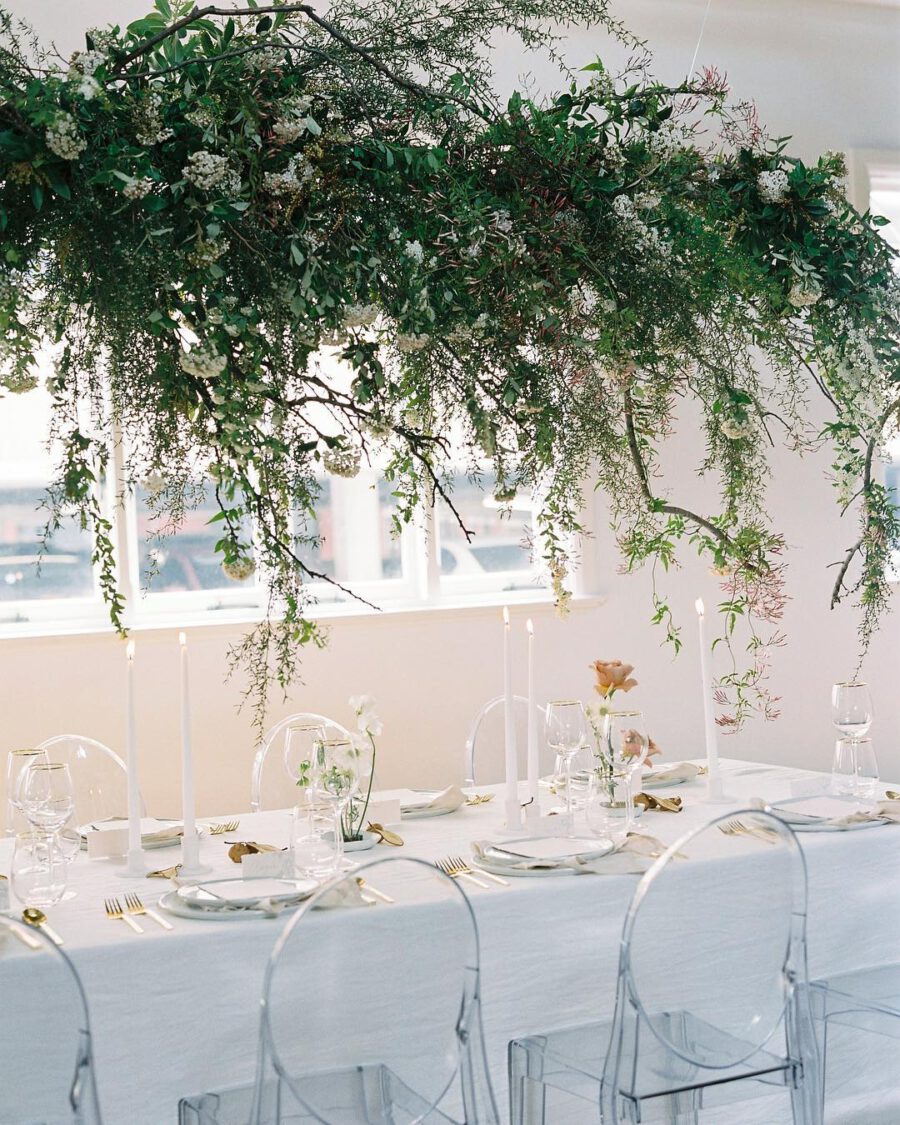 Wherever possible, Zinnia Floral Designs uses locally grown flowers and foliage. Image by Katie Grant.
3. Pack-down Properly
Talk to your florist about what will happen to your floral installations after your wedding. Will they go straight into the skip or be packed down properly? Any wire or plastic ties should be separated from the arrangements so that flowers can be reused and green waste composted.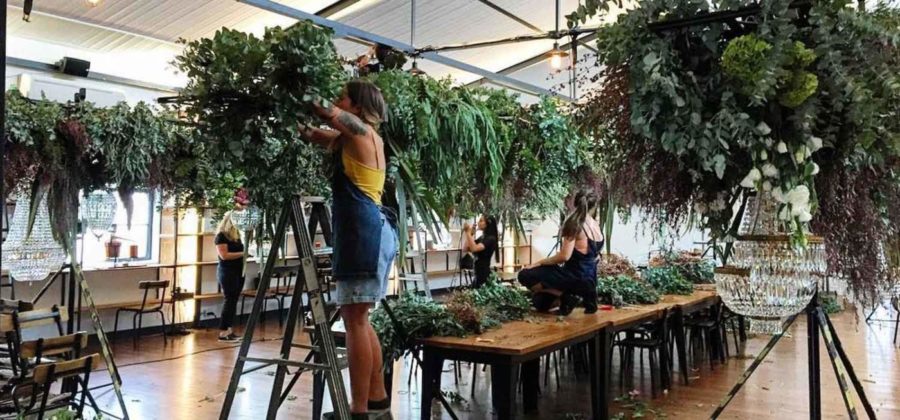 And here's the Pomp & Splendour team dismantling an enormous green installation!
Pomp & Splendour about the above installation:
"It took two days to install and another three days to remove and sustainably dismantle (also worth noting that the venue was on the second floor!) During the pack down all cable ties and any wire was separated from the green waste."
4. Re-purpose Those Beautiful Blooms
Your florist will probably be able to use most of your wedding flowers again, so be sure to let them know you're happy for them to be reclaimed! Foliage and hardier blooms can sometimes be used for upcoming events or shoots. Elements can also be dried for later use – there's a growing trend for dried florals in installations and bouquets.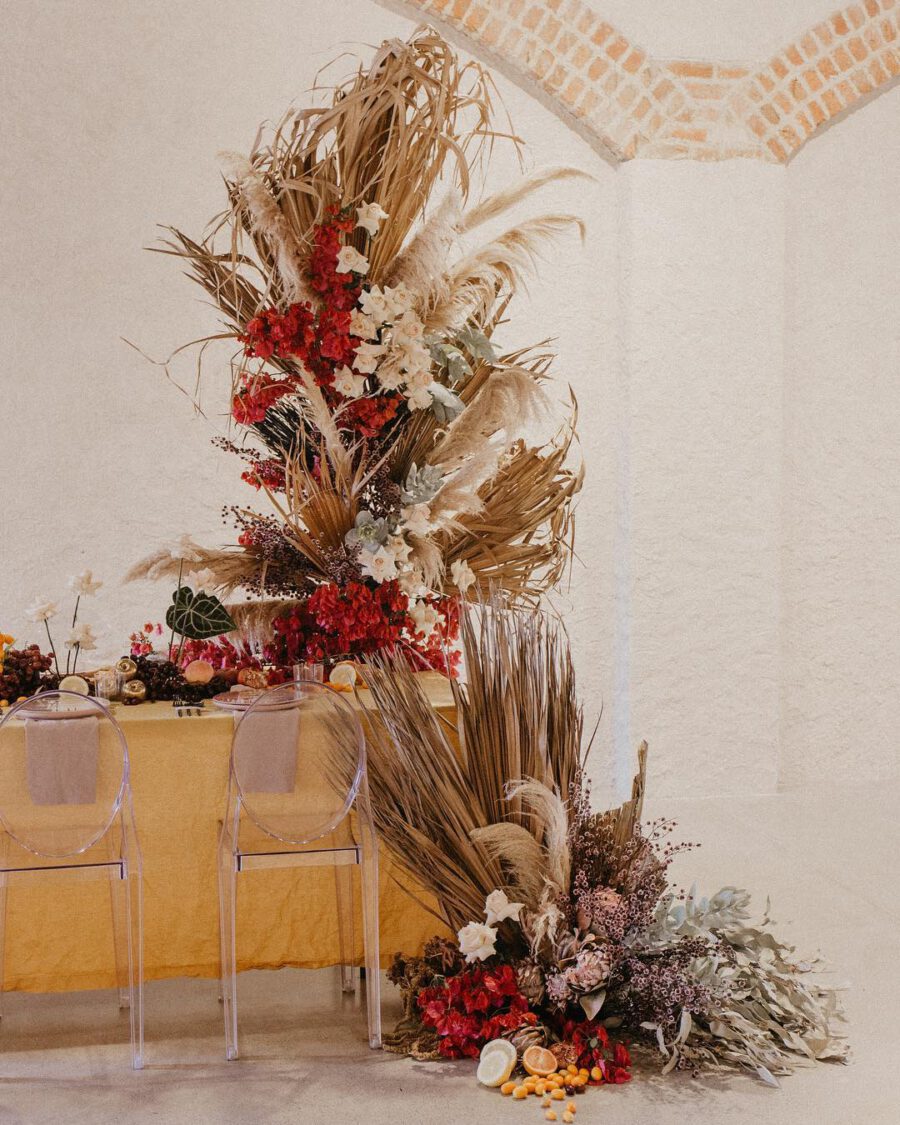 Sir Botanical created this textural installation with dried palm leaves, wild grasses and local bougainvillea. Image by Greta Wolzak.
5. Set Up a Flower Wrapping Station
If you have a lot of table arrangements or easily accessible flowers, why not set up a flower wrapping station for your guests at the reception or at your recovery brunch the next day? Encourage guests to take them home, or donate them to your local nursing home.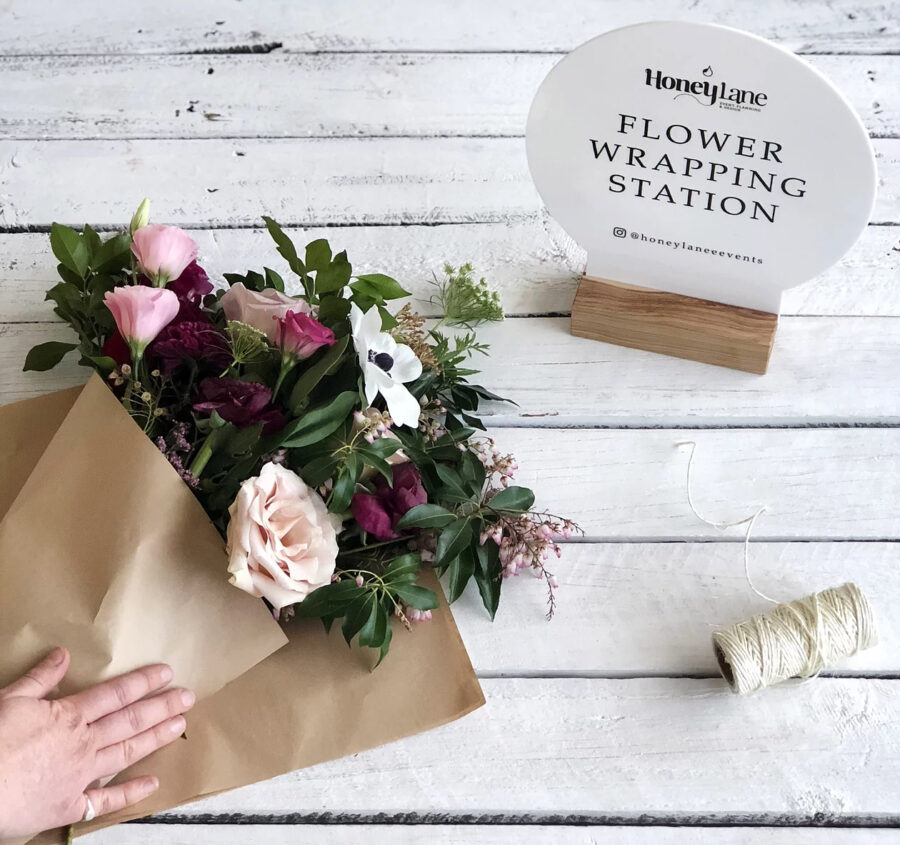 In place of wedding favors, the team over at Honey Lane suggests setting up a flower wrapping station for your guests.