For all the beautiful brides who recently celebrated an incredible wedding, we're sure that saying goodbye to your wedding flowers can be very hard. But that does not have to be the case, at all. Nowadays many newlyweds are looking for ways to make a keepsake from their florals so that they always have a little bit of their floral design to remind them of their special day. Here are five ways you can preserve your wedding flowers starting today. Your wedding bouquet can last a good five to six years when preserving your beautiful flowers and here's how to do it!
How to Preserve Wedding Flowers 101
No one wants to say goodbye to their wedding bouquet, especially not after all the flower budgeting and extreme effort that went into carefully choosing each and every bloom involved in it. To keep that floral beauty that walked down the aisle with you, here are five ways to preserve your wedding flowers to have them keep you company for a very long and exquisite time.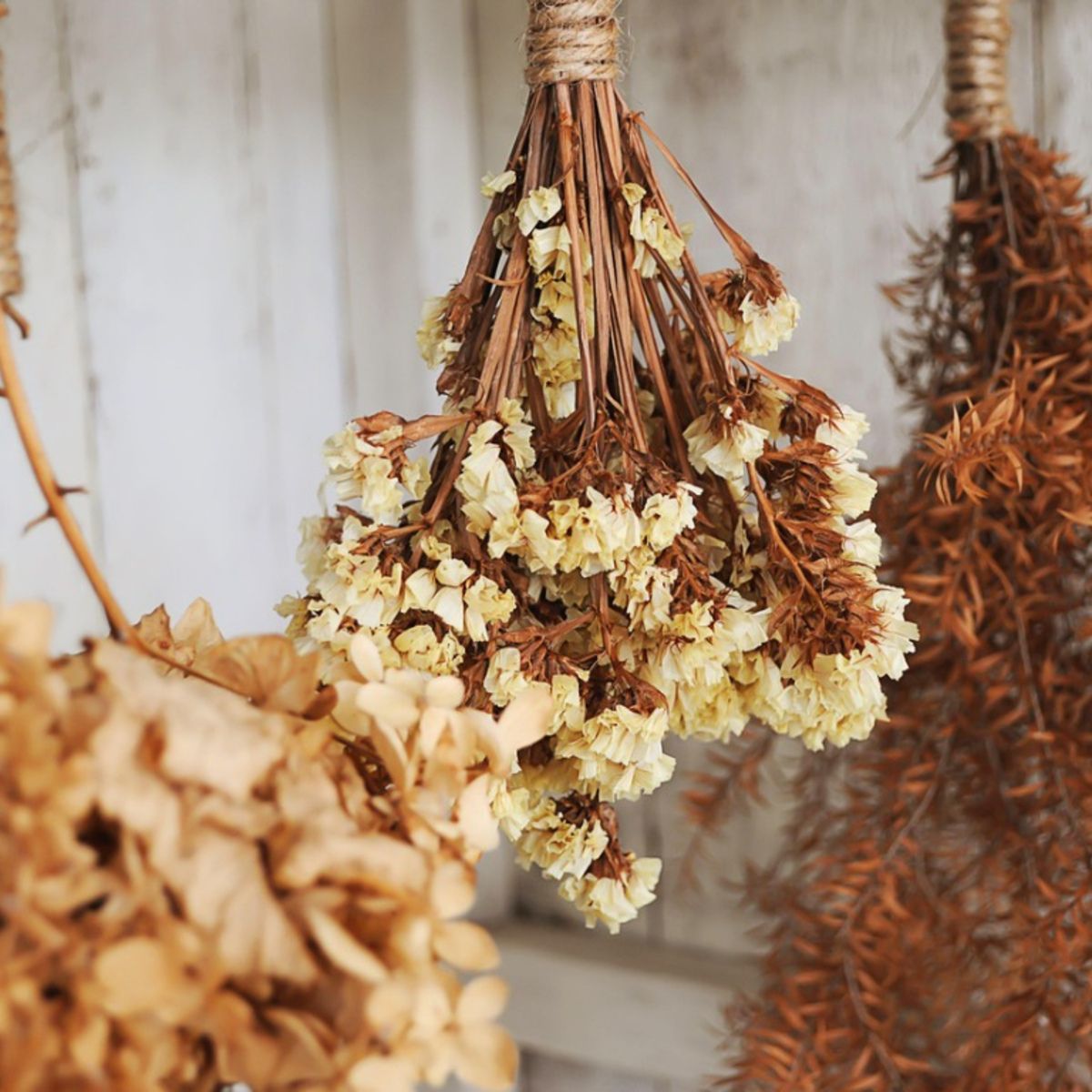 1. Press the Flowers
This is one of the most special ways to keep preserve wedding flowers and keep them living and looking as pretty as pictures for a long time. To press the flowers in your wedding bouquet, you must select as many flowers as you'd like, or the ones you adore the most and have more significance to what this day meant for you, and spread them out on clean wax paper so they will lift easily after pressing. Floral professionals recommend arranging them in a way you are happy with during this step—once they're dried and pressed, you won't be able to manipulate them.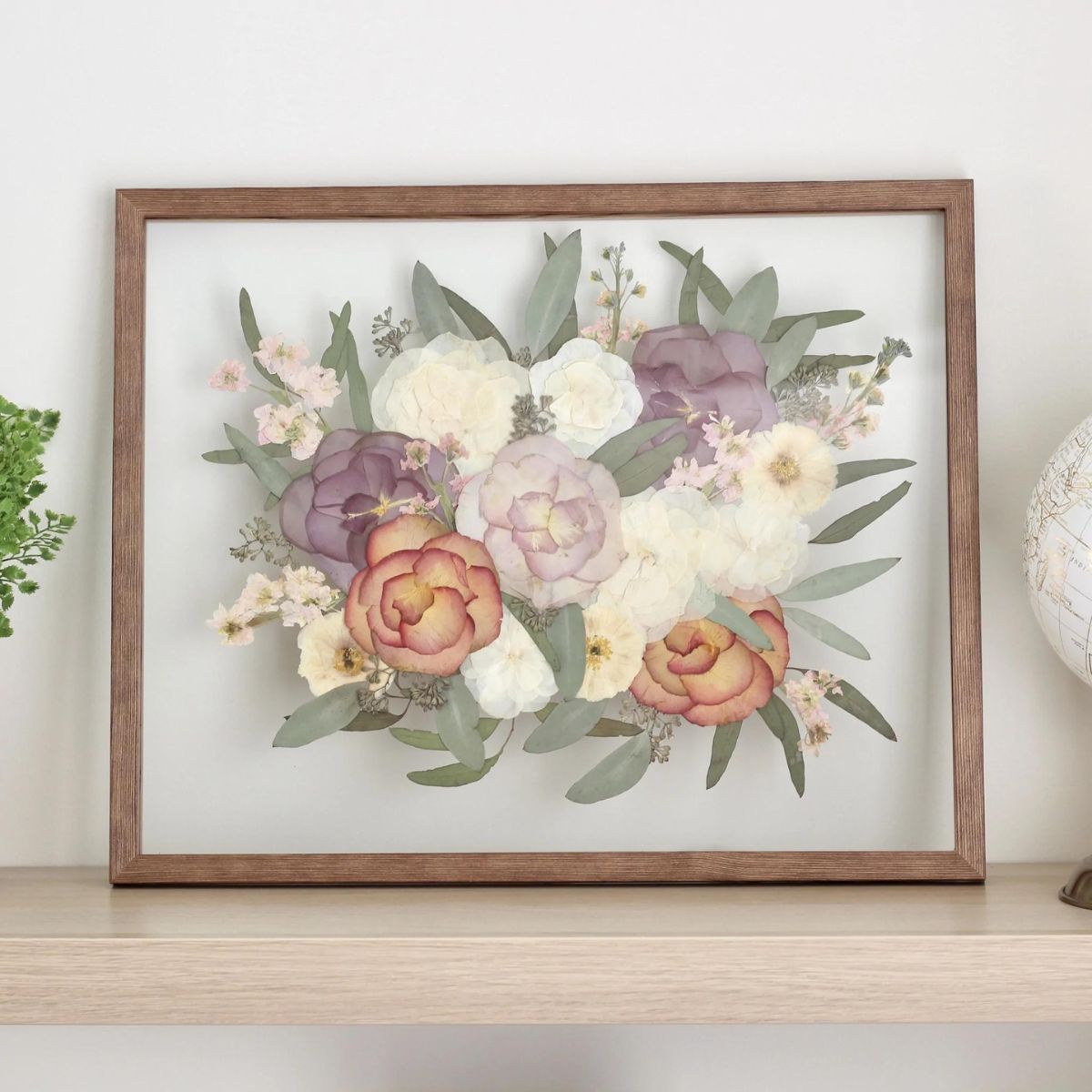 Consequently, lay the wax paper with the flowers inside the pages of a heavy book, and add another piece of wax paper on top to keep the flowers free of ink and shut the book. To preserve your wedding flowers the right way, make sure to weigh them down with something heavy, like a vase or more books. Leave your flowers drying from seven to ten days, and once you notice your wedding flowers are flat and dry, you can arrange and frame them however you like.
2. Hang Your Flowers Upside Down
This is a great method to preserve your wedding flowers as the intention behind hanging them upside down is to completely dry the flowers. One of the most efficient ways to preserve your wedding bouquet is to let it air-dry.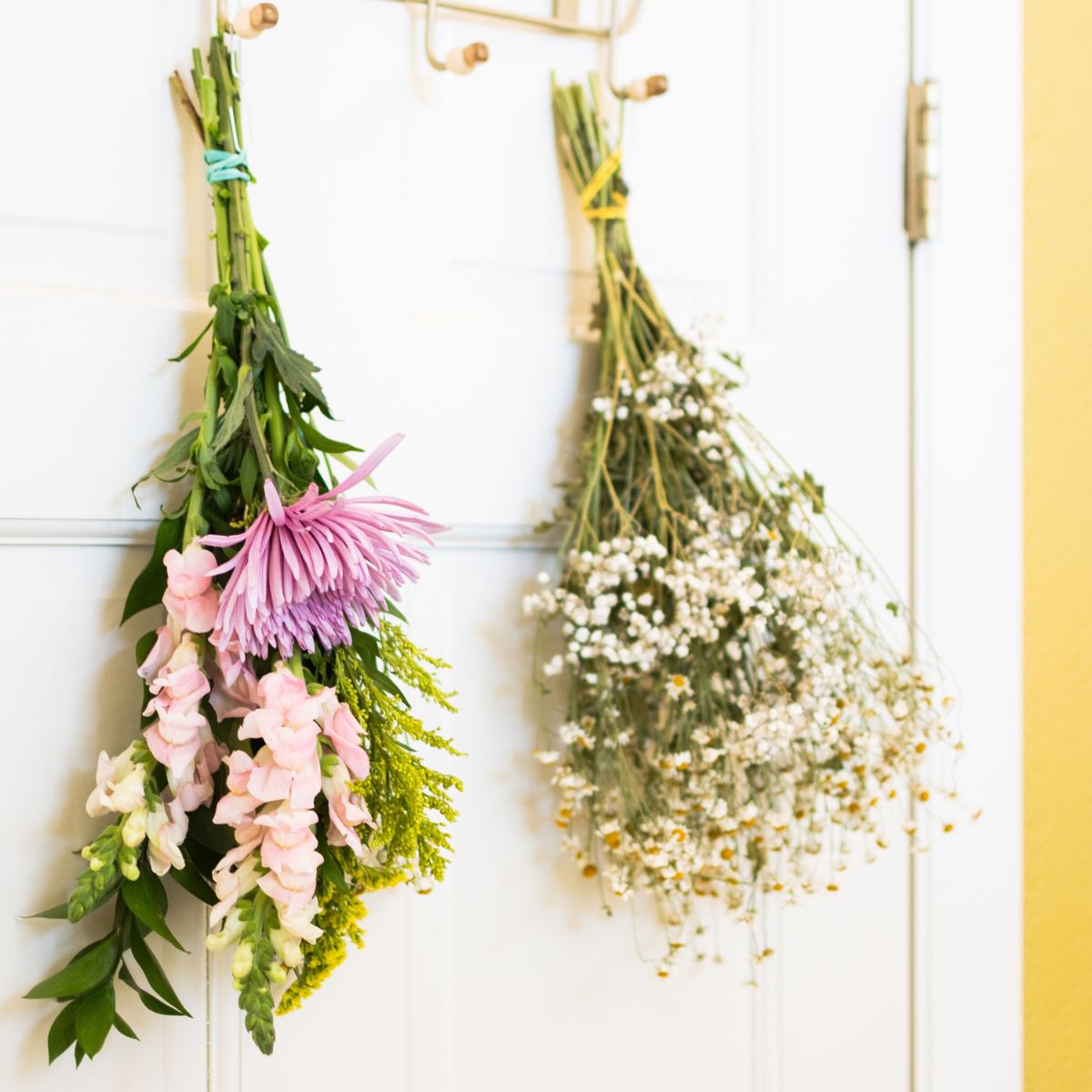 For best preservation results, hang them upside down in a dry, temperate area, such as a hallway closet. After this, you'll want to let all the blooms air-dry for at least a week or longer until you notice they are completely, and utterly dry. Voila! You now have preserved wedding flowers that can be arranged in a vase or placed anywhere you'd like.
3. Silica Gel Is a Great Option to Preserve Wedding Flowers
If you're looking for a prominent way of preserving your wedding flowers while preserving the color of your flowers as well, silica gel does the work. It isn't an actual gel but porous sand that works to absorb water and dry flowers in one to seven days. This is the most unique and special method that will have your wedding flowers looking almost exactly identical to how they did on the big day.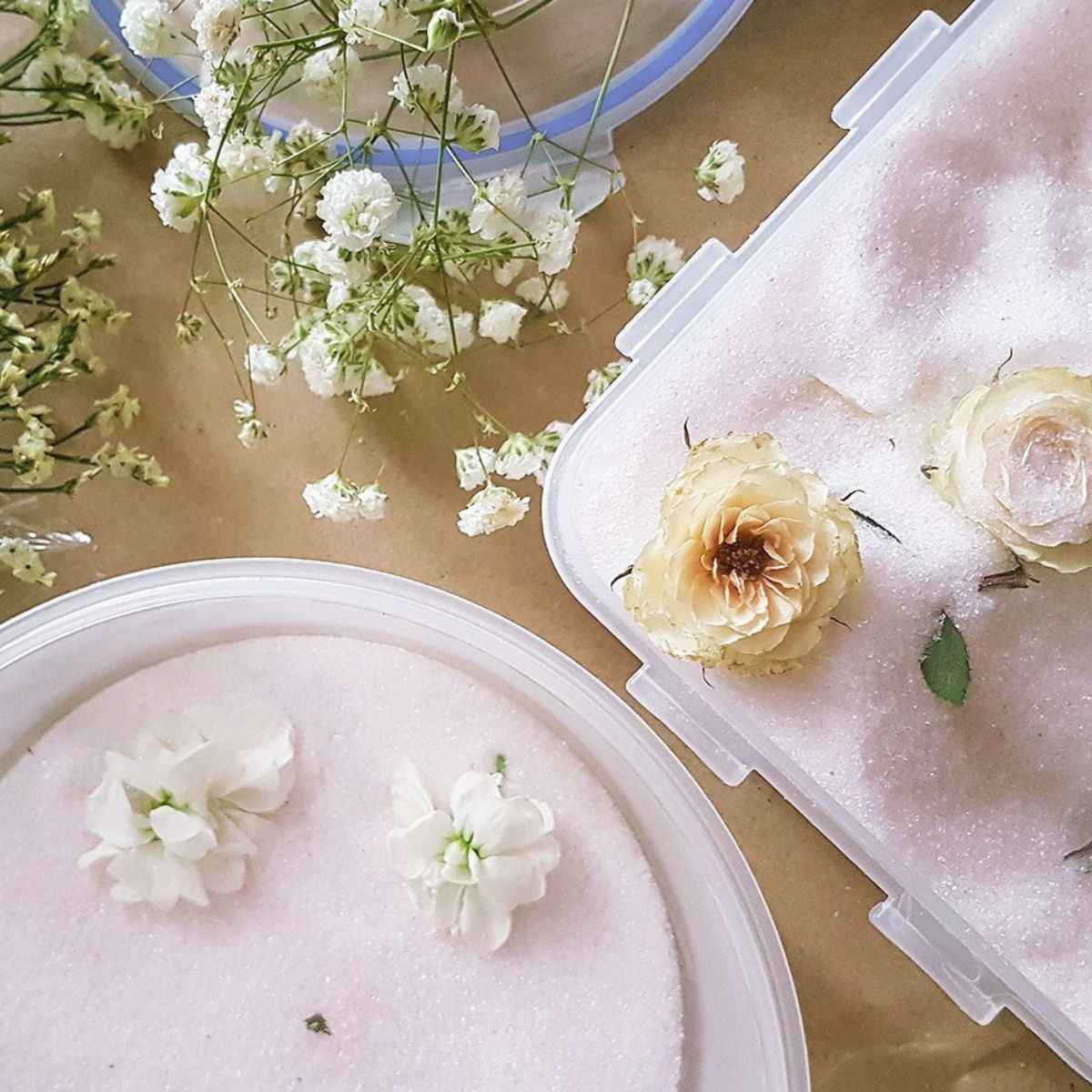 Form a base of silica gel in an airtight container and place your blooms in the sand and gently pour the silica gel around the petals, making sure the shape of the flower isn't compromised. When you notice the container is full to the top, you can stop pouring the gel and seal it with a lid. PS: make sure the container you use is airtight, or your flowers could succumb to mold from any moisture.
4. Make Your Own Resin Paperweight
Another great, yet innovative way to preserve wedding flowers is by using clear resin. To make a resin paperweight, buy yourself a mold in whatever shape you want. Next, floral professionals recommend filling the mold halfway with the resin and delicately arranging the flowers in the fluid. Fill it to the top, and let it dry, dry, dry! After you take the mold off, you'll have a gorgeous result featuring preserved wedding flowers that'll be in bloom for a very, very, long time.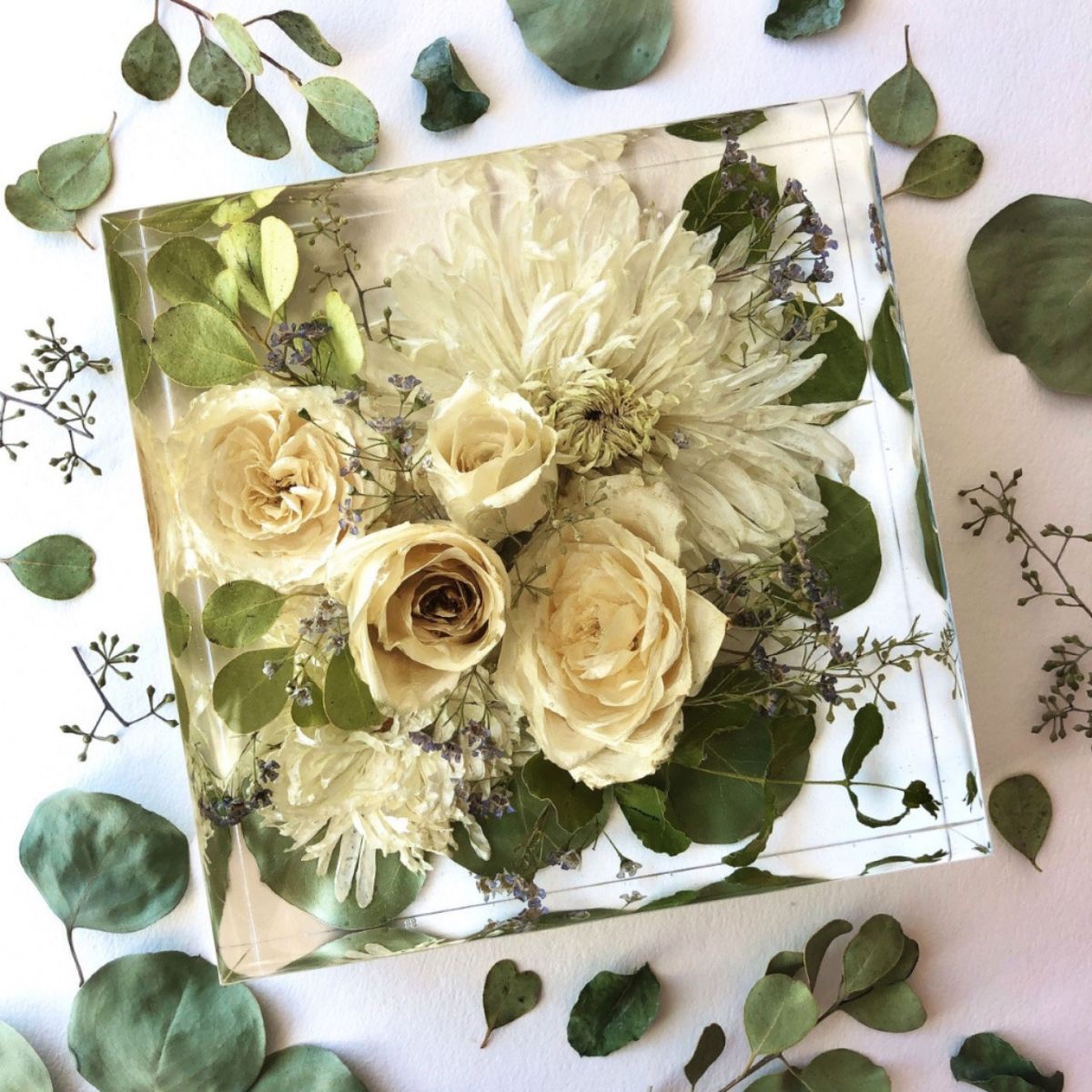 5. Flowers and Wax Make a Great Combo
Although this form of preservation does not last years like the others, they will indeed be preserved for a couple of months, a method that also works and many prefer. Wax flowers are a way of preserving wedding flowers that will extend the life of your flowers for up to six months and keep the original integrity and color intact. You'll need to melt the wax in boiling water until the fluid is even and smooth, and next, take your best blooms and gently dip them into the wax solution. Immediately pull them out and hang them upside down to have the best and most beautiful preserved wedding flowers.