This is Amy Balsters, The Floral Coach®. She teaches florists how to design with confidence, intention, and strategy so they can value themselves, attract the work they want, and achieve their design goals.

She has a long history and love affair with flowers. With over 20 years of experience, she now is the floral coach everybody is searching for. She loves to share so young floral designers have a smooth path in floristry.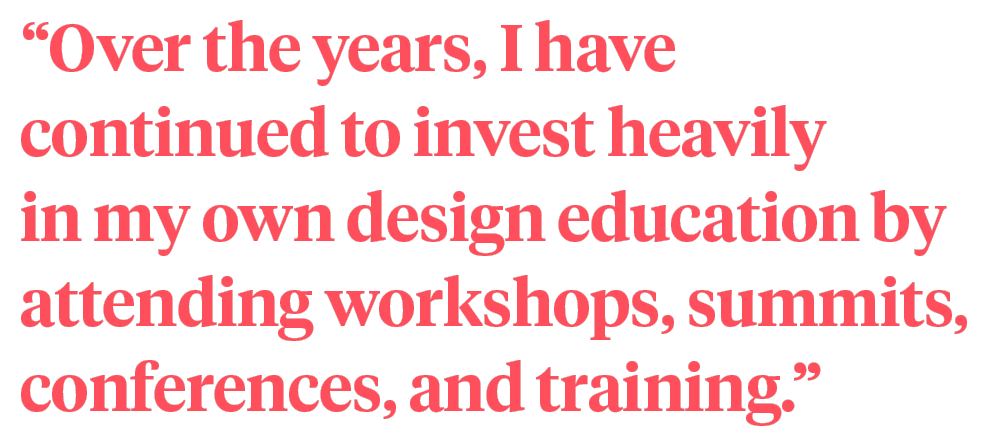 Amy Balsters - The Floral Coach®
Amy Balsters is a classically trained, award-winning floral design educator with vast industry experience spanning two decades in retail floristry, weddings, and special events. She specializes in teaching the romantic inspired, "loose and airy style" and is the creator of Bouquet Bootcamp®, and the new course Bouquet Bootcamp® Virtual!!! WOOHOO!!! A comprehensive design course, and hands-on workshop. Amy has taught all over the U.S. and has trained thousands of florists how to design more confidently and efficiently using professional design techniques. In this floral interview, you can find out who Amy Balsters is, and what drove her to be the passionate teacher, The Floral Coach® she is today.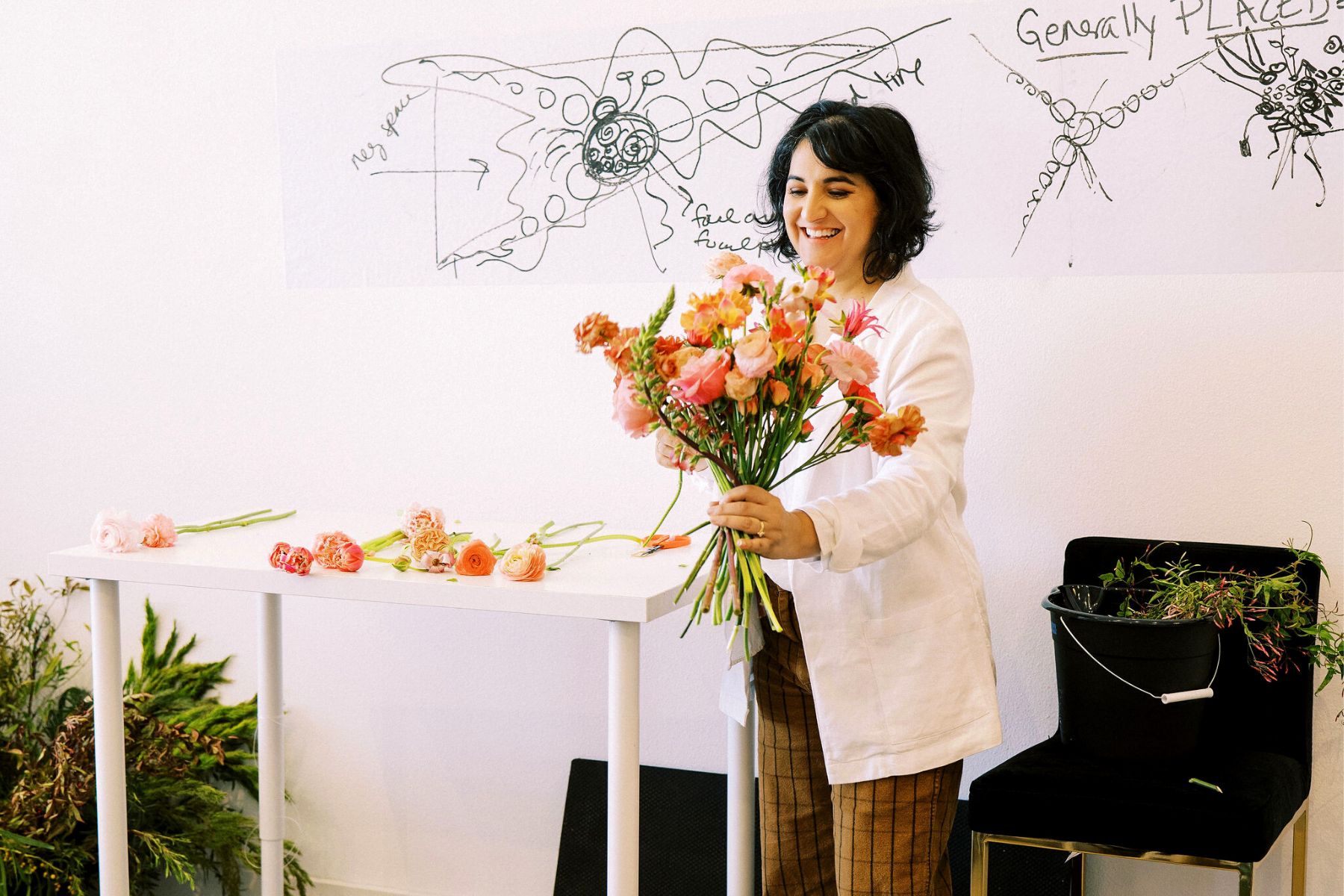 A Good Floral Designer
The tactile fleeting nature of creating something beautiful is highly addictive according to Amy. It takes tremendous skill to be a great designer.
Q.: What kinds of qualities do you believe a flower designer should have?
Amy Balsters:
"These qualities are most important: resilience, creativity, being tough, intuitive, and solution-oriented."

Inspiration
Over the years Amy continues to invest heavily in her design education by attending workshops, summits, conferences, and training. But her inspiration she mostly finds in flowers.
Q.: Who or what would you say inspires you?
Amy:
"I often find the most inspiration in flowers themselves. I am also very inspired by so many designers pushing their design work further and the innovators moving our industry forward but especially for all the growers that grow our flowers. We can only do what we do with the right materials."

Details Matter
Some floral designers are perfectionists, others are chaotic, and again others are a mix of both. Does it affect their personal life or the work-life balance?
Q.: Are you a detail-oriented person?
Amy:
"I can be. When it comes to my work, I am obsessive which has served me well in some areas and at times, been a downfall in my personal life. I love my work and can allow it to run the show in life so checking in with how much time I am spending on it is important."

Relaxing Times
After a challenging but miraculous pregnancy, Amy could no longer stay up all night doing flowers, losing money, and overspending. It was time for a major change: she started teaching and after over 2 years of developing her teaching techniques and process, and taking her time to learn the art of teaching Amy Balsters rebranded to The Floral Coach®.
Amy Balsters:
"One day, I finally had my "ah-ha" moment.

I was standing in my studio wrestling another bulky bridal bouquet; threading and breaking stems to get that airy look and I had just had enough. I went back to my training and applied my time-tested "old school" techniques with a new school approach and "BAM", it worked!

I finally cracked the code on how to get consistent loose and airy bouquets by applying foundational techniques along with the principles and elements of design and I could finally marry the WHY with the HOW to lush, airy designs! EUREKA!

Time to become The Floral Coach® and share my knowledge."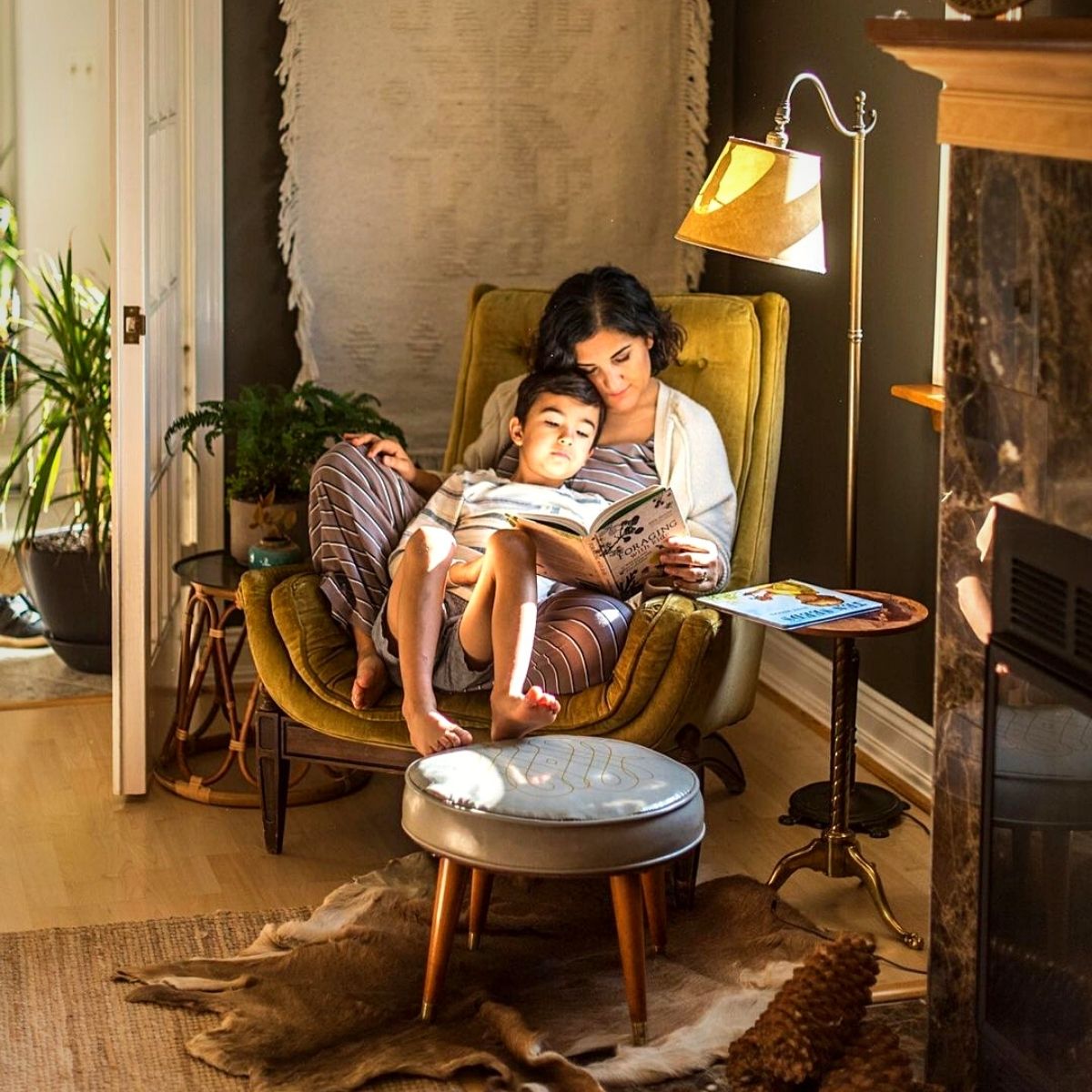 Everybody needs to be able to express themselves in their time off by doing activities in nature, cooking, reading, dancing, cleaning, running,...Amy likes to be in the kitchen with her son.
Q.: What is your favorite way to express yourself artistically on your time off?
Amy Balsters:
"Cooking or baking with my 8-year-old. My son is homeschooled so we spend a good amount of time teaching him life skills like cooking. When we are cooking, I feel really in the zone and am very mindful of all the layers and textures. It feels incredibly similar to a floral design."
Large Events
Working in the event and wedding industry allows you to experience many large-scale designs and magnificent venues.
Q.: What was the largest event you have ever prepared flower arrangements for?
Amy smiles when thinking about all these beauties:
"There are so many, it's hard to even recount. I worked in high-end weddings and events for many years of my career so I've seen some incredibly elaborate events. I would say the most high profile was a Kardashian birthday party I designed at. There was also a multi-day, multi-million dollar wedding in CA I designed that was 4 elaborate events over 3 days with incredible designs all in unique themes."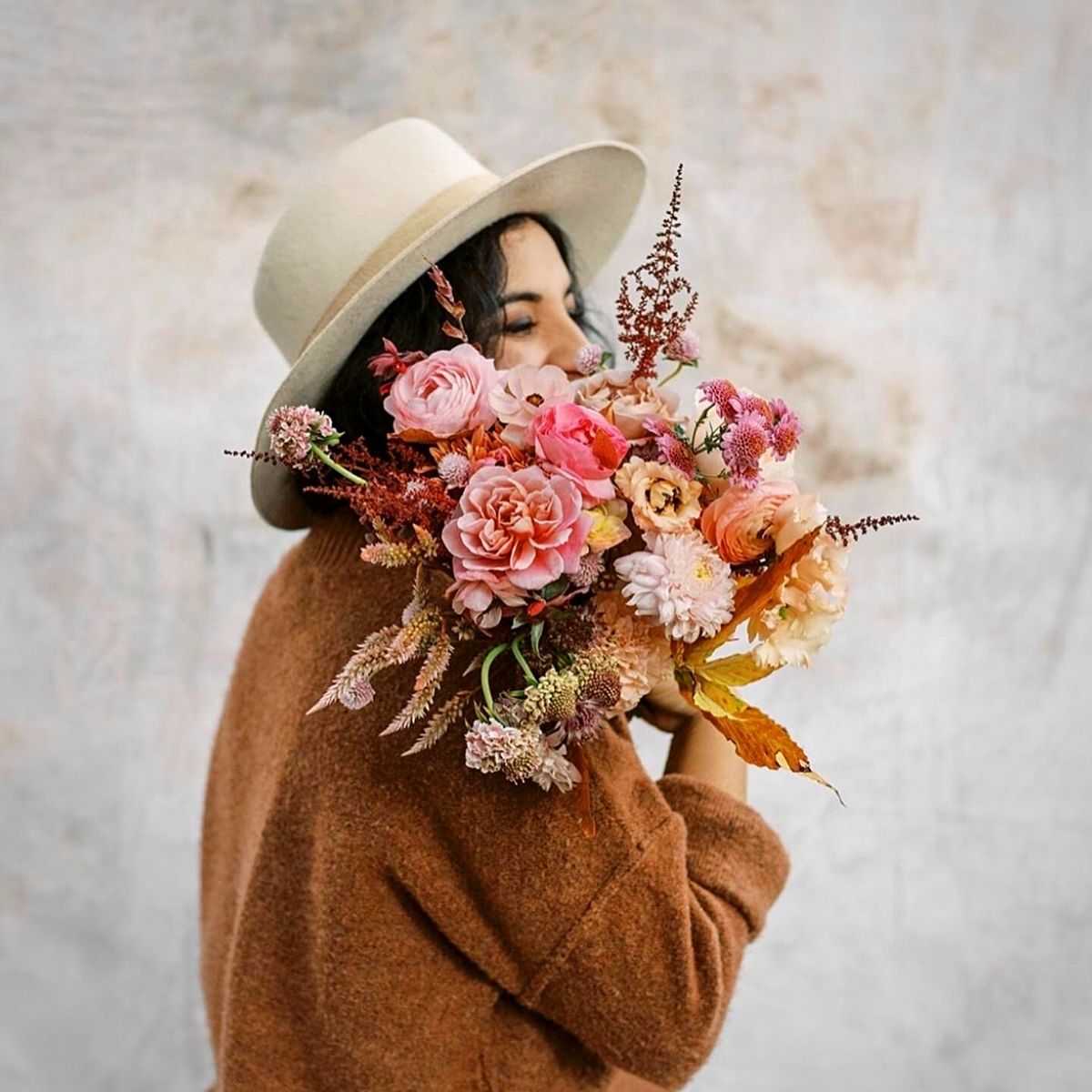 A Floral Designer
Amy had always dreamed of being a florist but had no idea where to start. She found a floral design class at a community college and nervously showed up. Under fluorescent lights, she was handed a bundle of pink mini carnations and a few stems of leather fern and it made her fall in love with the floral design.
She had purpose and passion again.
Q.: Why have you chosen to be a floral designer?
Amy:
"This might sound corny but I think floral design was meant to be my career. I was an artistic child and tried my hand at many disciplines but it wasn't until I found floral design that so many stars aligned. The tactile fleeting nature of creating something beautiful is highly addictive. I liken it to sculpting, photography, and a good dose of engineering. I think it takes tremendous skill to be a great designer and I am obsessed with learning so even after 20 years, I continue to find passion and excitement in designing flowers and now teaching design."
Q.: How would you describe your personality?
Warm, empathetic, passionate, intense, genuine, sensitive, extroverted, and emotional.

Creativity
When creativity is challenged and pushed to boundaries, the most innovative designs come to life.
Q.: In the category of creativity, how do you see yourself? Do you consider yourself creative?
Amy Balsters:
"I think everyone is creative but in their unique ways and creativity is like a muscle. It needs to be challenged, pushed, and worked out for it to grow and sustain. There are many seasons in my career that I have felt as though my creativity dried up or that I plateaued. However, when I intentionally create and go through the process of examining my craft deeper or finding a new flower variety, the creativity comes back."

A Wide Range of Flowers
Florists have a way of working with certain flowers which makes them more favorable than others. Texture, shape, scent, and color, make them different and stand out.
Q.: What is your favorite flower and why?
Amy Balsters:
"This feels impossible to answer as I admire ditch weeds in Fall as much as I admire a fluffy peony in spring but I would say fritillaria, hellebores, and gardenias are high on my list of favorites. Fritillaria and hellebore have unique shapes, colors, and forms and are so feminine yet strong. Gardenias are one of my favorite fragrances, my mother carried them in her wedding bouquet and I carried them as well when I was married."
Q.: If you could take a course to learn a new floral design skill or design with someone you love, what would it be and/or with/from who?
Without a doubt Amy answers:
"Hands down Wagner Kreusch. I am such a huge fan of his work and his mastery of so many styles of design. His curiosity, technical skill, and creativity inspire me every time I see his work."

The Future
Many things can happen in the coming years, and everybody's future is different. We can't predict it, but everybody has dreams.
Q.: Where do you see yourself 20 years from now?
Amy Balsters - The Floral Coach:
"Likely still teaching floral design. After many years in the trenches, I have channeled and refined my ability to teach and train florists as a full-time job. I have found tremendous joy and fulfillment in sharing my unique ability to coach designers in their skills and connect the dots around the principles and elements of design. Building confident and efficient designers are truly my Act Two in life."
Q.: What do you feel is the biggest issue in floristry? And what would you change?
"I think right now the supply chain is one of the biggest issues in floristry. The quality, prices, and availability are an increasing issue for many designers. I hope to see an increase in local flower production in the future, so I can connect floral designers with local farms and suppliers as much as possible."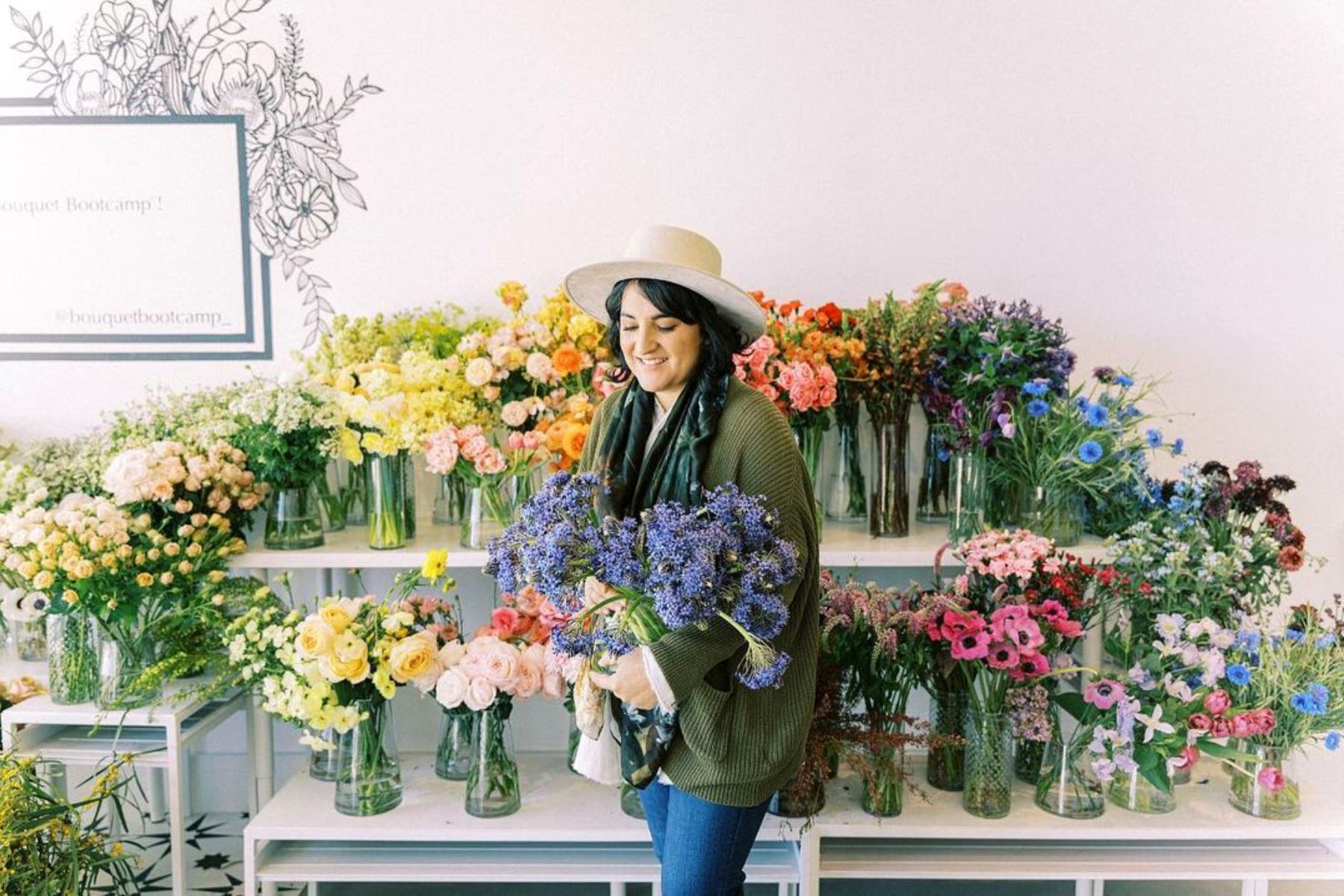 Bouquet Bootcamp® Virtual
This is a one-day, interactive and intensive training, limited to 10 students and hosted all on Zoom with fresh flowers and everything you need, all included!
Details is an all-in-one solution that helps florists to win more clients, streamline workflows, and feel confident in their business: floral software from proposal to payment. Details also organizes a Masterclass Series every month with a special guest. May 2022 was Amy Balsters' turn. They talked about the best approaches for body placement while designing a full flower bouquet, but also discussed tips on avoiding burnout. Amy shared exclusive content: in addition to this interview here is the video of this special talk.